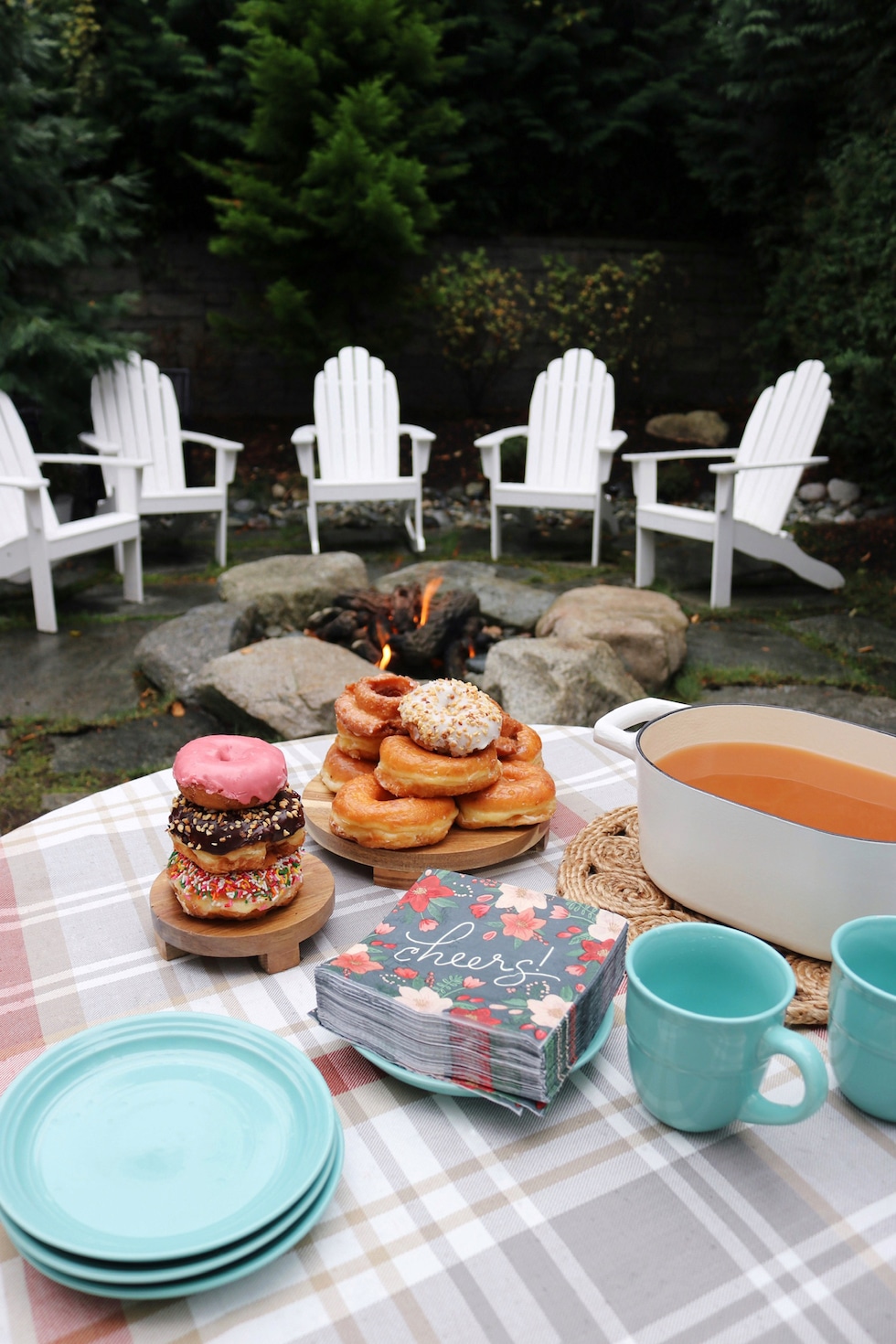 Thank you Walmart for partnering with me to bring you this post!
I can't believe Thanksgiving is just a few days away! Are you hosting any holiday gatherings this season? Oh the pressure we can place on ourselves when it comes to hosting others in our home, especially over the holidays! With social media accounts often outdoing themselves every year, impressing us with the most elaborate holiday decorating ideas and creative food and table settings to try, the expense, creativity and perfection sets the bar so high it can make us feel defeated before we even decide to extend the invitations.
I'm here to encourage you that it's not only OK to keep things far more SIMPLE, but impromptu or informal gatherings (even around the holidays!) can be just as much (if not more!) fun and memorable as the fancy formal ones.
Today I'll offer you some of my tips for hosting gatherings that will put everyone (including YOU!) at ease.
I wrote my book Simple Gatherings to help hostesses simplify the experience of opening their home. Simplicity is not only easier on you but it can be enjoyable for everyone. That's also one of the reasons I shop at Walmart, they make hospitality so convenient, simple and affordable. You can stop in even at the spur of the moment and quickly find everything you're looking for from yummy food options to the prettiest table decor. You'll be able to go home excited and prepared to be the hostess you want to be, without breaking the bank or overwhelming yourself!
Are you hesitant to host because of the size or current state of your home? Does preparing the food or setting up decor or creating the right atmosphere for a memorable event seem overwhelming? Despite what it might look like on social media, every gathering doesn't have to be an elaborately styled event or held in a beautifully curated or decorated room.
We can invite friends and family to come over for something as simple as impromptu donuts and cider in the backyard, by a fire pit or around the kitchen table. Being invited to an informal gathering sometimes make a more meaningful impression on others than the ones we slave over!
In Simple Gatherings I shared four key things guests will likely remember about your event: the atmosphere, the feast, and the special touches. None of these elements require anything fancy to make them memorable.
Friends can be so busy this time of year, but impromptu invitations can take the pressure off everyone. I learned long ago that the best secret for gathering people even when they are busy…offer them FOOD! Who doesn't want to stop by a party when you hear there will be food? :)
If preparing the food or table styling intimidates you, just remember to have fun with it and let go of perfection! Case in point, why not use little footed stands to make a tower of donuts?
We found these darling wood footed stands. I love having pieces like this on hand to elevate items on a table or any surface to give food or decor more prominence and add a bit more visual interest. A leaning tower of donuts doesn't have to be perfect, but it just might make your guests smile.
Yes, we could have just set the box of donuts on the table, but what is memorable about that? Or we could have arranged them in a fancy way on a serving tray, but often it's the unexpected or even quirky presentation that makes an event more fun and memorable.
We found everything we needed for this informal "cider and donuts party" at Walmart (and used several things we already had). It took us just minutes to set up but it was fun!
Here are the pieces we used:
We used the aqua dishes we got last summer (we first shared them in our summer brunch gathering post!).
We love this plaid tablecloth and the pretty white oval Dutch oven.
We also used our woven charger to place our Dutch oven with heated up apple cider on the table. Love the added texture!
Fun winter floral "cheers" napkins made the experience feel celebratory.
And there we had it…a fun and simple party!
Sometimes we over complicate hosting and stress ourselves out, or we get so overwhelmed by the idea of hosting that we don't do it at all! But every gathering of friends and family doesn't have to be an elaborate event! Your home doesn't have to be perfect. Gathering people you care about or want to get to know is what sparks JOY for you and others.
It doesn't take much. Offer some yummy food. You don't have to make it from scratch, do what's convenient if that helps you feel less stressed! Take it out of the box or container and put it in your own dish if you want to give a "homemade" feeling. Keep it simple and easy!
Add some special touches. Maybe turn on some tunes for an extra memorable experience. It's always so worth it to be intentional about gathering, you'll be so glad you did!
We have such a cozy firepit in our new backyard. It inspired me that a holiday gathering doesn't have to be fancy to be festive.
A tower of yummy donuts, gathering around a firepit with a mug of steaming hot cider in hand, what could be better? It's the simple things that make us feel happy, warm and cozy this time of year, don't you think?
Sources (click photos and links below for details:)

---
White Adirondack Chair (similar)
Braided Round Placemat / Charger
Wood Footed Stands – set of 2