I'm a plant-lady! Ha, I never would have thought it was possible that something like essential oils could change our life so dramatically, but it's true. Sleep, emotions, skin, digestion, focus, cleaning, hormones, immune support, for helping sore things, for a dreamy smelling home without toxic fragrances/perfumes/candles/sprays…just a few of the ways we use these oils every day for a happier healthier home!
FOR A LIMITED TIME GRAB YOUR FREE SHIPPING AND COZY WINTER BUNDLE GIFT FROM ME WITH ANY PREMIUM STARTER KIT!
BIG NEWS!!!!! Free Winter Bundle + FREE SHIPPING on any Premium Starter Kit for my new Young Living members! Limited time!
There has never been a better time to join my Dwell Well Collective 😍 Grab your premium starter kit with my referral link below and you will also receive for FREE:

⋒ a custom glass spray bottle with vine label
⋒ two gold and glass rollers to make your own oil blends
⋒ a custom glass spritz bottle with cozy label
⋒ beautiful recipe cards, an oils guide book
⋒ my brand new Dwelling Well Journal

---
It's SO simple to get set up.

1. Click the pink order button below and select whatever Premium Starter Kit you want, it's your choice and they are all awesome! ( can't decide? Get the Desert Mist kit, you can always get another diffuser later, all the oils are the same in each kit) Double check that you see my member number #3731456 connected with your order.

2. Check the box to set up Essential Rewards. It's the way to FREE STUFF and MONEY BACK on your order to spend as you please! Essential Rewards is a monthly (but totally OPTIONAL) subscription program that will GREATLY HELP you change your lifestyle for the long term. You do NOT pay for any future orders until they ship, the first one ships the FOLLOWING month after your starter kit so this option does NOT add to the cost of this first order. I recommend selecting the Thieves Household Cleaner, or the Thieves Essential Rewards kit, you'll love it and you can always change or add to your order before next month.
Be sure to use my member number #3731456 to place your order to get an invite to my awesome private wellness community called the Dwell Well Collective for education and recipes!
GET EXCITED!! Your life is about to change. I'll email you a welcome and your kit will arrive at your door soon!
+ + + + +
Ready to get started right now? Grab your essential oil + diffuser kit HERE.
Want more info? Scroll down!
Essential oils have been game changers in our home and my own life for a million reasons. I love a cozy clean home, but the products I used to buy to make my home smell good and clean were filled with hidden toxins that were damaging our health.
Years ago, I decided toxic household products would never again be invited into our home. I began a journey of healing from years of thyroid issues, an autoimmune disease (hashimotos) and anxiety.
I have never looked back. The improvements to my health have been dramatic. I feel better than ever!
And yes, by removing toxins from our home, that means I stopped buying those seasonal cleaners and festive hand soaps everyone seems to be drawn to. I stopped buying scented room sprays and burning candles.
Even if we don't feel the immediate reactions to these toxins with symptoms like headaches, nausea, or rashes, over days, weeks and years, these chemicals build up in our bodies and can trigger serious disease outcomes.
I recommend the Young Living Premium Starter Kit because it REALLY is the best way to start. It comes with everything you need to begin (and it's below wholesale prices!): the best quality essential oils for everyday needs, a beautiful diffuser, and Thieves Household Cleaner.

This kit also comes with a free wholesale wellness membership (like Costco, but no fees, ever!) and the choice to order through an optional fully customizable monthly rewards program called Essential Rewards where you'll get more free products and additional discounts!
Starting with your kit means you will be able to make affordable and lasting changes in your home and health. But there's never any obligation to order again! It's all your choice.

Don't be fooled by clever marketing or products out there that look great and claim to be "natural" but contain fragrances and toxins. Don't buy from companies that are not transparent as to what is in their products.

With your Young Living starter kit and wellness products, you can trust what is going into your home and body AND have fun customizing the scents with PURE ESSENTIAL OILS!
I'm here to help you! I will make sure your kit doesn't start collecting dust in your closet. You'll have my support every step of the way!

Once you get a kit with my referral link, you become a part of our amazing private community called the Dwell Well Collective. Trusted products and community support makes such a difference on a wellness journey, you'll be welcomed into ours with open arms!!
Click here to order your starter kit!

Choose member and make sure the number 3731456 appears in the sponsor and enroller fields!
***You can read my health story here.***
My family and I have experienced SUCH a difference in our home, quality of life, emotional/hormonal well-being, sleep and overall wellness since we began incorporating Young Living Essential Oils into our daily routines.
Young Living Essential Oils support healthy body systems so they can function as they should. They aren't medicine, they aren't synthetic scents or perfumes (don't be fooled by grocery store "oils" that can be filled with toxic chemicals). Young Living essential oils are extracted from real plants grown in organic soil though the most pure process and quality control of any essential oils on the market.
The starter kit is the best place to start this journey and the most affordable way to clean your home, too.
With the kit, you'll have everything you need to get started on making the changes needed for a cleaner home.
You get 12 everyday essential oils, a beautiful diffuser of your choice, a packet of Thieves cleaner concentrate (it will make you two full 16 oz bottles of my favorite totally natural cleaner!), a wholesale Young Living membership (24% off anything you ever want, no order requirements or fees) and more. Each country may vary a little bit in what is offered.
Be sure to use my member number 3731456 to get access to our groups and resources.
FAQ:
What is Essential Rewards?
Essential Rewards is an optional but incredible monthly wellness subscription you'll want to set up when you order your kit!
Each month, you can customize a box of wellness goodies according to what YOU want. I LOVE to receive my ER every month because it's how I replaced our previous toxic household products with wonderful quality plant-based options.
I have ordered an Essential Rewards wellness box for the past three years. I use it to order our regular household needs like soaps and detergents, skin care and body, personal care items like toothpaste, supplements, makeup, baby and pet care, etc. They are AMAZING products and Essential Rewards is the best way to order monthly.
The contents of your Essential Rewards box is ALWAYS your choice. There is just a 50 PV (about $50) minimum monthly order and it's super easy to cancel later if you decide to.
Note: if you don't want to join Essential Rewards yet, no problem! Simply check 'no' and continue enrollment.
If you're not yet following Dwell Well Collective on Instagram, follow us there for lots of oils and wellness inspiration! We post Instagram stories daily with tips and recipe ideas.
QUESTIONS? Email me at dwellwellcollective@gmail.com or find my Young Living FAQ here!
This Desert Mist diffuser can flicker like a candle!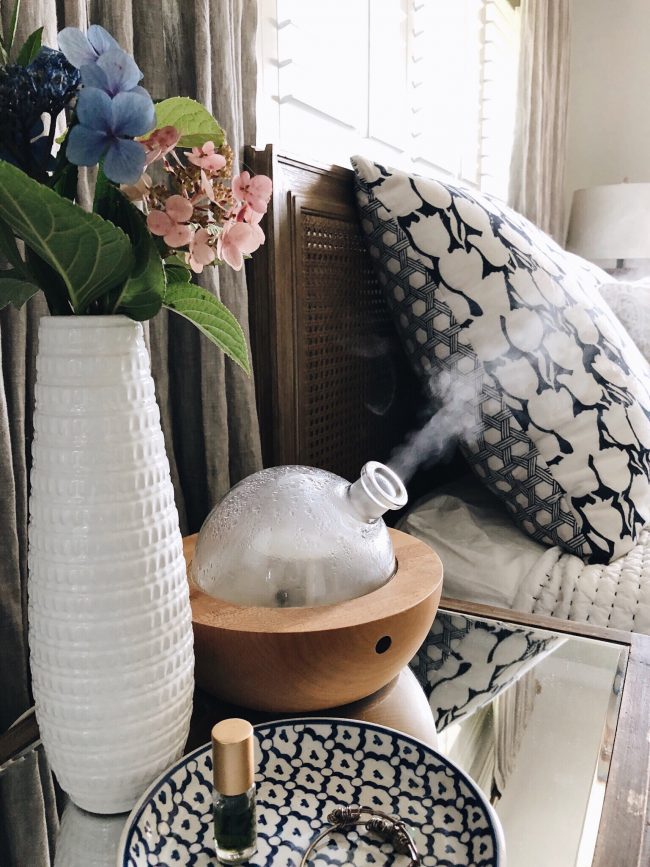 This is the Aria Diffuser! It's wood and glass and plays music…fancy!
This white diffuser is called the Lantern Diffuser. It does not come in a starter kit, but can be ordered on Essential Rewards, in addition to any starter kit.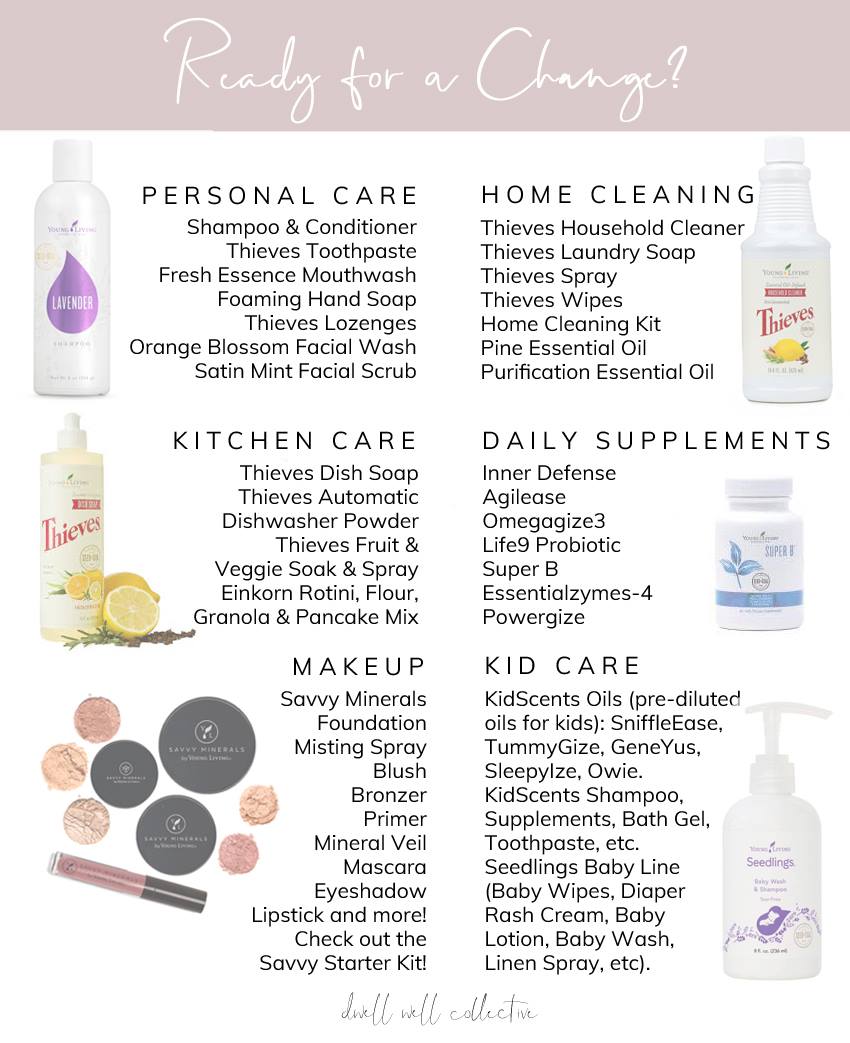 You can read my personal health journey here.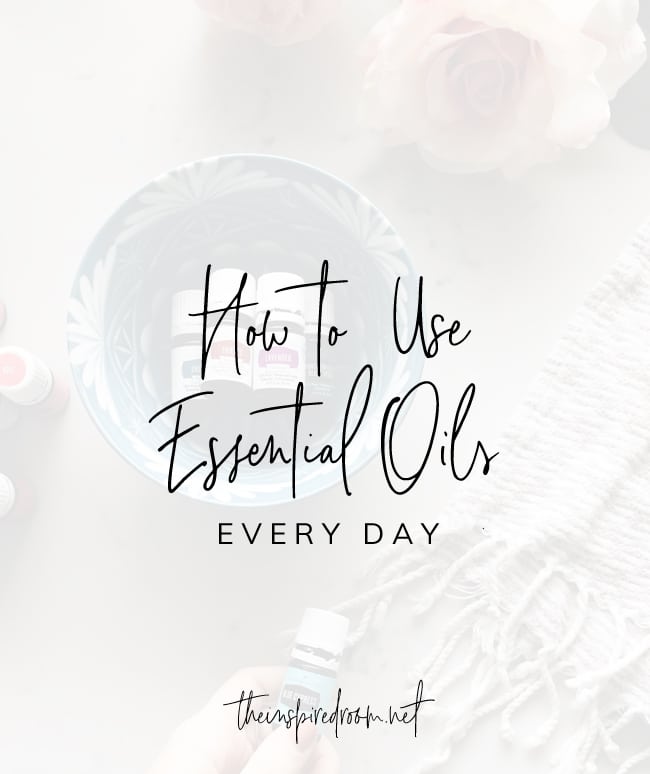 Click here for How to Use Essential Oils Every Day
Click here for my favorite essential oils accessories!
Click here for how to use essential oils for better sleep.
DISCLAIMER: The suggestions I offer are specific to the benefits I've found through Young Living essential oils. My statements about Young Living Essential Oils have not been evaluated by the FDA. These products and information offered are not intended to diagnose, treat, cure or prevent any disease. Anyone suffering from disease or injury or on prescription drugs should consult with their physician.