Hi, friend!
I'm a plant-lady! Ha, I never would have thought it was possible that something like essential oils could change our life so dramatically, but it's true. Essential oils have been game changers in our home and my own life for a million reasons. I love a cozy clean home, but the products I used to use to make my home smell good and clean were filled with hidden toxins and junk that were damaging my health.
The best way to get started is to grab a Premium Starter Kit!
To grab a kit with me or reactivate if you are currently an inactive member, click here and make sure that member number 3731456 appears in both the "enroller" and the "sponsor id" fields. Be sure to choose MEMBER for 24% off. Selecting member doesn't mean any commitment to sell or purchase in the future, it just gets you wholesale pricing from here on out and access to my online community! You can choose almost any country, so if you're not in the US, no problem!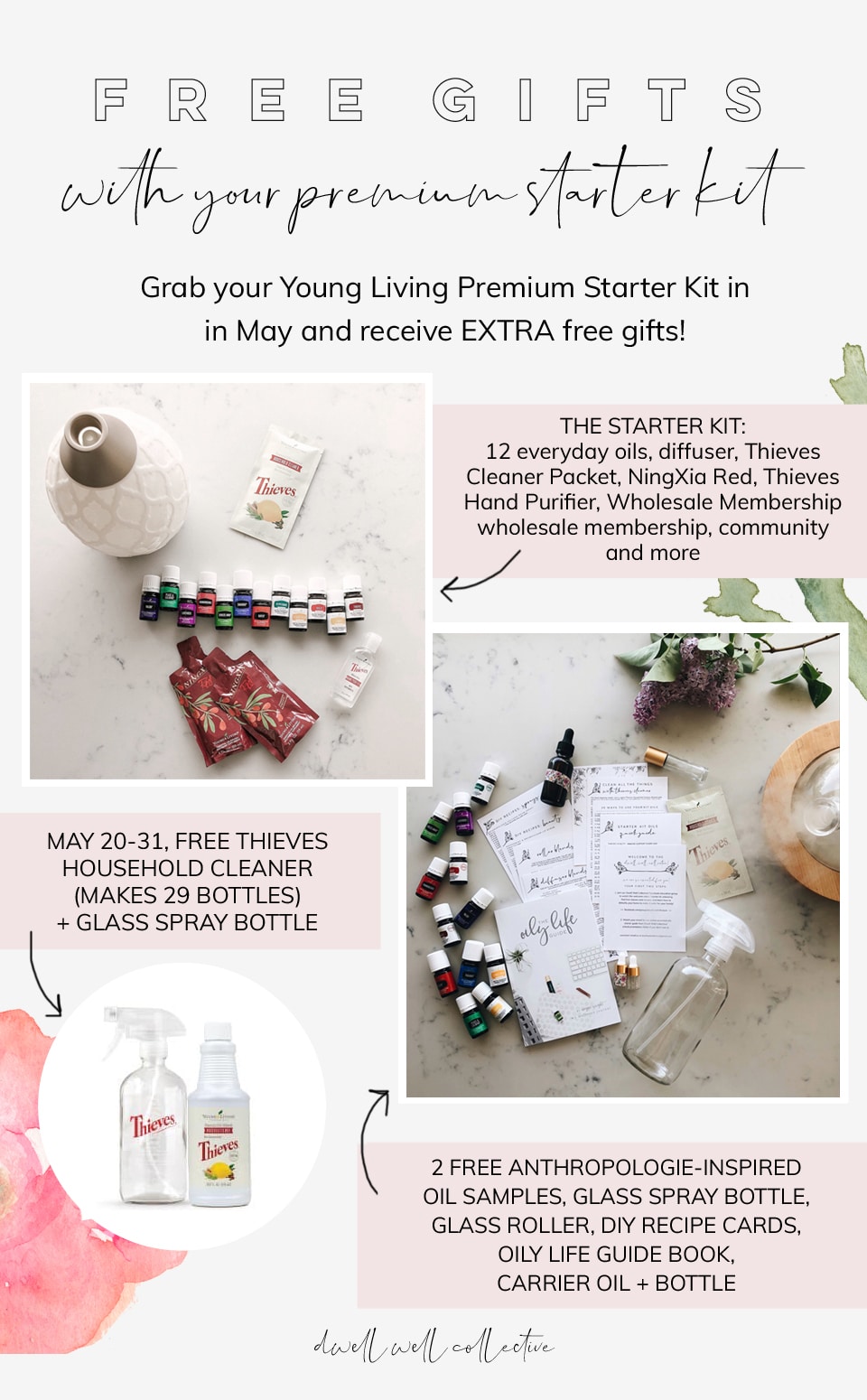 SPECIAL MAY PROMO FROM YOUNG LIVING!
For the rest of May, when you get your premium starter kit, you will ALSO get a FREE THIEVES CLEANER concentrate (my absolute favorite all-purpose cleaner which will make you TWENTY-NINE spray bottles of cleaner!!!) and a glass spray bottle. In addition to that, you will ALSO receive my special gift of a Spring Sanctuary Bundle (samples of my two Anthropologie oil blends, a glass roller bottle, DIY recipe cards, an oils book, an extra glass spray bottle, and more! Details below.
Essential Oils Kit + Free Gifts in May from me!
This month when you grab your essential oils starter kit (with 12 everyday oils, a diffuser and more), you will also get a FREE "Spring Sanctuary Bundle" as a gift from me!
Here is what you will get for FREE from me in addition to your kit this month!
A sample bottle of our own Anthro-inspired volcano essential oil diffuser blend (along with our exclusive recipe)
A sample bottle of our own Anthro-inspired sweet vanilla cinnamon essential oil diffuser blend (along with our exclusive recipe)
A glass spray bottle to make your first bottle of Thieves Cleaner (That comes with the kit!).
A glass roller with a gold lid to make your own custom blends
An Amber dropper bottle filled with V6 carrier oil
9 exclusive Dwell Well cards fill of recipes and usage inspiration
An oils guide book to help you use your new kit with confidence
An invitation to join the Dwell Well Collective—our free exclusive educational wellness community so you'll have all the support you need
Wholesale prices (24% off) on all future YL purchases (with no obligation to order again!)
*Say "yes" to essential rewards and you will get a FREE toothpaste
plus another SPECIAL GIFT from me :) !*
Click here to order your starter kit (and receive the free bundle in the mail from me!)

Choose member and make sure the number 3731456 appears in the sponsor and enroller fields to receive the free gift from me!
***You can read my health story here.***
My family and I have experienced SUCH a difference in our home, quality of life, emotional/hormonal well-being, sleep and overall wellness since we began incorporating Young Living Essential Oils into our daily routines.
Young Living Essential Oils support healthy body systems so they can function as they should. They aren't medicine, they aren't synthetic scents or perfumes (don't be fooled by grocery store "oils" that can be filled with toxic chemicals). Young Living essential oils are extracted from real plants grown in organic soil though the most pure process and quality control of any essential oils on the market.
The starter kit is the best place to start this journey and the most affordable way to clean your home, too.
With the kit, you'll have everything you need to get started on making the changes needed for a cleaner home.
You get 12 everyday essential oils, a beautiful diffuser of your choice, a packet of Thieves cleaner concentrate (it will make you two full 16 oz bottles of my favorite totally natural cleaner!), a wholesale Young Living membership (24% off anything you ever want, no order requirements or fees) and more. Each country may vary a little bit in what is offered.
It's easy to get your kit! The step-by-step order instructions are below!
You CAN reactivate your inactive membership or switch from retail to wholesale. You may have to use a new email address if you have an old membership, or call Young Living. Be sure to use member number 3731456 to get your freebies and access to our groups and resources.


START HERE!
To grab your kit, follow the step by step instructions below. You will start with this link HERE and then select MEMBER.
*Make sure the number 3731456 appears in both the "Sponsor ID" and the "Enroller" fields (autopopulated or you can fill them in). You'll see THE INSPIRED ROOM, LLC confirmed as your sponsor and enroller. That way you'll become a part of my private wellness community called The Dwell Well Collective, too!
NOTE: A "member" is just like signing up to order from Costco except it is FREE!!! There's never any fee to be a wholesale member.
You NOT need to do this as a business or earn commissions (referral bonuses and commissions are a perk available ALL Young Living members who chose to refer people, but it is NEVER required).
Becoming a member is simply a way to have access to shop directly for your trusted products through Young Living with the best prices and benefits! There are no strings attached, never any membership fees, no required auto shipments, no obligations, and no selling.
You can change your country with the toggle bar if you are not in the U.S. Each country might vary in what they offer.
STEP 1. CHOOSE YOUR STARTER KIT

Once you have clicked my referral link and chosen MEMBER, check the box with the premium kit you want. The 12 oils are the same in each essential oils kit, each comes with a diffuser of your choice. (you also have the option of a Thieves kit or a NingXia kit if you prefer).
All the diffusers are great, so you can't go wrong! The Desert Mist is beautiful with a candle flicker setting, so cozy! The Dewdrop is simple to use and easy to travel with. In the US and some other markets, you'll have the option of the Rainstone which is made from a gorgeous rare clay and is a negative ionizer (SO good for sleep and health) and has a remote. The Aria is beautiful wood and glass, has a remote and even plays music. Fancy! :)
STEP 2: ESSENTIAL REWARDS ENROLLMENT (OPTIONAL)
If you want to sign up for Essential Rewards, you'll see a box to check with an Essential Rewards option that will say:
Would you like to enroll in Essential Rewards and earn free products?
I recommend selecting YES because you will have the option to to use your Premium Starter Kit as your first Essential Rewards order (in the US you will receive a bonus freebie just for doing this and you will start earning POINTS BACK on this order!).
What is the Essential Rewards option?
Essential Rewards is an optional monthly wellness subscription box! Each month, you customize a box of wellness goodies according to what YOU want. I LOVE to receive my ER every month because it's how I replaced our previous toxic household products with wonderful quality plant-based options.
I have ordered an Essential Rewards wellness box for the past three years. I use it to order our regular household needs like soaps and detergents, skin care and body, personal care items like toothpaste, supplements, makeup, baby and pet care, etc. They are AMAZING products and Essential Rewards is the best way to order monthly.
The contents of your Essential Rewards box is ALWAYS your choice. There is just a 50 PV (about $50) minimum monthly order and it's super easy to cancel later if you decide to.
Note: if you don't want to join Essential Rewards yet, no problem! Simply check 'no' and continue enrollment.
STEP 3: SET UP YOUR MONTHLY ESSENTIAL REWARDS ORDER (OPTIONAL)
If you checked YES to enroll in Essential Rewards, Step 3 is where you will choose what's in your next Essential Rewards box! If you checked YES for your Premium Starter Kit to be your first Essential Rewards box, this step is where you'll choose what to receive in the following month's box.
If you aren't sure what you want yet, I would recommend selecting the NingXia or Thieves essential rewards kit. You can change it before the order processes next month if you change your mind.
It's fun to decide what to put in your ER order each month! You can either choose an Essential Rewards Kit OR "customize your kit" to choose individual items you want. Choose your items, click "add product" and scroll down to click "save monthly order". Remember, you will get to change this order each month, and you can change your order up to 11:59PM on the day that it processes!
CONTINUE ENROLLMENT / ADD MORE PRODUCTS
If you want to add any additional products to your first order with your starter kit, you'll see an option under "Continue Enrollment" to "add more products".
You may qualify for freebies from Young Living depending on how much you order. YL will likely alert you to any freebies you are close to qualifying for. Your Starter kit counts at 100PV and gets you a free oil, and then there are more freebies at the 190PV level, the 300PV level and the 400PV level, too!
COMPLETE YOUR ORDER
When you are ready, just click checkout, then fill in your membership information to complete your order.
Note: Under "Commission Processing Information", you can choose "Individual" to sign up with no social security number, but it's totally secure to add it in. If you add your SSN, it simply allows you to receive bonuses in case you have friends who sign up with your referral link. There is NO selling or business required.
Complete your order, then save your login and PIN information in a safe place for future orders or accessing account info.
You're all set!!! Best decision EVER!
Watch for your welcome letter from me and The Dwell Well Collective with the next steps and invite to our fun Tribe!
If you're not yet following Dwell Well Collective on Instagram, follow us there for lots of oils and wellness inspiration! We post Instagram stories daily with tips and recipe ideas.
QUESTIONS? Find my Young Living FAQ here!
This Desert Mist diffuser can flicker like a candle!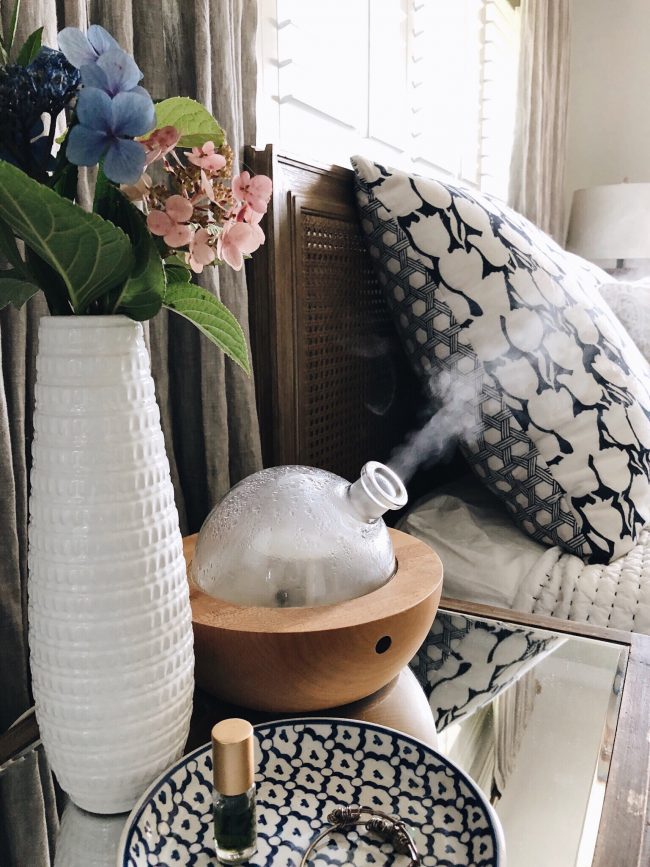 This is the Aria Diffuser! It's wood and glass and plays music…fancy!
This white diffuser is called the Lantern Diffuser. It does not come in a starter kit, but can be ordered on Essential Rewards, in addition to any starter kit.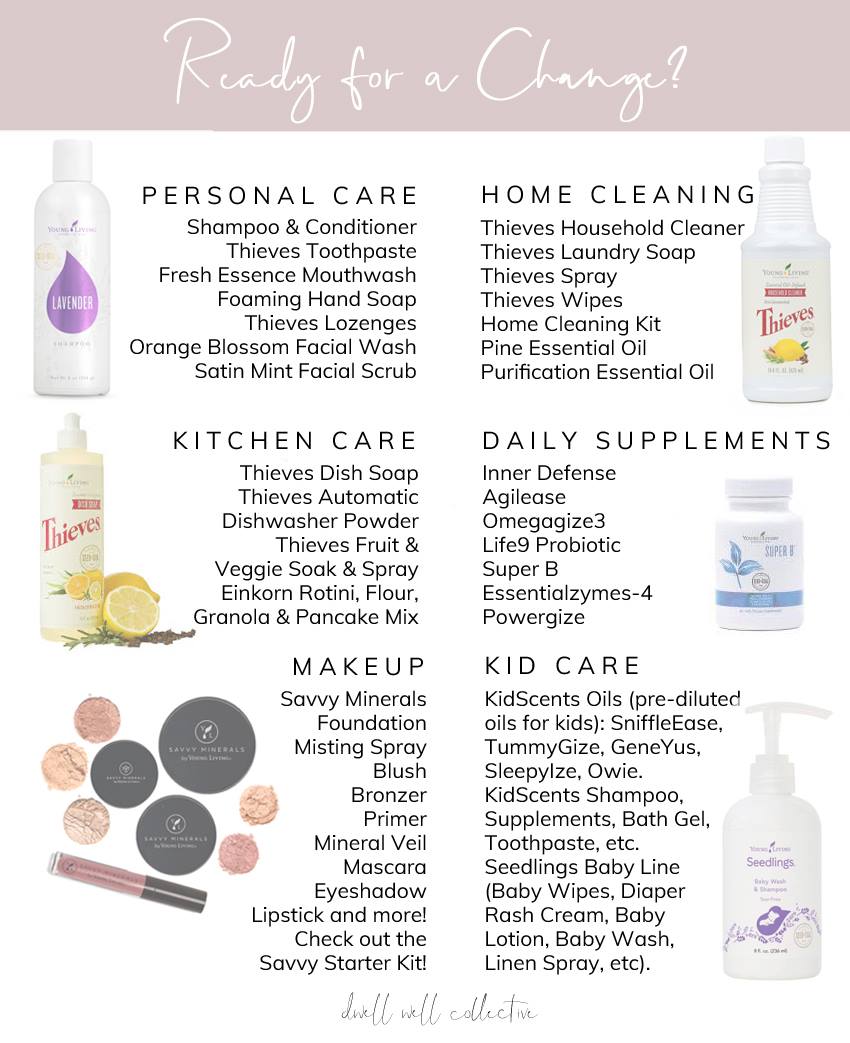 You can read my personal health journey here.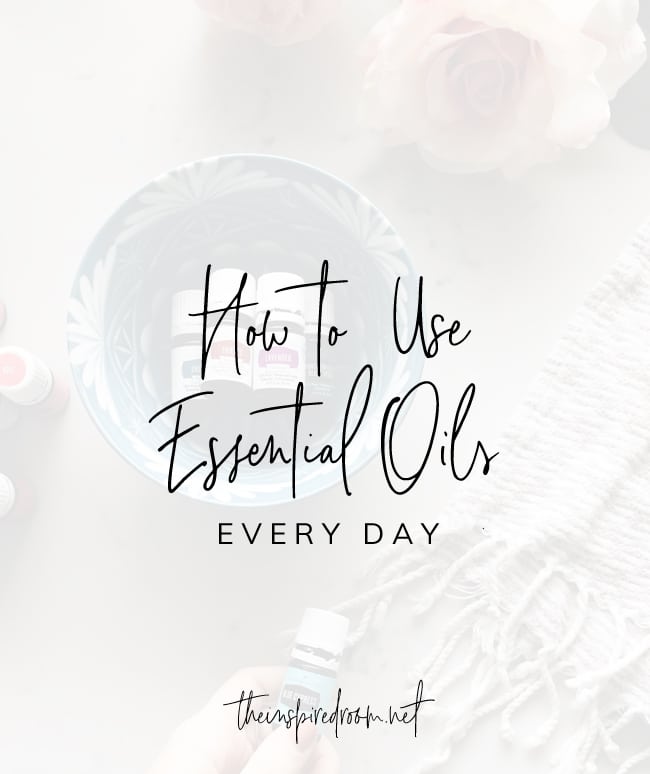 Click here for How to Use Essential Oils Every Day
Click here for my favorite essential oils accessories!
Click here for how to use essential oils for better sleep.
DISCLAIMER: The suggestions I offer are specific to the benefits I've found through Young Living essential oils. My statements about Young Living Essential Oils have not been evaluated by the FDA. These products and information offered are not intended to diagnose, treat, cure or prevent any disease. Anyone suffering from disease or injury or on prescription drugs should consult with their physician.