If you caught my post last week, you might have noticed I've been up to a little something special for us. I invited the adventurous types to give the beta testing of our new community site Home Love Stories a try and wow, over 300 of you did! The community is off to a great start. It's so fun! (PS. Don't forget to enter the giveaway at the end of the post!)
But today, I'm making it official and inviting everyone to come make themselves at home! Home Love Stories is officially launched into the world as the most wonderful blogging community for home-lovers.
And good news, you don't have to be a blogger to join!
Have I mentioned this is FREE? :) YEOW! It's a gift. From me. To you.
enter in the comments for letter press blocks of your favorite word or phrase!
Home Love Stories is a place to be authentic. Open your home. Share your stories, daily routines, favorite corners and pretty things. Ask design questions and get answers from your neighbors without fear of mean people (y'all, mean people will be evicted!!). Take us on your remodeling adventures. Meet friends and connect.
It's blogging, but more like old-school blogging at its best.  It's easier, less pressure and more fun. It's a community for people like you and me.
And the best is yet to come!
We'll be hosting block parties and open houses and drive bys. Just like the old days of blogging when we all joined in and had fun times sharing lives and homes through parties and events.
Enjoy being creative in any way you want to! You can even add video tours! Make your posts fun, pretty, or inspiring. But no matter what, don't put pressure on yourself. So far, everyone at Home Love Stories has the right idea! Just be YOU. At Home Love Stories we can even deal with camera pics and imperfections because nobody needs to feel pressured to keep up with the Jones'. Just be yourself. Share in a way that inspires you and in turn, that will inspire others.
At Home Love Stories, we are putting the heart back into home. Won't you join us? I would love for you to be our neighbor.
Follow @homelovestories on Instagram, Facebook, or Twitter (or find our Instagram feed featured at the bottom of Home Love Stories to see what we've posted) for each weeks' festivities and ideas that might inspire you! Tag and share with your friends using #homelovestories so they can belong to the neighborhood, too! Follow your friends, make new friends and have fun sharing stories.
Alright, after you enter the giveaway here, go sign up to be in the neighborhood and get to know fellow house-shaped heart people just like you!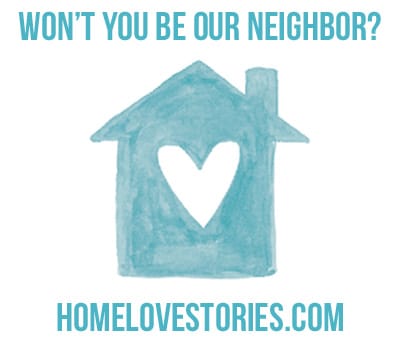 ENTER THE GIVEAWAY!
Before you go, leave a comment telling me why you will enjoy Home Love Stories :) … and I'll enter you into a giveaway for one word or phrase of choice in these awesome letterpress blocks from my wonderful friends at DaySpring (see mine above!)! These blocks are so great, you can mix and match lettering and set them on tabletops or hang them the wall! Aren't they fun?
I totally messed up in hanging mine so my more perfectionist husband is going to redo it for me using the provided hanging hooks and clips. But you know what? Even imperfectly spaced art can be part of a wonderful story!! Right? That's what I always tell my husband when I'm hiding three thousand nail holes behind everything I hang.
There will be three winners in all! Giveaway ends March 24th and winners will be contacted by email.
PS. Amazing deal alert, my book Love the Home You Have in digital version is up to 50% off at your favorite ebook retailers through the launch date of March 31! You can find direct links at my new book page, Love The Home You Have.