Styling a coffee table is sometimes a tricky task. You don't want your tables to look cluttered, but it is a nice touch to have a few attractive items to add to the ambience of a room. A coffee table is a real focal point, so use it as an opportunity to have a little fun with styling!
To prevent the room for becoming overly cluttered or decorated, don't style every table in a room with decor. If you want to style your coffee table, perhaps leave an end table clear.
I saw a great post on Neutral Dwelling and it inspired me to think about coffee table styling, so I thought I'd share the concept here.
Here is a simple formula that can get you started:
Books + Plant Material + Decorative Object = stylish and attractive tablescape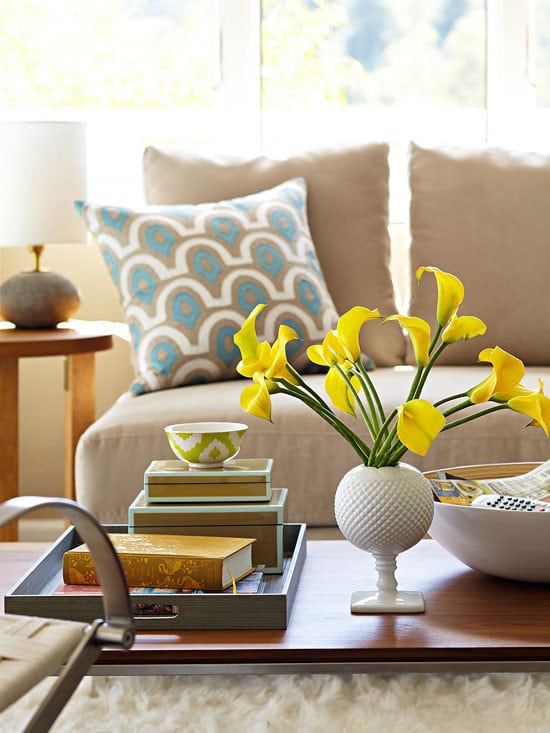 Here are some other quick coffee table styling tips:
Try unifying different shaped objects by using items of the same color. Three different shaped vases all in blue, for instance.
Create interest with items of all one color by using different textures.
Try opposites: pair smooth with rough, shiny with dull, old with new, round with square, organic with man-made.
Vary the heights so that each object is just a little bit shorter than the next tallest item. This keep items from feeling disjointed.
Make sure objects are not all too small. Choose at least one bolder item to be in focus.
Use books or pedestals to elevate items that seem too short.
Use a basket or tray filled with a collection of items: maybe books, fruit, artichokes, seashells, vintage toys, games or buttons.
Interesting conversation pieces are wonderful for coffee tables, we use carved wood instruments and attractive wood or vintage game boards.
Do double duty! Corral remote control clutter with pretty bowls or baskets.
Leave plenty of room on the table for actually using the surface for something other than display. If you don't leave room for a coffee cup, the table will appear awkward and will not be useful to you. Make table tops pretty & useful!
Make sure your tablescape looks good from all angles.
You can use just one item on your table, such as a piece of pottery or a vase, but make sure it isn't tiny! Wide and bold would be a better choice than tall and skinny.
When you look at magazines, focus in on coffee table table-scapes you like and duplicate what you see with your own items of similar size and shape!