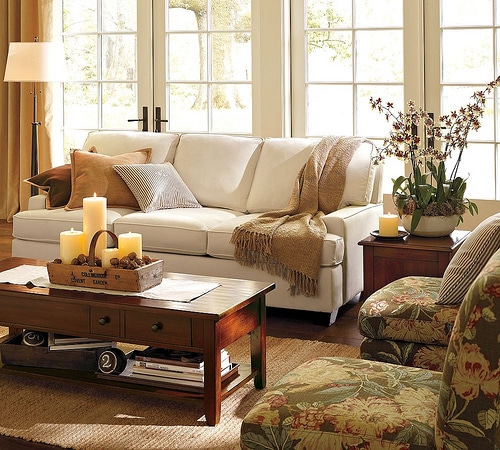 Decorating a coffee table
Pottery Barn always has the perfect tabletop styling for their coffee and console tables.
Here are four tips I've learned from observing Pottery Barn catalogs!
1. Remember "over and under."
Pottery Barn is a master at featuring creative displays on top of the table AND underneath! Look at what Pottery Barn puts UNDER their tables as well as on top. Stacks of books or baskets with books always looks appropriate without feeling cluttered. Remember to not fill the entire surface, leave room on top for coffee cups and putting your feet up!
2. Creatively contain.
Put elements of your coffee table decor into a bowl, under a cloche, in a box, basket or unique container. This gives smaller items more importance and brings a sense of order to the coffee table!
3. Use an interesting formula.
Try this fun formula: Books + Natural Materials (such as pine cones, nuts with shells or plants) + Candles + unique containers and/or objects = interesting displays.
4. Opposites attract.
Bring visual interest to your room by using a variety of shapes, textures and styles of objects on your coffee table. Think about pairing shiny objects with rough or textural items, round and rectangle, big and small, modern and antique.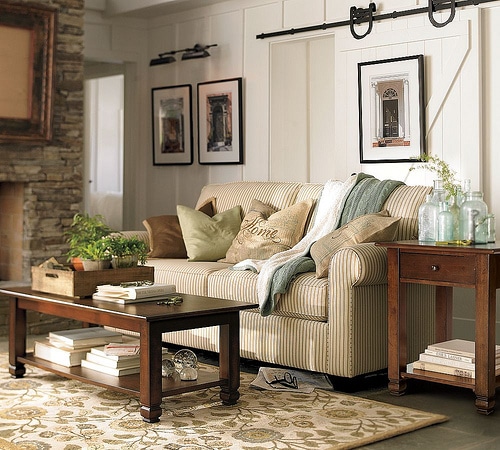 So, here is the age old blogging question that I don't think I've ever asked:
What is on your coffee table?
All inspiration images: Pottery Barn Home Decor
>>For more helpful tips on decorating coffee tables, check out this post on How to Decorate a Coffee Table!
>>Check out other helpful tips in the How to Decorate series!
>>More decorating tips from another store with master styling: 4 Decorating Tips from Anthropologie