As our weatherman here promises the hope of snow for this weekend (a rarity in Portland!) my thoughts are turning towards cozy comforters, beds piled with down pillows and a fluffy nest to warm up in! So, let's pause from the holiday hustle and bustle and enjoy some inspiration for cozy & unique bedrooms!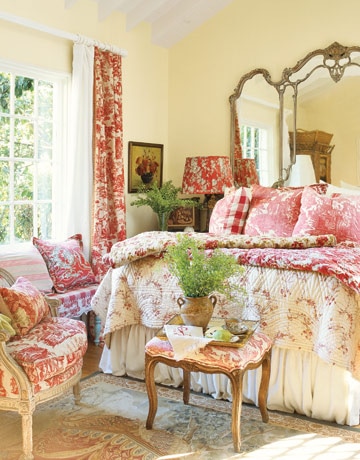 PS. The winner of Living Locurto's giveaway? Congrats goes to Sylviarj! Your email address has been given to Amy Locurto and she'll contact you with details!
PS. I did an interview at I Lash Girls (one of our awesome Moms Unite members!)…if you'd like to read it, you can check it out here!
Ok, last PS. You can find well over 100 links to holiday goodness around blogland on last Friday's post on The Inspired Room! Enjoy them and be ready to link up this week's posts on Friday! It is amazing to see all the wonderful Christmas ideas and inspiration! Thanks for being a part.
All photos from Country Living, except the last four:
House Beautiful (blue twin bedroom) and Southern Accents (two views, green toile).