Cottage Living (Roger Davies)
Do your kids (or grandkids) share a bedroom either with a sibling or for sleepovers? One of my favorite memories is hearing my girls chattering about their day after I put them to bed in their shared room. I can still hear their sweet little voices laughing and exchanging stories after dark. Sometimes after I said goodnight I would just stand outside their door and listen to them talk to each other. I loved that.
While they did not always share a room, I think one of the reasons my daughters are close today is those special bonding moments at the end of each day during those "sharing a room" years. They might disagree, I know they sometimes they disliked sharing a room. One daughter was messy, and one preferred her own space. But for the most part, I think it was a good and healthy experience for them. I think it even taught them valuable lessons like sharing, cooperating, and being flexible and sensitive to someone else's needs.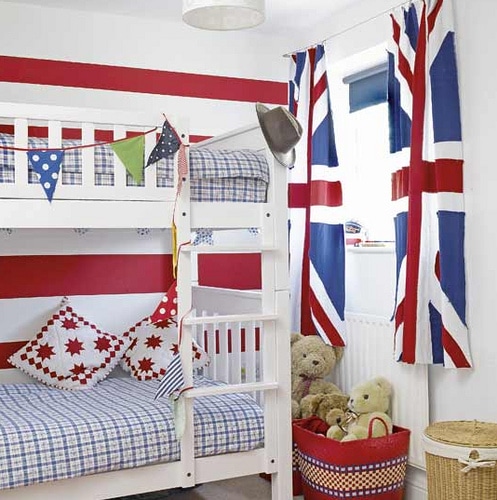 Ideal Home July 09
Between all of my three kids, we've had various configurations of children in rooms over the years. In fact, right now my 9 year old son is temporarily sharing a room with his 18 year old sister because he ever so kindly gave up his room to a 21 year old friend we have living with us (bringing our grand total to five kids living with us right now). And my son truly does not mind sharing a room with his sister one bit. He loves togetherness! And I love hearing the two of them chattering away at night…so sweet.
My daughter would probably prefer to not have her brothers stuff strewn about her room, but she is heading off to college soon, so I think she is just savoring every moment with her little brother. Aw. Now I'm getting all teary.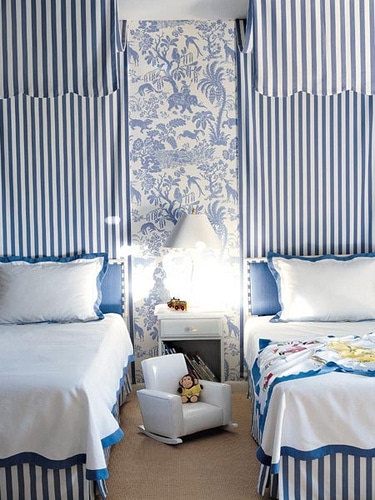 Southern Accents
Even when my kids had their own rooms, we always made sure to have extra beds for sleepovers. Twin beds, trundle beds, bunk beds are all very useful for overnight guests. Whether at home or at a vacation home, having space for more than one in a room can be both charming and practical.
Cottage Living
Coastal Living 2008 Idea House
House Beautiful
Some built in beds can seem pretty elaborate, but I bet if you are at all handy, you could find a way to build in beds without fancy skills.
Coastal Living
I thought this was clever use of a hallway or even a very small room! You really don't need a huge room to hold more than one child. Let the kids sleep in one room and put all of their "stuff" somewhere else (or even under the bed in bins if you are really short on space)! Even when we had enough bedrooms, I often times had my kids keep their toys in one bedroom and had them in another room for sleeping. That way, much less mess in the bedroom.
Coastal Living
Building in twin beds with closet walls as head boards and drawers underneath makes great use of space.
Whether you have fancy built-ins, bunk beds or simple twin beds, sharing a room can be great for large families, small homes, creating more family togetherness or providing for those memorable sleepovers! Certainly there are pros and cons to sharing a room, but whatever your family decides, have fun designing your kids' rooms!
Quick Tips for kids sharing rooms:
If you are going to have multiple beds, coordinate the bedding (if you want more individuality, perhaps choose the same bedding in different colors or coordinating patterns) — or simplify the look entirely with identical bedding. For a cohesive feel, paint bed frames to match.
If possible, let children have their own reading lights and personal space in drawers or closets.

Give each child a bulletin board to hang their own prized artwork and school papers.
Find ways to let children express their personality in their room without clashing with their siblings.
Perhaps buy matching frames and let children choose their own photos or artwork in coordinating colors.

Set rules such as lights out times and respecting personal space to avoid conflicts.
Let's hear your children's room sharing tips, memories and thoughts in the comments!