Tips for Hosting Guests
I love to create an environment that makes guests feel welcome, comfortable and helps them to enjoy the experience of being in our home. And by cleaning up, fluffing and nesting in preparation for guests, I love living in my home even more! It is a win win all around. I'm going through my house right now preparing for our holiday guests, it is fun for me!

If you host guests, or if you have BEEN a guest, you know how important it is to create a welcoming environment! I have had some awkward (or less than pleasant) experiences as a guest, so some of these tips I learned from actually being the guest!
1. Clean the front porch.
As I write this I notice we have tires on our front porch. In my opinion, THAT is a big NO. Yes, I do have tires on my porch. But if my guests were on their way over tonight, I'd move them!
Take away all unsightly objects and give your porch a good sweeping, as I clearly need to do. A tidy first impression will make guests look forward to their visit!
If your front door is dirty or your door handle is grungy (inside or out!) wipe it down! You don't have to be PERFECT, but appliances and tires on your porch and a sticky door handle are just not welcoming. Ever.
2. Make the inside entry pleasant.
Pick up any personal items that are hanging out inside your door, like shoes and papers, so guests don't feel cramped and in your personal space the minute they come in your door.
Make that first few feet of your home the transitional space from the outside world where guests can feel expected and welcomed into your home. If you have an entry table or shelf, add a candle to make the entry smell wonderful. You can find more inspiration on my 12 Tips for a Welcoming Entry post! Of course, always make sure your guests are not sensitive to scents before you use candles!
Burned out lightbulbs = gloomy!
3. Lighting.
If your guests are arriving at night, make sure you turn on all the outside lights! Inside, it is nice to keep overhead lights low (I love using dimmers!) and yet still glowing with the warm light of lamps. Change any light bulbs that are burned around your house. Avoid having dark corners or it will feel depressing!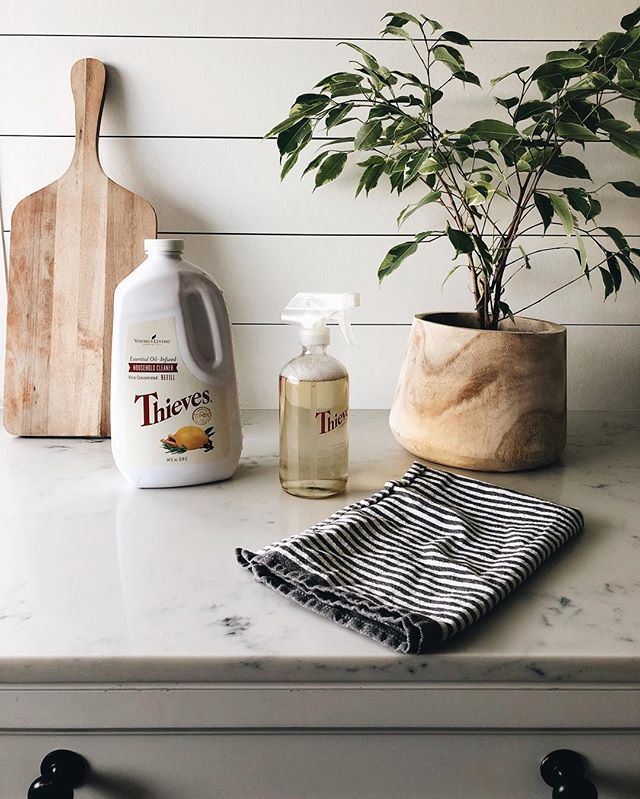 Have wonderful smelling cleaning products!
4. The sniff test.
Did you know you can't discern the true scent of your own home because you are used to it? That makes it tricky to know how your house really smells. But here are my best tips for making sure your house smells GOOD:
Clean your kitchen and bathrooms thoroughly, using great smelling cleaning supplies! I love Thieves Cleaner (it's a concentrate so a little goes a LONG way).
Vacuum carpet and dust furniture — dirt stinks!
Take out the trash and clean litter boxes and animal cages. Again, those things stink even if YOU cannot smell them.
Wash everyone's bedding.
Give animals a bath
Light a candle!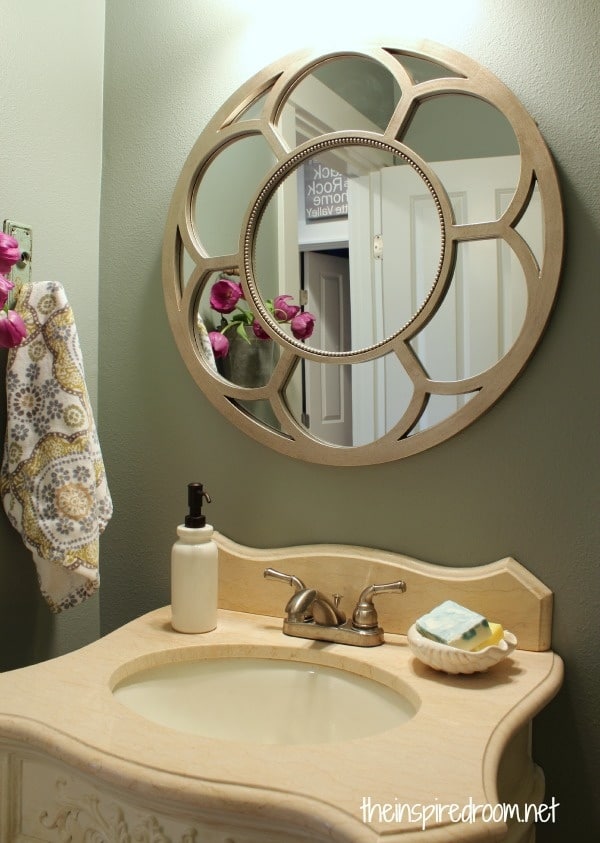 Make a guest bath clean and pretty!
5. Prepare the Guest Bathroom.
Even if you do not have a designated guest bathroom, you need to prepare whatever bathroom your guests will use.
First step is to gather up all of your personal items. Leaving your hairbrush out and a big glob of toothpaste in the sink is not exactly welcoming to a guest. Take all clothing and used towels out of the room too!
Clean the bathroom spic and span but make sure it smells AMAZING — not like a hospital. I always wipe things down with my Thieves Cleaner which smells natural and clean!
If guests will be spending the night, I like to stack big white fluffy towels right on the counter so guests know which towels to use. It is also nice to set out a small pack of extra toiletries such as toothpaste, new toothbrushes, shampoo and soap, so guests feel at home even if they forgot something important.
Extra toilet paper. Nothing is more awkward for a guest than running out of toilet paper, so I set out several rolls near the toilet. Guests feel awkward rummaging through your cabinets in hopes of finding extra rolls, so putting them out in the open reassures them that you've thought of every awkward possibility.
Make the guest bath pretty and special! During the holidays it is fun to add a wreath or other touch of holiday decor! In the summer you can add a small bouquet of flowers.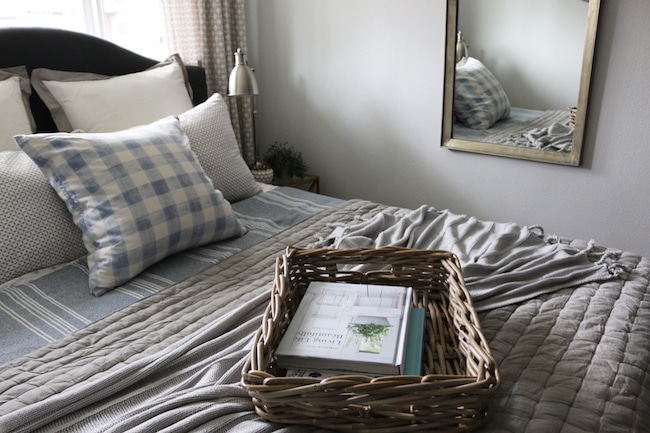 6. Bed & Breakfast comfort.
If guests are spending the night at my home, I want my guests to feel like they are spending time at a Bed & Breakfast, even though my house is not big or luxurious and I don't have a private guest wing.
Make sure you have fresh clean sheets, a couple of extra pillows and extra blankets.
Clean out the guest's room so it is neat, tidy and welcoming.
Open the window a crack so there is fresh air in the room.
Set out a couple of current magazines or books they might enjoy reading before bed.
Give them privacy in the evenings and early mornings.
7. Communication is important.
Before guests arrive: I sit down with my young son to review some basic manners to make guests feel comfortable. We talk about things such as knocking on doors before entering, flushing toilets, and not complaining loudly about guests being in the bathroom. We try our best to have manners everyday, but we review before guests come! Learning how to be a good host is a good lesson for kids!
When guests arrive: I let them know where to find our powder room, or where their room will be and where to put their things so they can get settled.
I let guests know what to expect in the morning (things like: the bathroom is all yours in the morning, we'll have breakfast at 9AM or I will put cereals and spoons and bowls out on the counter!)
I also let guests know if there are any plans for the days they are staying with us, so they know when they have free time or what to wear and when to be ready for events. I don't want them caught off guard or feeling uncomfortably out of the loop!
Simple communication shows you care enough about your guests comfort to let them know what to expect.
8. Keep it simple but organized!
One thing I've learned over the years is that complicated plans never work out well for me when I have guests. I need to make sure everything from our meals to our entertainment plans are extremely simple and manageable. Once people arrive, all plans tend to go haywire and things suddenly feel more chaotic than I expect. I find I have trouble thinking and functioning with a house full of people so the more simple my plans, the better things go.
I keep a discreet list handy of our basic planned schedule (hold to this LIGHTLY!) which might include things like our meal plans so in the chaos I don't forget to set out drinks, accidentally leave off an important part of the dinner or forget to start the oven at the right time. This helps me to RELAX! There is a fine line between being simply organized and overly obsessed, so I try to walk that line carefully and stay organized but flexible.
9. Focus on your guests!
The minute the guests arrive, things change from preparation mode to gracious hostess mode. That means no matter what happens, I want my guests to feel comfortable. Things will go wrong. My house won't be perfect. My family might do something to embarrass me. We might have a food disaster. But I try my best to avoid talking about what is not perfect because that only makes everyone uncomfortable.
Most importantly, remember to LAUGH and have fun and not take yourself (or anything else) too seriously.
10. Creative conversation.
Above all, remember that it is the attention you show to your guests that matters more than the food, the house, or the plans. What are you going to talk about while your guests are around? I've found it helpful to think about topics in advance, rather than struggling to think of things to say beyond, "How is work going?" or "How is that hernia healing up?" Some of us have more trouble than others being engaging and witty for more than 10 minutes. Give yourself and your guests a break by being prepared to keep the conversations interesting. It can help to brainstorm a few conversation starters to use while guests are in your home!
More from The Inspired Room:
Shop My House and Latest Decor Finds

My book Simple Gatherings! – Welcoming friends and family into your home doesn't have to be intimidating.This book will help you turn any get-together into a special memory!
Tips for Preparing a Room for Overnight Guests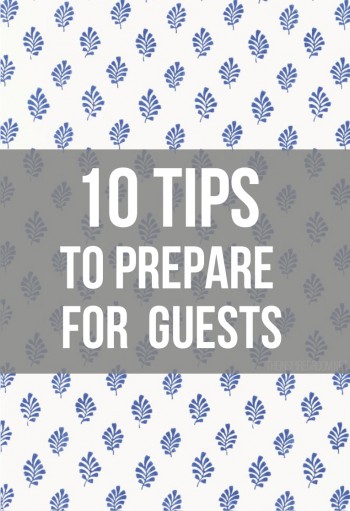 Wallpaper by Schumacher
Have you had an awkward guest experience in your home or in someone else's home? Let's share our funny or awkward "guest" stories in the comments!