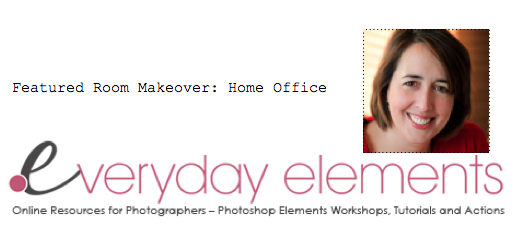 Let's welcome Amanda back to The Inspired Room today to show us her Home Office Makeover Reveal!! Woo hoo!!
This is not a makeover I was involved in, it is totally her own project which she was planning to complete top to bottom in a TWO WEEK period of time on a $1000 budget. Let's see how she did!
…………
Hello Inspired Room friends!!
This is Amanda from Everyday Elements, back to reveal the finished product from my home office remodeling endeavor. If you missed the first post in this series, you might want to stop and see the "before" pictures so you can really appreciate the drastic change this room went through.
Since it has been so long since my last post, let me take a moment to restate what my goals for the office were:
To create a modern, traditional style home office where I can not only work on my business but I can invite friends in to talk, have a place to put my feet up and read.
To have the office feel like a sanctuary as well as a functioning home office.
To complete the remodel in two weeks with a $1000 budget.
How did I do? Well, I would have to say that I hit two and a half out of the three. Which goal do you think did NOT get met?
If you guessed the $1000 budget, you are correct. I went about $500 over. My initial bill at IKEA was about $1127, but I have about $140 in stuff to return (frames and drapes), but the rug and new drapes cost around $350, then add in the paint, a new phone and the big picture over the credenza and the total went up to $1500.
This office is definitely modern, well organized and a lovely sanctuary for me. It is everything I dreamed it would be and more!! My husband is even drawn to it and now "hangs" out with me often as I work.
The two week goal was actually met also, just in time for my first in-person group photography and editing workshop on April 30th.
We had only the drapes to finish and planned to do that the week after the workshop, but on May 2nd life changed drastically when my niece was critically injured in a car accident that took the lives of my next door neighbor and her 6 year old son.
Here is a run-down of where I found what:
All furniture comes from IKEA (except for piano stool doubling as side table, that is a family antique)
Rug from Lowers
Shelving system cut to fit closet came from Lowes
Curtain rods came from Lowes
Drapes (108′) came from CurtainWorks
Large picture over credenza came from Bed, Bath and Beyond
Big thanks goes out to my husband who worked hard on the wire and cord system. Notice that you do not see any wires hanging out and in the way. He worked to get everything organized in the closet, and to get me on as many wireless items, so that just essential wires were running over to the desk. And then he did a fabulous job of making those as unobtrusive as possible.
For a more in-depth look at the office, you can watch my video tour of the office at YouTube. Pardon my craziness; that's just me. ;-)

—–
Thank you Amanda!! Our hearts go out to you for the tragedy you and your neighbor's family all suffered. Life is so fragile and precious.

Thank you for coming back to share your your room. It looks amazing and I'm so inspired to see what an organized office looks like! WOW! That is a project that is definitely on my to do list, HOPEFULLY later this summer. Thank you for sharing your makeover and inspiring us to GET IT DONE!!

It really looks like a serene place to get away to work and create!
Let's give Amanda THREE CHEERS for finishing her Home Office Makeover in TWO WEEKS, that is so inspiring!!