Voyage (Church in Bremerton WA)
I've been getting questions about how our church, Voyage, is coming along in its new building and I thought today would be a good time to give you all a little updated peek into my creative home away from home! You can find my "before" post right here!

I love the opportunity to do something creative for other people. It is fun decorating my own home, but giving the gift of a creative space to others is even more meaningful and rewarding. I love that we have been able to create a real church home and not just a cold sterile building!
My girls and I have worked countless hours on this "extreme budget church makeover" but we've enjoyed every minute of it. And we owe many thanks to the people who did the job I dread: painting the walls. You can see what we started out with five months ago (below).
Before
Voyage does not have a typical looking church building,  as you might have noticed. We are going for a more modern concert house / coffee shop vibe. We are in a leased building and had no budget for our project.
So I'm thinking you might enjoy seeing some of the ways we have transformed what was essentially a boring white box into a warm, inviting and creative space. Not unlike what many of us do in our homes! Except for in this case, I get to try different things than I typically do at home! And yet just like at home, I have to do everything on a limited budget and careful consideration to make the most of what we have.
 We don't like the fluorescent lighting on our ceiling, so we came up with some creative ways to add light to our cafe area. Inspired by my beloved Anthropologie store, we fashioned work lights into our own pendants with chains and metal bars. It works really well and I love how industrial and funky they look! My inspiration picture can be found on my  Creative Ideas from Anthropologie post.
This chalkboard wall is in our cafe area as well.

This wall really means a lot to me. My friend (and sponsor of The Inspired Room) Dee from Red Letter Words emailed to me shortly after I announced our church was getting its own building. She offered to create special artwork for us as a gift, and WOW, did she ever!

I picked  out several pieces of her work that I loved and she also created four unique canvases that fit with our key words, explore, discover, thrive and impact. My photos do not do this subway art justice, it is spectacular. Do yourself a favor and get yourself a piece of Dee's work.
Just for fun on that wall we added in a clipboard with old photos of ships (we are in a navy town right on Puget Sound) and an antique copper temperature gauge.  Metal lamps on the tables are from IKEA.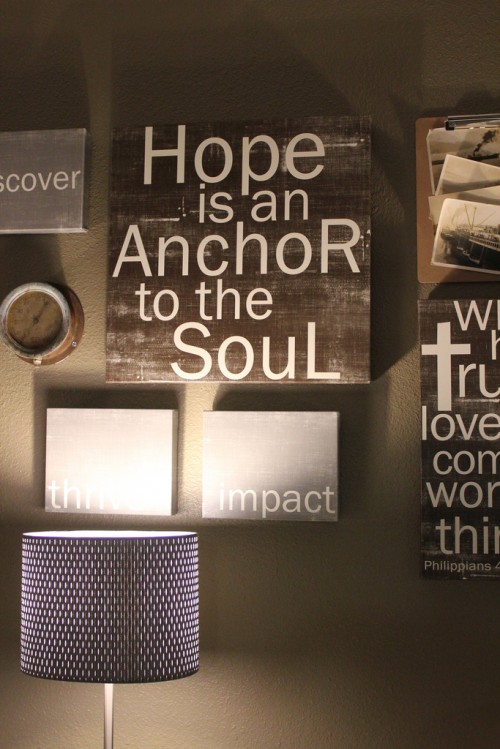 Pulling back a bit so you can see our cafe area.
Yes, I did turn a metal garbage can upside down to make an end table. Risky. People probably think it is an upside down trash can.
Pallet art
I was inspired by pallets as art from my many visits to Anthropologie (you can see in my Decorating Lessons from Anthropologie post). They are truly fun (and free!) to create with as there is no end to how you could use them.
We hung small glass votives from the Goodwill with wire, put battery operated candles in them and added a couple of vases for flowers. We'll keep it that way for awhile but it is fun to know we can change the accessories at will and it will have a whole new look.

Pallet art. We don't mind the splinters since the pallet is not really handled by anyone. It adds to its rustic charm.
More pallet art! And art by Jeanne Winters sold at DaySpring!
Perrier bottles for vases.
We are doing some fun things for the restrooms too,
but I'll have to take some photos before I can show you more.
We use lots of cardboard for signs.
We love all the fun details of home we are able to have in this building!
It is all a big undertaking, but definitely a risk worth taking.
And now you know how I spend most of my time. Creating art with with pallets, garbage cans and chalkboards.