In just a few days we'll be heading into the month of November! If you are in the United States, we are gearing up for Thanksgiving and of course, most of the world is getting ready for the Christmas season! WOW! Can you believe it?
I have served Thanksgiving and Christmas dinners in each of my houses over the years. Big dining rooms, teeny tiny dining rooms and potluck style in a living room. It doesn't really matter what size of a dining room you have, or whether you host Thanksgiving or Christmas as a sit down meal or a potluck buffet.  You can have a fancy dining room or a kitchen table. A sofa or a card table and chairs.
While a gorgeous table in a beautiful large dining room would be a dreamy place to host your holiday meal what really matters is the conversation, the sense of family and community you build around that meal and table.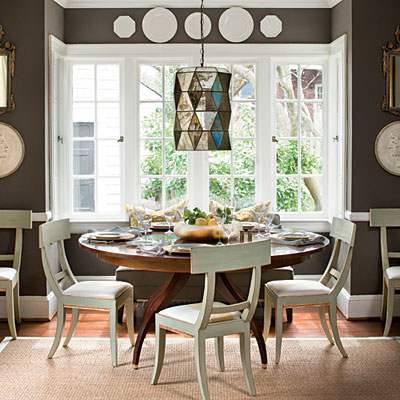 One of my favorite Thanksgiving dinners I hosted was for my sister and her fiance. They were getting married the next day, so we didn't have time to prepare a full fancy Thanksgiving dinner.
That particular Thanksgiving my sister and I threw together a simple turkey breast, mashed potatoes, stove top stuffing and cranberries. We sat around the world's smallest dining room table in the tiniest dining room of my English cottage style house in Eastmoreland and talked about their marriage and future. Even though it was a simple meal, I turned down the dimmer switch on our chandelier and lit candles on the table to create ambience and atmosphere. That was probably 12 years ago now, but we still remember that Thanksgiving as one of our favorite times.
We might have to adapt our sit down dining style or our preparations for the meal to the size of home we are in or the season of life. We might not always have the ideal circumstances or perfect dining room, but we can still create special memories with conversation, a little ambience and a simple meal!
Do you host a get together around the holidays?
Do you use a formal dining room or a kitchen table?
What are some ways you make a holiday meal feel special, in spite of limitations you might face?
I'd love to hear about your holiday plans involving your dining room or kitchen table! 
Here are some blogger dining rooms you might enjoy for inspiration!
Find the rest of my Fall and Christmas Decorating Series here!