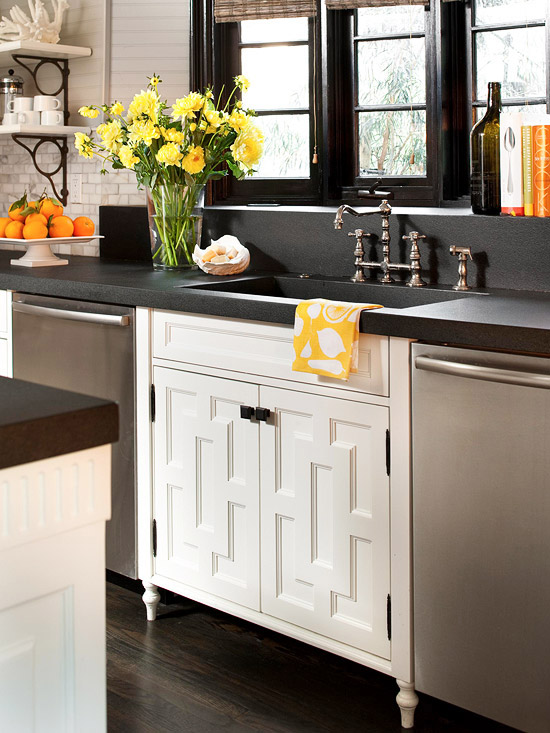 BHG – Refresh Cabinet Doors
1. CREATE FRESH LOOKS WITH MOLDING
Want more bang for your cabinetry buck? You can embellish any cabinet door with molding, glue and paint! Look how awesome those cabinet doors from BH&G (above) look with the unique molding design.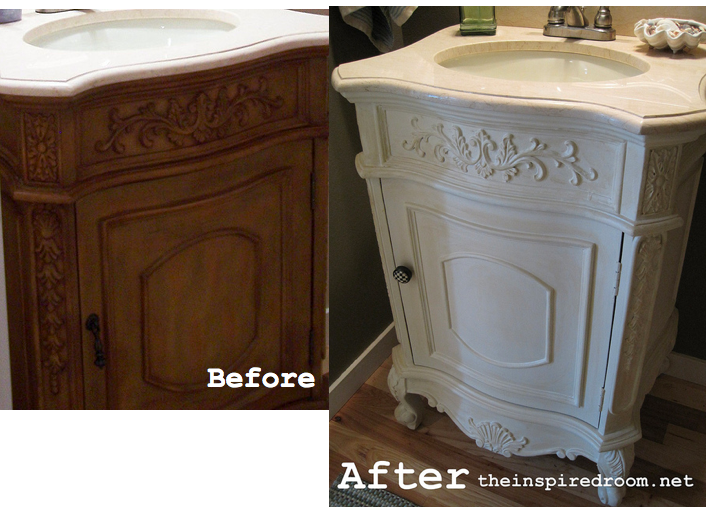 2. EVEN FAUX WOOD CABINETS CAN LOOK BETTER WITH PAINT
My little powder room had a faux wood vanity that just wasn't the look I was going for. While I wanted to rip it out and start over, I was able to prolong its life with a simple coat of primer and paint. Instantly better!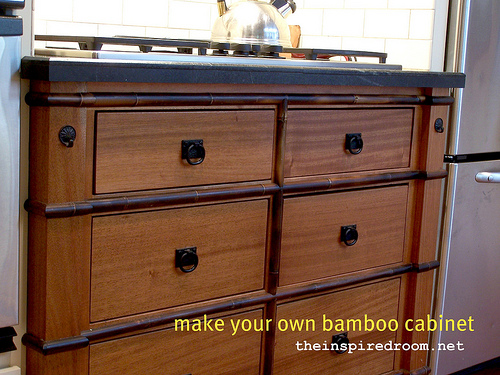 3. GLUE ON EMBELLISHMENTS
In our old kitchen, we wanted something very old world and unique for our stove cabinet. So, we went to a garden center and picked out real bamboo pieces, had them cut and burned, and glued to the cabinet. The bamboo gave it a much more custom creative look than standard stock cabinetry, without the expensive price tag. We went with a mahogany finish to fit in with our tudor style house and contrast with our white cabinetry, but you certainly could paint it any color that works with your decor.
BHG – Chicken Wire Cabinets
4. ADD UNIQUE INSERTS TO CABINET DOORS
Put your own spin on your existing cabinet doors. Chicken wire, leaded glass, ribbed glass, fabric…there are so many ways to take an average cabinet door and give it your own flair and personality.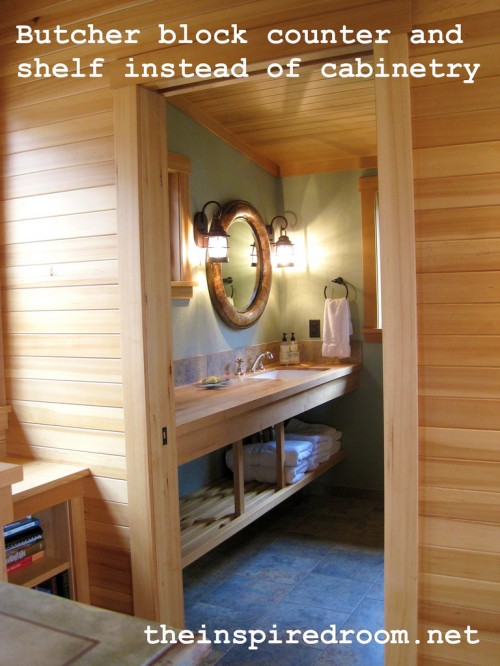 5. INSTALL A COUNTER WITHOUT THE CABINETRY
Who says you have to have a run of the mill vanity cabinet? If you can store all your ugly toiletries elsewhere, go for the open shelf instead and make your bathroom look like a spa. That is what my mom did in our beach house with this simple butcher block counter and an open lower shelf.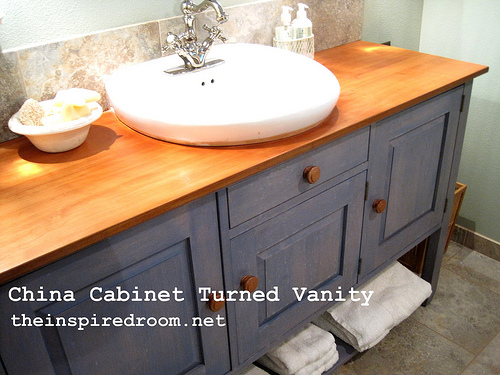 6. REUSE FREE STANDING FURNITURE AS BUILT-INS
And in a family bathroom of our  beach house, my mom found a china cabinet at a resale shop. It made the perfect vanity when outfitted on top with a new sink! She cut off the china hutch and reused it in the laundry room! (see below!)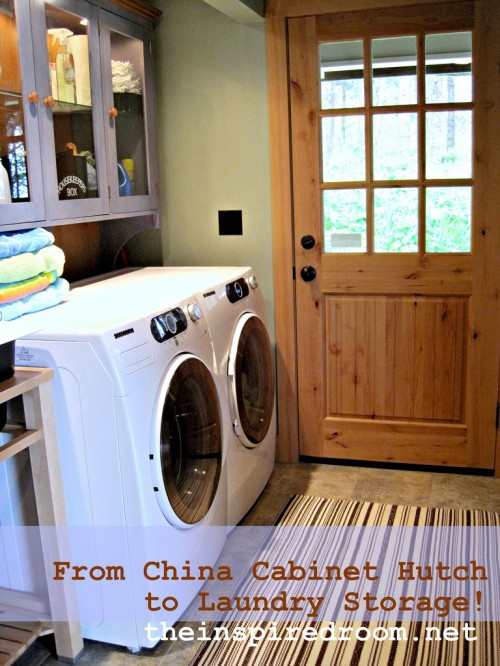 7. THINK OUTSIDE THE BOX
Just because you have a china cabinet with a hutch doesn't necessarily mean you have to keep them together. They will forgive you for separating them from their mate. The lower cabinet became the bathroom vanity (above) and the upper hutch part of this china cabinet became storage for the laundry area, fitting perfectly above the washer and dryer. Two solutions with one cabinet!
BHG – Paint Cabinet with Chalkboard Paint
8. ADD PERSONALITY AND FUNCTION TO CABINETS WITH CHALKBOARD PAINT
I love this chalkboard painted right on a cabinet! Added personality plus function, all with a can of paint. Maybe that is all you need to refresh a tired cabinet?
9. REFURBISH WHAT YOU ALREADY HAVE
Just because your cabinets are UGLY doesn't mean you have to rip 'em out. Our built in china cabinet in our old house underwent a facelift and we refurbished what we had. Amazing what glass doors, v-groove paneling on the sides, new counters and drawers and a few other details can do to transform a hum-drum piece of cabinetry! You would never guess it was the same cabinet.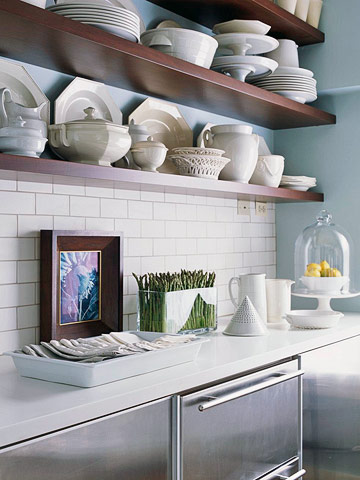 BHG – Open Shelves
10. REMOVE CABINETS AND OPT FOR OPEN SHELVES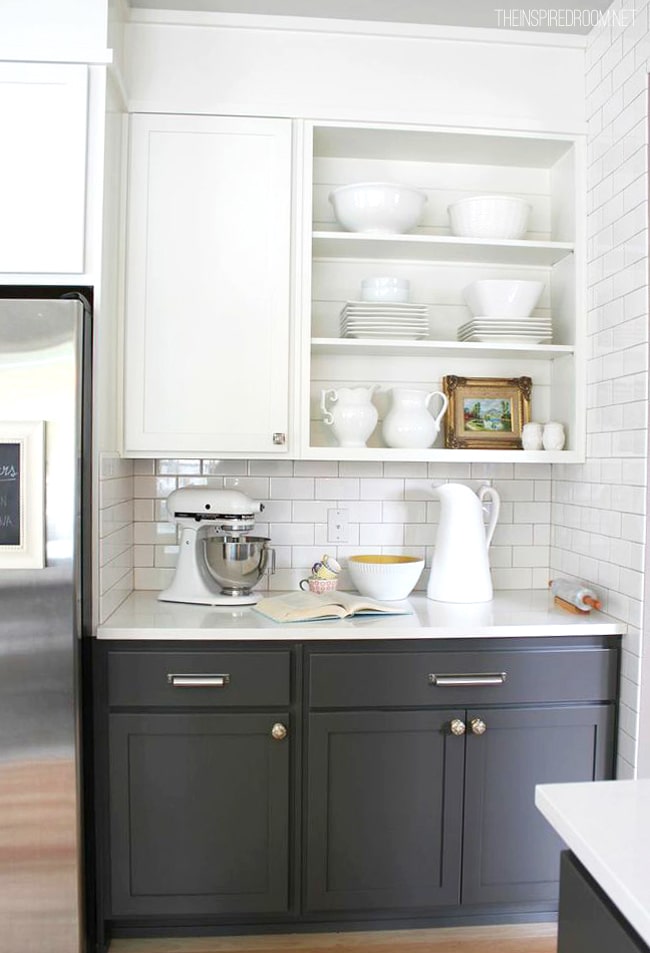 You all know I love open shelves (update, you can see our kitchen remodel here!). Don't tell me you can't have open shelves because they wouldn't look this nice. That is silly talk. You can choose to put cute things on open shelves, you don't have to throw your Cheerios boxes and plastic bowls there.  Use your closed drawers and cabinets for uglies! By taking cabinets down or even just removing the doors of existing cabinets can totally transform a room and give it an entirely new look!
So, go forth and embellish, repurpose or reinvent!