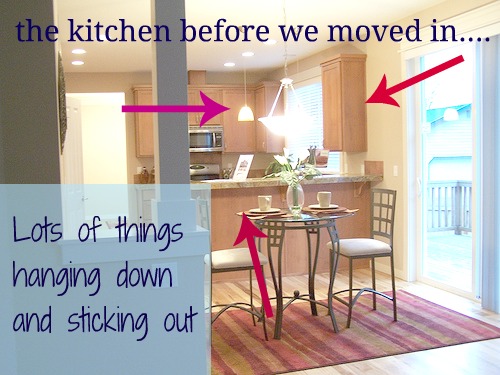 I never liked my kitchen. I loved my old kitchen. Not so much love for the new one. It always felt wrong to me. I did not like the counters, tile, the finish of the cabinets or the sink (forgive me for sounding ungrateful, my commentary is purely from a design point of view and not a matter of life and death, I realize there are greater issues in the world than my feelings on my kitchen).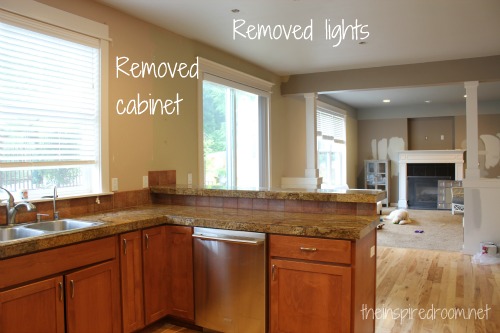 The configuration of the cabinets chopped up our space and made everything feel awkward and too crowded.
There were so many visual barriers it drove me crazy!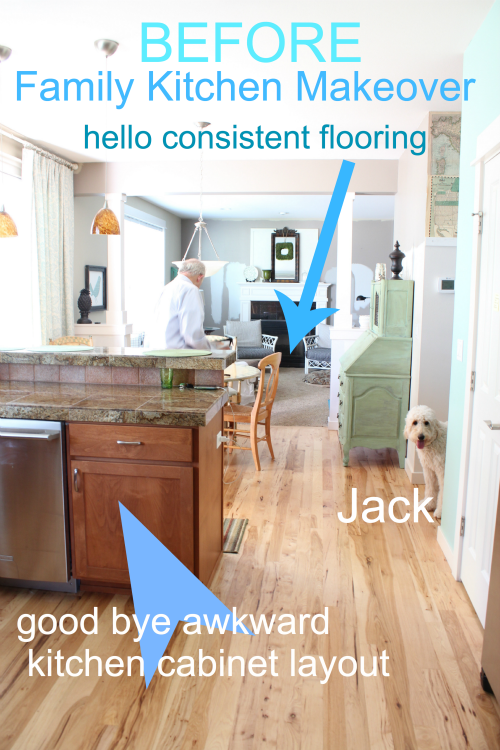 Three lights hanging down blocked the view across room. The light over our dining table (the photo above is NOT our furniture, that was pre-move in) was not centered in the room. The flooring changes part way through the room.
A long counter jutted out into the middle of the room breaking the entire kitchen up into tiny awkward spaces rather than one more spacious room. In some kitchens that type of counter works great, but in this case, it just wasn't working for me. Not to mention that the bar counter was simply a clutter magnet. We don't need any clutter magnets at our house!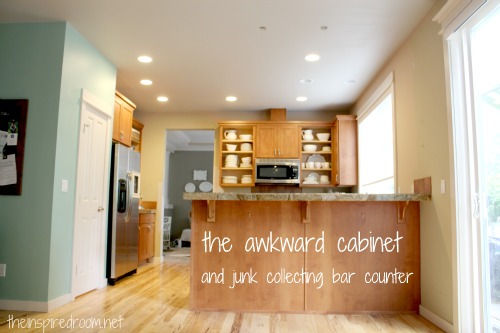 If only I could have bought the house before the builder designed it. Don't even get me started on the original "swine" paint color.
So why did we buy this house? We just needed a clean place to live that did not need immediate remodeling so we could get right to work on starting the church. And that was the right decision for us at the time.
Over the years I removed a small wall cabinet and took doors of off some cabinets to try to open things up a bit and buy myself some time. I love quick, easy and affordable solutions! But after three years of living here, not only was my house showing wear and tear but my true feelings about my kitchen are emerging. I just didn't like it. At all.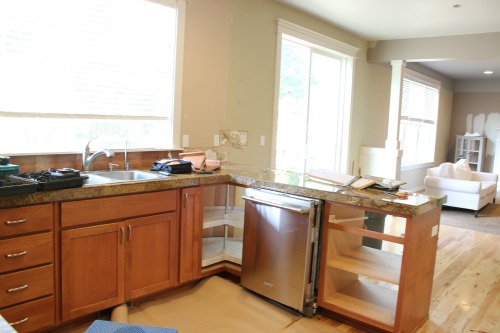 Fortunately, I've had three years to think about the kitchen first. If I had re-designed the kitchen too soon, I might have not come up with the solution that would have been best for us. I find it takes awhile of living in a space before I can come up with creative solutions that are cost effective and will work design wise.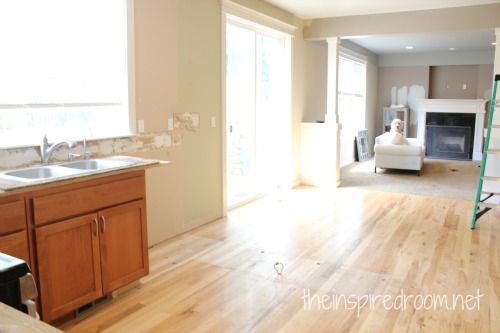 Anyway, a few weeks ago I decided I didn't want to go through another winter with my kitchen as it was. I was ready to take a sledge hammer and bid it farewell. I had a vision in my mind of a "simple" rearranging (and removal) of our dishwasher and a few cabinets that would still leave us with plenty of storage and yet open up the room so it would feel more spacious.  And of course, would update the design to work better for our home.
I pictured this as a little more than a cosmetic makeover, but not as extensive as an entire kitchen remodel. Although from the looks of it now it might seem a little more extensive than I care to admit to myself. HA! We are keeping our stove, refrigerator and dishwasher to save costs (my dishwasher is new but some day I hope to update my other appliances).
I'll share more details as we go.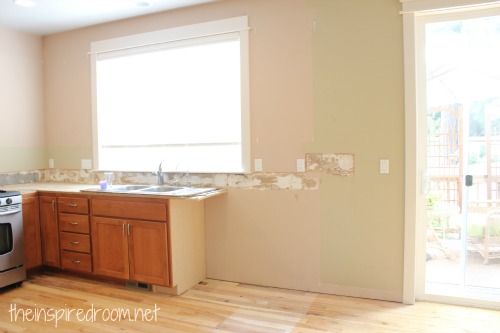 I found a good contractor who could work me in to his schedule and today they came and ripped out everything I disliked. Now, I'm committed. Or should be committed. I cannot say for sure that this will be a quick before and after (but I dream of that), money is so tight that I might be living in a bit of undone for a bit. We'll see once I get all my bids in what I can do.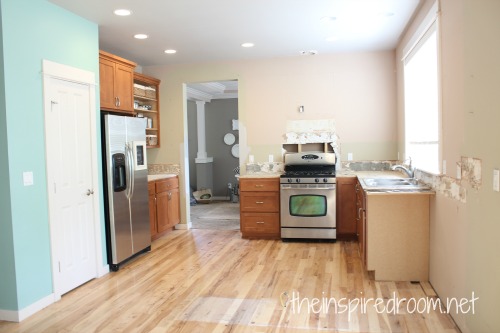 But honestly, even if we didn't do another thing, I already love my kitchen more today than I ever have.
It feels so spacious and less cluttered now, like a real family kitchen!
So, now you know what is happening in the kitchen. Don't worry, I do have plans for the wall on the right of the kitchen and for above the stove. They won't look empty and useless forever. And, we do need to replacing the flooring so there's that.
Is anyone still around or did everyone leave for the holiday weekend?
Maybe I"m talking to myself.
But I've got lots to talk about.
Tomorrow I'll share my new sofa story!
TO KEEP UP WITH THE KITCHEN RENOVATION IN PROGRESS, CLICK ON THE KITCHEN RENOVATION CATEGORY!