Update and add charm to a kitchen on a budget
A
re you ready to update your kitchen? Do you want to add charm and personality but aren't sure where to start? Creating ambience is the key to having a truly beautiful home.

You know how you can look at some magazines and see a perfectly decorated room — but it seems to be missing something? That is often because it is missing ambience, that little ingredient that makes a room feel special, warm, personal or inviting. While you can add ambience through accessories, you can also do it directly through the architecture of your home.
NOTE: You can see some of the BEFORE photos of this kitchen here. It is QUITE shocking how far this kitchen was able to come on a reasonable budget!
The most charming homes have personality even when all the belongings are removed from the home!  We can't always change the architecture but sometimes we can fool the eye into thinking the house has more exciting architecture than it does.
Some of you might remember that I updated my kitchen in my old house. I wish wish wish I had better pictures to show you of my old house, but since we no longer live here, I have to make do with what I've got!
Today I'm going to show you how I turned my dream kitchen into reality on a reasonable budget!
In an unfortunate decision, the previous owners decided to take this lovely English style home and give it a 1970s kitchen. So my challenge was to take an outdated 1970s style room and change it back into a more English style kitchen. I couldn't rip everything out and I had to work with the original layout as a cost saving measure.
I wanted to squeeze as much affordable personality as I could into this kitchen so I thought and dreamed about every little detail until my head hurt! Let me take you on a somewhat blurry tour of our kitchen remodel and I'll show you some of the things I did to give it extra personality without necessarily spending extra money.
Introducing my sink. I wanted an apron front farmhouse style sink, but that was a little spendy. So I got basically the same sized sink, but created an apron front with inset cabinetry to save a little bit of money that I could spend elsewhere in the room. You can see in the next photo (below) that this trick gives a similar feel without actually being a farmhouse sink. And, it has its own unique personality because of the recessed cabinet.
Now, go back up to the photo of the sink for a moment. See the cutout design in the wood around the sink? That is what I call a happy accident. The curvy shape of the wood around the sink is the shape that gets cut into wood before it is rounded into a curve. I liked that shape so much I asked my contractor to keep it that way. Result? Unique PERSONALITY at no extra cost.
And as long as we are looking at the sink, I wanted faucets with personality too. I needed new faucets, so  searched and searched until I found the look I was after. We also mixed up our counter tops, using soapstone and Brazilian Cherry. The soapstone is fabulous, I loved it! We simply used mineral oil once a month to keep its beauty!
The Brazilian Cherry wood counter was hand crafted by our contractor. It was not cheap, but it was not as expensive as granite, and it gave the warm homey old world feeling we were hoping for! It has no stain, that is the natural color after you seal it. The sealer we used is called Aqua Spar. You can find out all the FAQ about the wood counters here!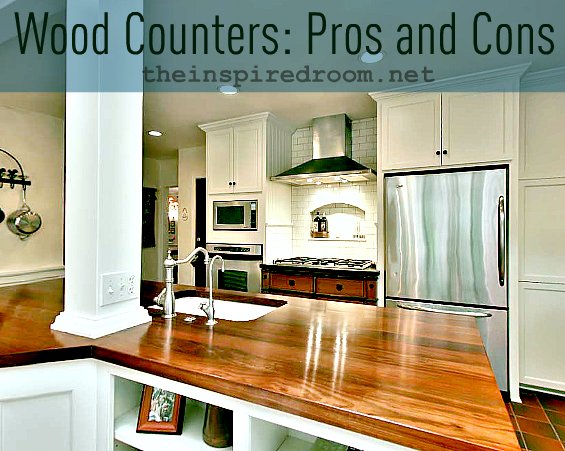 Ok, now you can see the brackets we put in under the counter. Our contractor found some perfectly acceptable brackets, but they just weren't special enough for this highly visible part of the kitchen. My husband and I went to one of my favorite stores in Portland, Rejuvenation, and found just what we were looking for at an affordable price…curvy ones that made me smile every time I looked at them.
Also, you can see we made the ends of the island (under the counter) have a different look than the end of other cabinets in the room (see the beadboard ends a few photos down.) No extra cost, just extra thought!
Another thing I really wanted in my kitchen was something to make it feel more like a living space than just a utilitarian kitchen. And nothing feels more homey that books, so I was insistent on a bookshelf! We built this bookcase in the small leftover space behind the sink and dishwasher.
While we were at it, I wanted a space to display colorful decorative items to show more personality. This set of shelves went in between banks of cabinets, where before there was just a blank wall. And to really pump up the detail, we added beadboard to the back of the shelves and brackets that mirrored the ones on our front porch.
For many of the cabinets we used the existing sturdy cabinet boxes and just got new doors. This was a huge cost savings without sacrificing the look! And to give the cabinets more personality and a custom look, we used crown molding around the tops.
The paint on the cabinets is a gorgeous Antique White, perfect for an older home or one in which you want a more creamy color than bright white.
The full sized refrigerator got a built in look without the built-in (cabinet depth) price by bumping it out into the garage so it wouldn't stick out so much into the kitchen.
I love this particular corner of the room because I can see a lot of the detail in one spot. Instead of using the same look for the sides of all the cabinets, we mixed things up. Several cabinets ends were covered with beadboard. Actually, to be even more unique, instead of the front side of beadboard, we used the BACK of beadboard, which is basically v-groove panels. We also added glass to one bank of cabinets, to mix up the cabinetry as well.
I would have loved to tile my whole kitchen with subway tile, but I picked a couple of key walls and went part way up the wall with it. It made me feel like I had a subway tiled room!
We also used a variety of hardware. We chose four different styles of hammered black iron knobs — square ones, round ones, bin style pulls and hanging pulls…all for variety. And then on the glass cabinets, we used glass knobs. It didn't cost any extra money to mix things up, but it really impacted the personality of the room.
This cabinet with four working drawers was built to hold our stove — as well as pots and pans. We could have made it look just like our other cabinets, but again, I was all about adding the personality of a room designed over time. So we designed this little cabinet to look like an old piece of furniture.
The bamboo detail on this cabinet is real bamboo–cut and burned to give it character. The bamboo was just glued on top of the cabinet. And for just a little more personality, we put a little hook on each side for potholders. It didn't really cost more than a regular cabinet, it just took a little more creativity to give it its own unique look.
This picture was staged for a holiday newspaper article, but I wanted to show you the niche above the stove. This feature did add a little extra to our budget but we felt it was worth it as it created a real focal point around the stove. Creating a focal point is a great way to add personality.

Notice that we used a darker grout with our buttery yellow subway tile. That was to tie in the existing rusty colored tile floor. I saved money by keeping the tile floors and making the rest of the room work with them, rather than against them.
Lastly, I used several colors of leftover yellow and green paint smudged onto my walls with a rag in order to give my plaster walls a really rich old look. The walls were not in perfect condition, so this technique made it look that the imperfections were a beautiful result of age, rather than something that needed to be "fixed." I saved a ton of money on plaster repair and the walls became one of my favorite features of the room.
Our whole kitchen was a give and take of trying to make the most of our budget with as many touches of personality as we could. When we wanted to splurge on something, we found a way to cut back on something else without sacrificing the look.
So, fast forward to today and we have a brand new house. My wheels are already spinning as to how I can add in some more architectural personality and unique features to make it feel like ME. I do miss my old kitchen, but I'm dreaming about all the possibilities in my new home…someday!
UPDATE! My new house kitchen has been remodeled!! Come see how it turned out in my KITCHEN REVEAL POST!
Some of the before photos from this English Tudor house can be seen here.