Wood Countertop in the Kitchen
FAQ from readers about my counters
I have had quite a few readers recently ask me about my wood counters in my old house and if they were difficult to take care of.  I love that this kitchen was designed before my blogging days, but it still gets a lot of questions I haven't officially answered in a post!
So today, I'm going to finally answer the most common reader questions about my wood counters.
Just like I did with The Truth About White Slipcovers post or How I Keep my Stainless Steel Appliances Clean, or Do I Have a Maid (and other questions about open shelving), I like to tell you about my own experiences so you can decide for yourself if you think something is too difficult, or worth having in your own home.
In other words, I loved my wood counters, like my stainless appliances and white slipcovers and even my open shelving, but they may not be the best choice for everyone.
Disclaimer: Not all wood counters will be of the same quality or care level nor will your experience or necessary care be exactly like mine. I've never had IKEA butcher block counter tops so I cannot compare them with these.

Q. Why did you choose wood instead of a stone counter top like granite?
We were trying to get away with only doing what was necessary or gave us the most bang for our buck in our kitchen remodel. We had to do so much out of necessity, we were as mindful as we could be about how to save money by making one choice over another. Our counters HAD to be replaced, that part we knew for certain. We were originally going to use soapstone on our counters and wood for our floors. We really wanted the floors to be wood to balance out the hardness of stone counters.
But, when we realized how much it was going to cost us to rip out our brick colored tile to install hardwood, we decided it just wasn't worth the expense to do the floors at that time. So we kept the existing tile floors and went with wood counters on our island and soapstone just on the counter around our stove.
Q. Who made the wood counter and what kind of wood is it?
The wood counters were custom made for us on site by our remodeling contractor with wood my husband selected from a lumber place near our home in Portland, Oregon. They were thick slabs of Brazilian Cherry (I can't remember how thick, maybe an inch and a half or two inches?), and the planks were probably like four inches wide but glued together to form a smooth gorgeous counter top.
Q. Did you stain your counters?
They were not stained at all, they were sealed with a few coats of Aqua Spar (a type of marine sealer) and that is it. What you see is its natural color after the sealer is applied. Before the sealer, they looked lighter and less rich.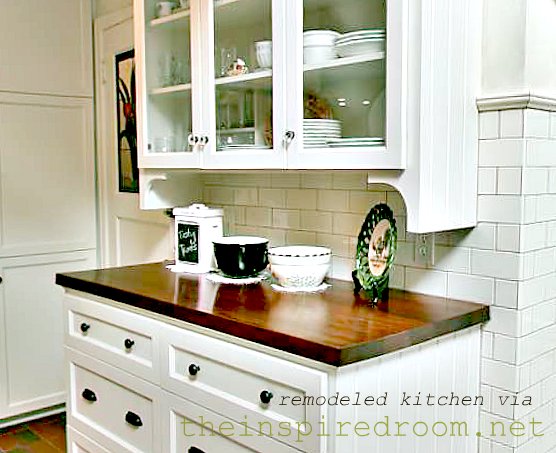 Q. How did you keep them from getting water stains or scratches?
One, the sealer is designed to protect the wood as if it was a wood boat in water. That is how good that Aqua Spar stuff is.
But secondly, we treated that counter like it was a fine piece of wood furniture or our own child. We caressed it and babied it, kept it clean and dry all day, and didn't set harmful objects directly on it, and never left water glasses on our counter. You can see in the above picture we used my grandma's doilies under some of our accessories before doilies for decor became chic again! Ha!
There were even a few incidents where we left the filtered water faucet running into an overflowing cup on the counter and that meant water went everywhere. Oops! But still, no harm done.
But, before you think we were crazy to have wood counters, we felt it was worth the extra TLC because those counters made us happy every single day. Yes, counters made us happy. They did! They were gorgeous.
And a side benefit was our counters were never piled up with dishes or mess because we loved them too much to leave dirty dishes on them!! We kept that kitchen much cleaner than we do our kitchen right now. Hmmmm…. something to think about.
Q. You must not have kids. Or teenagers.

We had preschool aged boys AND teenagers living or hanging out regularly in our home. Lots of kids at once. Yes, it was a bit risky to have beautiful wood counters like that in a busy family kitchen. Someone could have put a water ring on our counter or scratched them! Oh no! But I knew they were just counters. Had we needed to, we could have sanded and resealed. But, we taught our kids about setting dirty or wet dishes in the sink, dishwasher, or on a place mat rather than directly on the wood. They learned to put dishes away instead piling them up on a counter.
I might also note here that this was the second kitchen where we had wood counters (and kids). Our first kitchen when our girls were little also had wood counters. We had no problems with those wood counters either (I believe they had been made out of wood flooring and sealed.)
Q. What about wood counters and entertaining?
If our kids had friends over or we had a party, we didn't make a big public deal about protecting our precious counter tops. We LIVED in our home, it wasn't a museum. In other words, we realized we were the only ones who were going to care enough about our counters to keep them clean and free of potential harm. We didn't want to make everyone feel uncomfortable at our house because we were always in a big panic about our counters.
We let people of all ages eat and cook in our kitchen and we didn't give them a list of rules for how to take care of the counters. At least I don't remember doing that! HA! If necessary, we just waited until everyone left and then we'd go in and clean up the kitchen our way, no harm done.
Q. What about heat marks, food prep and cutting?
We didn't set hot pans on our wood counters. Nor did we put food directly on our counters or use them as a cutting board.
Q. What was the long term care like? Did you have to refinish them?
One time a couple of years after our kitchen was finished we did reapply the Aqua Spar (after a quick once over with some steel wool) to give it a fresh protective coat of sealer. It was quick and easy and the counter looked just as beautiful after the second treatment as the first. Very simple care. The Aqua Spar is amazing and will protect your counters like they would protect a boat in the water, it is good stuff!
Q. Do you recommend wood counters?
Yes. The reason I was willing to give my counters so much TLC was that I loved how they looked and felt (literally, I would stroke them all day long because I'm insane like that).  So, my advice is always that if you find something beautiful you love that might require a bit more care than something you don't love as much, go with what you love.
If you are at all like me and appreciate beautiful things, taking care of something lovely is not really a burden at all.
I'd rather have a house full of things I adore and lovingly care for than a house of safe upholstery and indestructible surfaces that I really dislike, but chose because they hides all dirt and marks.
Have you had wood counters in a kitchen before? What are your experiences?