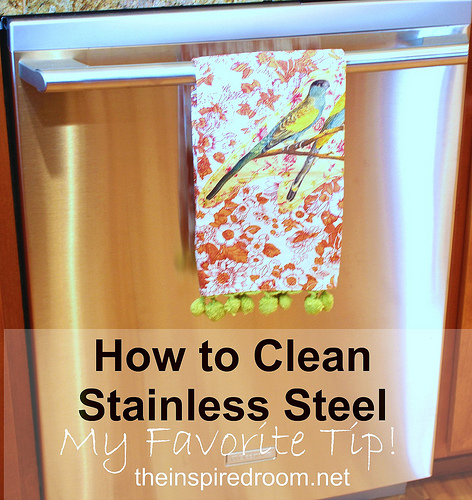 HOW TO CLEAN STAINLESS STEEL APPLIANCES
I've had stainless steel appliances for over eight years. For eight years, I have dealt with those pesky finger prints and who-knows-what smeared all over the front of the appliances. My appliance manuals always recommend special cleaners for stainless and have warnings against using other chemicals that could ruin the finish.
But I have never found those special cleaners to work as well as good ol' Windex.
I know it was a risk to put Windex on my appliances, but we got sick and tired of how awful our stainless looked all the time! We reasoned the finish couldn't look any worse than it did! But even after years of using Windex and paper towels to clean them, we have never had any problems with the finish at all. It works BEAUTIFULLY! We've had many of the major brand appliances and found Windex to work on all of them.
We have what appears to be a "stainless" sink and it is AWFUL to clean. The sink gets rusty, it is impossible to clean and I just don't like it. Not all stainless steel is the same quality, apparently. Windex does NOT work on my sink, FYI.
So, I'm wondering if you have any of your own tips for cleaning stainless?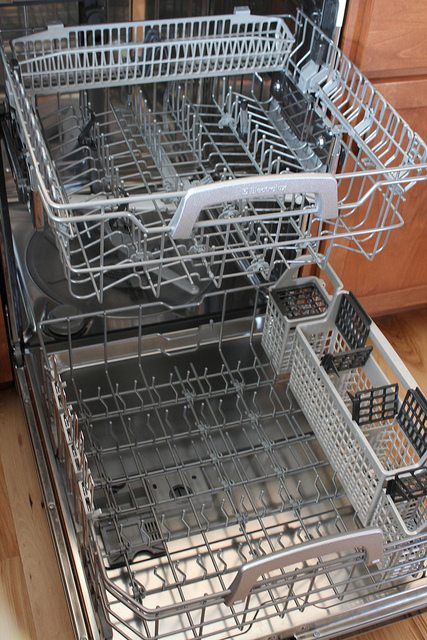 I love the inside of my new dishwasher, seriously, this Electrolux is like a TANK inside and always looks clean and shiny!
If you could choose any appliance finish for a new kitchen, would you choose stainless or not? What would be your finish of choice?

And please share your stainless steel cleaning tips in the comments!
disclaimer: use products on your stainless appliances at your own risk.
Do you prefer white appliances? Check out this  post in support of white appliances!
…….
This post is the last of a six part series on Homemaking, sponsored by Electrolux as part of Homebuzz. I received an Electrolux appliance in exchange for my participation. The opinions stated in this post are my own. My old dishwasher is being donated to a worthy cause.
The other posts in this series are here:

My New Dishwasher, Order from Chaos,
3 Truths and a Lie, How to Organize a Kitchen