So, remember when I told you that I had taken everything out of my living room in order to re-evaluate the purpose of that front room, formerly known as our living room? When we last talked about it, this is what the room looked like (below). It was empty and waiting for a new direction and carpet removal.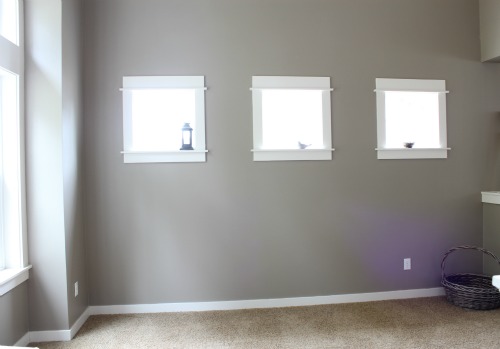 And to rewind back even further, here is what it looked like in all its swine-ness, old carpet and the living room set-up:
After painting the walls a warm neutral gray awhile back and adding new Hickory hardwood floors this summer, the shell of the room was transformed. So now we now have this in-process space:
Things are evolving! We still have a ways to go and there are other updates to come, but we've definitely made great progress! Thanks again to Lowe's for working with me on the installation of those beautiful Hickory floors.
So where are we going with this project and why?
I want to live intentionally in my own home. Even though we have a "front room" that is labeled "living room" on our house plans, it doesn't mean we have to call it our living room or use it like one.
The truth is, we've discovered we don't need a traditional living room. We don't live in that front room. We pass through it, like a big hallway on the way to our dining room and kitchen. We need to create a home that suits our own lifestyle and needs. We need a home that works for us rather than suffocates us.
For over three years I've been assessing the needs of our family in this home. I've watched how we live here and where we tend to hang out. I've observed where our messes tend to pile up and how I feel when I walk through my front door or walk down my staircase every morning. I've noted which rooms are not really used and which ones have too much going on in them to be practical.
And now, I'm making changes all around my home to create spaces that we not only love to look at but spaces we love to come home to. Yes, it might appear there are a lot of projects going on at once and that might unnerve you at your house. Sometimes it has unnerved me too.
But honestly, considering the house as a whole and taking action as a whole was necessary because all the pieces needed to fit together. I needed to shake up the whole house and put it back together again how I wanted it. It was time to make this house my home.
Change is not easy. Getting the flow of your home right takes time. Reorganizing causes new messes. And yes, it can cost some money. but it can be done on a budget and over time. As you can see, many of these projects have been going on for awhile.
My home and budget is not perfect or ideal, but that is part of the fun of this process. I actually enjoy working with my limitations because it forces me to be creative in my approach. My rooms are not complete in some overnight magical before and after weekend makeover. It is clearly a step by step process that takes place over many months and years to refine where we live and gather the things we love.
I thought a lot about what I wanted to see when I came through the front door. Do you ever stop to think about what you see when you walk into your home?
Our living room is wide open to our entry, immediately connected to the left of our front staircase right by our front door. We have a separate connected entry, but it is quite small. While our living area could easily be transformed to a highly functional craft room, an office or a dining room, I decided I didn't need or want any of those spaces.
I wanted the room to be useful in a different way than just practical. I wanted this room to be creative and visual therapy for me when I walk through!
And in order to sense that, I needed to be very selective about what this room could become.
I knew I really didn't want my pile of projects to be the first thing I saw when I entered my home. I know myself and my family too well. We need craft and work spaces that are not in plain view of the front door. Eh hem. Let's just say seeing our crafts or projects spread out all over the living room would make mama very cranky.
Mama does not want to be cranky.
I decided that I wanted to come home to something pretty, something spacious, colorful and yet peaceful. I wanted a room that set the tone for our home, for our day and our life at home. Basically, I wanted to have more room to breathe and celebrate being home. No paper clutter allowed.
I wanted to walk down my staircase every morning and feel happy and energized, not claustrophobic or overwhelmed by projects or messes greeting me at the bottom of the stairs.
I decided the two things I really wanted were:
1) room to breathe so we can expand into an additional dining space when we have dinner parties or family holidays. I wanted a room that could be a gathering place as our friends and family come and go from our home.
2) a place to welcome us home, set the mood for our home
Basically I wanted a bigger entry and extra space for my dining room! So that is what we are going to have!
I didn't want to move my dining room to the front of the house, which was another option I considered, because I really fell in love with the idea of a larger entry area with room to spare. I didn't want to fill the space with a table and chairs, except when we intentionally want to use that space as a second dining room.
So, this is really just the first phase of this room transformation.
After the hardwood floors were installed (thanks Lowe's!!), I was eager to get a few things back in the room to start setting up the mood of the space. I brought in pieces I already had and combined them with a few other items that helped create the right mood.
The new round rug from Pier One was especially perfect for bringing in color to balance the vibrant stain glass in the connected dining room. The rug anchors the sitting area and it also adds warmth and a touch of fall to the room. The console, baskets and small nesting tables are from World Market.
Eventually this room might have built-ins, hooks on the wall, perhaps a window seat. I have plans to add wood paneling to the ceiling and a few other details. But for now, I'm content to walk in and see a room that now sets the tone for our life at home. It is just what I need to love where I live!
Have you thought about what you see when you walk in your front door?
Does the view to the room inside your door energize you or zap your creative energy?
Tomorrow, stay tuned for some sneak peeks of my sweet little plush pumpkins, with a giveaway and discount for you! 
Sources:
Round Rug – Pier One
Console, baskets and Nesting Tables – World Market