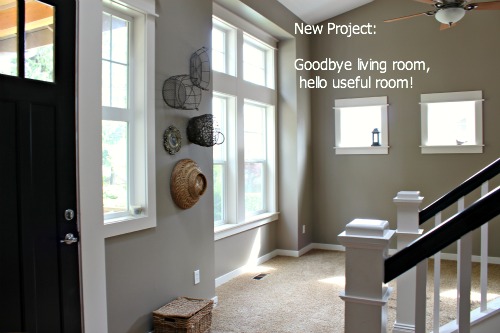 So, I know I'm not supposed to start a new project until I finish the ones I've started. Clearly, I'm a rebel and probably a glutton for punishment. But, I am almost done with my office (just have to hang the blinds and the two reading lights and then take some pictures for you!). I've got quite a few small projects to finish up as well (the map wall, the fireplace wall, painting the other side of the front door) and I promise to show you those soon as PROOF when I finish them.
Disclaimer: I know I kind of hop around on projects, but it really is the way I work and accomplish things around my house. Fixing up my house is part of real life for me, projects stuck in between family, church and other life obligations. But the reveals will happen, I promise.
I know figuring out how to use my house is not a big deal in the grand scheme of problems in the world, I'm just grateful I have a home. But nevertheless, I'm on a mission to make my home work well for us so we can be more effective in all we do in life.
So, our living room? It didn't work.
I mentioned in a post like a year ago that while some of our rooms are small, our house itself is not really too small, it just isn't being used as effectively as it should be. I don't need to move or add on, I just need to make the best use of the space I have.
I've talked quite a bit about small houses and making the most of your space and my need for better organization and space planning for how we really live in this house.
And to remedy my issues, I've been taking action.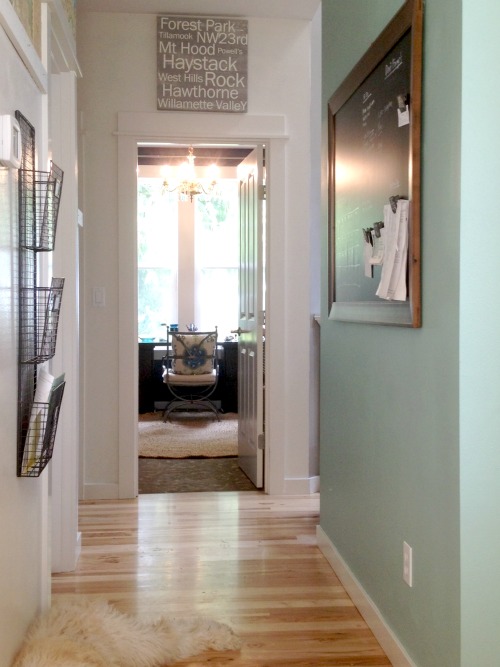 My newly updated office (which will be finished soon, I promise) is really small, but is working out really well for my own organizing and business needs. So putting our family organizational systems into the small hallway right outside my office door is a great solution. It makes that space actually work for us and serve a purpose instead of just being a pass through.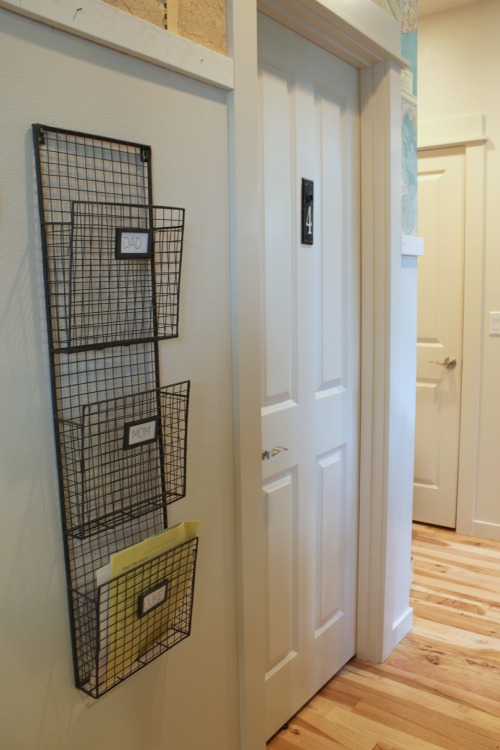 A wall in process, pardon the nails…
On one side of the hall (under the map wall, which still has some trim work that I need to finish so pardon the nails), is a wire wall organizer from TJ Maxx. It is perfect for sorting out papers that belong to my husband, son or myself and that require our attention. If it is empty, that means we are keeping up on our papers! GO US!
And on the other side of the hall is my command central chalk board. It has proven to be the most awesome use of that wall ever. We use it constantly!
So, I'm kind of working my way around the hub areas of our house, trying to get it set up to be most effective for our needs. And that brings me to our living room, which as I mentioned, was not working for us. The room is open to our entry, on one side of the staircase.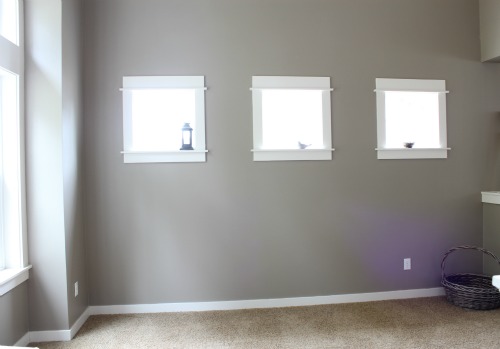 Why does our living room not work for us?
We had our small living room set up like a regular living room with a sofa, coffee table and chairs. Kind of like our family room. Two rooms for sitting in a small house with only three people living here most of the week. We had way more furniture to sit on than people to sit. We aren't sitting people most of the time, any way, we are mostly on the go.
Originally I felt like my living room was a good place for me to escape the loud family room. Yet, our living room was way too open to the rest of the house so it was not quiet at all.
So that is what prompted me to create a "girl space" in my office. My office has a door and that door is a miracle worker, people! That door saves my sanity. And now that we have a "girl space" to get away from the crazy boys (husband, son and two male dogs), the living room is pretty much useless to us as a formal sitting room. It was another pass through.
The living room is really small, I'm not sure if you can judge the size from the photos. It ended up feeling crowded and cluttered all the time because my husband would come home from band practices with his guitar, amps and briefcase and my son would come in with his instrument from school and it would all get set in around the furniture. Can you say CLUTTERED? It was WAY too small of a room to function as a living room AND an entry/mud room. So, it was a room that was confused with its identity and it wasn't being effective at anything.
It has become clear, we need more space for coming and going in day to day life and for special parties, events or craft projects — not a another place to put a room full of furniture we never sit on.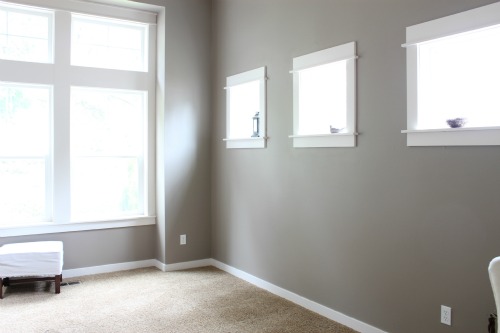 So, recently I just was fed up with feeling like that room was not working and out the furniture went. Good-bye! I was not in love with my furniture or had other homes for it, so it was liberating to free the space! LIBERATING, I tell you! I decided I'd rather have an empty room than a room pretending to be a living room (that I wasn't in love with) but acting like a mudroom (but looking nothing like a mudroom) and generally making me feel stressed out.
And then, oh yes, there is the carpet.
Yep. It is still there. It has been hiding under an area rug, which we also removed with our furniture.
Nothing like having graffiti on your living room carpet. And as I've mentioned, dogs and carpet are not a good mix for us anyway so carpet is on its way out!
So yeah, I have some things to work on. I'm thinking hickory hardwood floors like we have in the entry and kitchen and hall so the small entry feels like it flows right into this space and actually becomes more like one room.
I'm envisioning things like maybe a built in window seat with storage underneath, a long built in cabinet under the small windows for stashing stuff, maybe a few big hooks for coats, and enough free space in the middle to adapt to our every day and special occasion needs. It could easily be turned into a dining space, a game room, a meeting space, a craft room  — whatever we need …. because without a lot of furniture in my way every day, I'm not limited in how we can use it by what is there.
Inspiration pictures and more plans will follow as I gather up my ideas! I'm still not entirely positive about what I'll do in there but I'm excited to get my plans in place!
Do you have a less-than-useful living or dining room?