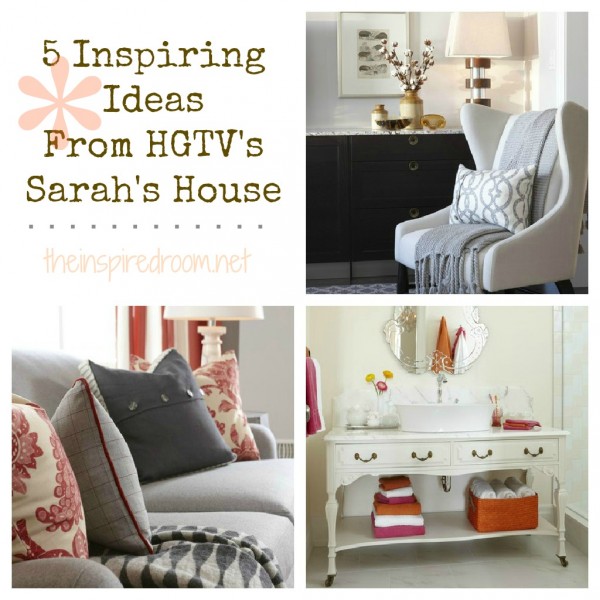 I love decorating. And it's no secret, I adore Sarah and Sarah's House on HGTV — and apparently I can't stop talking about it.  The new series just recently aired in the US has been especially inspiring me lately since I'm knee deep in so many home decor projects right now (I'm still watching the episodes since I saved them on my DVR!). Even though Sarah started with a $700,000 brand new house and a $100,000 upgrade budget, sigh, I think there are always plenty of inspiring and affordable principles to take aways from her style.
Here are five Sarah's House take-away ideas I especially love right now!
1. Use color and finishes fearlessly.
One thing I especially appreciate about Sarah Richardson is her use of color and finishes. I am really enjoying how she brought color and a mix of finishes into this family home to give it a lot of zing and pizazz! And I love how she paired the red with gray in this family space!
Don't let Pinterest or designers or bloggers or anyone tell you what colors or wood is in or out for YOUR home. Colors and wood can all be in, it is up to you how to use them in a way that shows of your style and makes the most of the home you have. You can mix any wood, finishes and colors to create a look that is entirely fashionable and 100% YOU.
2. Think outside the box.
I love "outside the box" thinking. Rather than putting together a typical builder bathroom with stock cabinetry and mirrors, Sarah created this fantastic vanity out of a real piece of furniture. And the casters on it? A fabulous extra dose of personality and style. The stylish mirror, the bright pops of color and the fantastic sink take this bathroom from expected to WOW.
3. Design rooms you can really use.
This craft room is amazing. I think in designing a home it is important to evaluate how you really live, how you will use a room and where day to day activities can take place. This craft room is so multi-purpose! It can be used by the entire family for everything from crafting to school projects and homework. It is well-organized and set up for maximum effectiveness.
4. Build in storage to every room.
I love how Sarah addressed storage needs of the modern family in the family room. With IKEA cabinetry designed to look like custom built-ins, she created space to hide and stash all the electronic components and miscellaneous stuff that inevitably ends up all over the room. I am actually seriously considering creating a cabinet very much like this in my own family room. For a well-organized home you really need as much storage as you can get — so "custom stock cabinetry" is definitely on my wish list!
5. Give yourself a retreat.
This bathroom looks like something you'd find in an luxurious boutique hotel. Can you imagine lounging in that tub? While my house is not that fancy, the idea of a retreat, an escape in my own home …. now THAT is an idea I really embrace.
Creating a master bedroom or bathroom that feels like a getaway isn't just for luxury estates, this is an idea you can translate even in the most modest of homes.  Maybe start with some fluffy white robes, candles and why not a little bling with a crystal chandelier …. oh yes. I'm all about the retreat in my own home.
Which "Sarah's House" take away idea is most inspiring to you right now?
images via HGTV Sarah's House