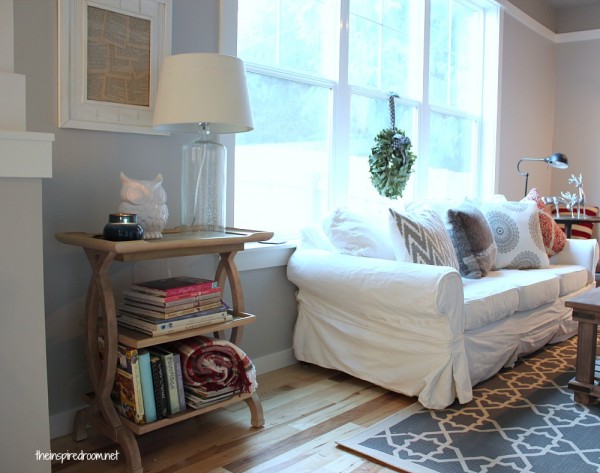 Decorating the Family Room
So, a few weeks ago, The Inspired Room was voted in the top five of the Best Home Blogs in a contest put on by Lamps Plus! I wasn't aware my blog was even entered or in the running, so I was quite surprised but thrilled to find out I was among the top five winners! HOORAY! And to make winning a little sweeter, there was a $500 gift card prize for getting voted into the top five best blogs! DOUBLE YAY! So, big thanks to those of you who voted for me even without me bribing you, haha, you all ROCK. I'm SO GRATEFUL!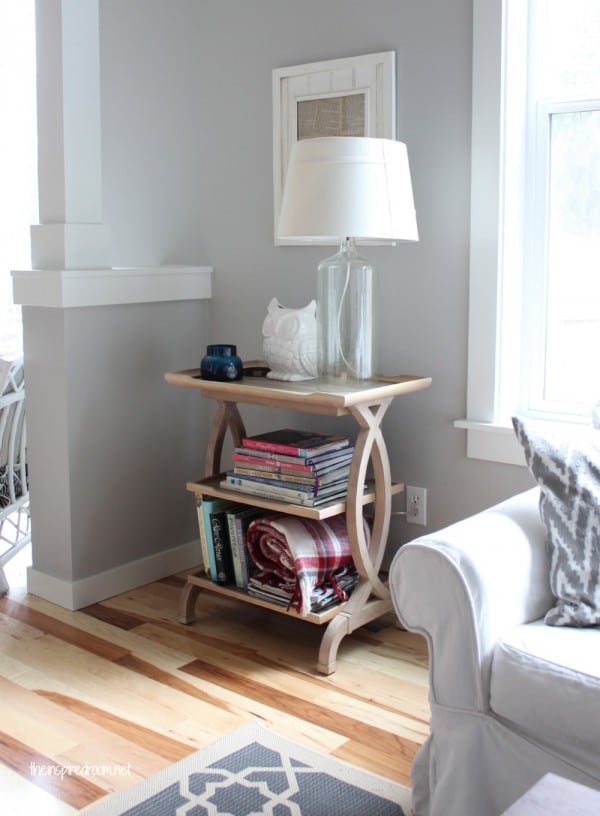 One of the things I was able to get with my winning gift card was this awesome little side table bookshelf for my family room!  I love the style AND function of this piece — and that is a WIN WIN in decorating. The minute I saw it, I knew it had several design elements that intrigued me.
Not only did it have useful shelves that could be filled with stacks of books, magazines, or accessories and cozy blankets, but it has unique design detail from every angle. And, I loved the fresh look of the more natural wood as it adds interest to contrast and complement other elements in the space.
As my home is evolving in a more clear design direction, I am starting to feel much more intentional in what I like and what I buy for my home. It is so helpful to have the basic "shell" of my home done now, with the kitchen, paint and flooring basically complete in the main rooms of the house. Yes, I will show you my painted cabinets soon!!
I no longer feel quite so haphazard and crazy-eyed about what I need or want to do with this house. Obviously I love MANY styles (remember my post on Finding my style with Pinterest?), and always will, but I only have one house.  And it helps to have a clearer picture of what MY house looks like, even if it is eclectic!
Because of that design foundation, it is getting easier to spot what I actually need (or don't need!) to finish a room. I'm LOVING being able to update or take away things that I feel pull the style or color palette in a random direction (now that I am SURE how the room is coming together) and add in things that both finish the space and add to the complexity and warmth that I enjoy in my home.
It is also fun to finally be able to be more bold and confident in my choices, knowing they will actually make the right statement for the space I have, instead of looking like I was trying too hard to force something I liked or felt I needed to use, but it didn't really fit. You know what I mean? I'm sure I'll still have many moments of indecision and confusion (haha) but it is great to have less decisions to make! 
Sometimes it just takes time to get to that point of being comfortable enough with the direction you are going and to be able to know what works for you and what doesn't.
I will be working on adding layers of natural textures (interesting woods, mixed metals and pretty textiles while balancing things out with a little shine through pretty glass items). That is the kind of decorating I really get inspired by. I enjoy focusing in on how unique items can work together to create a pretty composition.
And of course, the goal is keeping my home comfortable and authentic to our family, not just striving to make it pretty.
This pretty seeded glass bottle lamp and lampshade was a happy find from Target! I adore the see through greenish glass and the additional texture and shine in contrast to the wood pieces.
It is so fun to be adding new layers of texture and interesting design elements to my family room, making it a very inviting  and inspiring space for our family to be! I have more ideas for this room, I already LOVE spending time here. I'll show you more sides of the room soon, as well as talk more about paint and color palettes in my home.
Do you feel comfortable and confident in decorating your home and what your current style is, or do you still feel like you are trying to narrow down a direction to go? Decorating a home and finding your style is definitely a process!
a few sources pictured in this room:
Paint colors: Walls: Glidden Polished Gray 
Ceiling: Glidden Wood Smoke
Lamp & Lampshade: Target
Bookshelf: Lamps Plus
Owl: Michaels Craft
Plaid blanket: Pottery Barn
Rug: Overstock.com
Sofa & Slipcover: Pottery Barn (via Craigslist!)
Zig zag pillow: West Elm
Book page art is a DIY
Frame: Michaels Craft