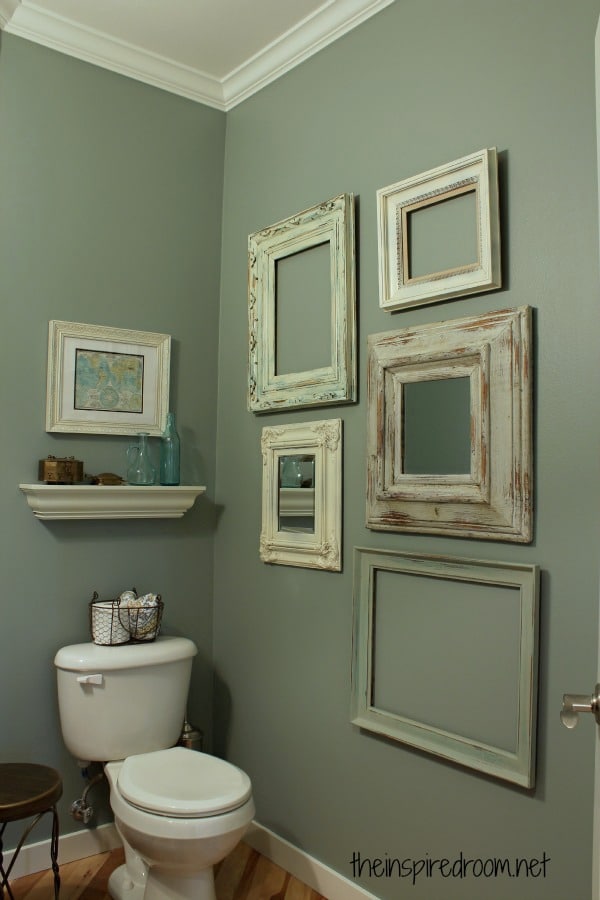 About three years ago, we started a few simple decorating projects in our home. It's been slow going. We've had to deal with the same issues most people do. Lack of time or lack of money. Usually both at the same time. But our small bathroom/powder room was the first room to be painted and "finished."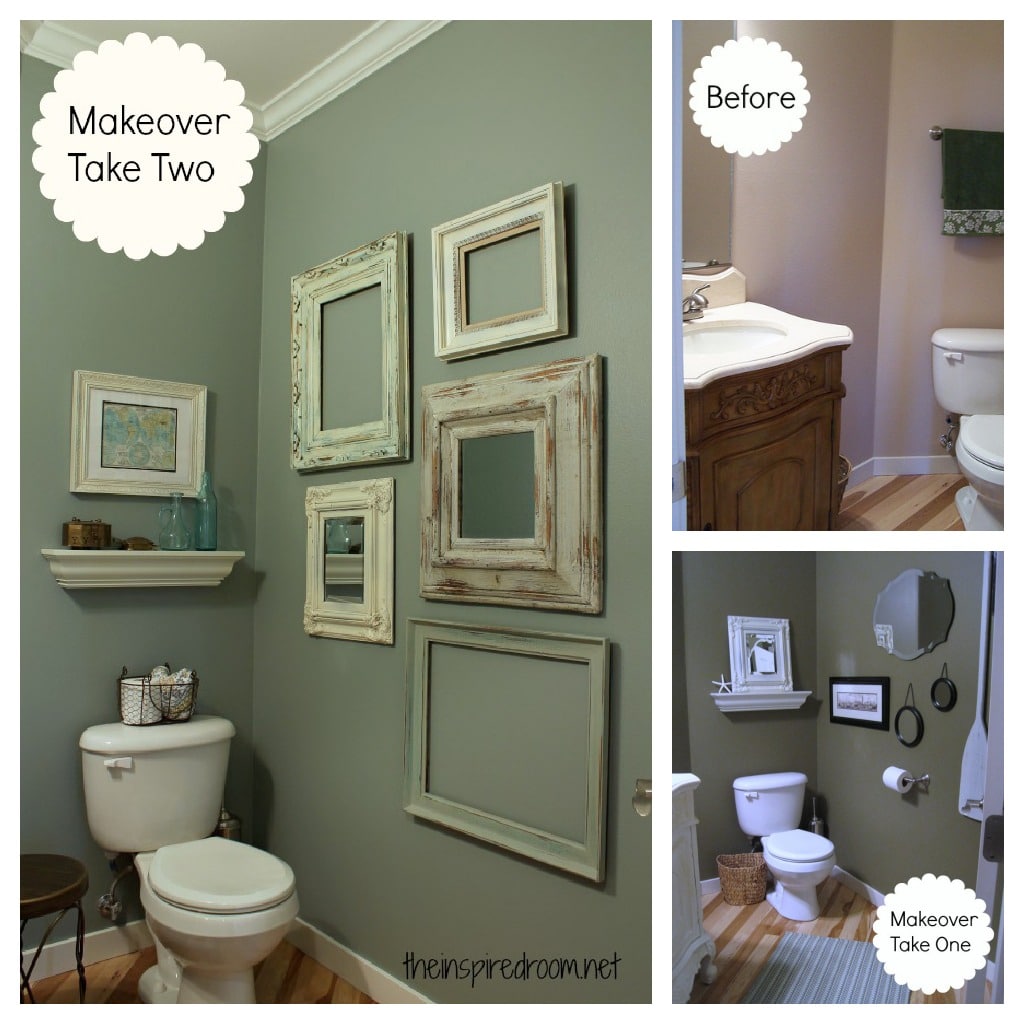 In fact, in the past few years, this little powder room has already had two makeovers. Not the kind of makeovers where you tear things up and put in expensive new tile, marble counters and fancy new fixtures. Nope. Not that kind of makeover.
Oh, the swine walls.  The bane of my existence.
Here is the cabinet makeover post.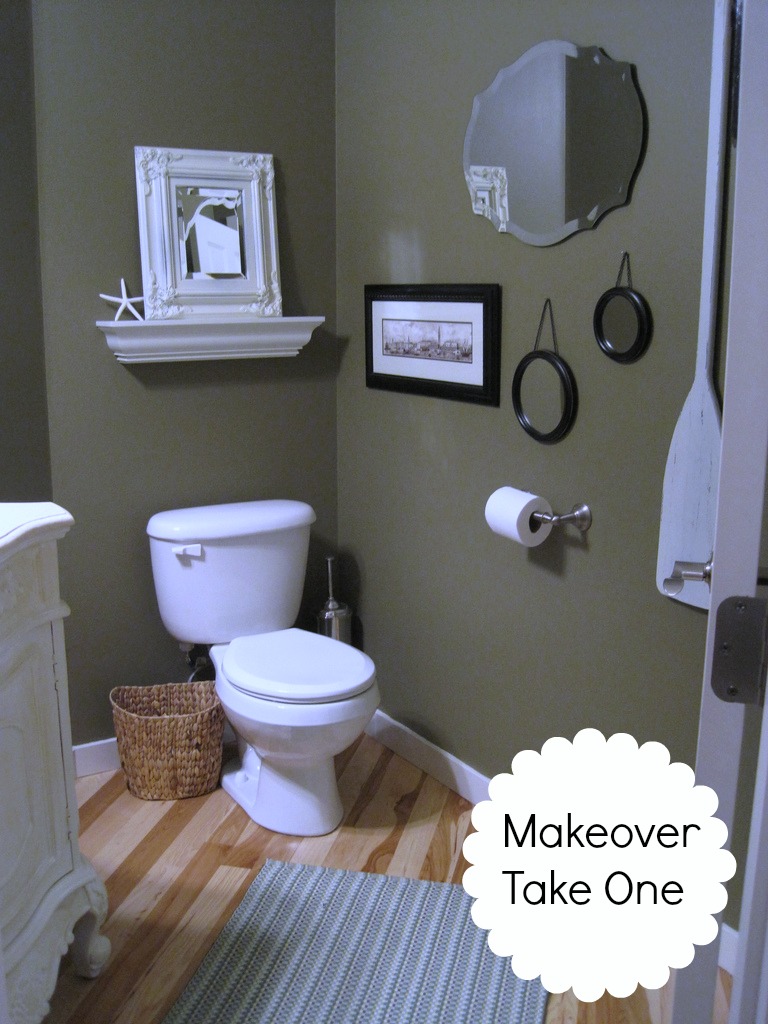 The kind of makeover this little powder room has received, twice, is the kind where paint is involved. Mostly paint. Paint, inexpensive wall accessories, one cabinet knob and a teeny rug. That's it.
The first time this powder room got a makeover, we even used a rejected paint sample WE ALREADY HAD! It was a REAL budget makeover. We were extra thrifty. The first color was called Martha Stewart Snail. A wee bit more olive green than I wanted but it was fine. Much better than swine. We painted the cabinet too.
And then it was all fun and games — until the toilet paper dispenser fell off. That's always a game changer.
When your toilet paper roll dispenser thing falls off and you don't want to put it back up again, you have the perfect excuse to start planning another makeover.
Am I right?
But I'm getting way too smart for those temptations. I wasn't born yesterday. I know how these things go.
First the toilet paper roll falls off.
Then in the process of planning how to fix the holes left by the TP holder, you decide you might as well add wainscoting. That will fix the holes even better than patched drywall, right? And yet that wainscoting project ends up being way more complicated than you originally thought. Your walls are at weird angles. Of course they are. Nothing is ever simple.
Wallpaper would be lovely and disguise the patched holes, but your walls are not perfectly smooth. So that isn't going to work.
You talk yourself into of all kinds of creative and more complicated alternatives to simply patching the holes and repainting.
Hey, self, if you are going to go to all that trouble to make your room look prettier, NOW would be the time to replace the sink and vanity with a nice new pedestal sink. Right? And if you are going to do that, now would be the time for that new hexagon floor tile you've had your eye on.
And so begins the slippery slope of justification.
I wasn't going to fall for it this time. No way.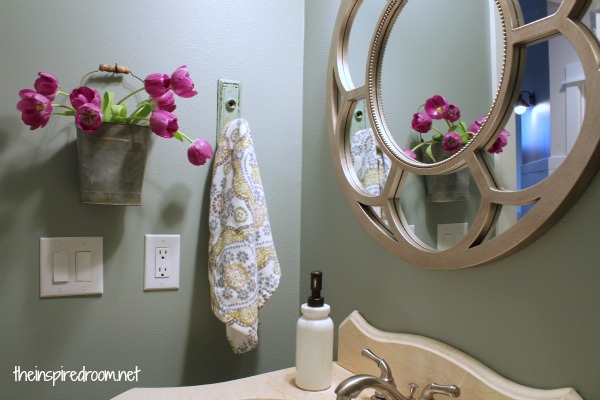 I just said NO. No to the ol' one thing leads to another makeover. Not going there again any time soon. As you probably know, we just finished a YEAR of remodeling and projects and chaos and dust.
Mama needs a break. But let's be honest here, she also needs a cute powder room. STAT.
What you are about to see in the next photo will explain the need to finish this room up in a hurry.
Have mercy. Oh my delicate eyes. There are no words.
I'm not even going to try to explain it or justify it. It just happened one day when we were a little short on primer.
And it stayed that way.
For far too long.
You can imagine my distress over seeing THAT every day.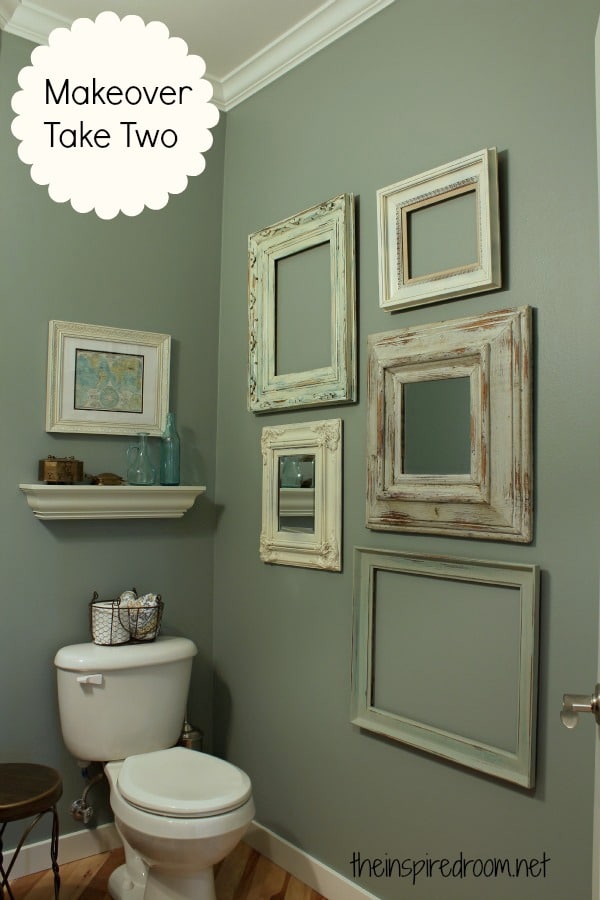 Finally the day came when this little powder room got its second paint makeover, this time with a most beautiful shade of blue green. Good bye olive green, hello Slate Green by Glidden.
I didn't even test it first, I just knew it was going to be lovely. RISKY! But it is beautiful. It's such a refreshing color!
I had no specific plans for what to put on the walls, but after a fun trip to a local flea market, I decided these gorgeous frames, combined with some I already had, were just the perfect addition to a fresh new gallery wall.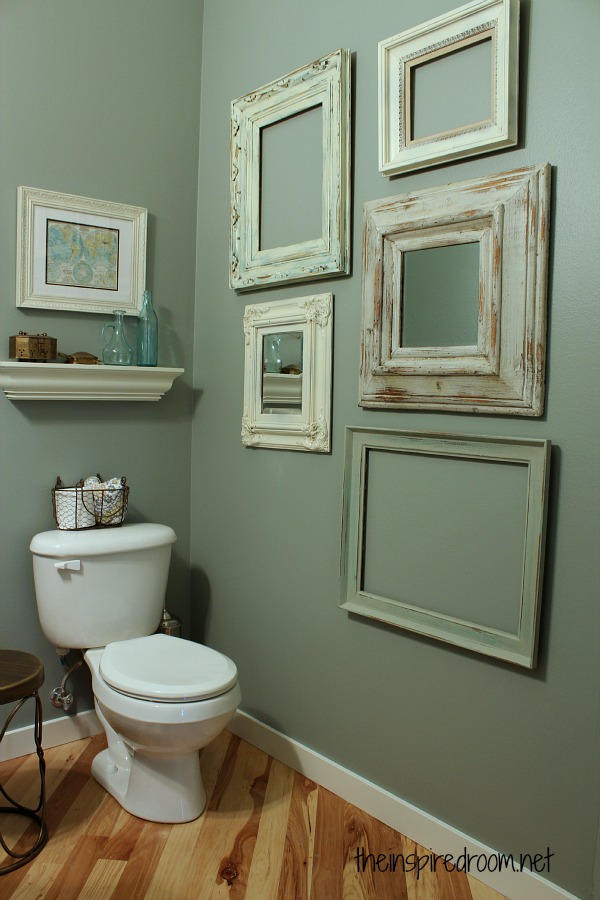 Aren't the colors divine? Two of the frames were from the flea market, the rest I already had.
I gathered up a couple of brass accessories and blue bottles from around the house and just set them on the shelf.  Good thing brass is back in again because I've had brass accessories forever. Nice to know I'm back to being all trendy again.
Then I ordered a new Ballard Designs Suzanne Kassler Ikat indoor/outdoor rug, courtesy of a gift certificate from Ballard Designs. LOVE IT! Indoor outdoor rugs are da bomb.
Keep in mind I had to take pictures with the lights on because there are no windows. So the colors are probably slightly off.

Then because apparently no room makeover is complete at my house without a little bit of Anthro, I added this beautiful Anthropologie gold and brass filigree knob to class up the cabinet just a touch. Yes, it was $10. But for a pretty piece of statement cabinet jewelry, that's a bargain.
Also, when I go pick out knobs, I try to find ones that are a bit unique and maybe don't get as much popular exposure online. I don't want the same exact hardware as everyone else. I am a rebel like that.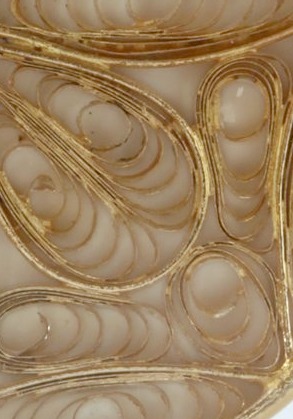 See the close up of the knob's design? So pretty! Worth every dime of that $10.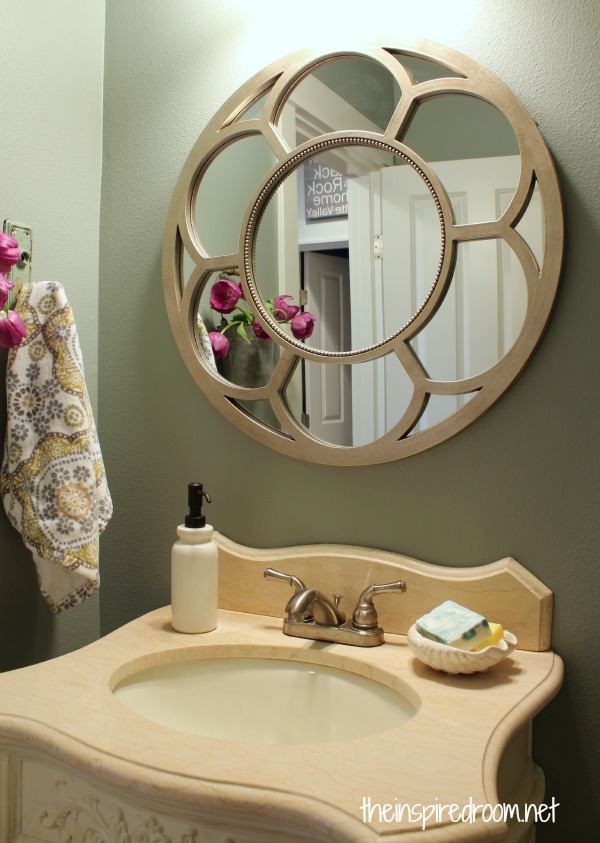 No new faucet or counter or cabinet in this year's makeover, all of those things stayed the same. I'm thinking those changes will happen in GASP! makeover #3, a few years down the road.
In place of that boring builder plate glass style mirror is a pretty round gold/silvery mirror (see? my round mirror obsession? I told you!) I found at HomeGoods last year. Cute, yes?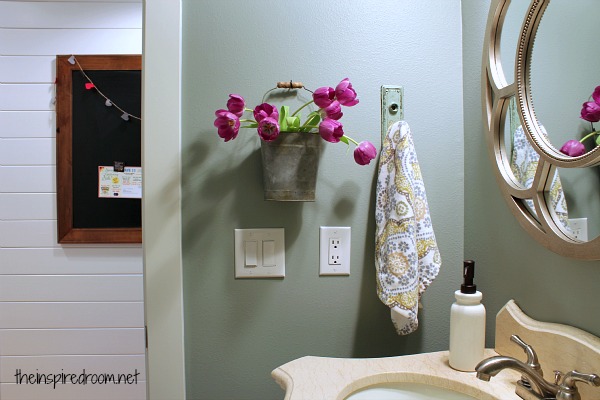 Ahhhh. A couple of cute little accessories, some tulips and a new view out in the hallway to our plank walls. Oh my heart.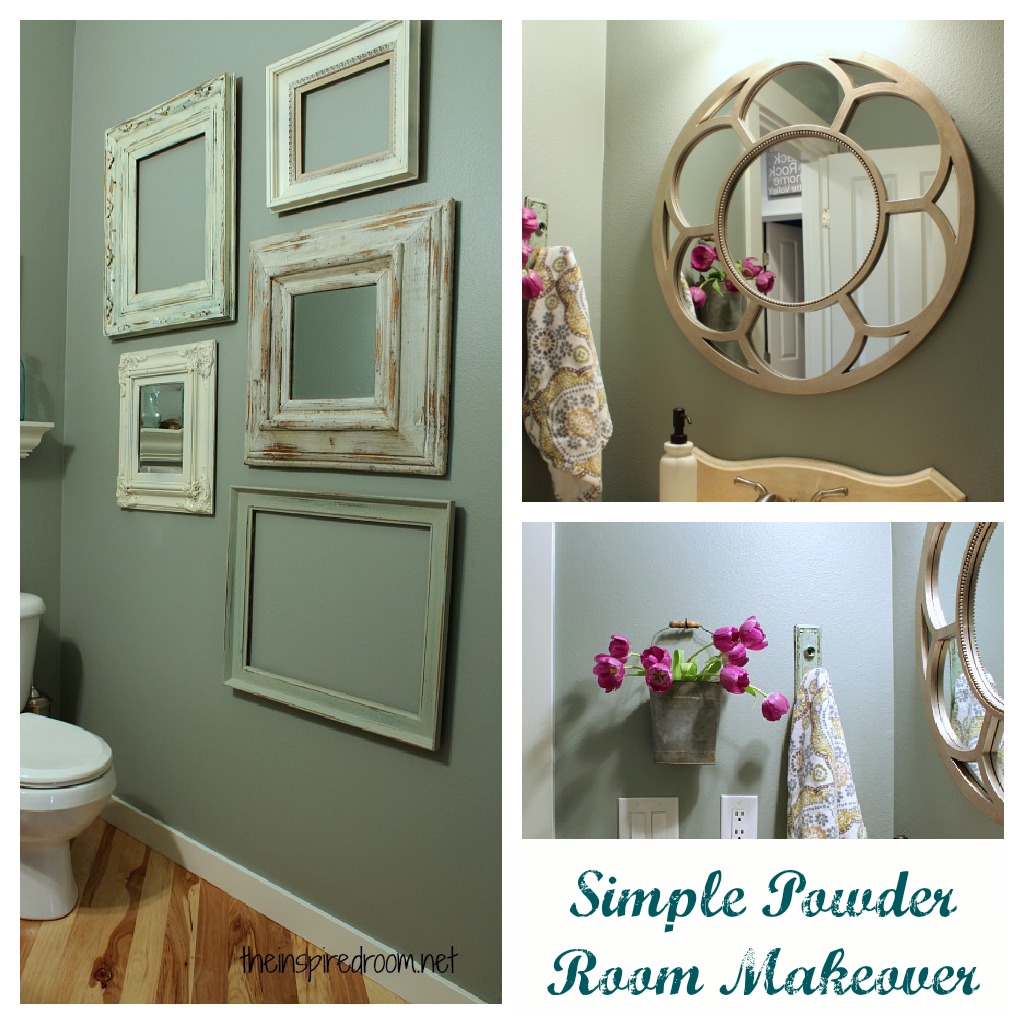 My eyes are happy and content with our powder room, once again. Note, the white trim is all the same color (the Dove White formula from Benjamin Moore), even though it looks a little different in the photos of the white plank walls and the trim in the bathroom.
Aren't simple makeovers fun?
The original bathroom makeover is here.
The vanity makeover post is here.
Walls are Glidden slate green.