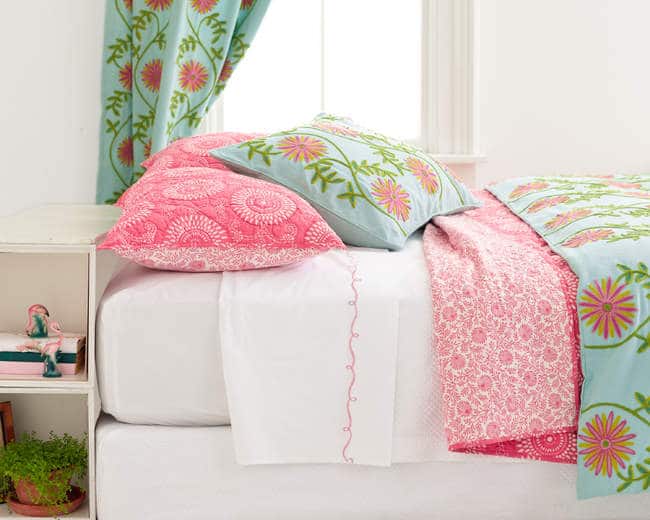 I'm SO ready for spring. Are you? You know I always love cozy decorating and Fall, but around this time of year, I'll admit I start to go a little stir crazy and want to transition EVERYTHING in my house over to spring! BRING IT ON, SPRING! I'm ready for ya. Where are you SUN? Come out come out, wherever you are!
And SPRING DECORATING is exactly what we are going to talk about tonight at this super fun Twitter party I'm hosting with the one and only Annie Selke, a designer and the creator of two of my all-time favorite rug and textile companies, Dash & Albert and Pine Cone Hill!
Annie definitely knows how to liven up a home for spring so I'm very excited to get her ideas and tips tonight and host this party with her! We'll be asking questions of you all, chatting and getting inspired for spring decorating and seasonal projects! Will you follow along with the fun?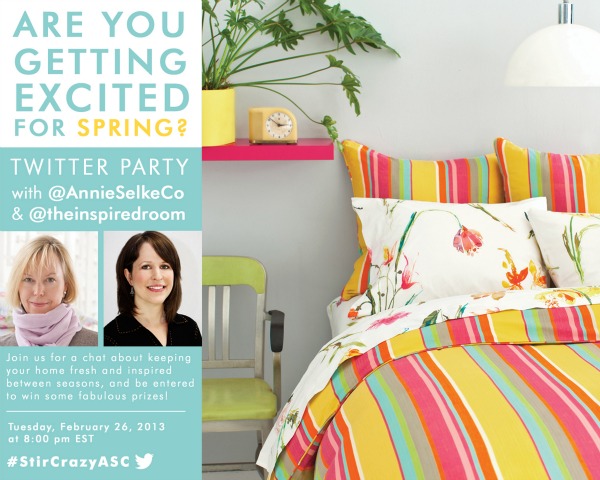 Did I mention there are prizes? Oh yes.  You DO NOT want to miss this.
Have you ever participated in a Twitter party? Tonight is the perfect night to give one a try!  My friend Donna from FunkyJunk Interiors has post that shares all the details on how to take part in a Twitter party, including how to use TweetChat, so I hope you will check it out and then join us tonight! Twitter parties are fast paced, but so fun to get to chat with so many people who love spring decorating as much as we do! I hope you'll be there? Please come?
See you tonight on Twitter at 8PM ET (5PM PST). Let your friends know to join you by sharing the graphic on Pinterest, Twitter and Facebook! Follow the hastag #StirCrazyASC and be sure to follow @AnnieSelkeCo and myself @theinspiredroom on Twitter to keep up with the party!