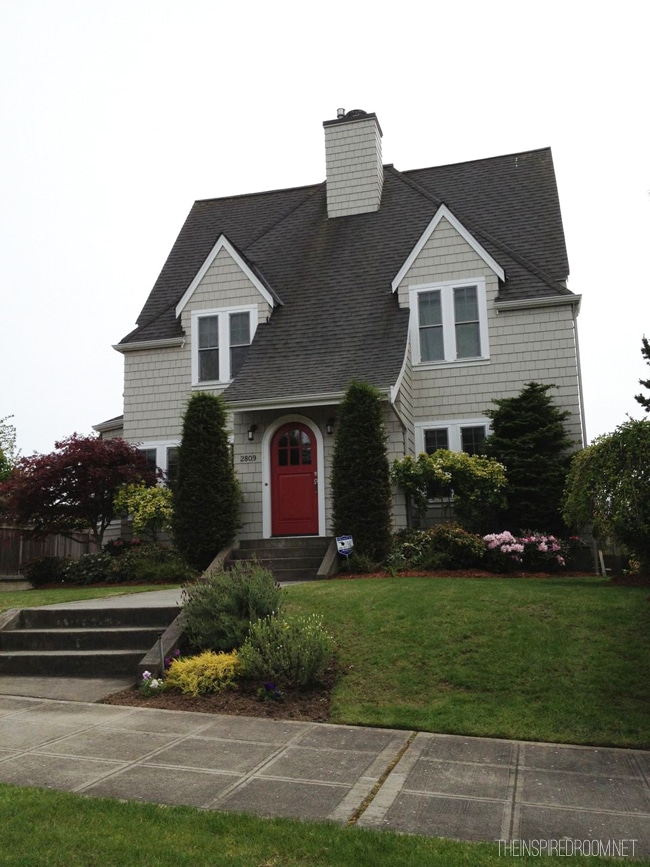 It's time for another drive by! YAY!
When we last did a drive by in Seattle's Magnolia neighborhood (which was just a few weeks ago) I mentioned wanting to come back and show you more houses. So here I am, back again with some GORGEOUS homes!
Now let me share my usual disclaimer here before we head off on today's drive by, errrr walk by.
I'm not a stalker. Really. I don't look in windows except at night. (I KID! kind of.) You do not need to fear if you see me coming. I don't steal things. No one gets hurt in the drive by. I just appreciate pretty houses. (Fortunately for those of you who wonder about this, when I've shared photos of houses in past drive bys, many times the owners have found out and come to thank me. PHEW!)
My daughter Courtney and I had some time to spare one afternoon a week or so ago, so we parked our car in the neighborhood. We took a quick look around to make sure no one was watching us (just kidding haha) set out with iPhones in hand to stalk people's houses take a few pics of the beautiful and charming architectural features we love so much in this neighborhood.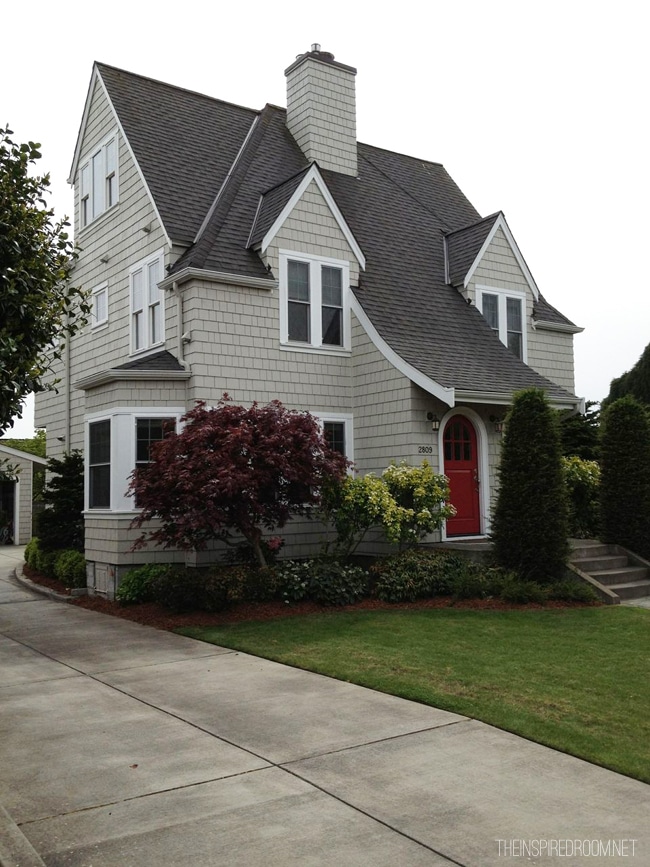 This house was near where we parked. I love rounded doors and this red one is just too cute! And look how it goes up three stories in the back! I love the siding on this house too.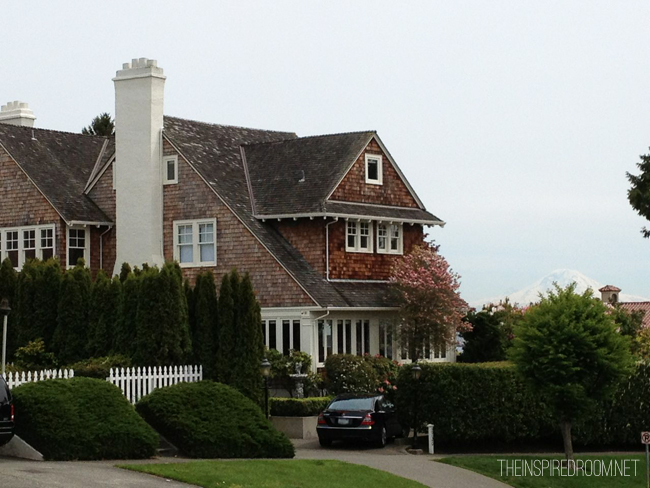 This was the house that brought me back to the neighborhood for more pictures. I mean, seriously. Is this house not awesome? Look to the right of it, see the mountain? GORGEOUS! What you can't see in the photo is it is also overlooking Puget Sound and the city of Seattle. HELLO! Nice.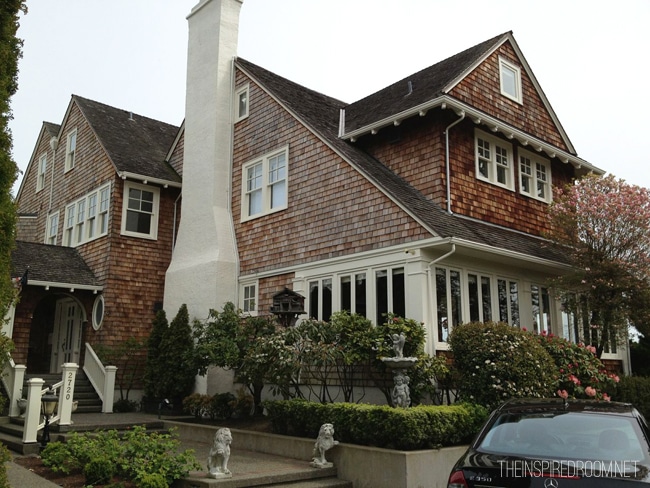 Sigh. And this is just the side of the house!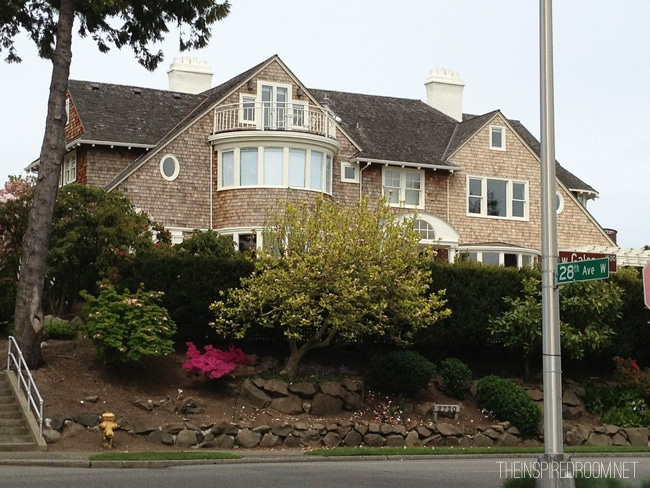 This is the front side that overlooks the mountains, city and Puget Sound. At this point my daughter and I decided we needed to get bikes because this house is on a street that would be perfect for bike riding. Then we could do bike-bys.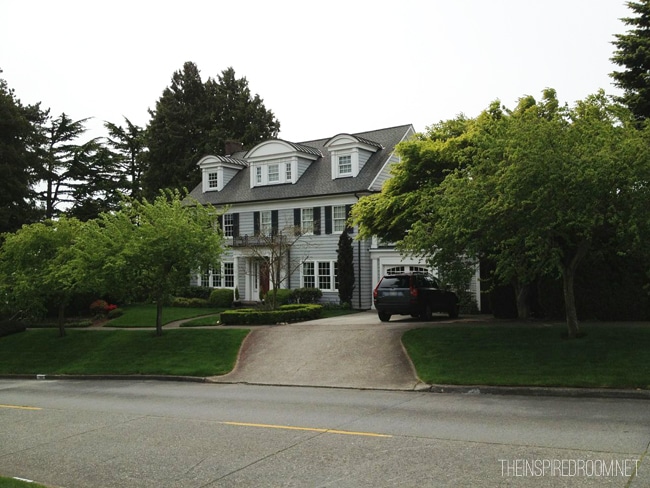 This beauty is across the side street.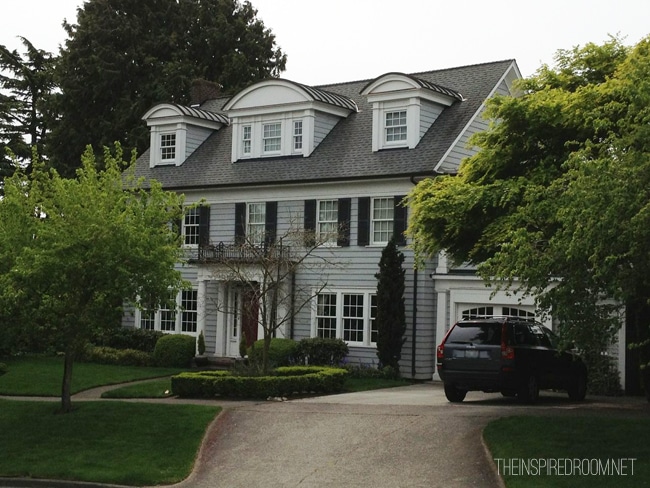 Then we crossed the street towards the mountain view to a little brick house that was for sale. The back of this brick house directly looks out on boats and mountains and water.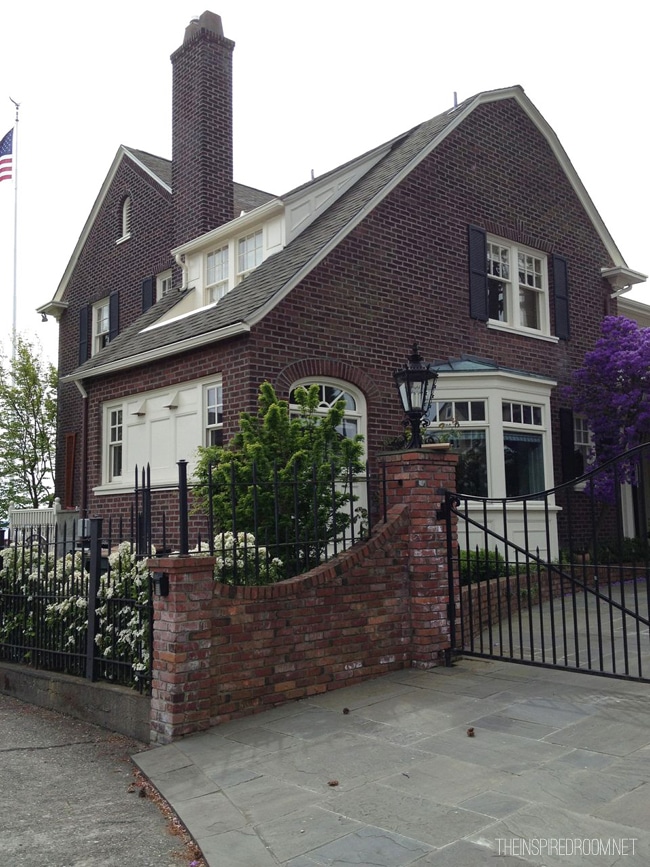 Amazing! I love the architecture on this house. I just want to look in that window!
I wanted to hurl myself over that fence for a look around. I'm sure that is why they had the gates closed, to prevent people like me from having a look around.
I actually had a whole speech figured out about what I would say if the realtor or owner caught me peeking in the windows.
Something along the lines of "I am looking for a house in the neighborhood and thought maybe it was an open house"… blah blah blah. WHATEVER. Right? That would work, wouldn't it?
Maybe I'd just say "Oops, so sorry, I got lost." #notsorry
I'm sure I look rather pathetic when I'm looking at houses. Me, standing outside of gates of houses in beautiful neighborhoods. Looking in longingly. I don't know.
I belong there, but they don't know that. But I do. I would feel right at home pulling up in that driveway.
I kept on walking around to the front of the house, hopes of entering dashed by all the fencing and gates. I will say that I appreciated that I could see THROUGH the fencing because those houses where you can't see in at all are really flustering for people like me.
Here is the action shot my daughter took of me being a stalker, you know, in case you want to experience what it's like to be my daughter. Good times. That does look pretty stalkerish. If you are reading via email it might not show up so you'll have to click over.
Anyway, as I was snapping photos like a crazy house-obsessed lady, I noticed something.
What have we here? The front gate was conveniently oh so slightly ajar.
I did a quick double take and then I heard my daughter behind me saying NO MOM.
HAHA! She was worried for a sec there. Can't say that I blame her.
But, alas, I restrained myself and we went back to the car without further incident. Another successful drive by!
If you live here, call me, maybe.