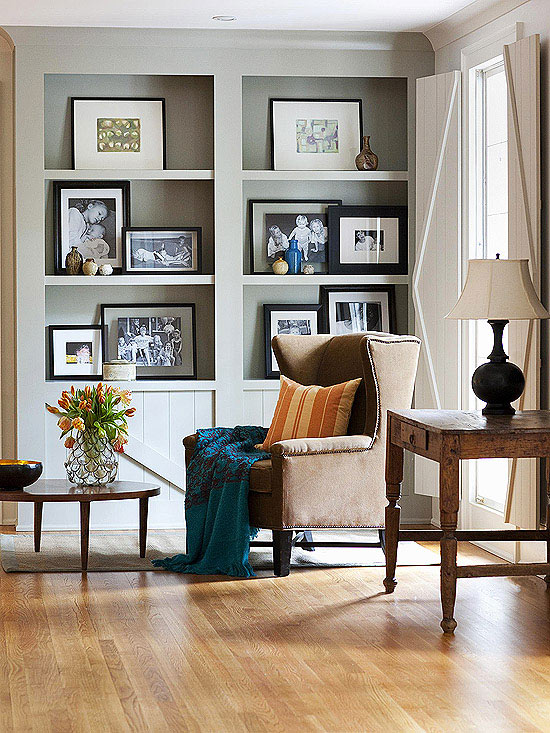 BHG
Calm Home
With the crazy pace of life, many of us crave a calm and peaceful home. But is a visually peaceful home possible if you love color and pattern and decorating with what you love?
While I love to decorate with color and pattern and appreciate having surfaces I can use for the things I love to look at, one of the challenges in decorating is paring down visual clutter in a room without sacrificing your own personal style.
I'm not referring to reducing the kind of clutter we get from junk or excess stuff laying around, that is another kind of problem all together! I'm referring to what our eyes interpret as visual clutter — the things we added on purpose, perhaps through collections, use of pattern and color, or attempts at styling.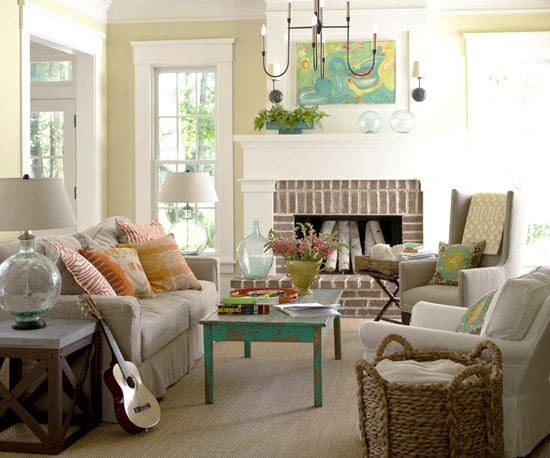 BHG
If you picture a room with four walls and multiple surfaces, and many colors and patterns within those walls, there is a lot of potential for visual clutter. Everyone has a different tolerance level for that kind of clutter and there is no "one size fits all" decorating rule.
Some may not be able to tolerate any decor on any surface or can only tolerate all white walls and simple color palettes, but many people really enjoy looking at things they love and filling their home with color and lively pattern.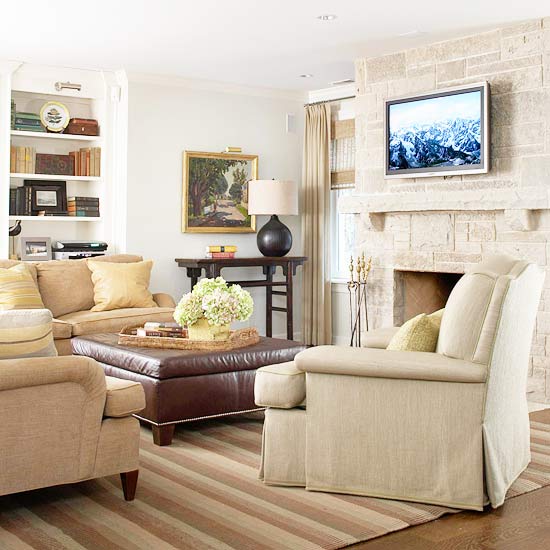 BHG
The room above is very restful due to the soothing neutral color palette on the furniture, white walls and lack of a lively mix of patterns. The console table has a single lamp and a small stack of books, but nothing more. It is definitely a nice calm room, but the absence of color and pattern is not the only way to achieve a peaceful space.
If you aren't into all neutral or minimalist style and feel more at home with color and pattern like I do, can you still achieve a balance between what you love and creating a calm peaceful home? I say YES!
One of the secrets to a healthy balance of calm and quiet among the color of every day living is to designate areas of the room that will be visual clutter free zones.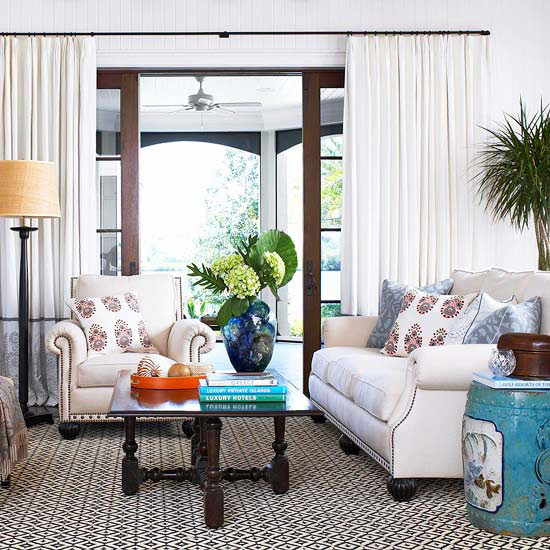 Notice in the beautiful living room above there is plenty of color and pattern, but the room still seems to offer a sense of order and calm. Every surface has something decorative on it and the room has both color and pattern, so the solution to limiting visual clutter in this room isn't in clear tables or soothing color palettes.
So how does this room, above, have a good balance of both worlds?
Besides the fact that these rooms are all clean and free of day to day messes, I think one of the secrets is the measure of 'white space' is in a calming proportion to the color and pattern.
The surface of the walls, curtains and sofas are white (or in other words, they are plain surfaces that are without pattern) allowing the eyes to enjoy the more vibrant color and pattern without becoming overwhelmed by them. The backdrop and main furniture serve as a visual clutter free zone.
TIP: Designate several visual clutter free areas of a room in order to focus your creative energy on a just a few lively focal points.
In spite of the happy colors, pattern and display of decorative items in the room above, this balance still allows breathing space to exhale and feel at peace for color and pattern lovers like me!
I do feel creatively energized by contrast, pattern and color and love to be surrounded by things that inspire me, but I also can get overwhelmed by too much stuff if my eyes have no place to rest. I feel much more at home in a room that can incorporate the things I love in proper balance with white or other visual clutter free surfaces.
This room, above, also has a lively mix of patterns and color, balanced by the simple white unadorned windows. Even the orange sofa, while clearly a vibrant color, is a solid which gives your eyes a little rest from the other pattern in the room.
Notice that you do not have to have white furniture to achieve visual calm! Also note that the surfaces in this room are not empty, but the baskets above and below the coffee table corral visual clutter.
TIP: Simple bold or larger statements will be more striking and yet less visually distracting that a surface filled with many little items.
Several of these rooms offer another secret to eliminating visual clutter.
Notice that many of the end tables just have one lamp and little to no other decorative items. Putting just one lamp on an end table is a great way to balance out a styled coffee table that may have several items on it.
TIP: If you love to decorate your coffee table, as I do, consider balancing your decor out with a clear or nearly empty surface or two else where in the room. A clear surface can be a table, but it could also be a piece of furniture or an undecorated wall.
I think you can definitely enjoy the best of both worlds — a home filled with the things you love, alive with color and pattern — and a home that feels peaceful and orderly. It just requires a little bit of a balancing act!
Do you think it is possible to have a balance of lively and calm all in one home?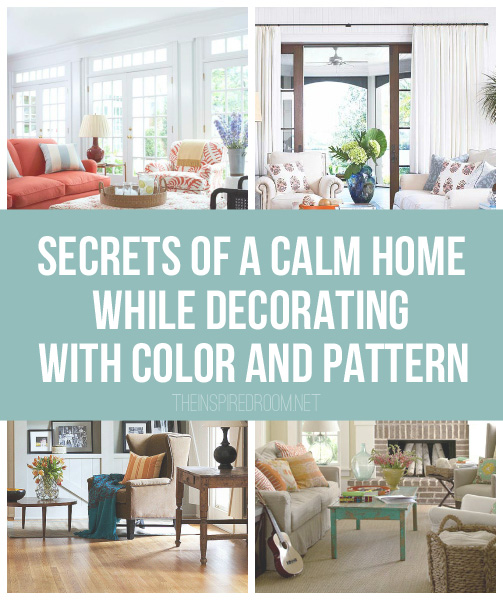 Check out my new book, Love the Home You Have!