While it has been about ten months since my kitchen was officially "completed" enough to call it done,  I never did show you a sketch of what the room layout looked like before and after!
It was so fun to share each step of the remodel last year so you could follow along with the whole process before the reveal (because half the fun is in the journey, right? … if you can call remodeling mess fun heheh), but before I forget about these, I did want to go back and show you this "bird's eye view" for a look at how moving the dishwasher and small section of cabinet transformed the room!
As you can see in the "before" sketch (and the photo below), our kitchen was divided basically in two by a stretch of counter top which caused lots of traffic jams. It made both sides of the kitchen, the cooking area and the eating area, too small and tight for our family to comfortably function and entertain. With six of us and now two dogs we wanted a bit more breathing room! And that basically is how the whole remodel began! :-)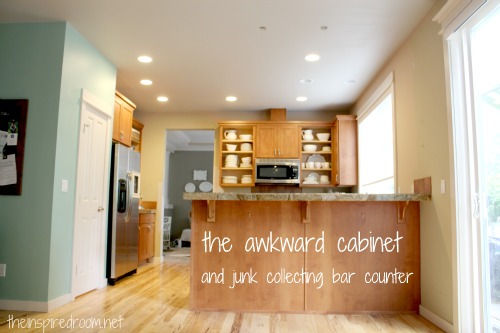 We didn't have to tear down walls or add on to make our space feel bigger, all it really took was removing one set of practically useless tiny junk drawers and an awkward corner cabinet and relocating the dishwasher to the right of the sink. We didn't even have to sacrifice counter or cabinet space because now have six brand new drawers to the right of the dishwasher to hold our silverware and dishes, and a nice long counter next to the sink, making the kitchen much more efficient.
Of course, the other big change we made was to remove those cramped upper cabinets at the far end. And no, I still don't miss them one bit. I love the breathing space over the lower cabinets!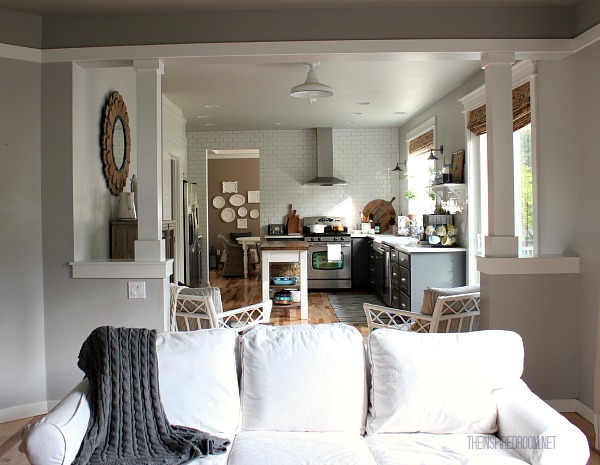 The freestanding island we are using in the middle gives us additional counter space and storage, but still allows us to open the dishwasher and for traffic to flow easily around it. We also have room for a couple of bar stools with breathing room to spare. We may get a new island at some point, but it's working well for us for now!
The small space where our kitchen table used to be was left intentionally open. Our dining room is right outside the kitchen so we don't need another table at this point. When we entertain we like to have plenty of space for people to gather in that area without so many obstacles and without being in the way of the cook! Not to mention plenty of space for the pups to run around without running into tables and chairs. We sit in the chairs all the time and I just love how cozy it is to have comfortable chairs in the kitchen!
So, you finally have the bird's eye view (sketch) of my kitchen! Now I'm itching to start something new. And after 8 days of the flu {!} I'm getting a little restless, so who knows what might happen next at my house. :-)
Kitchen Renovation posts, The Kitchen Reveal, Kitchen Sources and Paint Colors