Hi Friends! How was your week? If you follow me on Instagram, did you see the sneak peek of what was going on at my house yesterday :)? SO EXCITED.
So I was looking through some of my drafts in the blog this week and realized that somehow I managed to forget to publish this post on the Butchart Gardens from a trip we went on to Victoria. A trip we took LAST FALL. It was all in draft, pictures and all, and I somehow I just got busy and forgot about it (and a couple of other trips I meant to post about! Sigh).
Anyway, it's never too late to gaze at pictures of an amazing garden, right? And since we talked about creating a magical garden earlier this week, well, you just can't get more magical than this!
The whole garden was planted over one hundred years ago on the grounds of Mr. & Mrs. Butchart's home, in a big ugly sunken pit that was formerly a limestone quarry. I just love that she potential in an ugly pit and creating something so stunning where there was once rubble. Isn't it easy to just look at the ugly pits of life and overlook what they could become, if we just tended the soil and created something beautiful?

I first went to Butchart Gardens as a kid and it was so glorious I've wanted to go back ever since. Finally we had that chance last Fall and it was just as lovely as I remembered. It's an amazing place to go in the spring and early summer when all the bulbs are in bloom! Yet, even in the early Fall when we were there, this place is a fairytale.
It was kind of a cloudy day but the rain stayed away so we could walk through the gardens without umbrellas.
I think I said WOW a million times as we wandered the garden.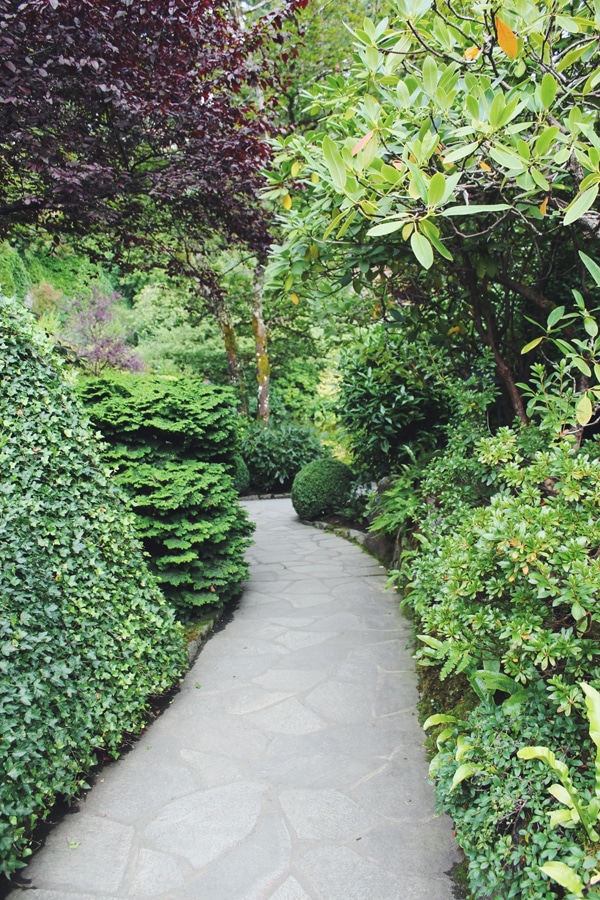 I love all the meandering paths and gorgeous greenery.

Each area of the garden is exquisite.
So much beauty, it really takes your breath away at every turn.

We didn't have reservations for dinner, but they were able to get us in. The restaurant is in the Butchart's original family home so you know I wanted to go in and spend the evening gazing at it.
I felt a little awkward taking pics inside and at dinner, but it was lovely.
We sat in a gorgeous sunroom that overlooked their private garden.
The fireworks were fun and worth going to at the end of the evening! All in all, it was a magical visit to Butchart Gardens. If you ever have the opportunity to visit, GO.  If you have been, tell me about your visit in the comments!