Last spring we shared that my daughter Kylee moved into her first house (remember when she got married? AHH!! And now her first house, oh my heart).
After studio apartment living, she and her husband Lance bought a small townhouse in Seattle (if you missed that news, catch up here!).
My other daughter Courtney rents a room from them in the townhouse and has shared her design plans for the tiniest room you've ever seen. She will be back with an update soon, but today I invited Kylee back to update us on her progress in getting settled in their little townhouse!
—————–
Hello! Kylee, here! It's been awhile since you last heard from me so it's about time I shared a few updates from our townhouse! Last time I showed you my simple powder bath. Since then I have been slowly making progress to other rooms in my house.
I recently had a day off from work (which means I was actually home before the sun went down) so I snapped a few peeks of how things are coming along. I'll let this be just an overview of a few of our rooms and then I'll be back to share more in detail some of the small space tips and tricks we are using to make this little house our home.
Our home is a three story townhouse (in Seattle every square foot of land counts!). As you enter the front door, you find yourself in a long hallway. We recently painted it white (Swan White by Glidden) for a cleaner and brighter backdrop for our accessories and rugs.
To make the most of this small area of our home, we utilized the entire hallway as functional space, adding some convenient pieces for storage and coat hanging. We don't have a coat closet, so the more hooks the better, I say! The white storage unit above is from Ikea–it's the perfect space-saving piece for a small hallway or entry. The cabinet doors tilt out and hold gloves and scarves, reusable grocery bags, shoes, and supplies for Bella, our puppy.
My favorite new addition in this hallway is our colorful Dash and Albert runner from Rug Studio. I just love the pop of color, pattern and warmth it adds right when you walk in the door!
Bella's favorite room in the house is definitely the living room which is on the second level. After many months of basically nothing going on in this space due to a struggle trying to figure out how to get our ginormous leather couches up the narrow staircase (I will finally share that success story with you in my next post–it's a good one!). Once we figured out a trick to get our couches in the house, the room started to come together.
For warmth, we added the great zig zag rug from Rug Studio to bring a lot of texture to the room. Since our kitchen and living area are all one room, I think the rug really helps define this as its own cozy little area. We haven't decided exactly what we want above the couch, so for now we've settled on a temporary and inexpensive solution by using framed Rifle Paper Co wrapping paper as art.
Bella couldn't be happier to finally have furniture. All she wanted was a comfy spot. And we couldn't be happier to finally have a room where we can invite friends over to sit! We don't have a dining area (this really is a SMALL place!) so our sofas and coffee table serve more than one purpose.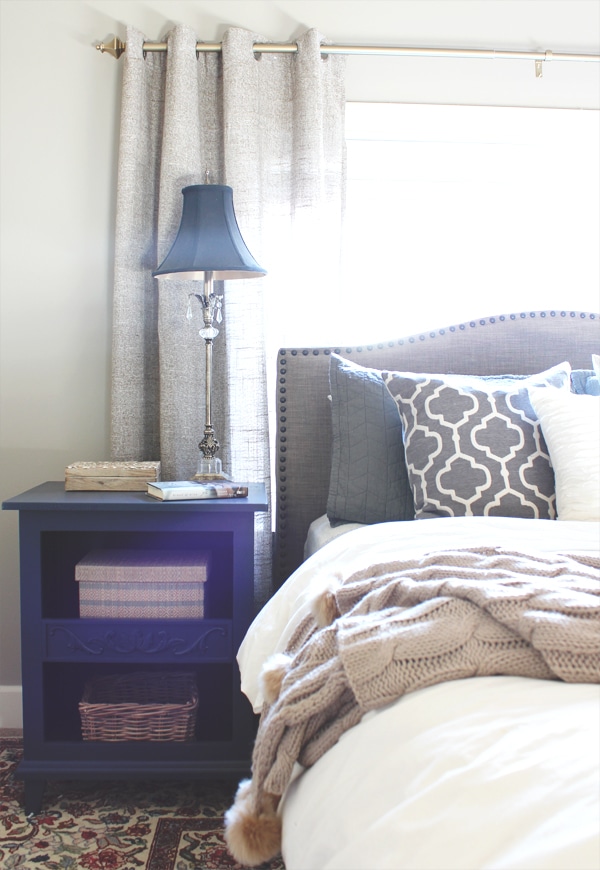 Getting our bedroom set up on the third floor was also a struggle. Going up one flight of narrow steps was bad enough, but imagine going up two with large furniture? We have lots of awesome hand me down furniture from parents and grandparents, but so many of the pieces are big, heavy and difficult to maneuver around the tight corners in our townhouse. This is where starting from scratch with new furniture would have definitely been easier!
But being a young couple on a budget and wanting to use what we have, we were determined to make as much of it work as possible. In some cases, we had to resort to drastic measures.
When we moved in, we quickly discovered that we could not get the queen-sized box spring up to the third level. We slept on the mattress on the floor for several months while weighing our options, until we decided to literally cut our box spring in half and then put it back together. Crazy, right? But it worked! I'll share that tale soon too, it was intense and I have photos to prove it.
While our kitchen is probably double the size of our studio apartment's kitchen, we don't have a separate pantry or a lot of cupboard space. And I love to cook! We've created a makeshift pantry by putting most of our dried goods into cute jars on the counter and keeping our cooking utensils in a pitcher next to the stove.
And last, but definitely not least, I wouldn't be my mother's daughter if we didn't have a coffee station. She taught me well. Our little coffee station is set up on a hand-me-down wine rack. True to our Portland and Seattle roots, we love our coffee, so it sure is handy to be able to grab a cup as we head out the door to work every morning!
That's all for now, but I'll definitely be back to catch you up on the projects I mentioned and to show you more of our home!