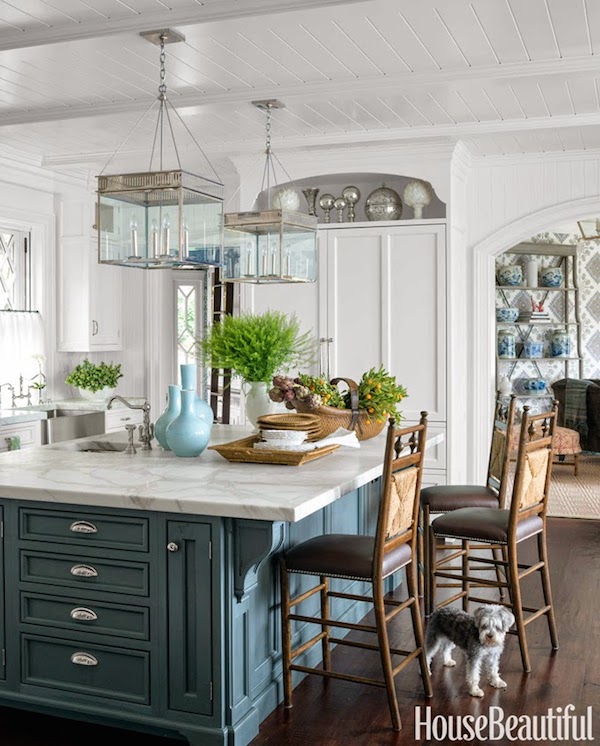 Lee Ann Thornton in House Beautiful
I love analyzing photos of rooms to notice design ideas and find takeaway tips I can use in my own home. What makes a room memorable? Even if we can't remodel a kitchen in the same way, the principles we take away can be applied to our own space in small ways to create a memorable room of our own.

1. Mix Nature Inspired Colors
This kitchen has a beautiful color scheme. Shades of blue, green, white, gray and brown create a soothing color palette inspired by nature.
2. Pay Attention to Details
The details make this space captivating. The painted wood plank ceiling adds a layer of character. The barstools have great detail like nailhead trim, rattan backs and leather seats. A corbel was added to the island. Design details were repeated for impact, such as the curved open shelf detail on the display space and the curve of the opening into the next room, the double lanterns and double sinks. The island has a lot of detailed molding to give it presence in the room.
3. Focus on Statement Pieces
This room has statement pieces that make it memorable. Two interesting lanterns and the unique sea blue cabinet color of the island make it an unforgettable kitchen.
4. Add Texture and Warmth
Contrasting materials and layers of texture make this room inviting and interesting. The wood, leather, and rattan bar stools add texture and warmth in contrast to the smooth painted cabinets, marble counters and silver tone of the lanterns, sink, faucets and accessories. The dark wood floors, woven accessories, and planked ceiling add additional texture and interest.
Island Paint Color: Farrow & Ball's Down Pipe
What is your favorite design element of this kitchen?
Related Posts:
Decorating Lessons from Anthropologie
5 Takeaway Tips: Farmhouse Country Kitchen