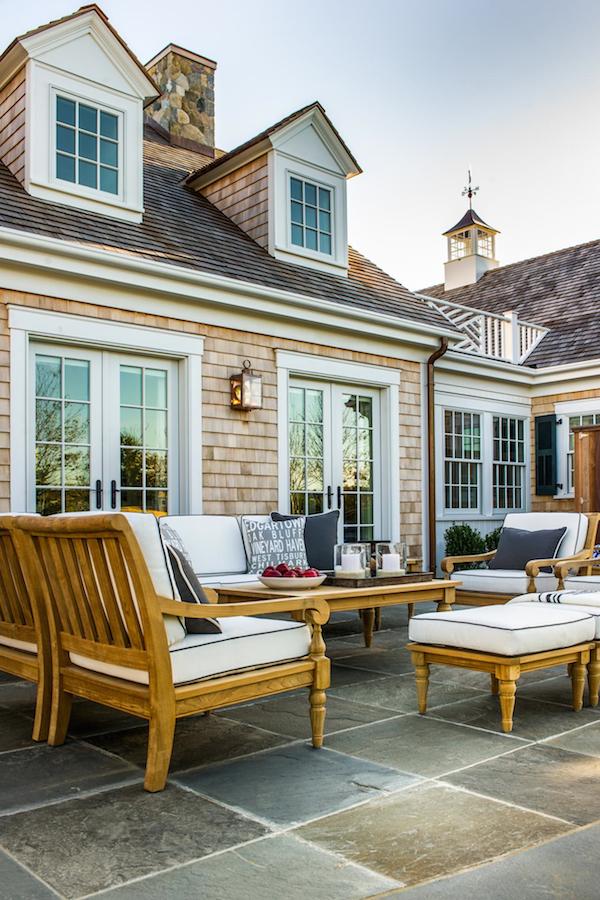 Hello! Have you all seen the HGTV 2015 Dream Home? I just stumbled upon it over the weekend. I love so much about it, I couldn't stop staring at the photos thinking about all the details! There is much that could be said about this lovely home, but today I thought I would share some take away tips so we could create this feeling or style in our own home! Don't believe your house could look like this? Well, for most of us, it probably won't. Let's be honest. BUT, there are design lessons to be found and plenty of inspiration to motivate us so let's take a look at this fine house and see what we can learn and take away!

1. Built -ins
I'm a sucker for built-ins. They add so much character! Sadly I don't have any in my house, but they are on my list of dream additions for some day. I have had aspirations of adding built-ins to this house, but I'm still deciding whether or not the cost would be worth it to me if we ever moved. Not that I'm planning on moving (I'm loving staying put these days!), but our son will graduate from high school in a little over four years (NO!!!! Stop the clock, please!) so I know life will change. And with change comes new possibilities and opportunities, so I'm keeping an open mind.
Built-ins have to stay with the house, obviously, so that's why I've been going the route of adding furniture rather than built-ins. With that said, in many houses built-ins add good value so they are worth considering and investing in. In some cases, adding built ins can be even more cost effective and make better use of space than free standing furniture, especially if you can do the work yourself or have a good affordable contractor. You can also get the look with free standing furniture nestled into feel more built in.
The backs of the bookcases are emphasized with dark paint, which adds even more drama and interest to the built ins.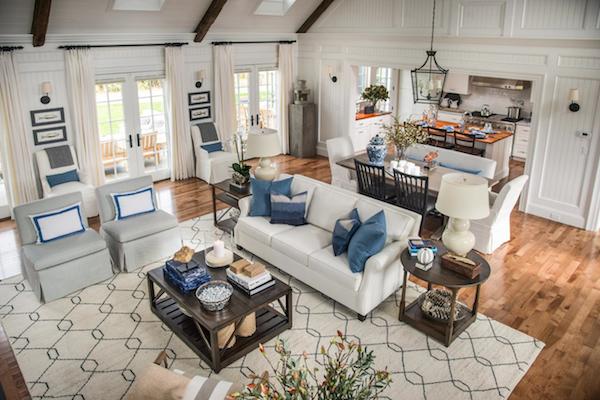 2. Large rooms can have multiple seating areas and purposes.
This large room has a seating area, a dining area and extra chairs dispersed around the room. Large rooms can be awkward to furnish, so dividing the room into usable zones can make sense of all the space. See my post with 10 Tips for Styling Large Living Rooms & Other Awkward Spaces for more advice on furniture arranging!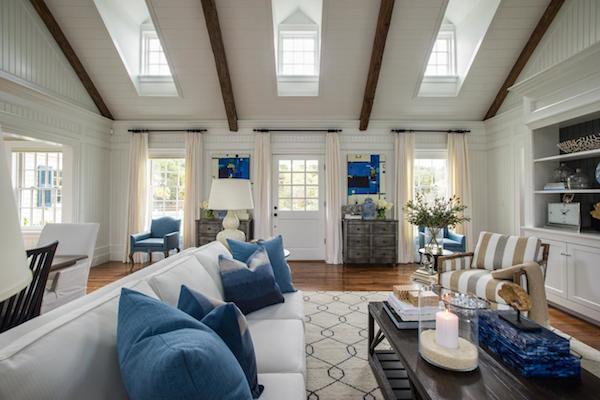 3. Repeating elements.
I love the repetition throughout the room. Notice what elements are repeated! The blue fabrics and art, the dormer windows on each side of the room, the two matching dressers, pairs of chairs, and the three curtain rods with curtains that unify the door with the two windows.
4. Classic pieces.
Notice the use of classic furniture, fabric, and the overall timeless design choices. Buying furniture in classic styles and fabrics is a great investment, as they will make a home feel just as fresh even years later!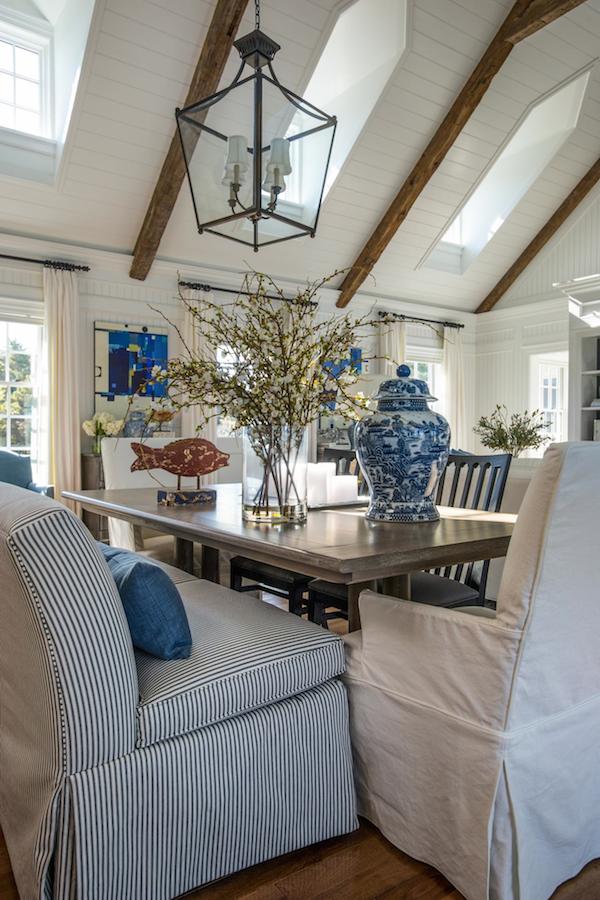 5. Bold statement lighting.
Wimpy lighting in a big room like this would be lost. But you don't want to get carried away and add something so crazy dramatic that it distracts from your room. This lantern is a great example of statement lighting that fits into a room. It has enough character and style to hold it's own in a big room like this, but also has enough glass to make it light and airy enough to not be a distraction.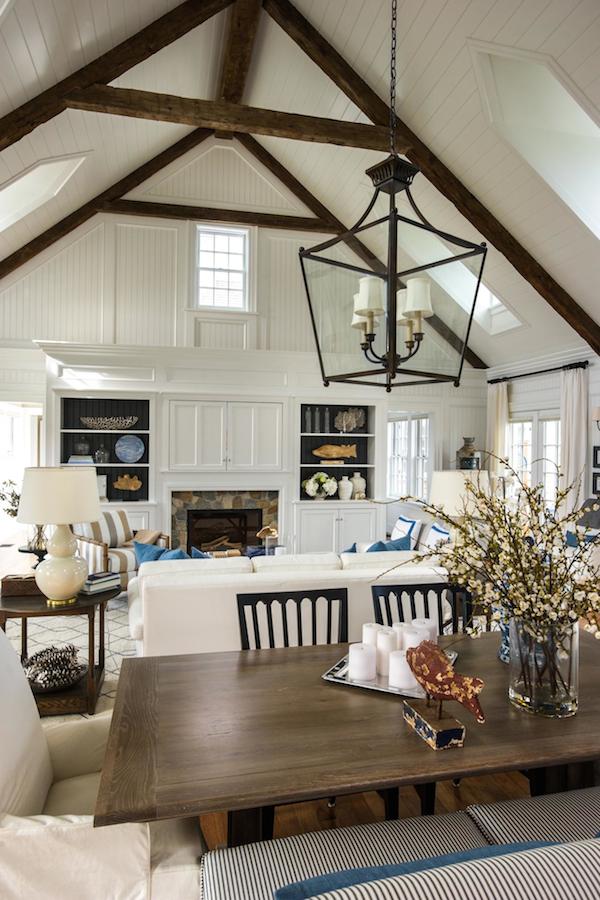 6. Architectural detail.
The high cathedral ceilings and walls are covered with white painted wood paneling, textural rustic wood beams contrast to the white wood, skylights and windows add unique shapes and trim work is interesting throughout the space. While your room might not be as dramatic as this one (if it is, SEND ME PICS! I want to see!!!), adding even small touches of architectural detail can make a dramatic step towards the feeling you like. I have added small bits of architectural detail to every home I've had and it really does make a difference. Even if you don't own your home or cannot directly add to the structure, adding in architectural detail in non-permanent ways can transform a space.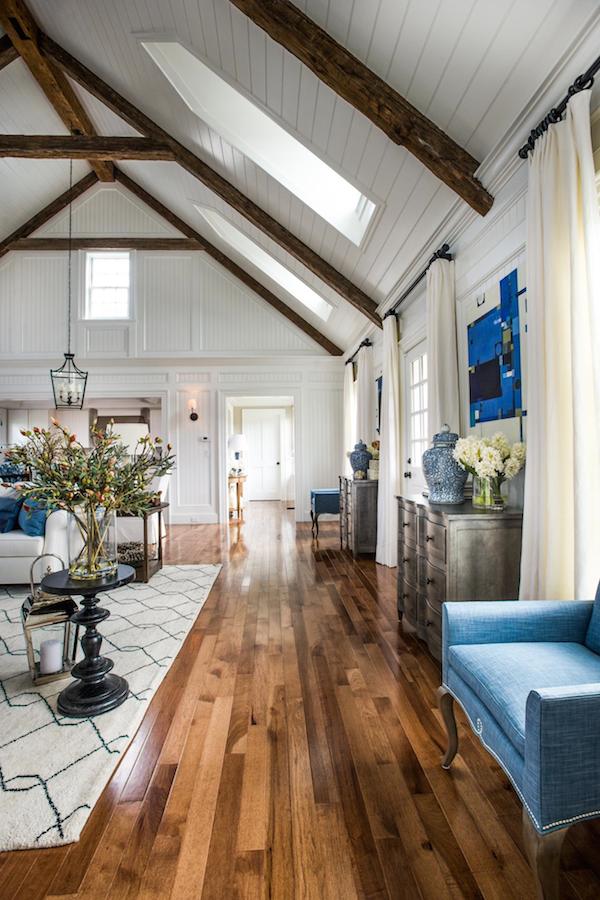 7. Warm wood.
All white rooms are lovely but it's the contrast between the white and the warm that bring a room to life. In a big room like this, the wood grounds the space and makes it cozier. (See my post with more white and wood inspiration here!)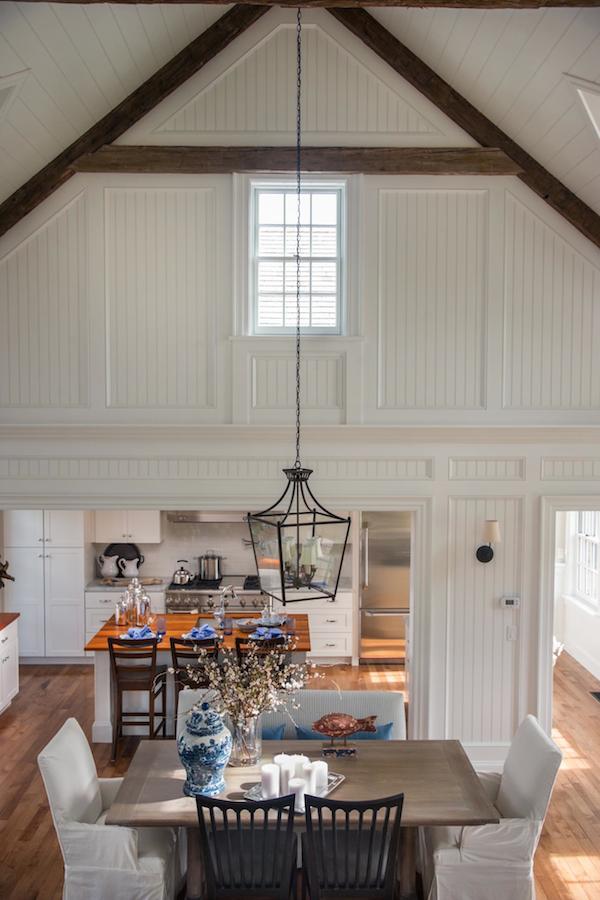 8. Cozy kitchen.
For the grandeur of that great room, I was pleased to see the manageable scale of the kitchen. It's tucked into a smaller niche, which makes it feel cozier and more homey. The scale of the island is in good proportion to the room (an island that is too big makes a room feel awkwardly designed, is more challenging to clean and makes maneuvering around the room less efficient). While the kitchen isn't huge it offers everything you need in close proximity and plenty of counter space for multiple cooks. While it has the more comfortable feeling of a separate kitchen, it is open enough to the great room that the chef can still feel a part of the activities.
9. Light and airy.
If you are building or remodeling, more windows and skylights can transform a room and your mood!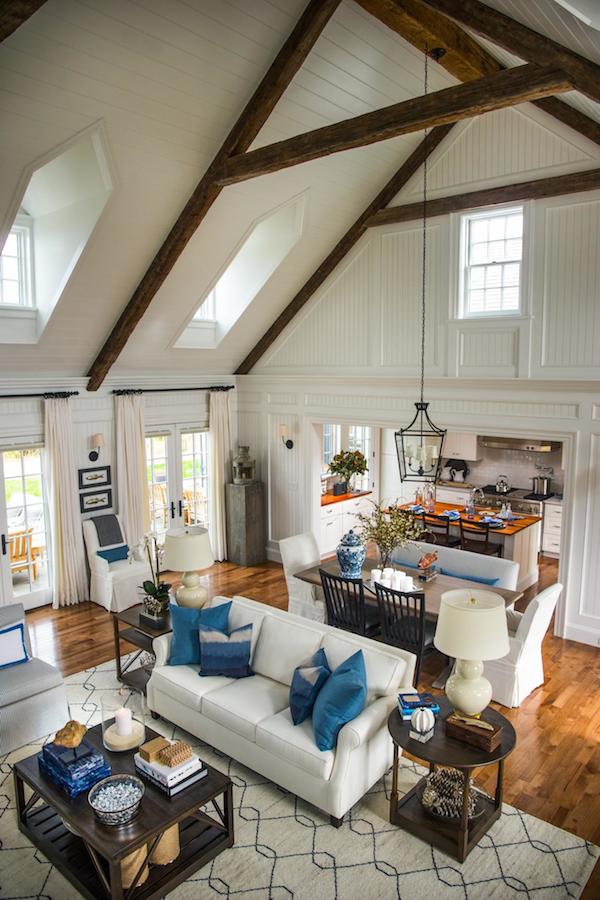 10. Rugs.
A large area rug grounds the conversation area and makes it feel cozier.
11. Color flow.
Notice the blue art in the room just beyond the great room. It invites you to the next space with the pop of familiar blue. In the hallway on the other side of the room, you are drawn in to the repetition of blue on the lamp, but also the warmth of the lamp and console table, and the blue room beyond.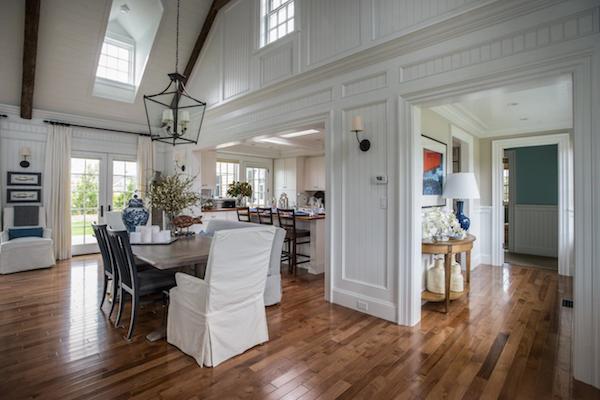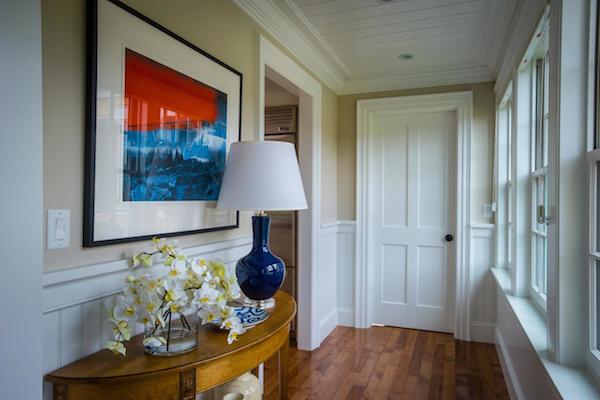 12. Shades of Color
I love this home's shades of blue throughout. Sea blue, navy, dark teal, baby blue, gray-blue, royal blue, and turquoise flow throughout the home on ceilings, walls, rugs and accessories. The various shades make the home interesting! While the blue of the bedroom below is a little bright for me in an entire room, check out the blue ceiling a couple of photos down. Color is a personal thing, so whether you choose to add it on the walls, to accessories, to textiles, on rugs, or painted ceilings, there are so many ways to bring shades of colors you love into a room.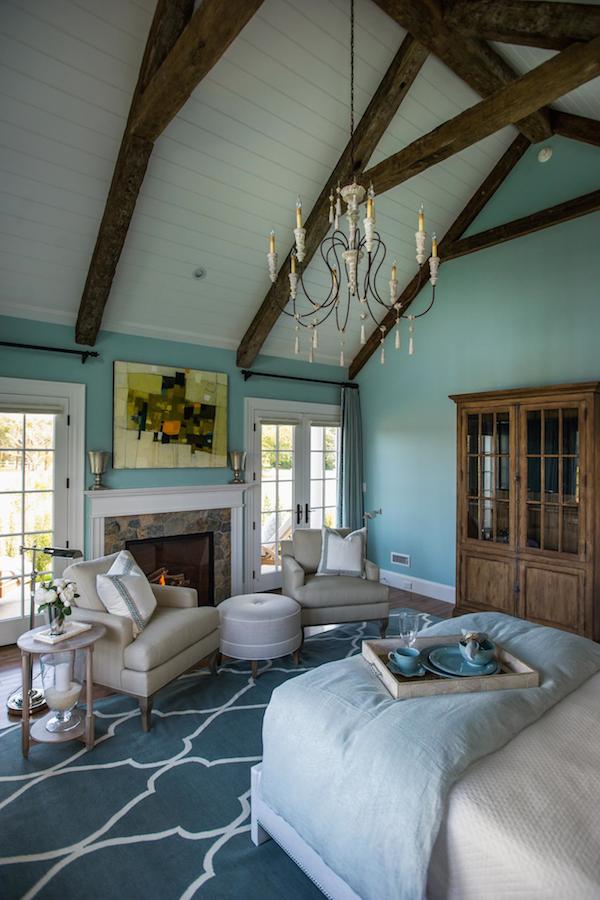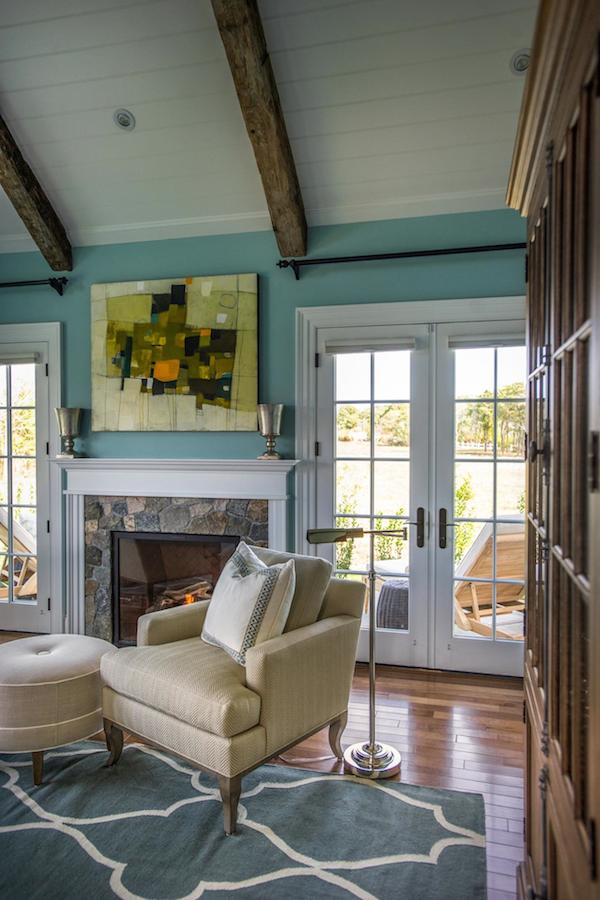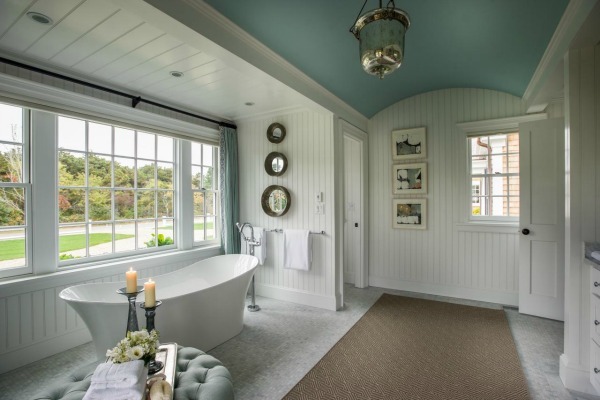 13. Views of outdoor spaces
My dream has always been to work on both the inside and outside of my home so I can enjoy the outside even when I'm in! Since we live in the NW we have nice weather in the summer and fall, but it isn't like San Diego or any place where you might be able to live outside year round. It's nice if you can have a yard that is pretty enough to look at, even from inside, so you can enjoy it in all seasons. This house is obviously amazing and I certainly don't have this type of view or amazing architecture to look at, but I try to find happiness even in small improvements to what I have.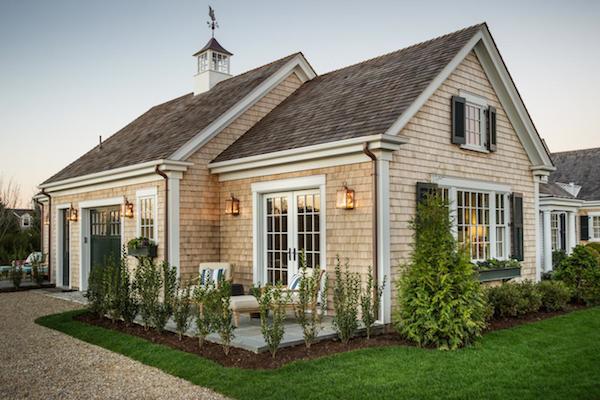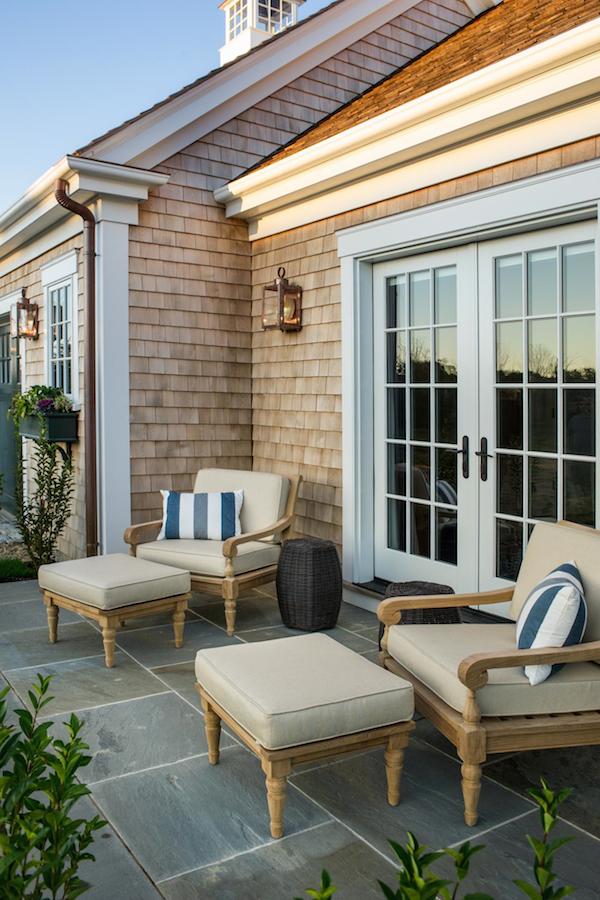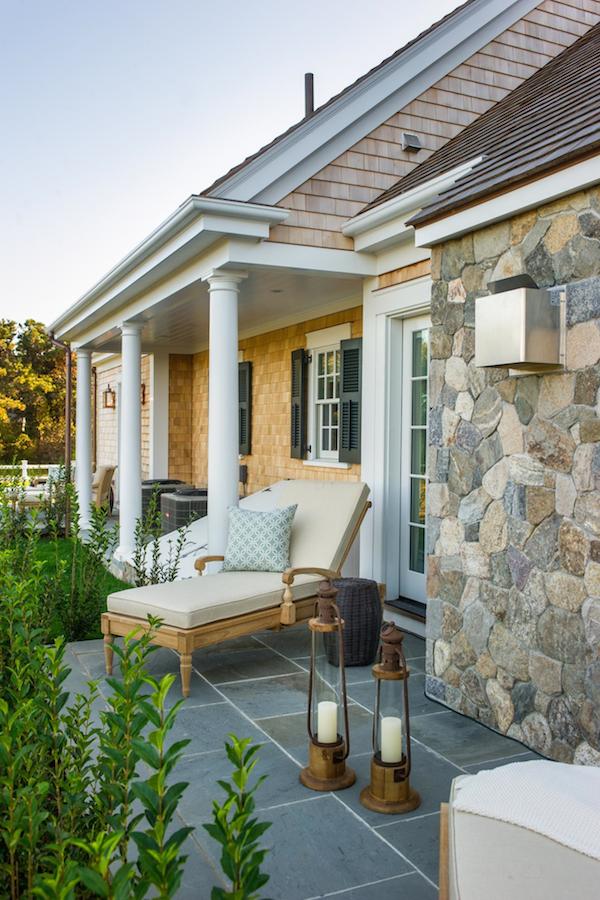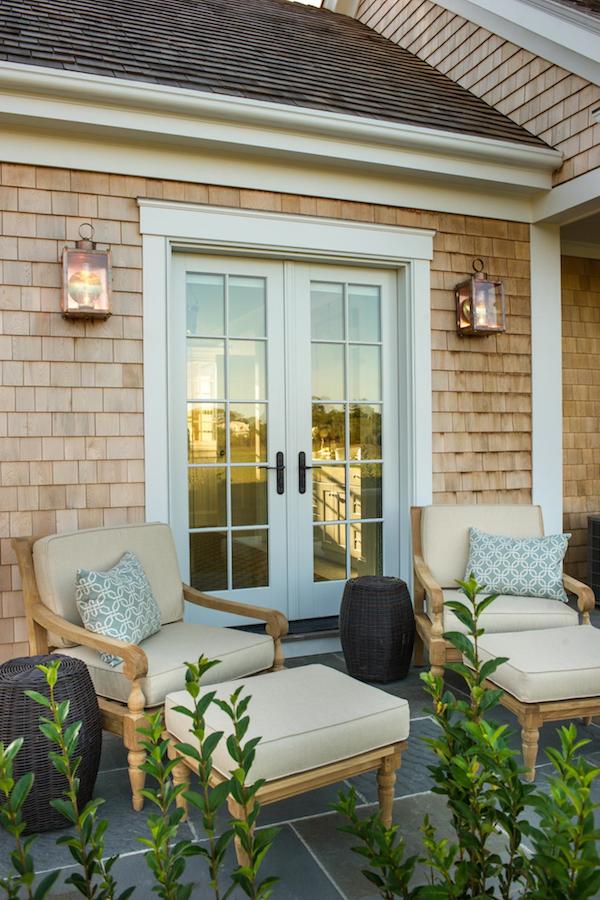 14. Small outdoor rooms
While this home has some amazing outdoor rooms and patios with views, you can make the most of even small areas by furnishing them with comfortable spots for lounging and relaxing. Add details like you would add to an interior room: small coffee tables, lanterns, and even pillows for sunny days!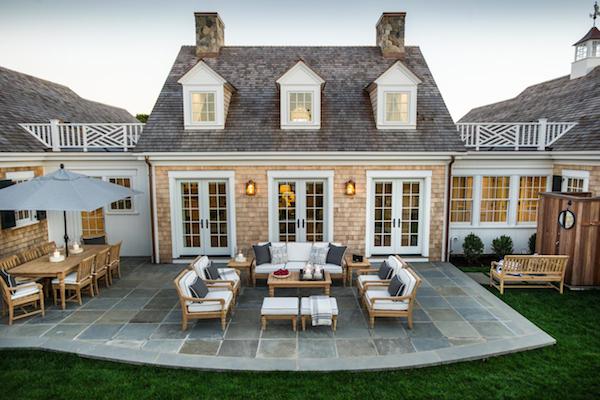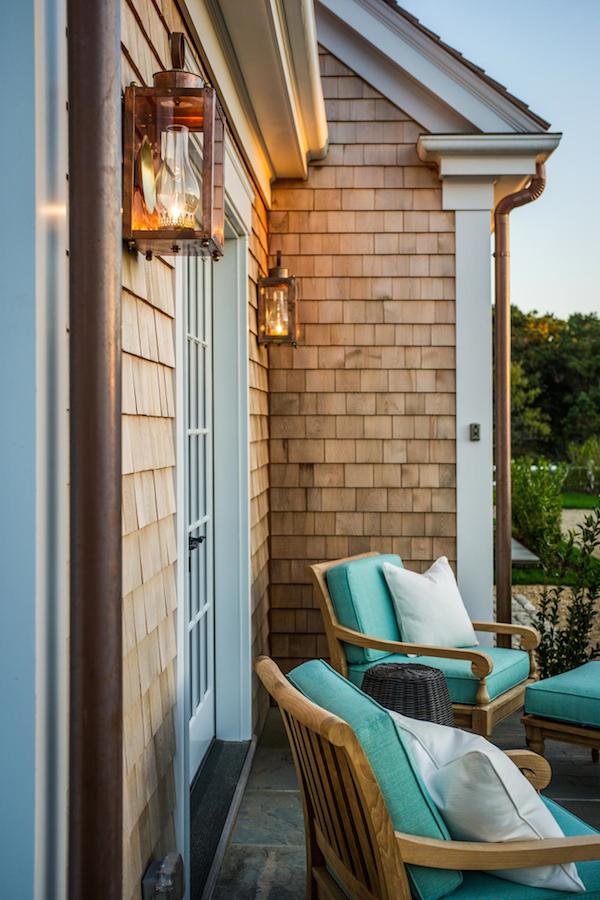 15. Unique outdoor lighting
These copper lanterns are unique and make interesting statements on the house. Scour old house part stores to find lighting or lanterns you can have refurbished for your home!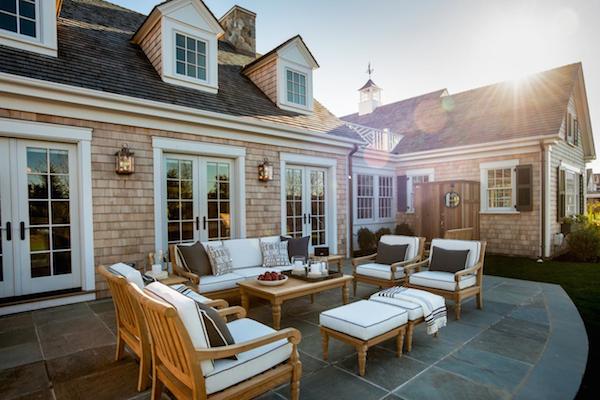 16. Unexpected surprises
I dream of fun unexpected surprises outside to make our small property fun and interesting! What about an outdoor shower or a super cute dog house or charming shed?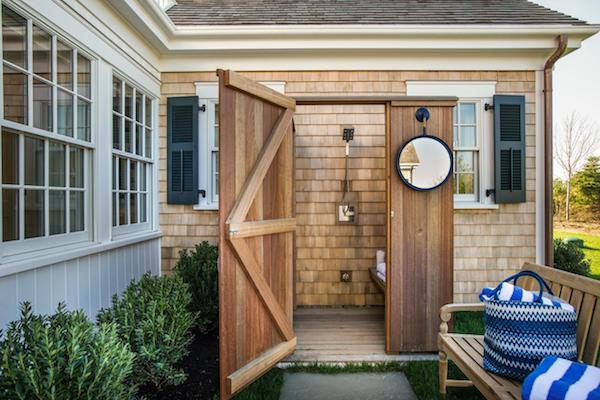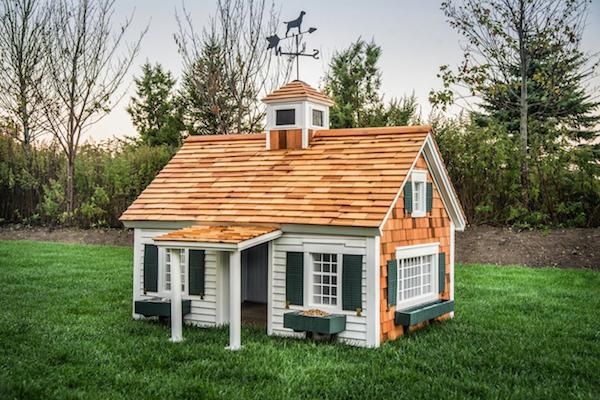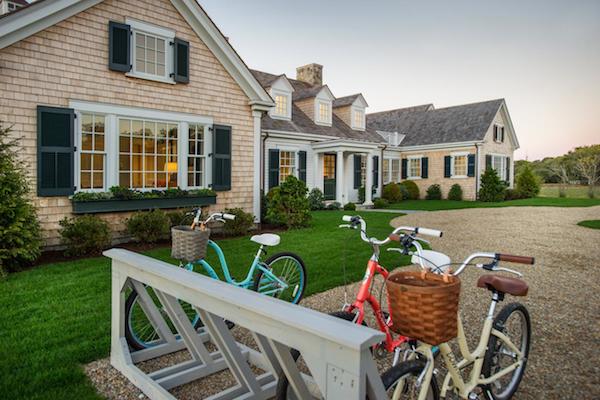 17. Curb appeal.
I'm really into the curb appeal of a home. While my budget doesn't always match my dreams, it's fun to think about what details would be fun to add or ways I could add them for less. A tidy yard and shrubs, shutters, window boxes, a place for bikes…what details could you add for curb appeal?
OK, that was the longest list of take aways ever. And I don't feel like I even scratched the surface of all the beautiful ideas one could incorporate to even a more modest home.
What more would you add to the list of take aways? What were your favorites?
Be sure to go see all the galleries for the HGTV Dream Home! There were so many inspiring spaces that I didn't include here so enjoy the rest over at HGTV!