Hello! Kylee here! I recently shared with you some progress on our townhouse and today, as promised, I am back to tell the story of how we got our two couches into our new living room! If you've ever moved into a small house (or have a very frugal spouse) maybe you'll relate.
In our old basement apartment (also known as The Cave), we had a red leather couch and a loveseat that originally belonged to my grandparents. They are very nice and wonderful quality, but I always felt a little stumped about how to decorate with them since they weren't a style or color I would normally have picked. I was so grateful for the five years we had them in our apartment, but I was kind of hoping to start fresh in our new townhouse.
I spent hours searching for my dream sofa or sectional that would fit perfectly into our new space. My husband Lance, on the other hand, was determined that we were not only going to get the red couches out of the apartment, but also up the narrow stairs in our new home.
You see, Lance is a practical and frugal man and the thought of spending $3,000 (which, let's be honest, wasn't really in the budget anyway) on a sectional from West Elm when we have two perfectly good leather couches (that he happens to think are pretty great) is not something he wanted to entertain.
I was skeptical that the largest couch would ever make it out of the apartment and see the light of day, let alone arrive safely to the second floor of our new townhouse, but I was willing to humor him for the sake of proving that we had to get something new. If it was a necessity, at least I wasn't being irresponsible and giving up two perfect good pieces of furniture all for the sake of an aesthetic preference, right?
Part One: Out of the apartment
So, moving day arrived and the quest to get the sofas out of the apartment began. After being stuck in the elevator at our apartment complex for nearly an hour, twisting and turning the couch every possible way, with many long pauses developing new strategies, and nearly breaking the elevator ceiling (woops), we miraculously got it out and into the U-Haul with only a few small scuffs in the leather. I still don't know how it happened.
But, I still had my doubts they would ever make it up our new staircase. As far as I was concerned, we were still in market for a new sofa. Not Lance, though. He still believed. "Ye of little faith," he told me.
Part Two: Into the…garage.
After trying to get the loveseat around a tricky corner and up the stairs of our new townhouse with the help of a couple of friends, it was determined that it wouldn't make it, so into the garage it went. I sympathetically consoled Lance and pointed out that we could probably make some money off them if we put them up on Craigslist. Then I promptly resumed my search for a West Elm couch. But apparently, although our friends had given up, Lance had not. He was still certain he could get BOTH sofas up the stairs. Somehow. Such determination!
The next day my grandpa, who is just as tenacious as Lance, came over to help. It was a rather frightening experience and everyone who witnessed it thought that this was the end of Lance and Grandpa. Visions of death by loveseat were all too clear as they struggled to push and pull it up the steep, narrow staircase.
But alas, once again– some way, somehow, in spite of all the adversity and risk, they got the loveseat up the stairs. But this was only the loveseat…
And so, once again, given how difficult the loveseat was to get up the stairs, we kept the couch in the garage until we decided how to proceed. Once again, I offered Lance my condolences, but congratulated him for the valiant effort. At least we had a loveseat to sit on for now and we could decide on a more permanent solution in the following weeks.
Part Three: A change of heart
A few weeks went by and we settled in to our new home, content with our little loveseat for the time being. When I decided enough time had passed for Lance to grieve (ha!), I brought up the option of getting something new. I guess I didn't wait long enough, because suddenly he had a new surge of confidence that he could, indeed, get that crazy couch into our living room. And so I told him he had two weeks to figure something out or they were going on Craigslist.
Part Four: The final attempt
With my ultimatum in mind, Lance swung into action and gathered up a crew of friends to help him attempt to accomplish the impossible. Hours were spent at the bottom of our stairs trying to twist and finagle the big, red beast around the corner to no avail. There was simply no way that couch was going up the stairs. And that was the end of that! Or so I thought…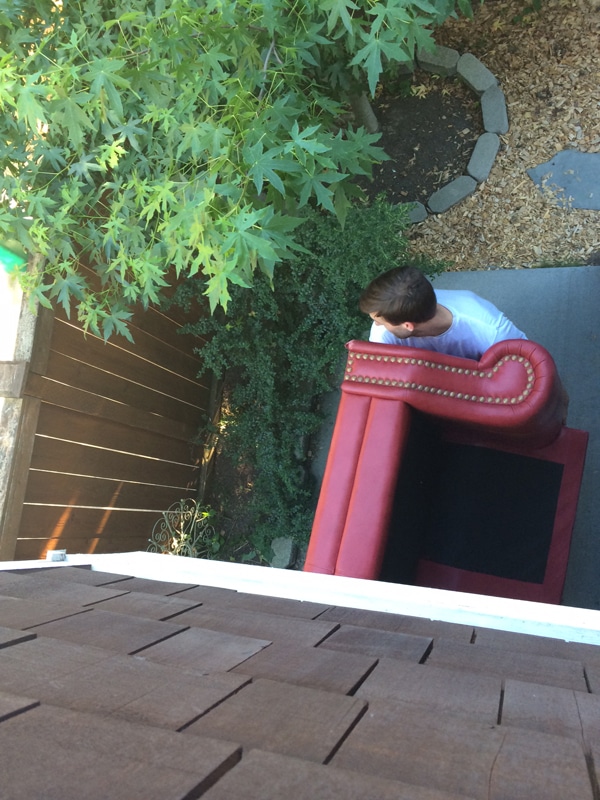 After a brief break, a new idea was born. One of our friends suggested, "How about the balcony?" I sighed to myself as the crew loudly proclaimed their support for this preposterous idea that I was certain was not going to work.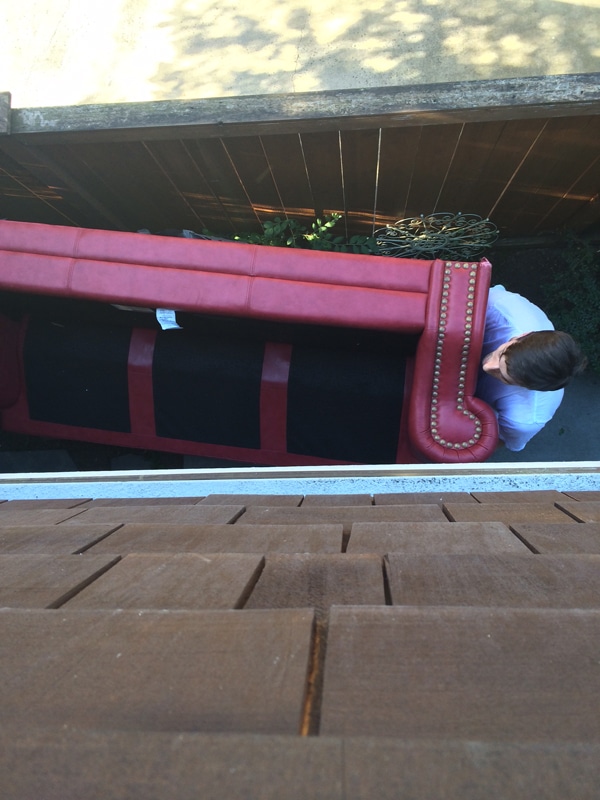 Not only was the balcony insanely high off the ground, but the sliding door was not going to be wide enough to get it through.
Everyone was determined to make it work.
At one point, the couch was hoisted up from down below and those of us up above tried to grab it, but there weren't enough of us to get enough strength to pull it up and over the balcony. And so, our trusty friends below said, "Just hold on, we will come around to help hoist it up!"
And so, there we were, barely holding on to a dangling couch with no support below. What a sight that must have been for our new neighbors! Just when the couch was about to slip from our grasp, the guys arrived and we mustered all our strength to leverage it over the balcony. And there it was! On the balcony!
We stopped for a quick celebratory photo. The couch wouldn't fit through the screen door (as I suspected) so thus began the laborious process of removing the stationary part of the door. I won't bore you with the process, but once again, just as we almost deemed it impossible, off it came! Another miracle. Cries of joy and victory ensued as the couch slid into its rightful place in our living room. Bella tried it out right away…while donning her cone of shame.
So, there you have it. Hard work and determination paid off and Lance could not be more pleased with himself. So for now, they stay. I'm not mad about it. Someday I might get that West Elm sectional, but today is not that day! I have to admit they fit in this space just fine. And now that we have added a rug and a few more accessories, they are growing on me!
Soon I'll share with you another of our frugal tales, how we cut our queen size box spring in half to squeeze it up two flights of stairs to our bedroom!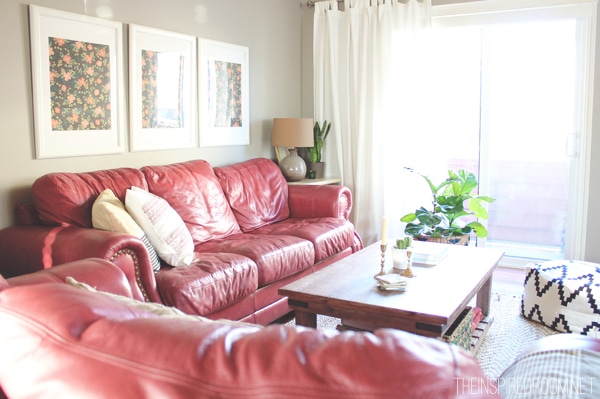 Save