Do you set aside time and space for YOU? Do you have even a small corner of your home set aside for your passions or hobbies, a place that inspires you to do what you love?
While this blog is a part of my business, really the home is one of my passions. THIS space, this blog, is where I share the things that I enjoy.
So while many bloggers need to treat their blog as their job, I would have to say that for myself, what I do is more of a passion than a job. It's actually kind of hard to know where the passion ends and the job starts, except during tax season. :) Then it's clear. Ha.
A home is like my playground, it's a fun place to express my creativity and nurture myself and my family.  Even though my passion and purpose and job all intersect, I still find it important to remember that this is what I love apart from what I do for a business. My daughter Courtney and I laugh sometimes because when I try to take a night off for me, the next thing I know I'm refreshing a mantel or something because that's truly what I would do for me, whether it was my job or not.
Finding time and space for you and what you love is important. It matters! I know for myself, while I do enjoy writing books and blog posts, writing isn't my first love. Creating a home is my passion. I told my book editor the other day that I just needed to get away from my computer and DO the things I was writing about. I had to write from a place of authenticity and passion or I felt disjointed and exhausted. So, to recharge my energy and fill up my ME JAR, I shut down my computer and headed out of my office to do some puttering around the house! That's where I shine and find joy!
Sometimes you just need a little inspiration to remember who you are and what you love! It's easy to forget YOU in the hustle and bustle of life. I recently inspiration boards right above my desk to remind myself of things I love to do. That is my happy place. Yes, it's in my office. Yes, I have to work there. Yes, I work really hard. But the honest truth is, I feel like I have more time for myself than ever before because now I am purposeful about setting aside the time and space to BE ME. My work is woven around what I'm passionate about and best of all, I get to share it with others in this community. Does it get any better than that?
Of course, just like everyone else, there times when I lose sight of things I love. It's not all about the house for me, in fact, if I spend too much time thinking about my house or working on my house, I lose perspective on what really matters! Taking time for ourselves away from the house, the family, the responsibilities is important too. I sometimes forget to make time to get away from work or escape the day to day schedule. Making time to be a balanced person and just enjoy life and connect with others is so important too.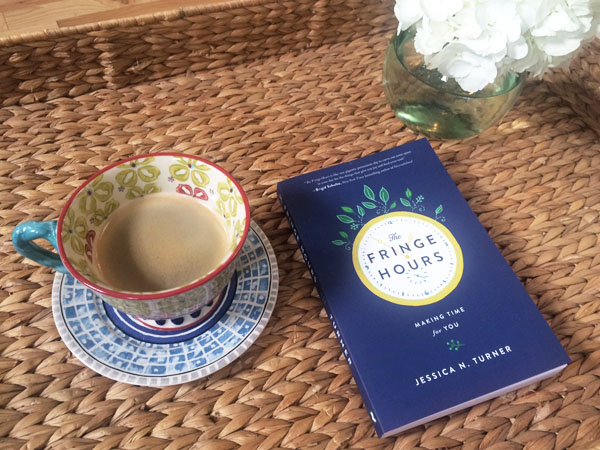 I've been reading a great new book written my friend Jessica Turner called The Fringe Hours, Making Time for You. If like many of us, you get to the end of the day and realize you haven't done anything for yourself, this book will empower you to take back time in your day for you! It has some great insights and tips to inspire you
If you struggle to find time and space for you, here's a fun little project Jessica recommends in the book to help you reconnect with YOU. Make an inspiration board! No, don't get on Pinterest. That's fun, but we're talking about the real deal. An inspiration board in the real world will remind you to take time to BE YOU. If you have an unused board you can use, pull it out. Or make a board. Or go find a new one. Or find a blank space on a wall that you could use as an inspiration board.
After you are done reading this post :), shut down the computer, turn off your phone, put some music on that you love. See if someone else can watch the kids (if you have them) so you have an hour or two of focused time. Now look around your house for things that you can use for your inspiration board. What do you love? What makes your heart sing? What brings you joy? Cut things out of a magazine. Look through drawers for mementos or treasures that might inspire you. Look through cards that people have given you. Gather pretty scrapbook paper that inspires you. Draw something. Paint a little scene. Find fabric swatches or yarn or ribbon. Look through old photos and awards.
Now pin up things to your board that inspire you to BE YOU. Be creative.
Step back and look at your board. Do you see YOU? You are precious. You are wonderful. You are unique and special. You need to make time for that girl to be who she was created to be.
The photo at the top is just a little peek at my in-process inspiration board! :)