BHG
Do you have a 'junk drawer' in your house? Raise your hand if it makes you HAPPY like that drawer above when you open it. I can tell you right now that the worst junk drawer in my home does not resemble that one. Nope, not even a little bit. On the contrary, the worst junk drawer in my house just makes me SAD when I open it. But now I'm inspired to make my junk drawers happy drawers. Because why be sad when you open a drawer?
After searching for pretty organized drawers online, suddenly I feel like every drawer in my house needs cute little dividers. And every drawer needs to be color coordinated and lined with adorable patterned paper.
It really only takes a few minutes to empty out a drawer, sort everything out by category and throw out what you don't need! Add a few drawer dividers (or whip out the pretty paper too if you're feeling fancy), and you will have a magazine-worthy junk drawer in no time.
Ready? Let's get inspired for a fun weekend-project!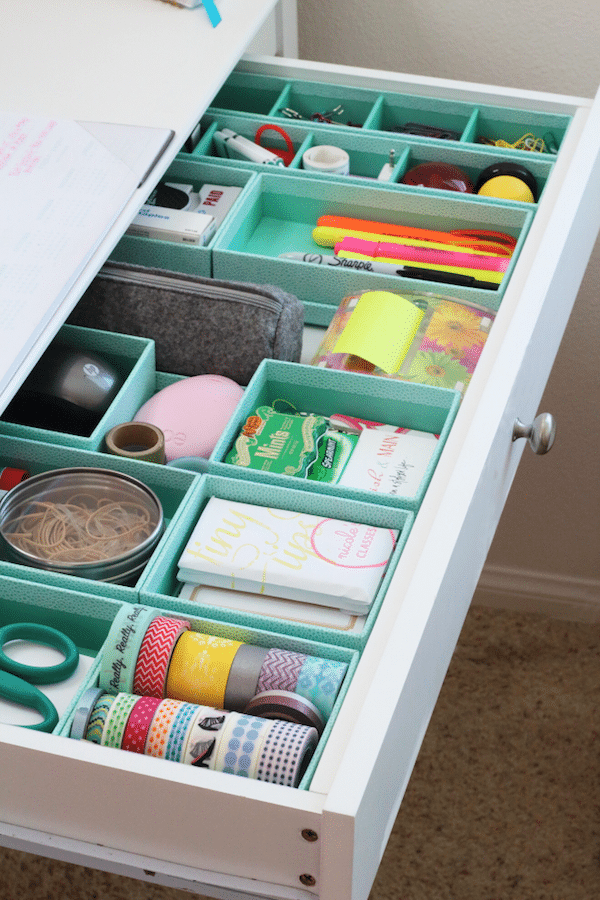 Modish and Main
Perfectly organized paper covered boxes provide a place for everything!
Paige Smith
A pretty collection of teacups is such a fancy way to separate necklaces in a jewelry drawer, don't you think?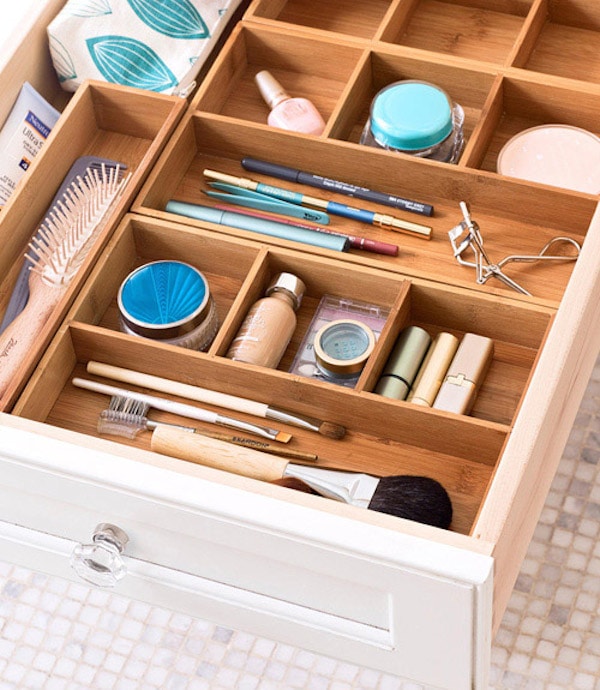 Good Housekeeping – Andrew McCaul
I love these bamboo dividers, so organic looking and spa-like in a bathroom! I found a few bamboo organizers online that looked neat here, here, and here.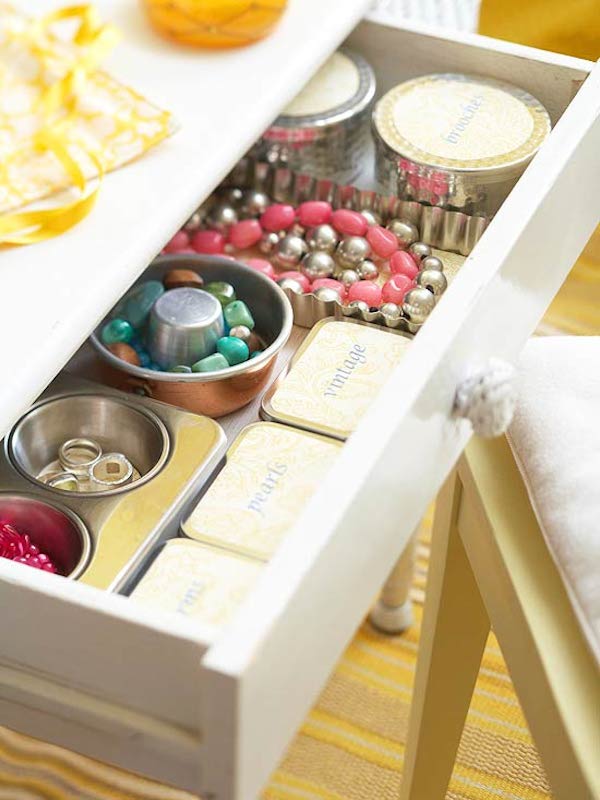 BHG
Little tin bowls and boxes (and muffin tins!) hold jewelry in this adorable drawer.
BHG
Small baking sheets are repurposed in these shallow drawers to corral office supplies like paper, envelopes, and stamps.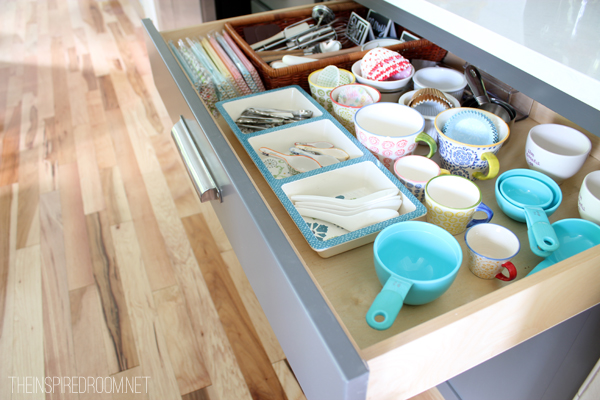 Remember my baking drawer? It's still organized just like this, using what I have to divide small items.
What else could you find around the house to use as drawer dividers? 
What drawers could use some freshening up at your home this weekend?
PS. How are you doing on the "Bag A Day" challenge? We've been making progress on some spring cleaning, little by little!
Also, hey, if you get a chance this weekend, don't forget that The Inspired Room is voted one of the Top 10 Decorating Blogs by Better Homes and Gardens, which means voting is now open for readers to choose their favorites in each blog category!
If The Inspired Room is your favorite, I would appreciate your vote! You can vote as many times as you'd like through March 30th via this link! Thank you for your support! :)