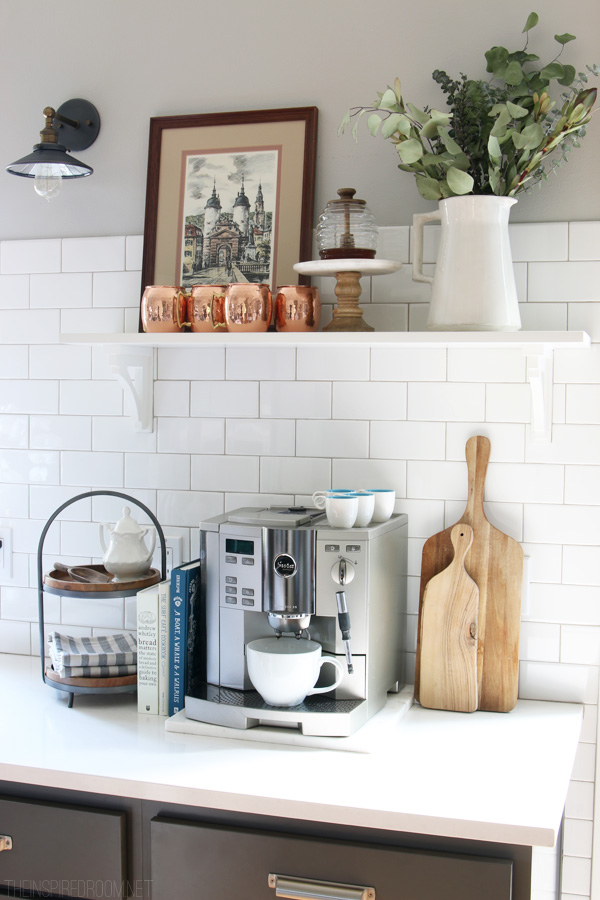 Remember the other day when I talked about what I do when I get in a slump around the house? Sometimes I just wander around wanting to do something different but I just don't know what. I don't want to spend money (or I do, but I don't have any to spend, ha!). I don't want to clean. But I DO want to feel like things are fresh and new. So when I get in one of those moods, I do something a little drastic. Well, not drastic, just DIFFERENT.
I went around the house last week and started moving things to new locations. Do you ever just get so used to seeing things where they are that you almost can't picture them anywhere else? I sure can get in a rut sometimes! So, I made myself put some things away, brought out other things and tried some things in a new spot. I basically just tried to just set accessories up a little differently than they were before, to shake things up around the house.
I even freshened up the coffee area a little bit. The coffee machine really fits best right where it is so I didn't try it in a new location (although I did inch it over a bit towards the center below the open shelf). Awhile back I had bought some gorgeous hammered copper Moscow Mule mugs (remember when they were just thrown on my cluttered dining room table?) but I still hadn't put them anywhere to enjoy seeing them. So, up on the shelf they went!
I also added this two tiered stand to hold sugar and a couple of striped towels.
Recently my parents downsized and I snagged a sketch they had from a trip we took to Budapest years ago. It has just been sitting around my house collecting dust ever since, so I cleaned it up and put it where I can see it.
There were several stems of Eucalyptus still hanging in there from my spring front door basket so I filled a pitcher with the greenery. I love the wood tones, the copper and the greenery all together.
I pulled together a few pretty cookbooks that are normally on the other side of the kitchen and set everything else up a little differently than I usually do. My coffee mugs went into the drawer for a while, even though I love seeing them on the counter. I know they will be out again soon, but it was fun to shake things up even for a bit. That's the thing, new arrangements can spark your creativity. Even if it ends up not being my favorite, it really does reenergize me to see things in a new place and live with different arrangements.
What could you shake up around your house this week?
Sources: