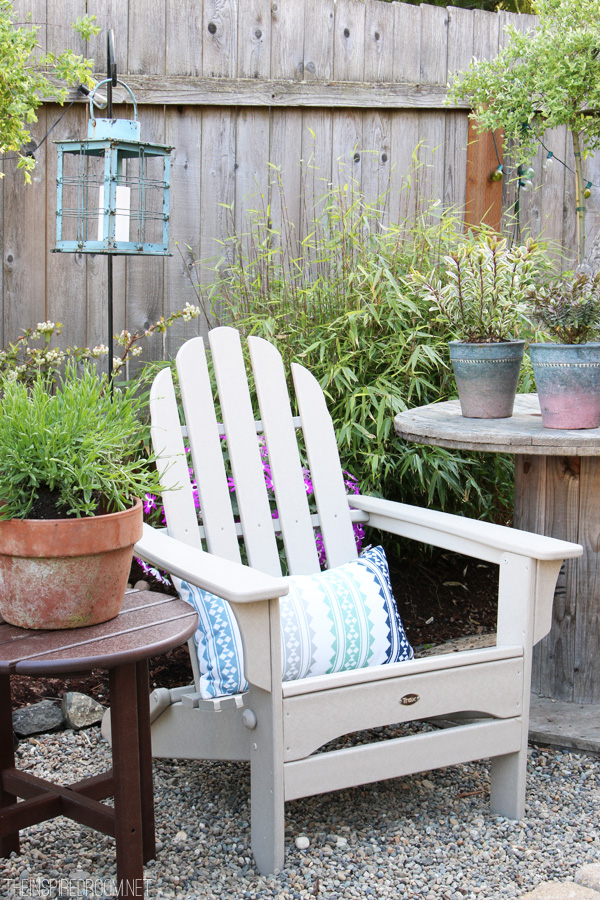 When we first moved into our house, our backyard was a typical new construction home on barren land. No trees, no plants, no landscaping. We had weeds and rocks for soil, and that was it. After living in old homes with established landscaping to work with, our sad little backyard was a bit depressing. I love to design small garden areas but since our soil was filled with rocks, planting was nearly impossible. Any time I had the urge to plant something, it was a big ordeal. I knew I was going to have to enjoy the small improvements we could make each year since a professionally landscaped backyard was not in our plans.
The yard didn't have any structure at all to begin with, so last year we focused on adding shape, interest and function by creating a pea gravel patio for our fire pit, a flagstone walkway, and designated some planting areas.
By dividing our backyard into four zones, we felt like we could make the most of our space and even almost visualize it eventually being a charming and useful backyard! The designated zones also help us to know where to focus our time and improvements! This summer we are really excited to be laying a flagstone patio for our table and adding more plants and trees.
While it will be many years before our landscape is as full and lush as I dream it will be, it helps me to feel like I'm making progress when I zero in on these little areas I can improve right now. It's easy for me to get overwhelmed by the big picture, so it's nice and definitely encouraging to see each little area coming along! One thing I tend to struggle with when I do projects around the house or yard is FOCUS. I'm all over the map sometimes, doing a little bit here and a little bit there. But since I know concentrated FOCUS is what can quickly transform little uneventful areas into inspiring spaces, I really have been trying hard to grow in my ability to stick with improving one corner at a time until it feels more complete.
This little spot has been in progress for awhile, but recently I did a little spring clean up, planted a few pots and plants and set up a charming folding Trex Adirondack chair and end table near my recycled spool table (you can find the all weather patio furniture from Trex). I'm absolutely in love with Adirondack chairs (<<see this post for some more inspiration!) and this one is so adorable and low maintenance, too! Perfect for our Northwest weather.
When we look back at the before photo (above) of where this area all started and see how far we've come, we are more determined than ever to keep on giving each corner of our yard a little more love every year.
A little landscaping, some cute pots and plants, a few accessories and charming furniture made a world of difference!
Do you have a sad backyard corner you could improve this Spring?
The post was created in partnership with Trex. As always, my opinions are my own.