Summer is (almost!) here! Yipeee! Do you have big plans for this summer? I hope you have made time for relaxing, vacationing, gardening and just all around FUN! But even though it's summer and we want to slow down and just enjoy the lazy days, a lot of us still have to work. Boo! There are good responsibilities to keep up with. We want to keep taking care of our home. We want our yard to be pretty and our porch to be inviting. We might want to work on getting or staying fit. We probably have a few summer house projects that we'd love to tackle. Summer can be a juggling act!
I don't like to live a frazzled life, do you? Not in the winter and especially not in the summer. Our summers are too short for that! But I think with some intentional planning, we can accomplish what needs to be done and have plenty of time to slow down and enjoy the simple pleasures of summer, too!
For sanity's sake, I start making lists every season. I've been a "little things" list maker for years. I love focusing my attention on the little things I really love and WANT to do. I really don't like TO DO lists. They stress me out. But I do love creating WANT TO DO (or things I love) lists because it helps me to weed out all the excess. A bucket list can help me focus in on what I want to accomplish and what it's going to take to live fully IN THE MOMENT.
I really wanted to offer readers a simple list that could be a jumping off point, something we could use when life gets kind of overwhelming or the to do list seems too long. Sometimes you might just want someone to take your hand and say, "here's a good place to focus attention today!" I know I need that. So at the end of my book, Love the Home You Have, I included a Love Your Home Challenge, 31 little easy-to-do activities around the home.
I do simple to do lists and challenges for myself ALL THE TIME because they really work. I'm not good with big goals. I get overwhelmed and give up. But I do love to take little steps in the right direction and eventually, I get there!
I think we often know what we want and what we need to do, we just don't always do it. Am I right? But it helps us to focus and take action when we see the goals written out. I also think it helps when you have a friend encouraging you along towards you goals for your home or life. I know I need that little nudge. I crave that camaraderie! Life is so much better when you have a community to say "ME TOO! I need to work on that. Let's work on it together!"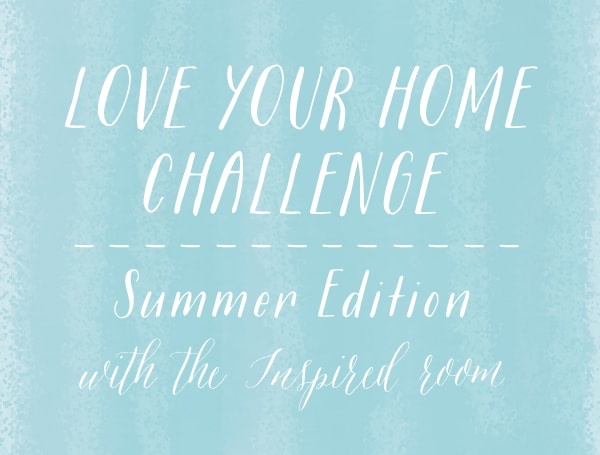 LOVE YOUR HOME CHALLENGE: SUMMER EDITION
I shared my summer bucket list with you a few days ago. Since you are all my BFFs, I'm inviting you to create your summer bucket lists and take the Love Your Home Challenge, Summer Edition! It's easy. Just create your summer bucket list of things you really want to do this summer (projects or just fun memorable experiences!), and start doing the items on your list! Share as many of your successes as you want, either on Home Love Stories or Instagram this summer with the hashtag #loveyourhomechallenge.
(summer goal: eat ice cream cones)
Not sure where to start? You can check the back of the book for the 31 Love Your Home Challenge ideas, get inspired by my summer bucket list, or create a unique list of your own. Then get started!
SEEING others making progress and being intentional about their home and life is motivating, so don't be shy about sharing to help others! Even if you don't have a blog of your own, come hang out with us at Home Love Stories. It is such a humble, sweet community of ladies and everyone is welcome to share even tiny bits of progress around the home. That's what it's all about, living in the moment and loving what we already have.
You can share your Love Your Home Challenges as often as you like, whether it's every day, every week or whenever you have a moment! Every Friday we'll post a reminder to share your Summer Love Your Home Challenge progress. All summer we will pop in here and show you what we are up to and how we are making intentional progress on our summer bucket list.
If you need a little extra inspiration, I stumbled upon the sweetest videos made by an adorable gal named Rachel from Sweet and Simple Home. She's working her way through the 31 day challenges in the book and sharing videos as she goes. Y'all. When I saw her videos? MY HEART BURST! You can follow along as she completes her challenges here. You'll love her!
Another sweet girl, Hilary from My So-Called Home, posted a video of 20 Little Things I Love About My Home, which you can watch here. I love that! It really is encouraging to see real people sharing their progress in accomplishing things that make a difference in their home and life.
Are you ready to make a summer list? I can't wait to see what you all come up with this summer!