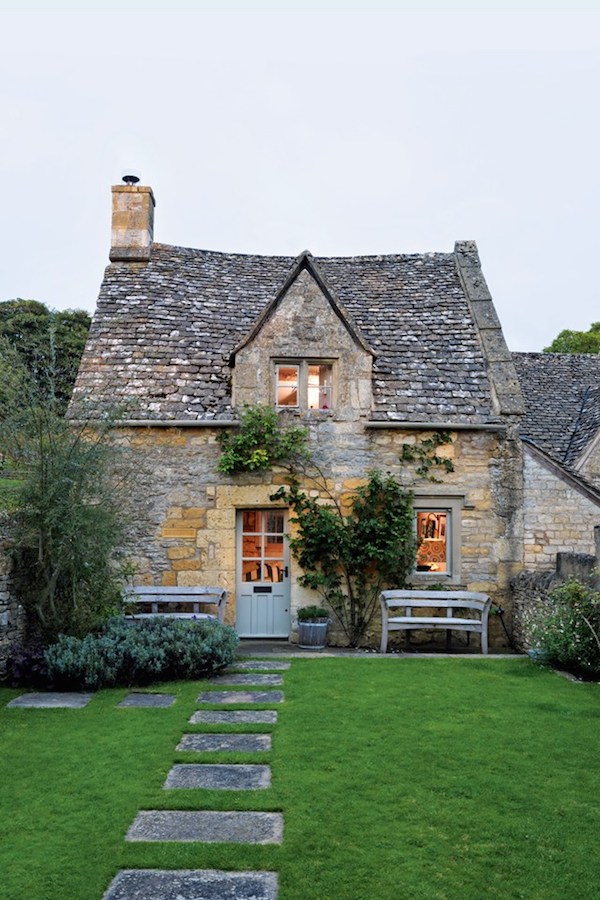 Hello and happy Friday! It's Courtney here today. I found this sweet cottage in House and Garden designed by Caroline Holdaway, and there was so much I loved about it that I had to share it with you! First of all, it's in England. I mean…would anyone be upset about having a vacation cottage in England?

Even though I don't have an English cottage of my own (darnit), there are so many lovely details in this home and inspiring elements that I can learn from its design.
Here are five takeaway tips I've gathered from observing this charming cottage:
1) A Soft Color Palette
I love this home's fresh white backdrops with little touches of pastel. The simple color palette just feels calm to me, while still being interesting to look at.
2) Quirks and Charming Surprises
I'm inspired by all of the quirky details including mismatched dining chairs, imperfect wood benches with chipped paint and uneven legs, little teacups on ledges, and a wooden chair as a nightstand.
3)
Balanced Simplicity
While these spaces are designed simply, they still include eye-catching elements like art, unique accessories, and plenty of texture. I like that balance! Not too overwhelming, but not too boring either.
4)

Romantic Details

There is something pretty and romantic in every room, whether it's a collection of floral plates, a stack of old books, a sweet grouping of roses in a vase, or taper candles ready to be lit.
5) A Timeless Design
The timeless design of this home will continue to be lovely for years to come!
What do you love about this cottage?
See the rest of the photos of this home here.
Similar Posts:
A Charming Home on Martha's Vineyard {5 Takeaway Tips}
Four Outdoor Rooms {Takeaway Tips}
White Kitchens I Love {5 Takeaway Tips}