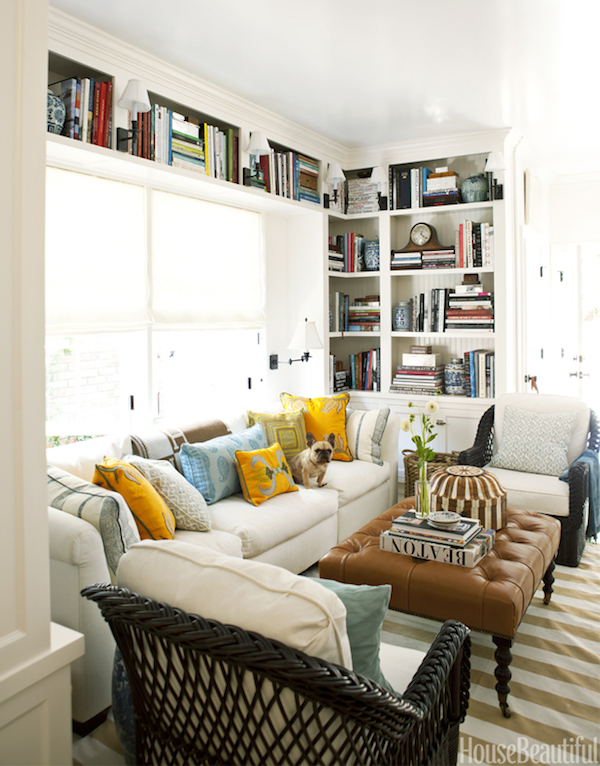 Mark D Sikes – House Beautiful – built-ins inspiration

When we first saw the living room in our new house, we were quite pleased that it had several things going for it!

This is the living room on the main floor. It is bigger than any of the rooms at our old house, so it will have plenty of breathing room and space for furniture! That was a big plus for me since I love furniture :). More space gives me a bit more freedom. Yet at the same time, the room isn't so big that it won't ever feel cozy. I plan to have one main conversation area and a few other small "zones" around the room for conversation, relaxing or function.
It has a bank of giant windows across the back side of the room and around a corner. The windows allow glorious light to flood the space! It's so bright and inviting that I am always drawn to sit in this room. The windows also connect the room to the outdoors, with views of trees, the Puget Sound, mountains and Bainbridge Island in the distance, spectacular sunsets in the evening and beautiful expanses of sky during the day.
The room also has a stone fireplace with built-in bookshelves, and hardwood floors.
This room is open to the dining room and kitchen beyond, so it feels open to other living areas while remaining a separate space.
The room is currently painted a warm white, which will serve us well at least for the time being. There is also a hint of swine paint on the ceiling. Of course there is. :)
It has limited moldings and trim work, so that is an area we can improve!
It has no wired in lighting, but we only really need lamps for light at night and for charm and ambience.
The living room currently has no window coverings, which it really doesn't need for privacy and is awesome for letting in light. But it gets extra bright for a short period of time on a super sunny day, so adding some window coverings would help control glare as needed. It would also be nice for adding a layer of warmth and softness to the room.
You can see in the image above how the living room relates to the entry hallway, be sure to see the post I shared about our entry vision last week!
While we have lots of ideas for this room, we are still dreaming up exactly what this room might look like style-wise.
Here's what we know we want in the room:
We want a window seat to snuggle up on to watch the sunsets. We may create a small corner window bench, or one that goes the full length of the window flanked with built in bookcases. See below for window seat inspiration!
We want to add lighting, built-ins and millwork to increase character.
We want to do some updating around the fireplace, but haven't nailed down exactly what we want to do yet.
For now, we are using several of the same furniture pieces from our old family room, with a few additions and changes. We still intend to use a mix of neutrals and colors and continue with our same style.
We want to add a rug to this space for another layer of warmth and coziness.

New England Home – corner window seat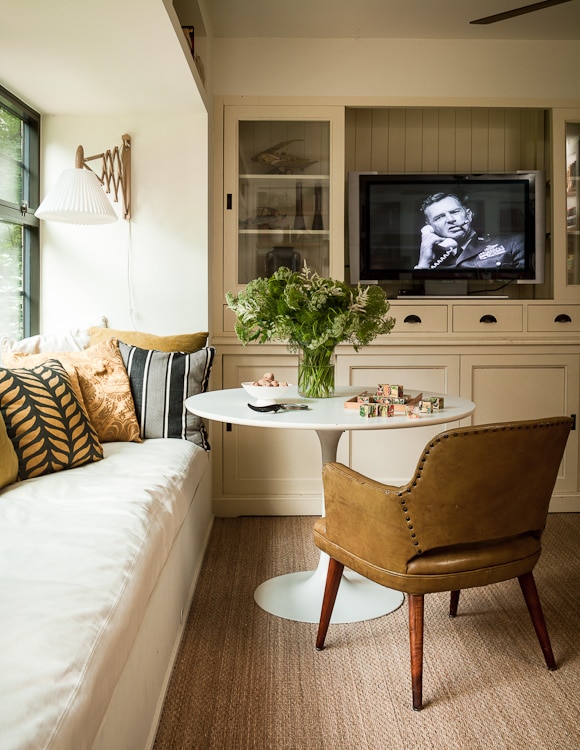 Lauren Liess – window seat and built in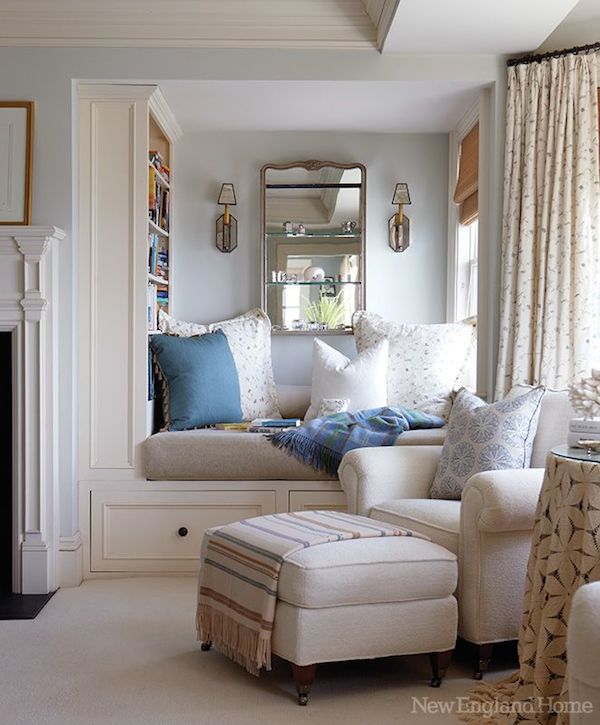 House Beautiful – window seat
Jessica Helgerson Interior Design – window seat
We don't yet have the full vision for the fireplace wall, and we may just work with it. But if we do decide to change it at all or add any trim work or cabinetry, isn't this the coziest (above)? It's so charming!
I cannot wait to work on this room! For now, I just really love being in it. The view has been such an unexpected gift, it almost doesn't matter what the inside looks like when you are so drawn to the view outside! But layer by layer, we'll enjoy making the inside cozier and more charming!
If you missed the other posts about this house (including our house tour video), check them all out here!