I've been enjoy visiting my blogging friends' inspired rooms over the past couple of weeks. What a treat to get to tour and read about their favorite rooms! I'm so grateful for the support I've received with my book launch so far. I enjoy seeing every share, reading every post and appreciate every review SO MUCH! I cannot thank you enough for you help in spreading the word about The Inspired Room! If you missed Part One of the bloggers' inspired rooms on this book launch tour, you can catch up here.
Home Stories A to Z
Today I'm thrilled to be sharing another batch of wonderfully inspired rooms from my blogging buddies. This front porch is from my amazingly talented friend Beth who writes the blog at Home Stories A to Z. Her house is so charming, and that porch could not possibly be more inviting. I only hope my porch will be so photogenic someday. Go see how her porch has evolved through the seasons!
Balancing Beauty and Bedlam
Speaking of porches, if you read my first book (Love The Home You Have) you might remember the inspiring story of patience from my good friend, Jen, from Balancing Beauty and Bedlam. She waited 17 years for her front porch and I just have to say, it was absolutely worth the wait. She says she is far from completing any dream rooms in her house, but her home is so beautiful from the exterior, I'd say it is a dream house (even if it is still in the making!) Go see her story and her beautiful front porch here.
Domestic Fashionista
Ashley from Domestic Fashionista just did a little rearranging of her home to switch the dining room and living areas so they would be more functional spaces for how they actually live. I love her changes. Go see how her rooms have evolved and be inspired by why her arrangement makes sense for her family!
Sweet & Simple Home

Rachel from Sweet and Simple Home is such a sweetheart and runs a really great YouTube channel where she invites all her viewers into her home and life on a regular basis. So cool! I was first introduced to her when I happened to stumble upon her 31 Day Love Your Home Challenge which she created last spring to follow along with my book Love The Home You Have. I was so touched to find it and inspired by her series!
She has now invited us into her darling living room and dining area (via a video!). It is such a cozy and lovely space for her young family to spend time together and homeschool. She will be hosting another series based on The Inspired Room book and I cannot wait to see what she'll share! Be sure to follow her YouTube channel!
Happy Happy Nester
I loved reading Janine's (from Happy Happy Nester) post about her kitchen. That little bench is so cute and how could you resist it with that cheery yellow smile pillow? You can check out how they opened up their kitchen and made it a place that worked well for their family here.
Honey We're Home
Megan from Honey We're Home shared this love master bedroom (THAT MIRROR!), which has been five years in the making. I love to see others who have rooms that have evolved over time to be one they really love now. Real life doesn't always offer us an overnight makeover, so it really is inspiring to see how a room comes together for most of us! You can see her room here.
Diane from In My Own Style did nine (9!) paint projects over time to turn this dining area into a room she really loved! My two favorite things in this space are the white painted hutch and a gorgeous fireplace mantel. It's amazing how paint can transform a room. Go see all of Diane's great ideas and how her room was transformed with paint!
Jen from The Chronicles of Home has this very awesome screened in porch that I think would be WONDERFUL to hang out in! She has an electric fireplace to make it cozier when it is a bit chilly out, too. I love her blinds and how she hung the curtains, such a fun space! Go see how she pulled her screened porch together here.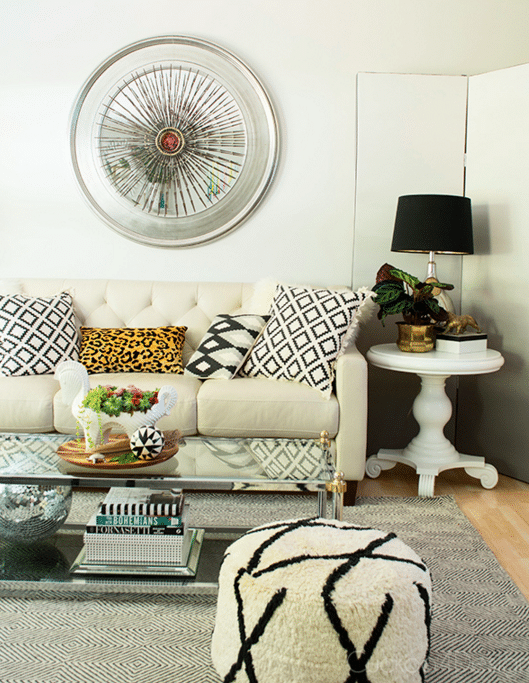 Cuckoo4Design
Julia's (of Cuckoo4Design) home is always evolving, so she shared how her living room has changed over time as her taste evolved. It's so fun to see how her color scheme eventually evolved to a more neutral palette, go see!
I'll be sharing another installment of this series next week! I am so grateful for such inspiring bloggers who have taken the time to support me! I hope you'll visit and follow each and every one because they have so many great ideas to share. **See the full list of bloggers who participated HERE!
PS. Only a couple more days to enter to win a $300 gift card to Anthropologie!!! If you haven't entered yet, I think you definitely should :) See the simple requirements for how to enter HERE and more details below!
In honor of my book launch virtual tour for The Inspired Room coffee table book, I would love for you to join in the fun of sharing your 'inspired rooms'. Would you share YOUR inspired room? You can share how your favorite room inspires you, how the room has evolved, or even your funny stories about your rooms (all those "keeping it real" moments we might not see through the pictures). Not a blogger? No problem! Just become one by joining Home Love Stories and creating a room tour post there!
As a little thank you for sharing your story and for helping me with this book launch, I'm offering a fun giveaway open to anyone who participates with a grand prize of a $300 Anthropologie gift card and runners up will receive my favorite copper mugs!
In order to enter, make sure you share the URL link to your post online via this form. You have to post your room on a blog, on video (like on YouTube) or Home Love Stories to be included in the giveaway. See all the details and terms here.
Happy Weekend!