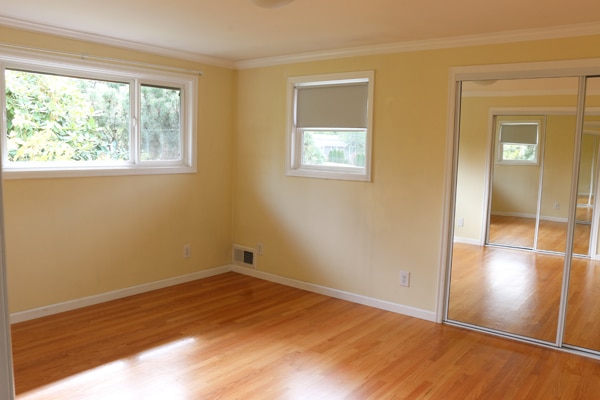 This little room here is our master bedroom! I think this room being so small and not being directly connected to the bathroom was one of this house's initial limitations. Many people prefer a master suite and this house not only didn't have one but it wasn't all that easy to imagine how to create one.
The master is right next to a bathroom, though, through a small hall that leads to the master from the entry. We've considered connecting this room to the bathroom by changing the placement of the bedroom door to the end of the hall where the entry is.
Down the road if we add a new door to the master from the hall, it might even be something like the sliding barn door, above, (as long as it is nice and pretty flush with the wall so it doesn't take up too much room). You can see where the current bedroom hallway starts with the opening on the left side of the hall photo, below. To the right goes to the other bedroom and office and straight ahead is the dining room and living room.
See the swine paint in the hall? :)
While it would still be a small master bedroom and bathroom if we put the doorway at the end of hall, it would definitely make the room feel more like a master suite. The downside with that plan is that it effectively removes public access to the only bathroom on the main floor. With the new master door on the other side of the hall, guests wanting to use the restroom would have to enter the master bedroom, but at least the bathroom would be the first door in the hallway so you wouldn't actually have to go through a bedroom to get to it.
I did a post a few months ago about remodeling a bathroom to have two entrances to create a bit of a guest entrance if you only have one bathroom on a floor, but I'm not sure there's enough room here to do that. We could perhaps add a powder room where the current office is, but for now that is not on our radar. We have a second bathroom downstairs so we're fine with that!
Right now, reconfiguring the room and bathroom isn't a top priority so I'll circle back to these ideas later. Right now, we're just wanting to make this bedroom feel more like us in easy ways :). So often for people the master bedroom is the last on the list to improve, but we've decided that to really feel at home here we want to improve this space now and not wait for the ideal. Plus since so many of our other projects will require a bigger budget, a room that can be transformed just with paint seems like a great project to start on! I've already selected the color and have the paint so I'm ready to go!
As you can see, the room is currently yellow, or what I lovingly call a "lemon chiffon" color. Along with the "swine/hog" paint colors elsewhere in some areas of the house, it just won't quite feel right to me until we get the walls painted!
Since our master is a fairly small room (at least compared to the big master suites often found in homes!), I'm thinking to play up the cozy factor. So instead of trying to make it seem bigger, I'm going to make it a cozy nest with dark walls!
Sometimes that's the best plan for a small bedroom, just embrace it and make it cozy.
You can see some photos of dark walled rooms below, not necessarily the styles or colors we are thinking (and we aren't doing black walls…or navy!) but it's fun to gather some dark room inspiration!
Lonny

original source unknown, anyone know it?
To contrast with the dark walls, I'll keep the white trim and likely have some white bedding or other elements to keep the room from feeling too overly dark. Fortunately the room gets a lot of morning sun through the windows so it's a great room to be dark as it will still feel bright in the morning and definitely dark and romantic at night.
We are keeping our current bed (my mom's wood sleigh bed that we had in our old house) at least for the time being, so I think the dark walls will make the bed look rich and very cozy. The bed fits perfectly under the windows so it will look great with curtains on either side to nestle it in. The far wall opposite the windows will have a dresser and a TV. Even though we don't watch a lot of TV in our room, when we do want to curl up on a winter's night and watch something it's nice to have it there. For family shows we have a TV downstairs, but no TV in our living room or anywhere else on the main floor (I like peace and quiet in the house so having the TV downstairs keeps the loud shows away from my quiet zone, ha).
I will need new nightstands because this room is not as wide as our old room and my previous dresser/nightstands won't fit (but I will use them in other rooms). The closet doors are currently mirrored which is nice as far as checking out your outfit and reflecting light, but stylewise, I'm thinking down the road to replace them with something else undetermined.
My first goal with this room is to paint, and then we will start rearranging and moving furniture into place and trying to get it finished up with new curtains (still undecided on what those will be) and other details. I also have a new semi-flush mount light fixture I want to install in the room that I think will add a bit of sparkle and romance! I'm really excited to see how this room will come together, it will be quite a different vibe than our old bedroom but since I don't have each element planned out it already will be a surprise even to me how it comes together. :) Aren't those surprise rooms fun?
So, that's what we are working on right now! We are just about ready to start painting! I'll share the progress on it of course, as well as catch you up and explain what other projects have been going on or not going on here, as the case might be :). I know you've been wondering so I'll have some answers soon.
Be watching for updates on this room and the reveal of the new paint color!
In case you are wondering, I haven't started Christmas decorating yet (some years I've started earlier just for fun, but this year I have had my hands full just getting settled here and with work projects so I don't feel as prepared as I normally would be). While my home is still in its "before" state, I do plan to still put up my usual two trees and decorate the house. I'm definitely not waiting for a perfect house to enjoy the season! :) I'll be sure to share anything I do in the upcoming weeks!
Related Posts:
6 Reasons to Love Your Small Space (my guide on eBay)