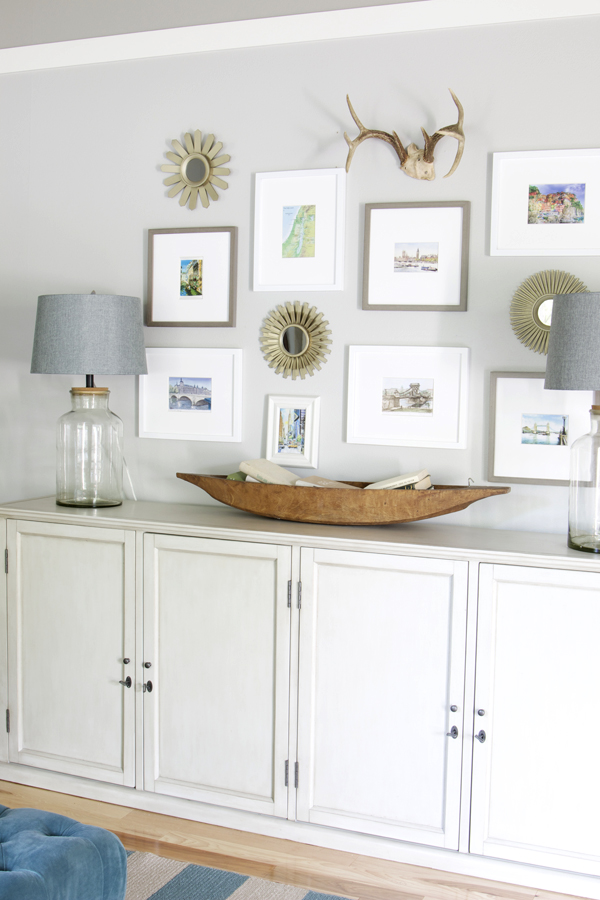 If you ever just feel uninspired by a room in your home, this is the post for you. I know just how you feel, sometimes I just have no clue what to do next with my house, but I really want to do SOMETHING! When I get in that funk, my first instinct is to BUY SOMETHING NEW to fix my rut. Shopping is fun, I'll admit that. But shopping isn't always the best solution because when we are in a funk, we sometimes end up spending money on things we didn't really need, simply because we are bored with what we have or we were just IN THE MOOD for something new.
Whether the funds are available to shop or not, sometimes the best answer to being stuck is to just get your own creativity going.
What can you can do for FREE (or cheap)? That's the tricky part, coming up with the motivation or inspiration for decorating with what you have, when shopping is SO FUN!
Here are some ideas to inspire you to love and even enjoy what you already have!
1. Try something unexpected.
Try something you've never tried before, such as using a stool for an end table, or a desk as a nightstand, a cute wood chair in the bathroom as a place to stack towels.
2. Go on a treasure hunt.
Look around your cabinets, closets and yard for cool stuff and put it to work in a new space!
A twisty branch
A colorful platter
A vase
A stack of old books
An old wooden box or basket
A pretty scarf
A favorite frame
3. Clear out the unloved.
Look around your house or in your cabinets for stuff you don't like or use and give things away. Less is more (and you just might find things tucked away that you could actually use or repurpose!)
4. Get sentimental.
Dig through your postcards and greeting cards. Hang some special notes up with push pins or frames!
5. Clean off a cluttered surface.
Clean surfaces will inspire you and you might find that was actually what your room needed, less clutter!
6. Improve your mood.
If your room feels a little boring to you, perhaps it just needs a new jolt of personality. If it's been moody for too long, it might need to be energized with lighter colors or more sparkle with metals and mirrors. If it's a little too bright and peppy, add more warmth and depth with natural materials and richer colors and see what happens! Look around your house for what you need. Worst that could result? You don't like it any better. But best case scenario? You LOVE the new look!
7. Update your memories.
Fill your frames or bulletin board with current family memories.
8. Look at the overlooked.
We all have missed decorating opportunities in our home. How could you streamline or restyle the top of your dresser or nightstand? What object has been sitting on a surface so long that is covered in dust? What needs to be dealt with (hung up? Put away?) because it has been sitting on the floor for ages?
9. Shake things up.
What pretty items could you move to a new spot?
Perhaps colorful bowls in your kitchen cabinet would be pretty grouped together in your dining room hutch.
A little lamp that has been sitting in your bedroom for ages might be perfect for bringing more light to your kitchen counter top.
The art that on your entry wall might actually look better above your bed.
You never know until you try!
10. Try a new shape or play with symmetry.
Is your living room full of rectangles?
Soften hard edges for a new look!
Perhaps you have a small round table or ottoman to replace a rectangle or square one.
Bring in some plants to soften the hard corners.
Angle your chairs to cozy up the conversation area.
Play with symmetrical or asymmetrical ways to decorate your mantels or table tops.
Have fun using what you have and creating a whole new look!
Related posts:
How to Decorate: The Slow Process to a Style You'll Love
How to Decorate: The Secret Ingredient Every Room Needs