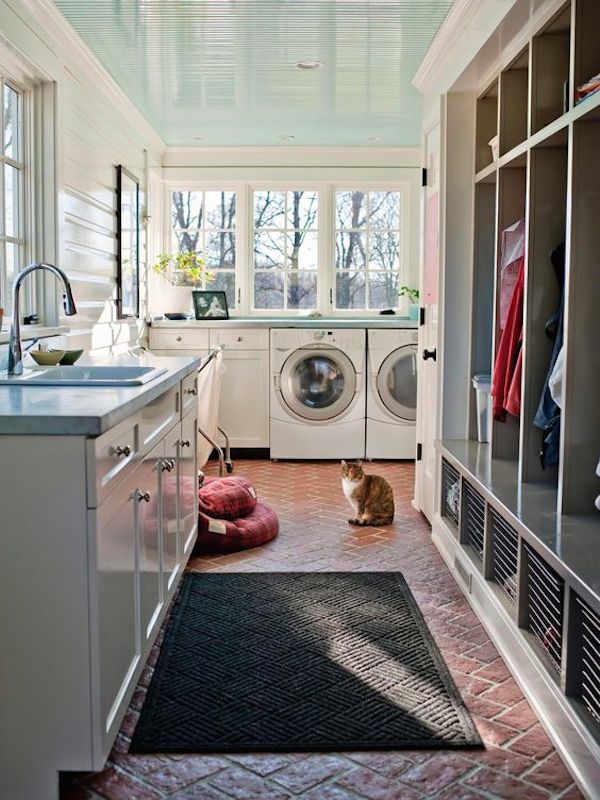 Emily Fisher of Rock Paper Hammer via HGTV
Two weeks ago (whoa, has it been two weeks already? my how time flies!) I featured a sketch of a potential floor plan for our kitchen remodel (in context with the rest of our main floor).  What I didn't share yet was the possible location of a second bathroom on this floor (should we decide to add one)! Many of you shared great ideas for where we might be able to sneak one in and some of you had questions, so today I thought I'd circle back to it and maybe answer a few of those questions. If you missed those posts, check out Part One and Part Two here.
Right now we have two full bathrooms, one on the main floor and one on the lower level. Two is really plenty for our family right now, but if (when) we close off our bedroom and bathroom to be more like a master suite (well, a mini-one, ha), it would be nice to have a second main floor bathroom for guests.
Another reason for a second bath on this level would be because down the road when our son graduates and heads off to college, we may decide to create a rentable space in our lower level. Rentable spaces in family homes are popular for buyers and owners in Seattle because the cost of living here is pretty high. If we decide to do that at some point, the bathroom downstairs (as well as the current laundry room) would become a part of the rental so we would need to add a second bathroom and would likely want a washer and dryer on the main floor, too.
Heather Garrett Interior Design
We don't want to remodel more extensively than is necessary, or take on more projects than we feel we really need to right now, but it is fun to dream of the possibilities before we have to commit to what is best for our family. So even as we dream, we continue to weigh the value of scaled back options, too, just in case. All options are still on the table but I'm pretty excited about all of the possibilities for improvement, no matter what we decide to do.
I do have to admit, the additional plan for our kitchen area that I'm going to share with you today got my heart beating a bit faster and made the end result of a remodel even more appealing to me.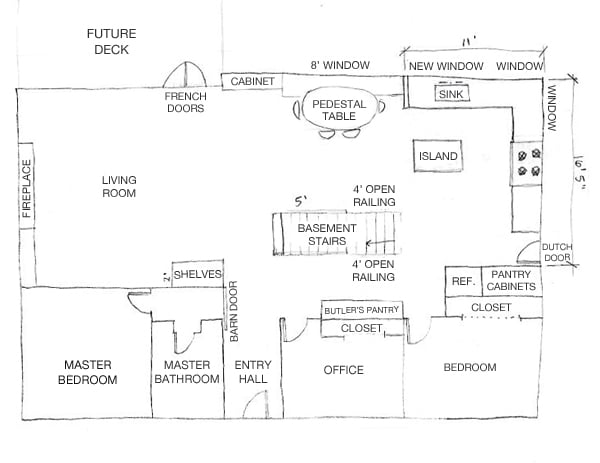 Above is our proposed kitchen floor plan. The island is just a placeholder (size and orientation TBD), and this plan doesn't yet include our idea of the mudroom to the left of the Dutch door)
A few of you (and my mom) suggested that it would be nice to find a way to make the Dutch Door into a "mudroom" type entrance. I agree, that idea is positively dreamy and seems very practical use of space, too. So if we are going to create a mudroom entrance, imagine this…what if we took out the current pantry cabinets and refrigerator, and then turned my son's current bedroom into a connected mudroom/pantry/bathroom/laundry space? (We could create a teen hangout and bedroom downstairs that we could still access even if we rented part of the lower level, to make up for the loss of that bedroom.)
In my dreams, you'd walk into the Dutch door (from the new side yard) and to your left of the kitchen would be the new mudroom (maybe open, or behind a pocket door or barn door). Check out the inspiration pics on this page for lots of ideas! You'd see a wall of hooks, cubbies and bins. You'd have overflow pantry space, perhaps even an extra fridge or freezer. The dogs would have a place to eat without being under foot in the kitchen. You'd also be able to easily toss in a load of laundry and grab the clothes from the dryer. And along with this space, from the front hall (or maybe from this room, too), you'd be able to access a small full bathroom that would be easily accessible for guests.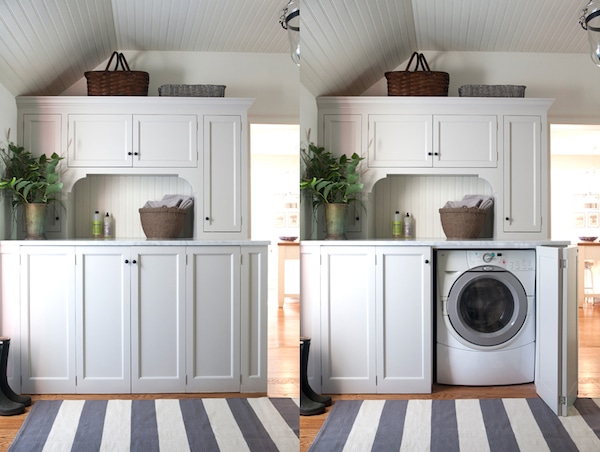 Sage Design – Custom Millwork
Don't ask me yet where the kitchen fridge would go in this scenario, but I'm sure we'd figure it out. Maybe we could even get fancy fridge drawers in an island for our fresh produce or daily necessities.
While I still might opt for a kitchen facelift rather than a full remodel, now that I have this idea in my head, it will be hard for my head to convince my heart to let go of this mudroom idea. :) 
PS. We finally got a new washer and dryer downstairs, so soon I'll update you on that space and introduce you to the rest of the lower level!