Hello, Kylee here today. I'm back! See, I told you I was going to try to appear here more often! Besides the fact that my mom needed a couple of days off this week to finish up a project, she has been bugging me for FOREVER to post not only my townhouse decorating progress, but also recipes. I assume this is partly for her benefit because she is one busy lady and, as I know she would admit, doesn't have a lot of time to think about things like meal-planning. I, on the other hand, have a food obsession and my mind is constantly occupied with my next meal. For my mom's birthday this year, all she asked for was a typed list of easy, healthy recipes that she could make and so I obliged.

Contrary to what people tend to think, given how much I love food, I don't like cooking. What I DO like is eating. But alas, eating well and cooking tend to go hand in hand. One of my dreams would be to have a personal chef who I can tell exactly what I am craving and they would just make it for me and take care of the cleanup. I wish! I am slowly learning to be sort of into cooking. But really, it's not the process I like, but the end result.

Like I explained in my last post, I had been slacking on posting here because blog posts require more time than you would think. Especially because it means that you not only have to write something somewhat interesting about what you are posting, but you also have to take photos.
Taking photos requires one to be home in the light and then the expectations with a blog post is that you take GOOD photos, which let's be honest, I am not a photographer and never have any idea what I am doing when I whip out the DSLR. So, I explained all of this to my mom, who in turn told me not to worry and just share my photos like I do on Instagram. If you follow me on Instagram, you may have noticed I take a lot of photos of my food. Yes, I'm one of those people at restaurants. Before you go judging me, you should know, science totally validates this behavior.
All that to say, I am here to share a granola recipe with you today! Granola is a morning staple at our house. We most often use it to top yogurt or smoothie bowls in the mornings. Occasionally, we will have it like cereal with some almond milk. I've even used it as an oatmeal topper! For a snack, we will toss it with nuts, dried fruit, or chocolate chips.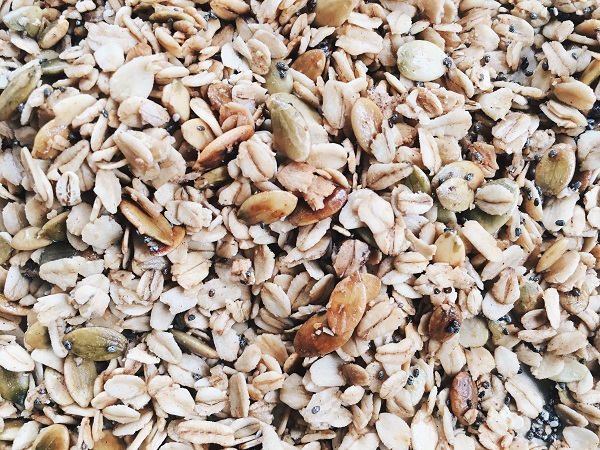 Nothing compares to fresh, homemade granola. Boxed granola is usually so processed and full of refined sugars and preservatives. It's so easy to make and tastes so much better than store bought that there's really no reason not make a big homemade batch yourself! Plus, it lasts for several weeks in an airtight container (not that it ever lasts that long in my house!).
This has been our go-to recipe lately. It's super simple, which makes it very versatile. If you try it I'd love to hear what you think!
Coconut Oil and Maple Granola
Ingredients:
2 Cups Rolled Oats
1/3 Cup Raw Pumpkin Seeds
1 Tablespoon Chia seeds
1/4 Teaspoon Sea salt
1/2 Teaspoon Cinnamon
1/3 Cup Maple Syrup
1/4 Cup Melted Coconut Oil
Directions:
Preheat Oven to 300 degrees F and line a large baking sheet with parchment paper.
In a large bowl, stir together oats, pumpkin seeds, and chia seeds.
In a separate, medium bowl combine melted coconut oil, maple syrup, sea salt, and cinnamon.
Combine both bowls and spread evenly onto your baking sheet.
Bake for 20 minutes. Remove from oven, stir, and bake for another 15 minutes or until granola is golden brown.
Remove from oven and let cool completely before storing in an airtight container.