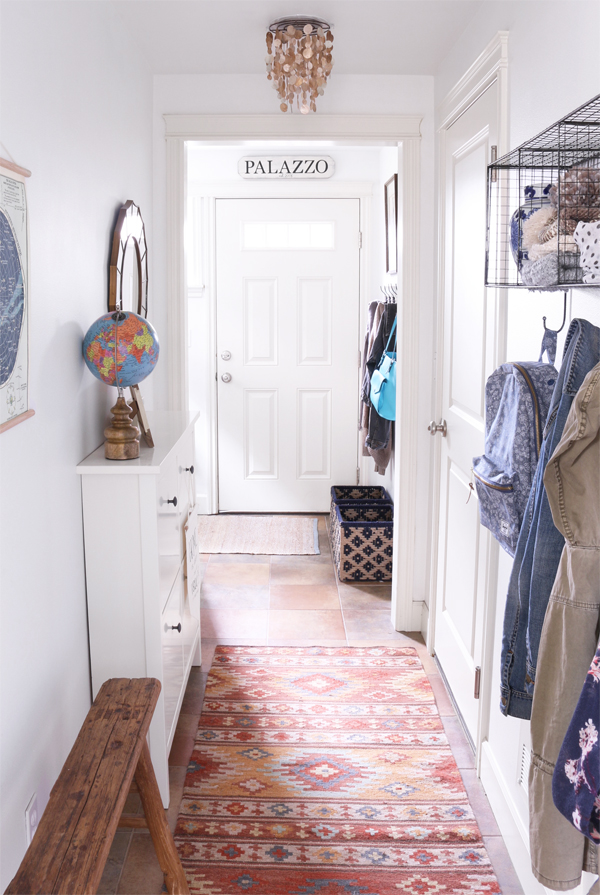 Hello friends, Kylee here! I am so happy to be posting today. If you don't remember me (and I don't blame you—it's been so long!), I'm Melissa's oldest daughter. My husband and I bought our first home, a 3-story townhouse in Seattle, a couple of years ago and documented some of our decorating progress here on the blog. You can catch up on those posts here.

It's been awhile since I've popped in here with any updates! I really had the best intentions of keeping up my posts (as I'm sure many a blogger has felt) but once fall and winter came, it was just too dark after work to take photos. Luckily yesterday we moved the clocks forward so hopefully that will help with the daylight after work and I can resume my blogging goals. I'm still involved with the blog behind the scenes, though!
We have been doing a few little updates here and there around our house that I want to share and I still hope to post more recipes, too. I won't make big promises, but I'll do my best to keep you updated more regularly!
So, as pictured at the top of this post, I thought I would make my comeback to blogging by showing you one of the only spaces that actually feels complete so far in the townhouse, our entry hallway! It sure takes awhile to get settled in a house when you are busy living life, too, doesn't it? While I'm sure I will find things to change about our space over time, I would be totally fine if this space stayed this way for as long as we live here. It's pretty and functional and exactly as I dreamed it to be.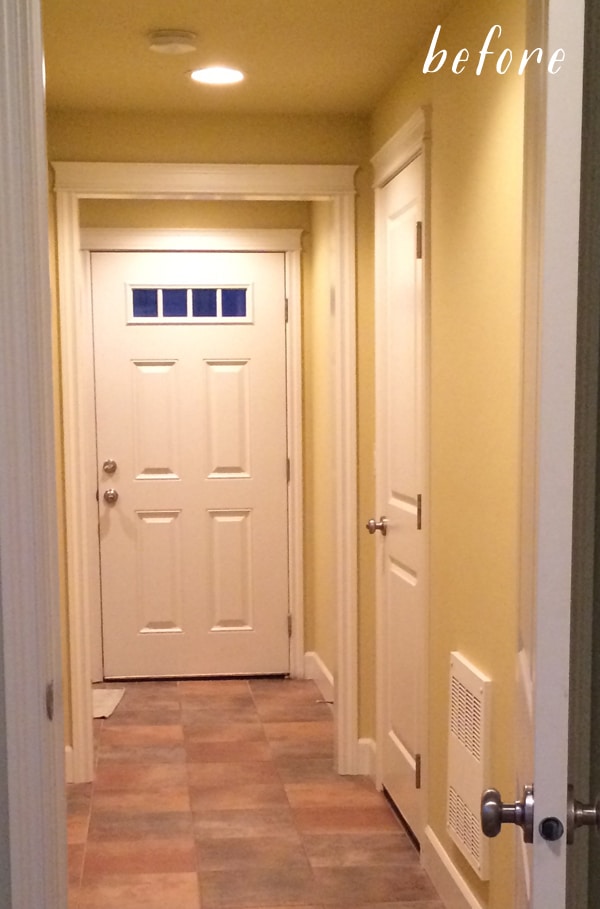 This was one of the very first spaces we started working on when we moved in. As you can see, it started out as a pretty blank space (forgive the poor quality cell phone photos). It was very…yellow. Not that there's anything wrong with yellow; I love it in certain doses and in the right space.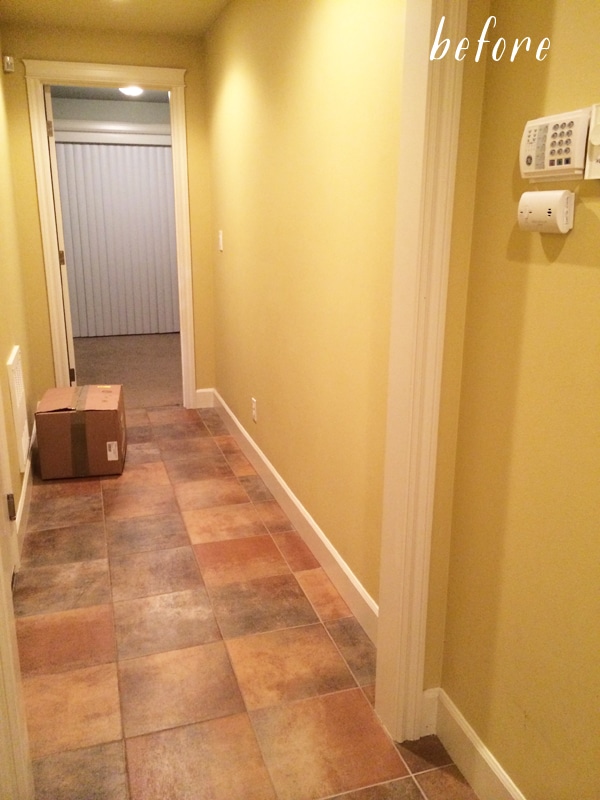 In this space, however, it just made the hallway feel dark, glowing, and small. It really wasn't "me." I wanted the entry to reflect my style and be a brighter, happier place to come home to each day. Plus, my sister Courtney lives with us on the lower level and walks through this space to get to her room each day so we thought this was a good area to start as it is a place we all use and enjoy.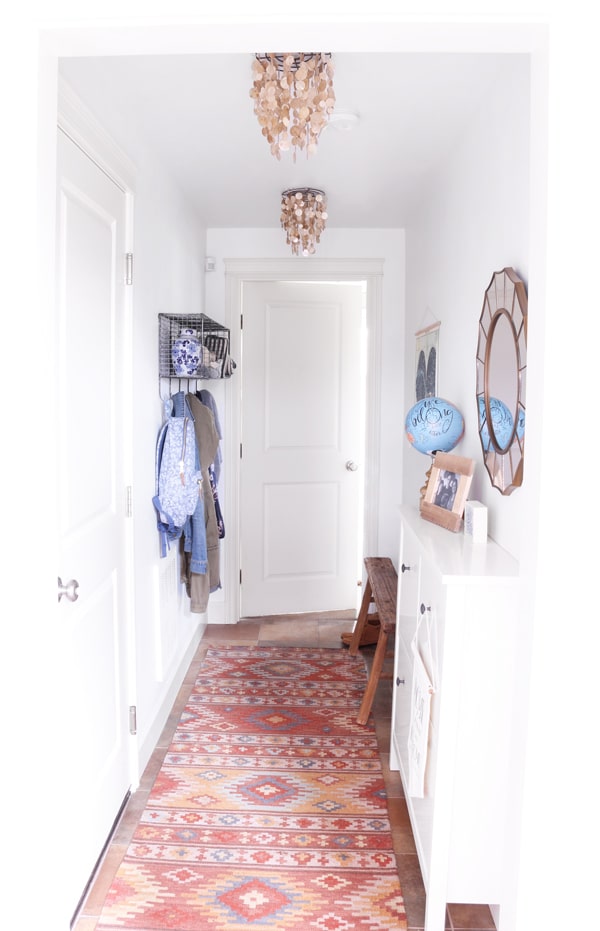 We decided to paint the whole hallway Swan White by Glidden because we really wanted it to be clean, light, and bright right when you walked in, as well as provide a neutral backdrop to everything that would be going on the walls. There are windows in the door and on two walls, as well as in the bedroom at the end of the hall, so while it isn't the brightest space there is natural light to bounce off the white walls. We are happy with the color choice!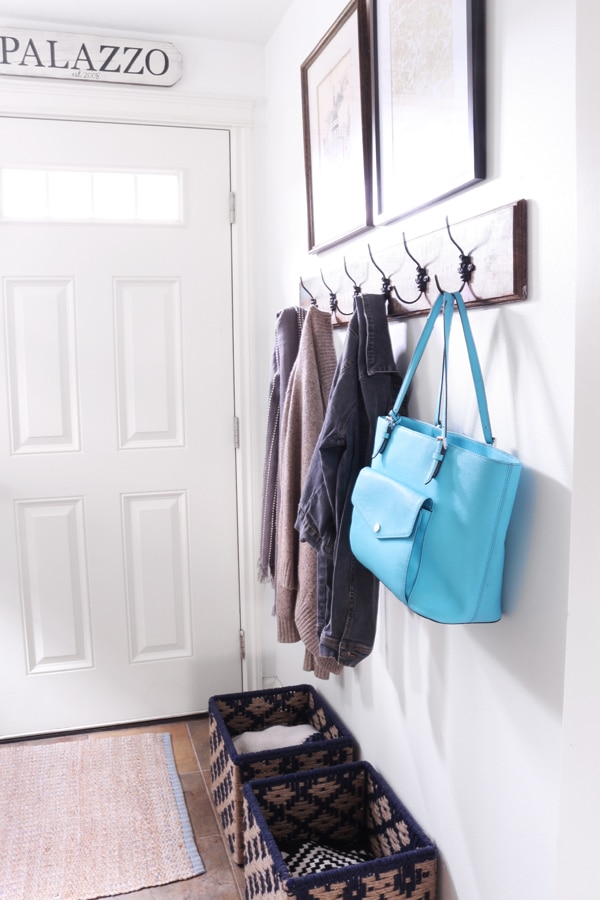 Besides painting the hall, there was also the issue of function. There is no coat closet in the whole house, and being from the Pacific Northwest, we have quite an assortment of coats and other weather accessories. While we can store some of our off season items in the garage, it's not unusual to have different coat and scarf needs each day of the week (or, sometimes, each hour of the day!), so we needed a place to be able to grab what we need easily.
We also needed space for our guests to hang up their things when they visit, so hooks saved the day and make this hallway really practical. The baskets are handy for organizing, too!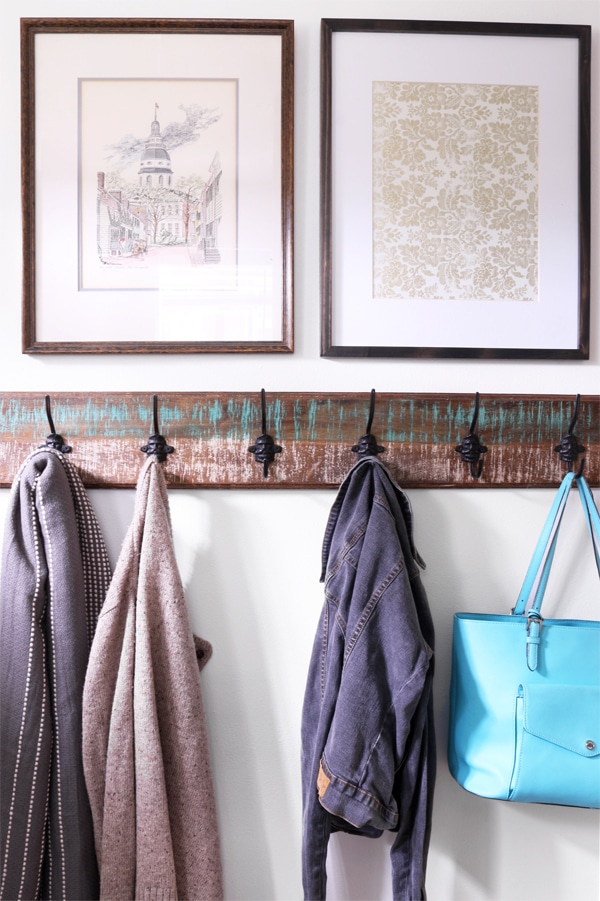 We added three hook rails, which I believe were from HomeGoods. We have two by the door for me and my husband (and guests!) and one down by Courtney's room for her.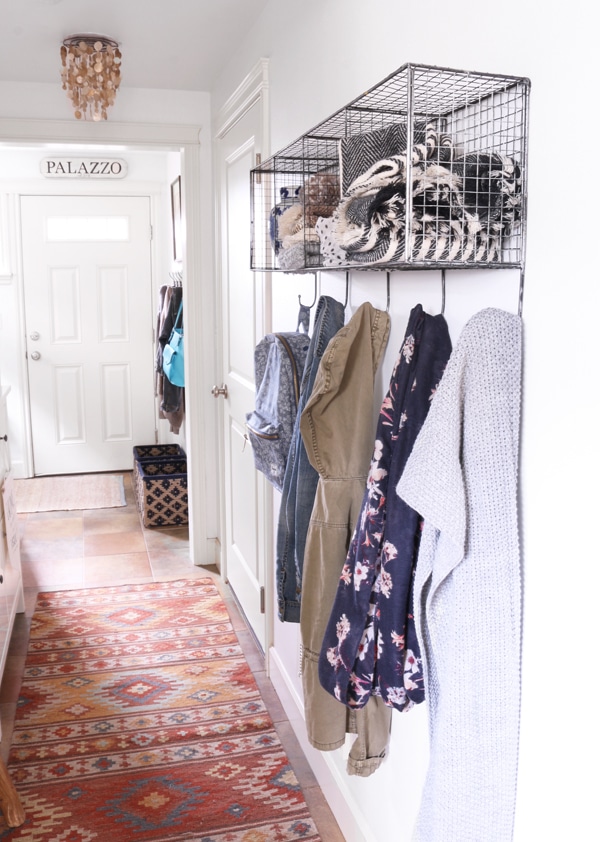 I love how functional the wire cubbies are in the hook rail above. It's perfect for storing scarves and hats.
The lighting in our hall was just ordinary can lighting, but I wanted something with a little more personality. Once I found these capiz shell chandeliers (without the electrical kit), I decided to attach command hooks like these to my ceiling and used clear bendable wire to twist together the chandeliers to the clear hooks. It was so easy to do and made a big difference in how this space feels!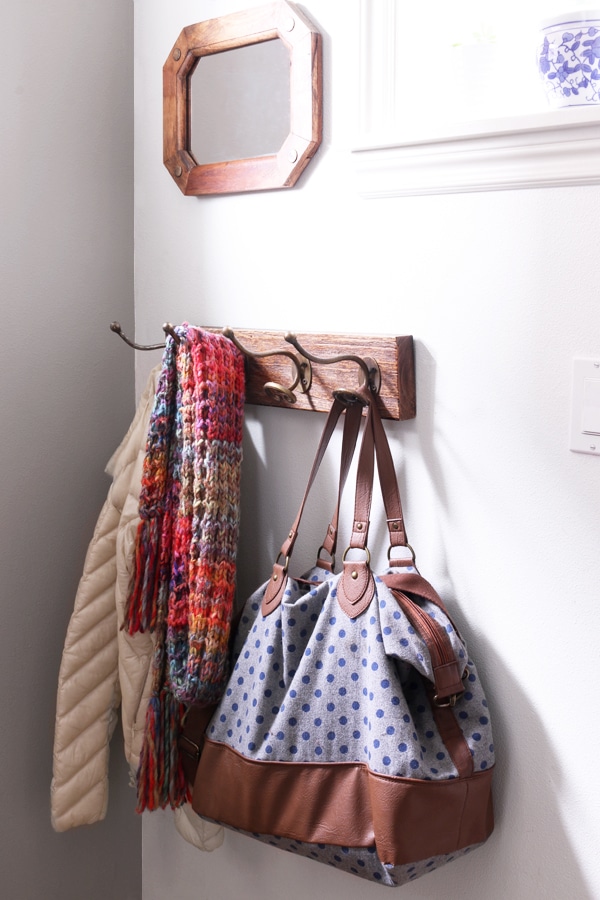 Besides the hooks for things we need to grab on the way out the door, we also added a mirror to check lipstick! A daily essential.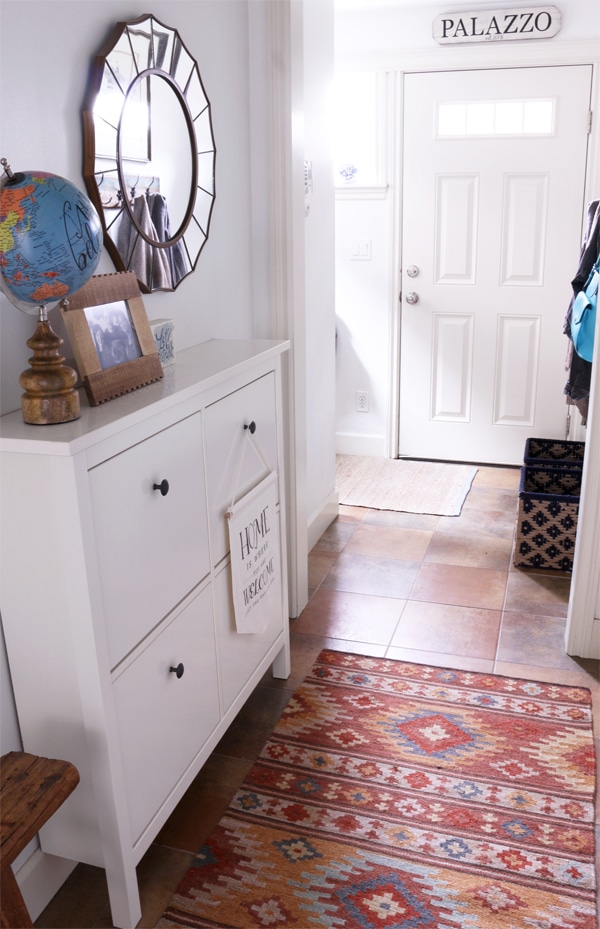 This is the Hemnes shoe cabinet from IKEA and I honestly think it might be one of the greatest pieces of furniture ever invented for small spaces. It's made for shoes, but can be used for anything, really. Right now we keep dog leashes for Bella, picnic blankets, and gloves in ours!
This is the view from our second floor down to the entry. I added that gallery wall recently and I love it! I will try to take a better photo of it sometime so you can actually see what's in the frames, but it's mostly a collection of photos, meaningful art, and things that I painted myself!
My favorite way to fill frames when I don't have the perfect piece of art is to buy pretty paper, maps, or wrapping sheets from places like Paper Source to use as placeholders until I can fill it with something that I love or that means something to me. The frames are all from IKEA.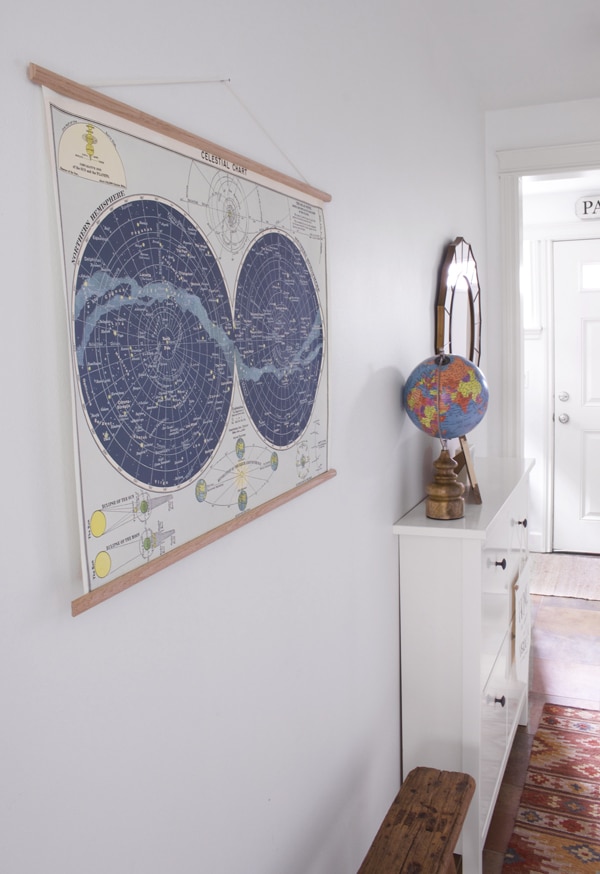 This Celestial Chart was the final piece that I added to the blank space above the little bench in the entry. I had been looking for something to put in that space for the past year and had brought a few things home, but would ultimately return them. Nothing seemed right. Finally, a couple weeks ago, I had settled on this from Urban Outfitters, but right before I purchased it I wondered if I could DIY something similar.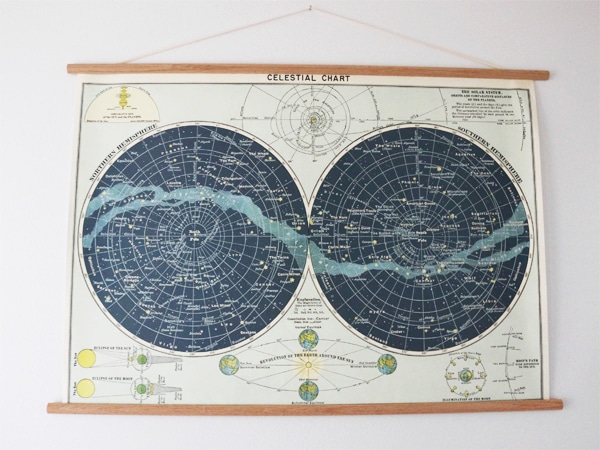 After a couple of Google searches I figured out that I could DIY the exact same thing and save $22! You can buy the Cavallini poster (similar to the maps my mom had in her Map Wall) and get a compatible poster hanging kit at Paper Source or Amazon. Voila! Easy and affordable art.
So, there you have it! Thanks for letting me share my completed entry with you!
RELATED POST:
Come take a tour of my townhouse office makeover!
Solutions for a Small Entry or Non-Existent Entry
Source List:
Wire Cubby Hooks (similar)
Wood bench (similar or similar)
Celestial Chart (you can order these on Amazon or Paper Source!)
Baskets (similar)
Wall Paint Color – Swan White by Glidden