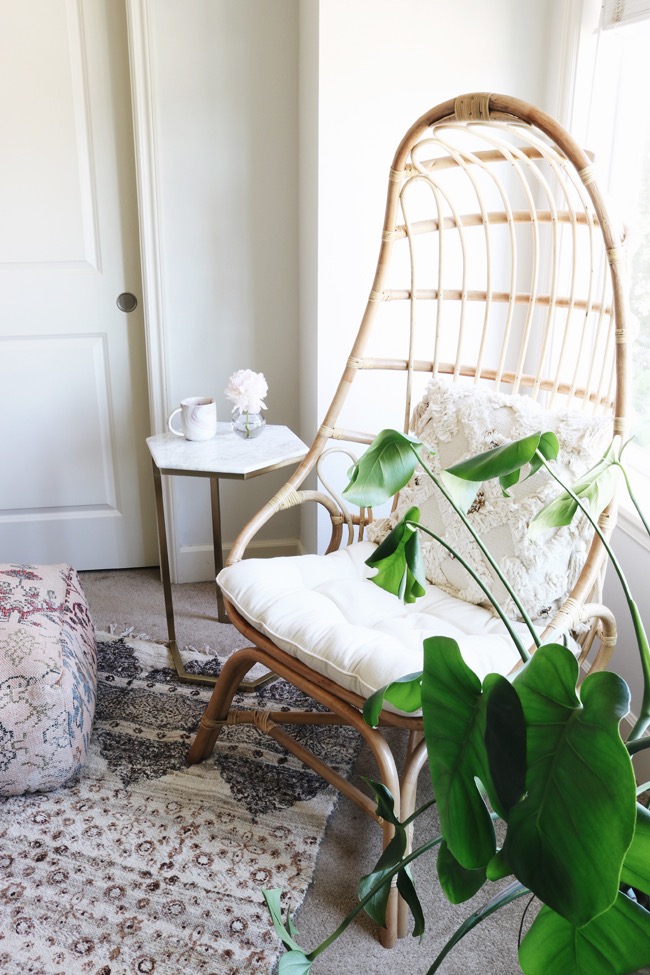 This post is in partnership with World Market

Hi, friends! Kylee here to update you on my brand new home office! My husband and I both work from home a couple days per week, so we are VERY excited to finally have a dedicated workspace we really love.
For years, this small room in our Seattle townhouse was our guest room. As soon as my sister moved out of our house and into her own place, we moved the guest bed to her old room and this turned into kind of a furniture graveyard/TV watching room. It wasn't very pretty and definitely wasn't functional or practical for us, though, so I never really wanted to go in there!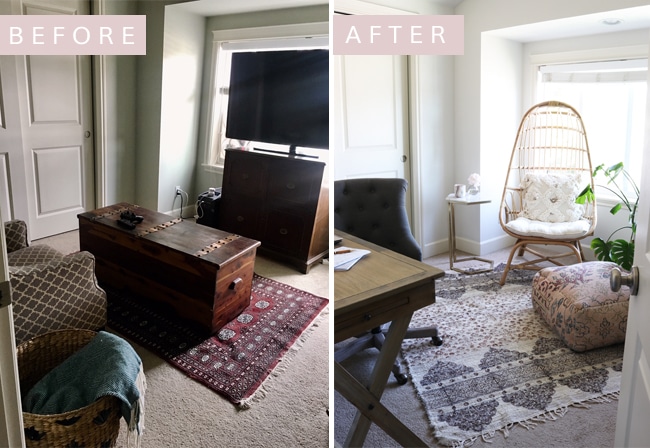 When my mom offered to help me give this room a makeover with World Market, I was so excited to turn it into a home office. I am in love with how it turned out! Now it is a room I enjoy being in, rather than one I try to avoid. Even our attitudes about "going to work" have definitely improved now that we have an official and pretty place to go!
Let me show you around!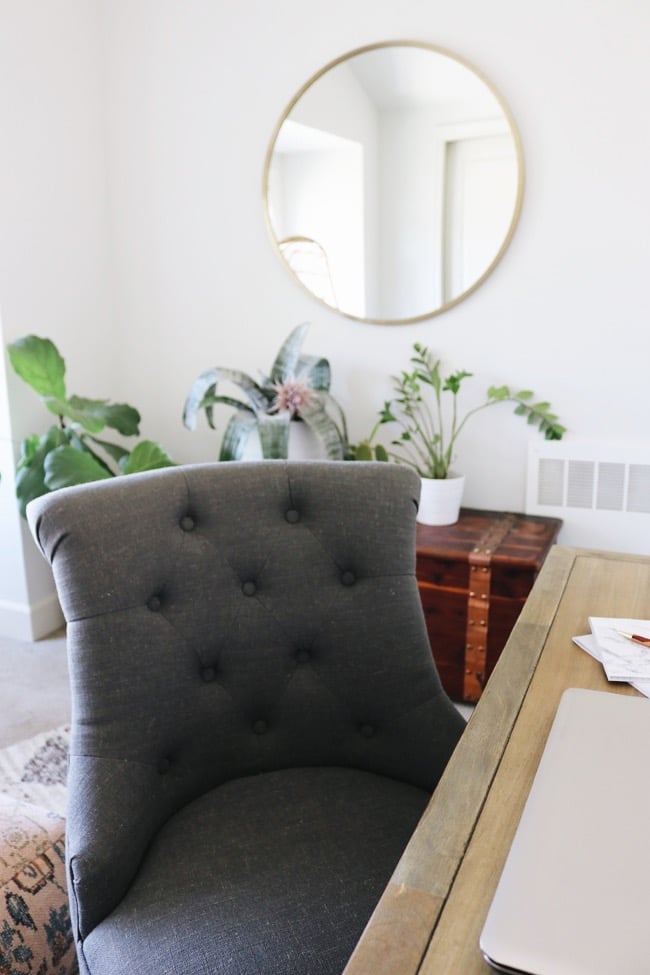 Before we started, we completely emptied the room and gave it a fresh new coat of paint. This allowed us to start from scratch to determine exactly what the space needed.
I really wanted the room to be functional, but still light and airy.
The new office is on the third floor of our townhouse and the stairways have tight turns. The room itself is also very small, so we had to find furniture that could be easily maneuvered up the stairs and simple to assemble on site.
Fortunately, World Market has a lot of small space furniture and accessories (and if you are shopping for your home, they are having an amazing furniture sale with a discount coupon now through September 3!). You'll also find a helpful guide to small spaces on World Market's website (and a blog post about this makeover by my mom!).
I love my new desk! We are lucky to have a whole closet in the room that we can use for storing office and craft supplies, so we were able to keep the space itself clutter free and streamlined. Without the closet, I may have opted for a desk with more drawers or utilized a rolling cart to store things. I love the open style of this desk. It is perfect for our needs and works really well in our space.
We were able to fit two chairs, the desk and a small table to make it possible for both my husband Lance and I to work together, without over-crowding the room.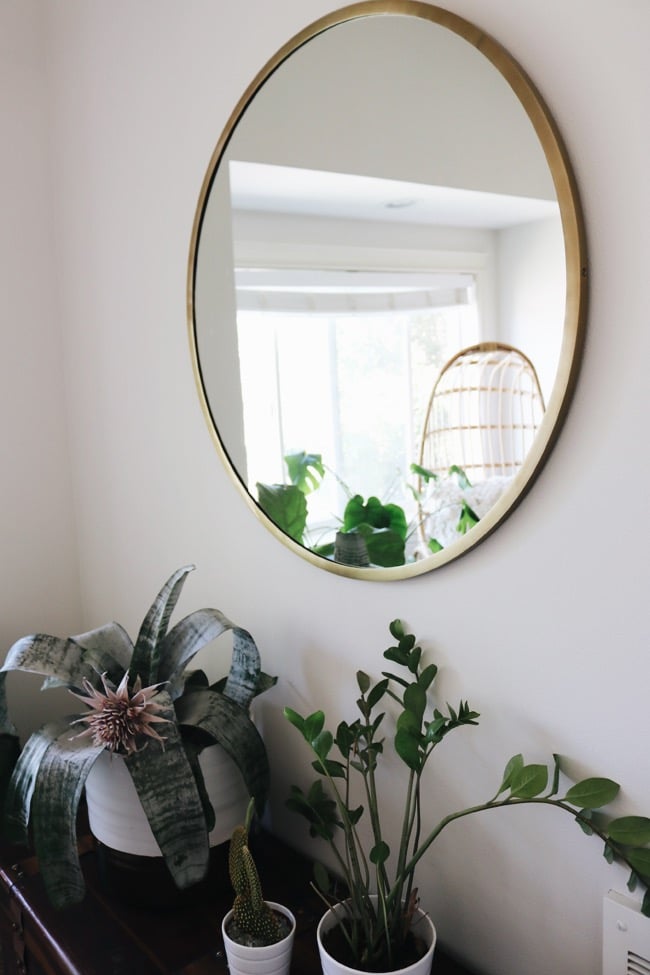 The streamlined furniture and lack of clutter offers room for plants, which bring an organic touch to the space. A mirror made the room feel a lot bigger, too.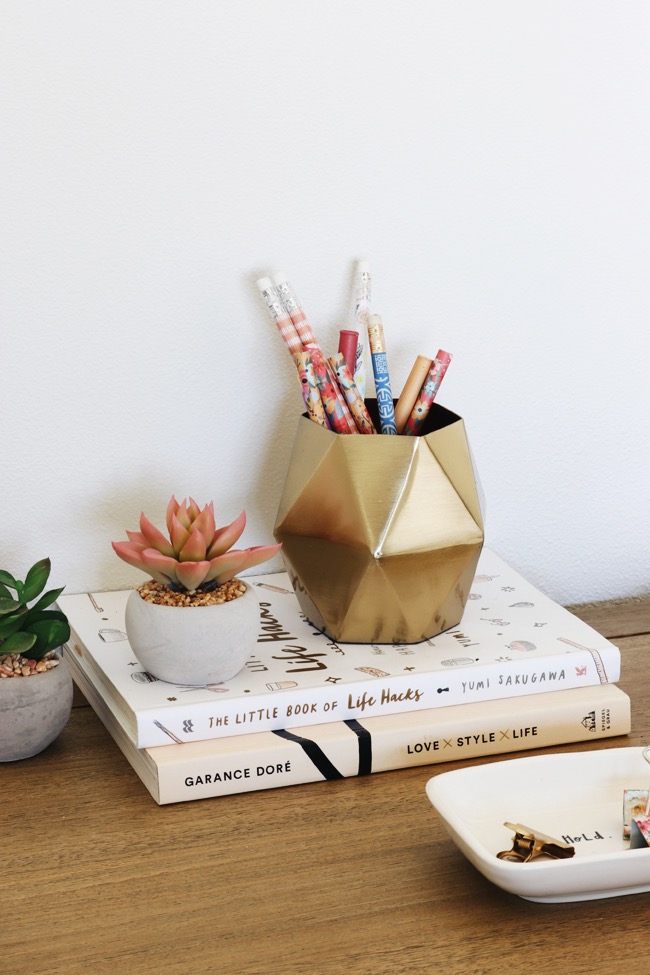 A handy memo board, pencil cup, lidded containers and notebooks help keep frequently used items organized in an attractive way.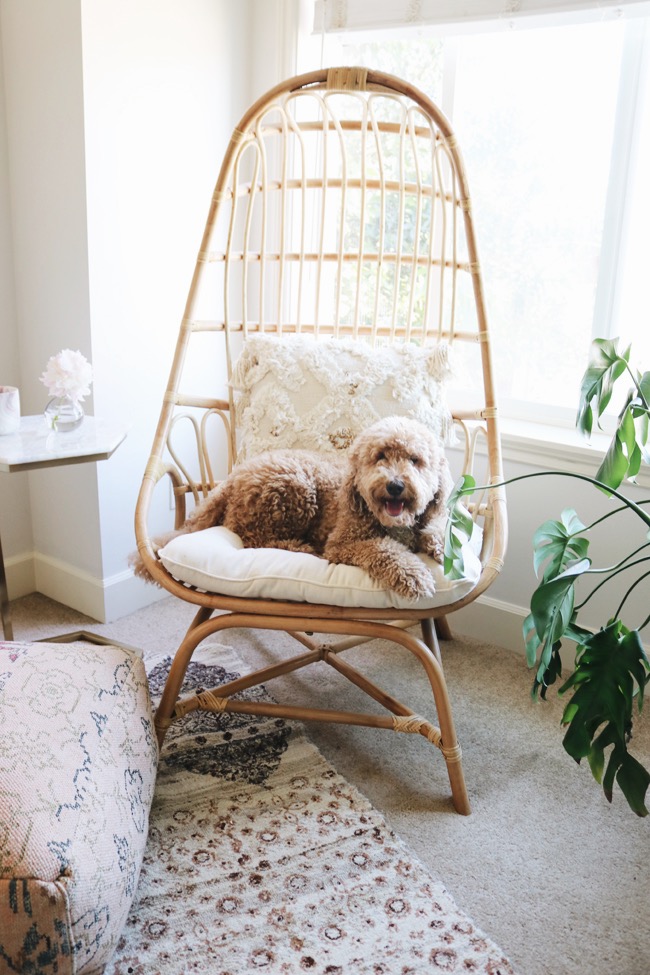 Even if you have limited space, everything you bring in doesn't have to be small. At first I wondered if this rattan chair would feel too large, but as it turned out it's perfect! It makes a nice statement piece. It is tall, which adds visual interest and plays up the vault of the ceiling but the open design keeps it from overwhelming the room. It's also shallow enough to not take up much floor space. And an oversized pouf is perfect for putting up my feet. I love it!
I think Bella adds a nice bit of texture to the space, don't you think? She is a lover of cozy spots so we have to take turns on the chair. ;)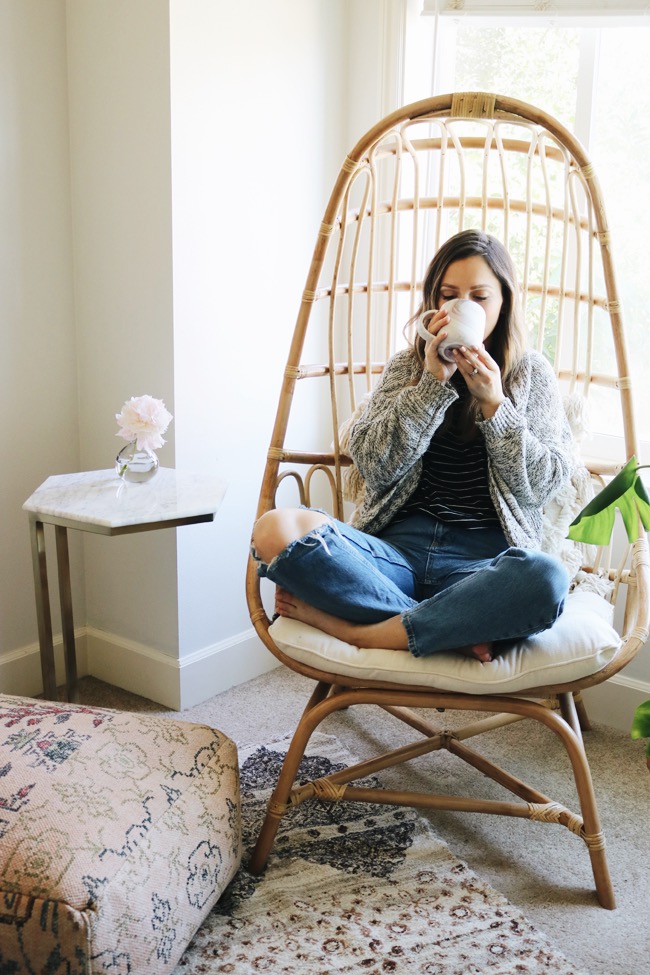 Literally, this is me every morning blissfully enjoying my coffee. This chair has become my new go-to coffee spot before conquering the day. I love how handy the laptop table is!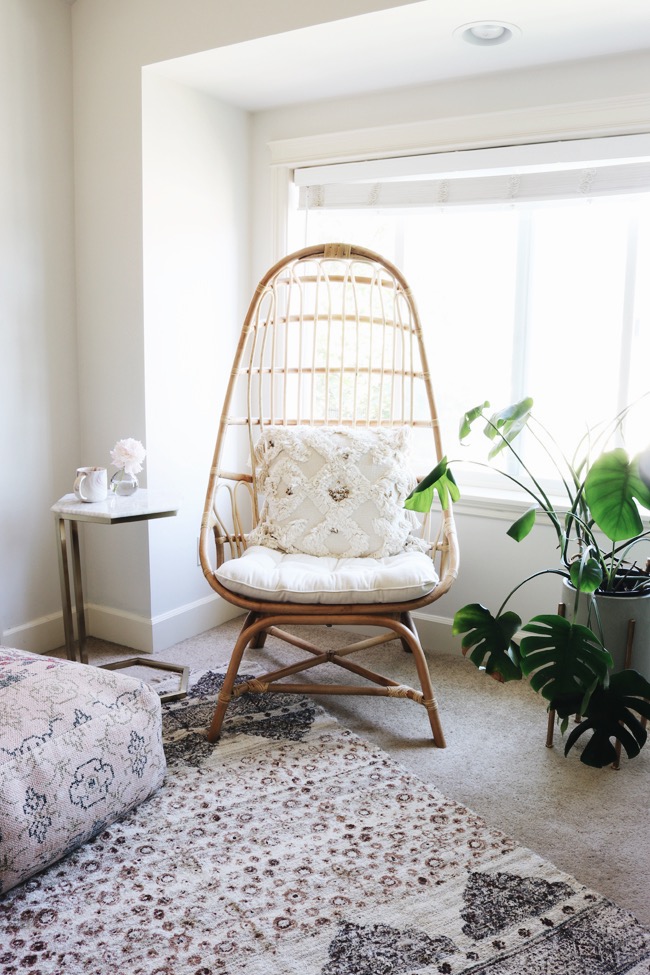 A beautiful linen rug set diagonally in the space adds color and pulls all of the elements together! If you are wondering if it is "okay" to layer a rug on top of carpet, I say go for it. I'm not fond of the carpet in here so it was a great way to distract from it while adding some color and pattern to the room.
Leo is a fan of the office, too, of course. He insisted on modeling on the rug.
It's safe to say we all love our new office (dogs and all!). It's amazing how much a little paint and just a few new pieces have totally transformed the room. I only wish we had done this sooner!
You'll find the World Market sale here and room sources in the scrolling bar below.
Thanks for joining me for the tour today!
More townhouse updates to come here on the blog in the future. In the meantime, you can follow me (and the pups!) on Instagram for sneak peeks!


Shop this room and sale pieces by scrolling the arrows above and shop the World Market Sale here!