Hi! Courtney here today! The last time we chatted here I was sharing a tour of my tiny bedroom in my sister's townhouse, and also the announcement of my move. If you missed that post, you can catch up here. Today I'm excited to be sharing with you a tour of my very first apartment in Seattle!
It's been just about almost a month since I moved in now…wow, time is flying! I took these photos before I moved in (hence the emptiness). This tour will be mostly me showing you the layout of my new space, but if you've been following my photos and stories on Instagram, you've seen some sneak peeks of how it's looking so far!
Let's start the tour, shall we?
*Update* Click here to take the tour of my apartment after I lived here for a year and a half!
But first, here's me on move-in day getting my picture taken by my mom, looking a bit like a first day of school picture. :)
This picture actually reminds me of the picture my mom took of me on my first day of kindergarten. Both momentous occasions! Since I mentioned it, I might as well just put this right here…..
Ha! Alright, that's enough reminiscing. That's not what we're here for. :) On with the tour!
This is my entryway! I didn't expect to have such a designated entry (I thought it would just enter right into the apartment), so I'm really excited about having this as a welcoming spot.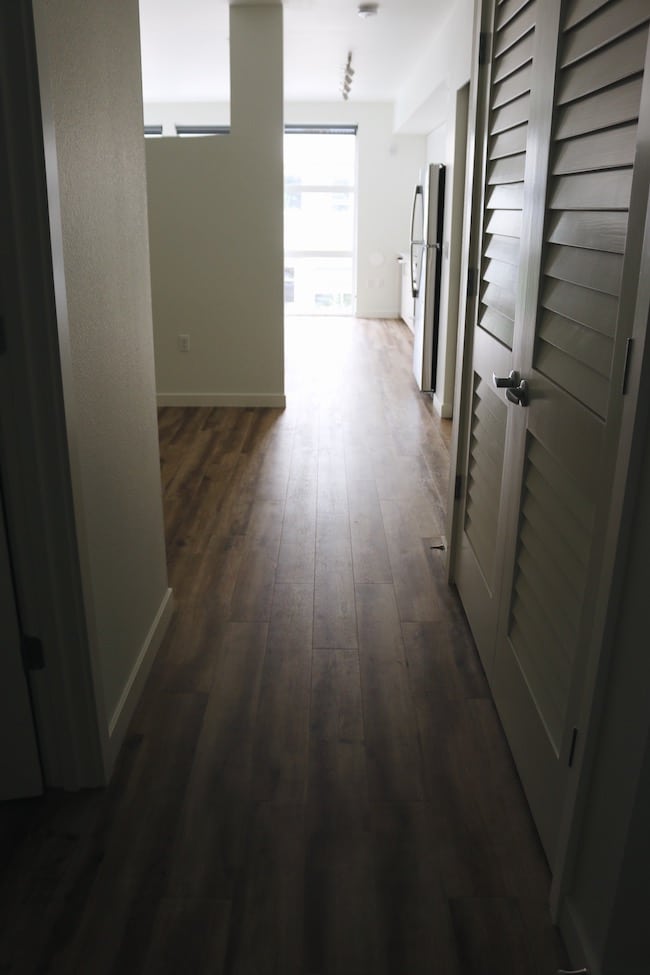 Here is what you see once you walk past the entry. That door on the left is my bathroom, and the double louvered doors on the right are where my washer and dryer are. The opening on the left is my bedroom. This apartment is considered an 'open one bedroom', so it has a separate bedroom space but without full walls. Some 'open one bedrooms' have sliding frosted glass doors to separate off the bedroom, but I've really enjoyed having it open while still being its own space.
The bedroom has a cutout opening on one wall, letting tons of natural light in from the kitchen/living room.
The right side of the bedroom
The left side of the bedroom
This is the wall directly across from my bed. Straight ahead is my closet. The amount of storage in this apartment has been amazing! I definitely had to get creative with my small space solutions in my last room, and it worked out pretty well. But it's been great to be able to spread out my stuff a bit now instead of cramming everything in. I feel much more organized!
Before I toured this apartment, I pictured that the washer and dryer would be stacked in a closet in the bathroom (which would have been great!). But the side-by-side washer and dryer tucked away in a closet was an unexpected joy! I guess that makes me kind of a real adult…feeling joyful about laundry? :)
This is the bathroom. There's a ton of storage and counter space with this vanity, and a linen closet on the opposite wall next to a shower/bath. I've been liking that most of the storage in this apartment is concealed by doors. I do love open storage sometimes, but there's something really nice and tidy about being able to just tuck most things out of sight.
Okay, now let's head into my favorite parts…the kitchen and living area!
This is the living/kitchen/dining room. The floors are a nice grayish wood laminate (the floors are the same throughout the whole apartment). The floor to ceiling windows give this space so much natural light all day! The dark gray blinds were here when I moved in and I pull those down in the evening. I will probably add a curtain panel on either side of these windows just for softness!
My very own kitchen!
Tufted Ottoman Source
Here's one picture of the kitchen a few days after I moved in. I felt at home really quickly in this apartment, even when I had no idea where my silverware or hair dryer were and there were random boxes strewn about. Let's be honest, there still are a few boxes strewn about. But it's getting there!
I'm thinking this whole area by the windows is going to be the perfect spot for lots and lots of plants! Will I keep them alive is the question…?
Here is what it looks like from the kitchen looking back toward the bedroom and entry hall.
So, that's the tour!
I'm so thankful for this new season of life here. As someone who has always loved design and all things home, it's not an exaggeration to say it's a dream come true for me to have this space. I know this is a season I'll always remember! I've been having lots of fun decorating and making this apartment my home for the last month and I can't wait to share my progress on The Inspired Room! Stay tuned.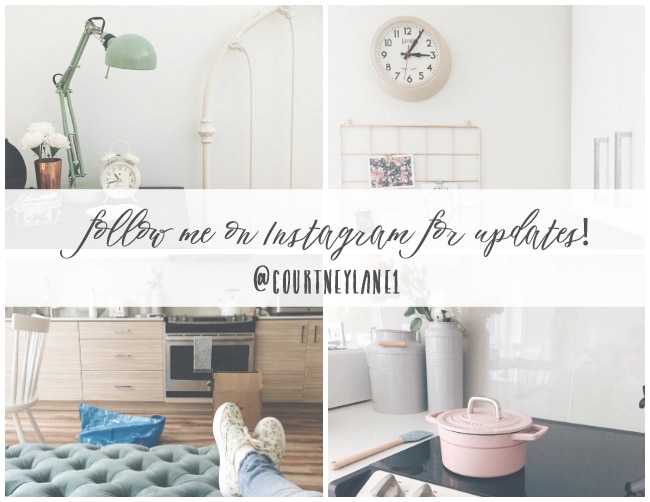 In the meantime, feel free to come follow me on Instagram where I often share homey photos and Insta stories!
Thanks for stopping by my first place, friends!
*Update* Click here to take the tour of my apartment after I lived here for a year and a half!