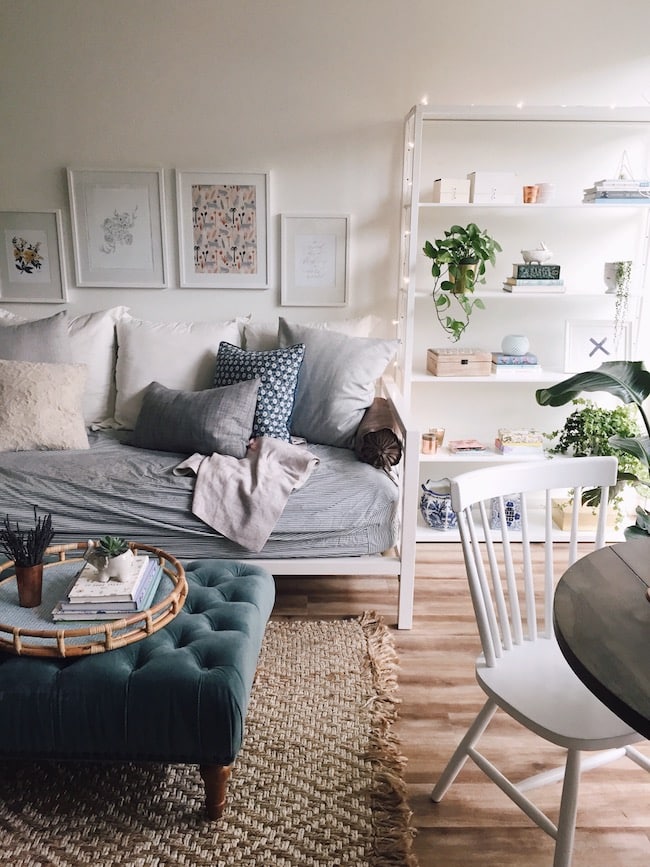 Hi there! This is Courtney here, Melissa's daughter, taking over the blog today!
About a year and a half ago, I moved into my very first apartment of my own in Seattle. It's been a total dream come true for me to have a place of my own! I'm so grateful for this space.
When I first moved in you may have seen the empty tour of my apartment, as well as some peeks in a few other blog posts like this one. I also share photos of my apartment all the time on Instagram if you follow me there, but I'm excited to be here today to give you an official tour!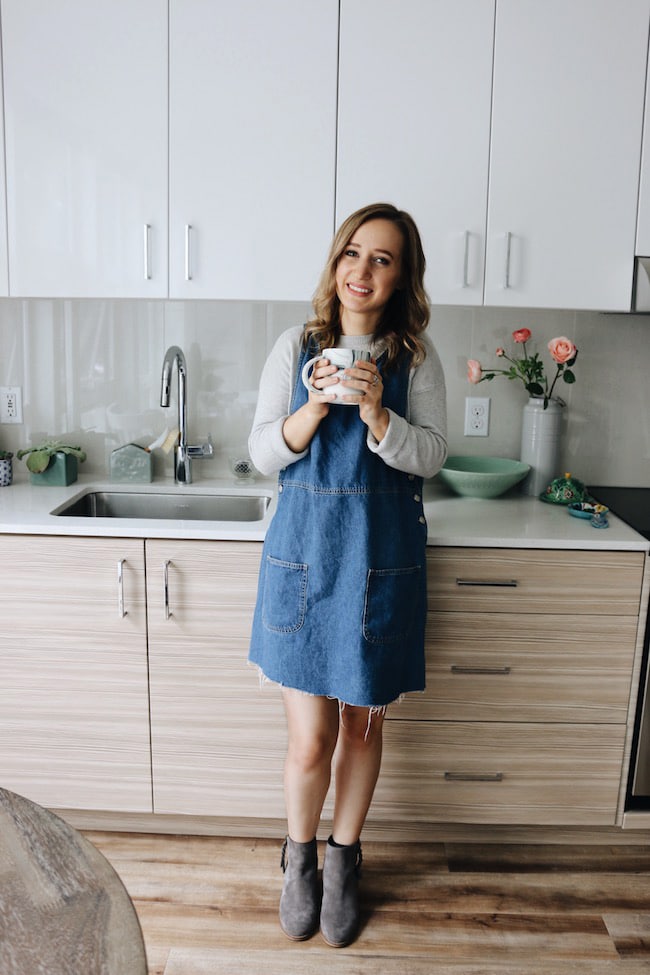 If you've been around the blog for awhile, you know that I used to live with my sister Kylee in her townhouse in a super tiny bedroom (you can take that tour here!). I got really used to living in that small space, so living in my 600 square foot studio apartment now basically feels like I'm living in a mansion (haha!).
A few notes: the photos in this post weren't all taken the same day, so you might notice things moving around or notice a rogue pumpkin on my dining table…rest assured that is not there anymore, ha. :)
I'll share sources below the photos throughout this post, but if you want to head straight to the source list you can click here.
This is my main living space! My favorite part of my little home is how much natural light there is. The entire back wall of my apartment is floor to ceiling windows, so lots of cheery light pours in all year round. I work full time with my mom for The Inspired Room, and about half the week I work from home right here in this space.
White Vintage Tea Kettle / White Toaster / Pink Pot
This is my kitchen! I'm not the most elaborate cook by any means, so this has been plenty of space for me. My latest cooking adventure has been learning how to use my Instant Pot!
Gold wall grid / Mug tree / Coffee Maker
I wouldn't be my mother's daughter if I didn't have a coffee station. :) She taught me well!
(The coffee maker I have is this one!)
Black floor lamp / Shelf by desk
That wall cutout above looks through to where my bedroom is! It's a bit of an awkward wall, but I love how it lets natural light through to my bedroom. My desk area has actually changed a bit since I took these photos. I rarely sat at my desk to work, so it's now a TV stand!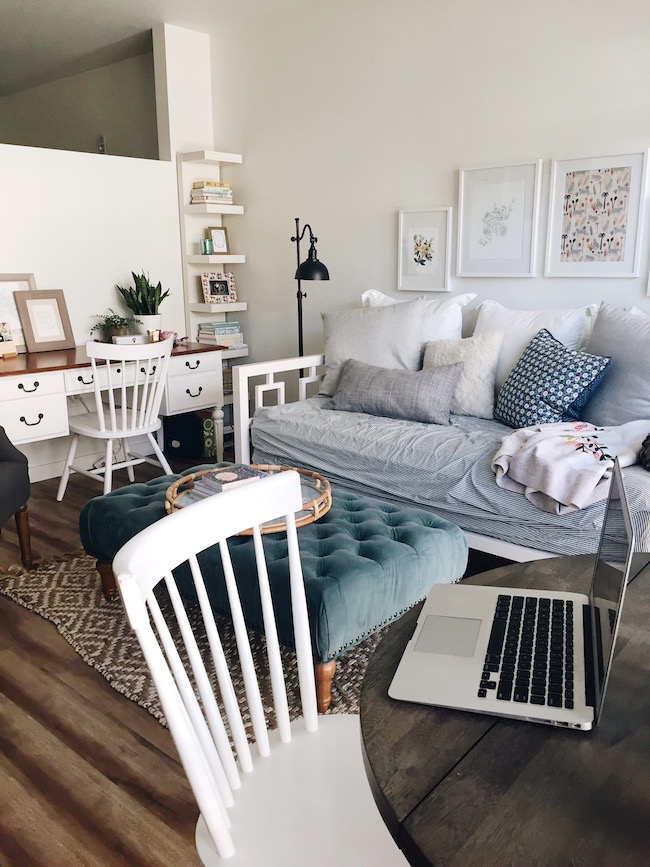 Daybed / Ottoman (out of stock, similar here or more here / Rug / Similar Dining Chairs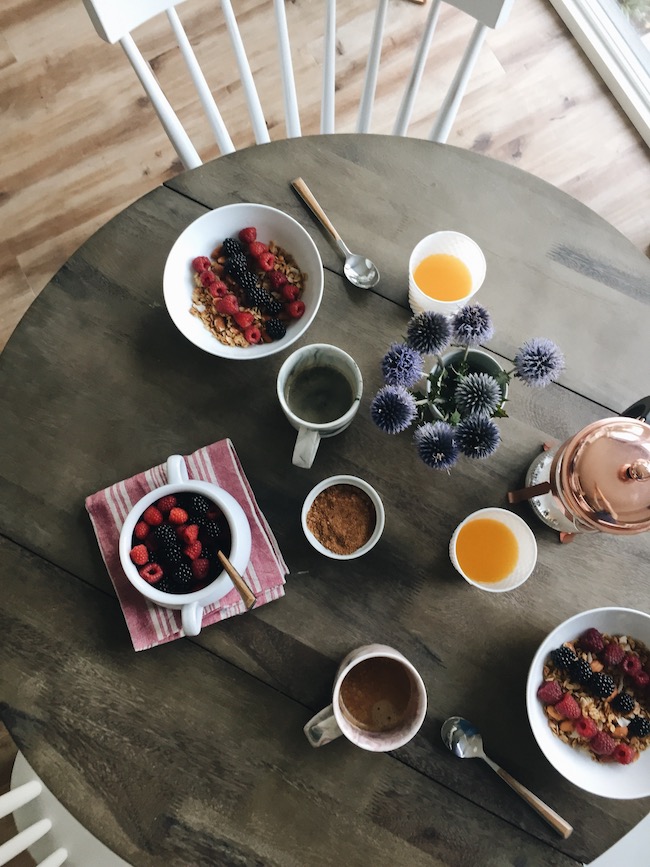 My dining table is a drop leaf pedestal style, which has been perfect for this small space! I usually leave it open, but the drop leaves have been handy occasionally when I need to make more room! I often use this table as my desk, too.
If you took the tour of my old tiny bedroom, you might remember that this daybed was my main bed before. For reference of how tiny my old bedroom was, it was probably only two feet wider than this daybed (about 9×9 overall!). I originally bought the daybed planning to use it as my couch in a future place, and now here it is! It's been perfect to have as a guest bed when friends come to visit Seattle, too.
String of Pearls Vase / Little Women Book
I often post about my struggles keeping plants alive on my Instagram stories, but this string of pearls plant has been going strong! I'm proud. :)
Bunny Planter / Perfectly Imperfect Book
Recently I realized that I have some sort of quirky animal art or accessory in basically every corner of my apartment…they make me happy!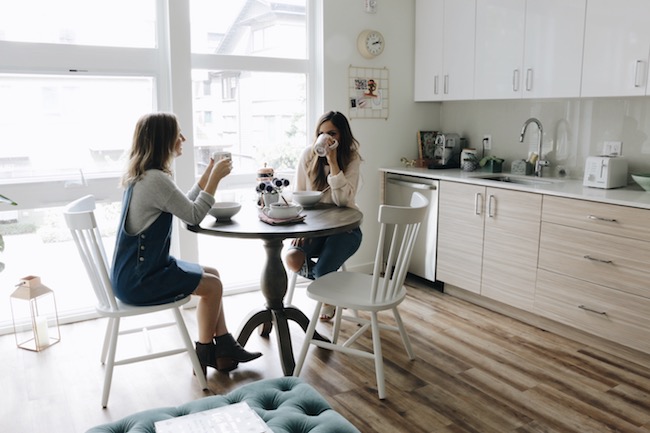 Drop leaf pedestal dining table / similar dining chairs
My apartment is often the go-to destination for me, my mom, and my sister when we have important work meetings since there are no wild dogs to distract us here! ;) Someday I hope to have my own little white Westie…but for now I'm happy with my role as "dog aunt" to all the doodles in our family.
Similar White Metal Beds / Mint pharmacy lamp / Copper String Lights
This is my bedroom! I often see studio apartments in Seattle with a sliding frosted glass door to separate the bedroom off, but mine is wide open and I really love how spacious it makes it feel.
I believe my parents bought this pretty bed at Rejuvenation years ago. I love how the footboard acts like a subtle visual "separator" for the space! I rounded up some similar bed sources here.
Floral measuring cup / Oil rack – HomeGoods
When I was apartment hunting, I was anticipating a very tiny studio apartment, so the fact that I ended up having room for a bookshelf and two nightstands in my bedroom was a surprise to me! I love using this bookshelf as my little oils station to pick out what to diffuse at night.
The double doors on the right above are where my washer and dryer are (which you may have seen in my mom's book Simple Organizing!) or in this post.
This was another surprise when I first toured my apartment! I was anticipating stacked laundry in the bathroom closet, but I've really loved having the side by side washer and dryer. You know you're becoming a real live adult when you are excited about the washer and dryer situation! You can see more of my laundry closet organization here.
Straight ahead is my entryway!
Framed cactus art / Whale Art / IKEA Pax Wardrobe Frame with Bergsbo door and this gold handle
The door on the right is my bathroom (no tour of that yet, it's a work in progress!).
I had this entry table in my old bedroom. It's the perfect little spot to set my keys when I come home, and the leaning frame disguises an electrical box behind it (especially when the frame is moved over to the right an inch or so, ha!). Budget tip: frame a sheet of Rifle Paper Company gift wrap for inexpensive large art!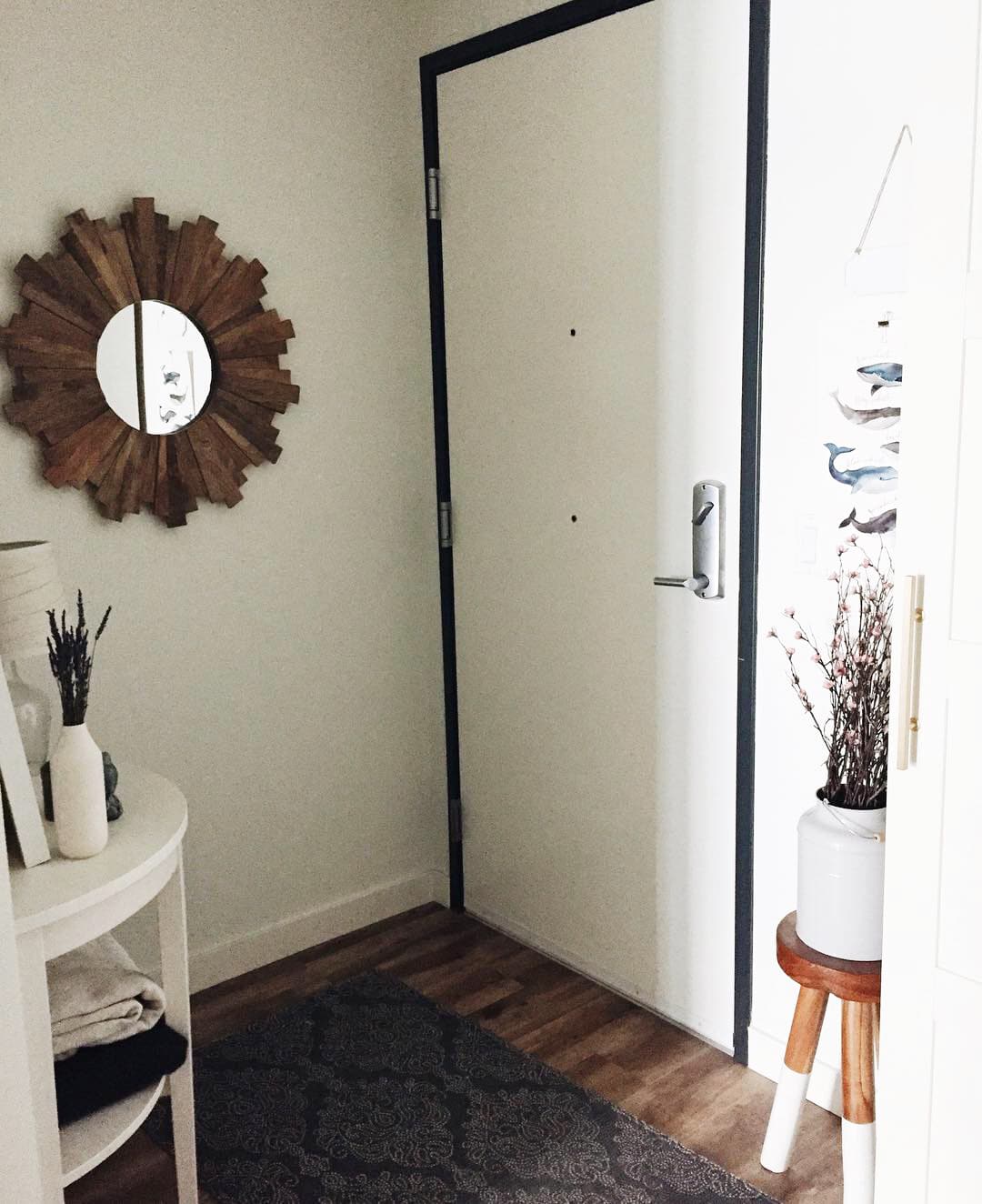 Okay friends, that's the tour! Thanks for following along, I hope you enjoyed! Be sure to follow me on Instagram to see more of my apartment adventures, I post stories and behind the scenes from the blog all the time! :)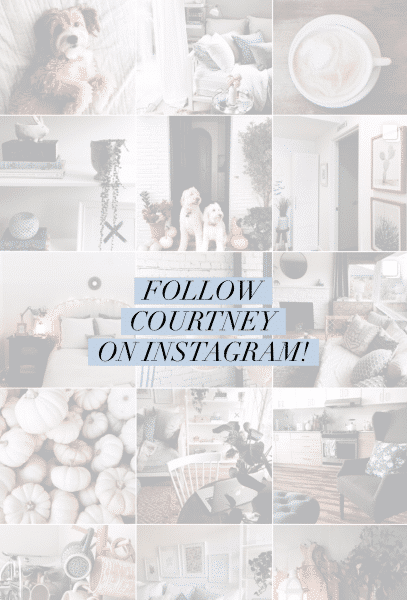 Click here to follow Courtney on Instagram for more apartment updates!