Small space solutions, tips and inspiration.
Plus, how to fit a dining area into a small apartment!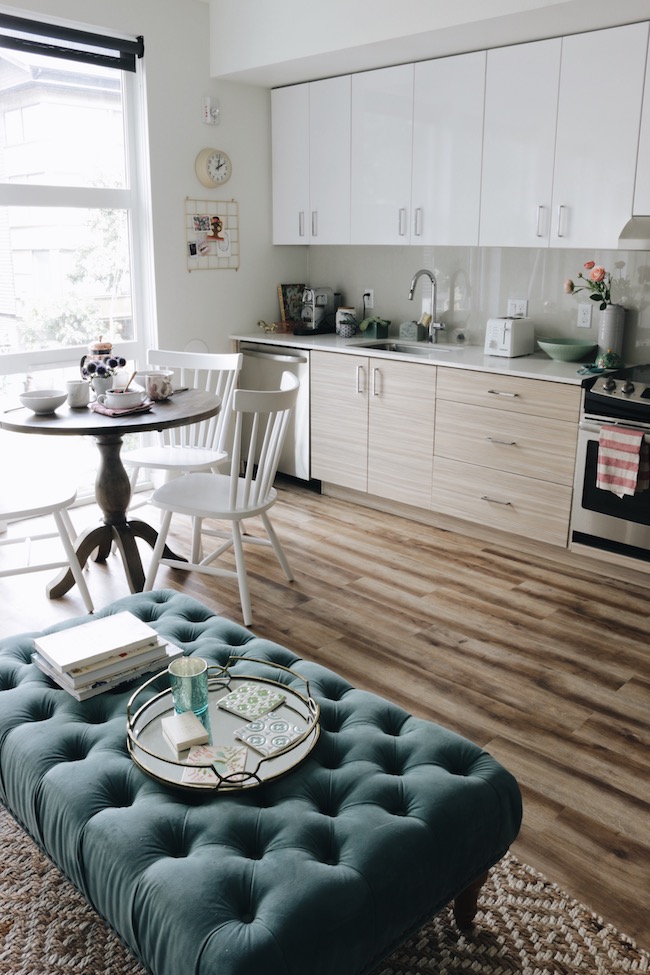 This small space solutions post is in partnership with World Market
If you love small spaces or happen to live in one, you know it can sometimes be challenging to fit everything you need into the little space you have available. And when one small room has to serve many functions, you really have to do some creative planning.
Speaking of small spaces, you might recall that my daughter Courtney recently moved into her very first apartment. It's looking so adorable! Today we thought we'd give you a peek at how it's coming along. You'll see how she fit a dining area into her living area and get some of her helpful small space solutions and tips.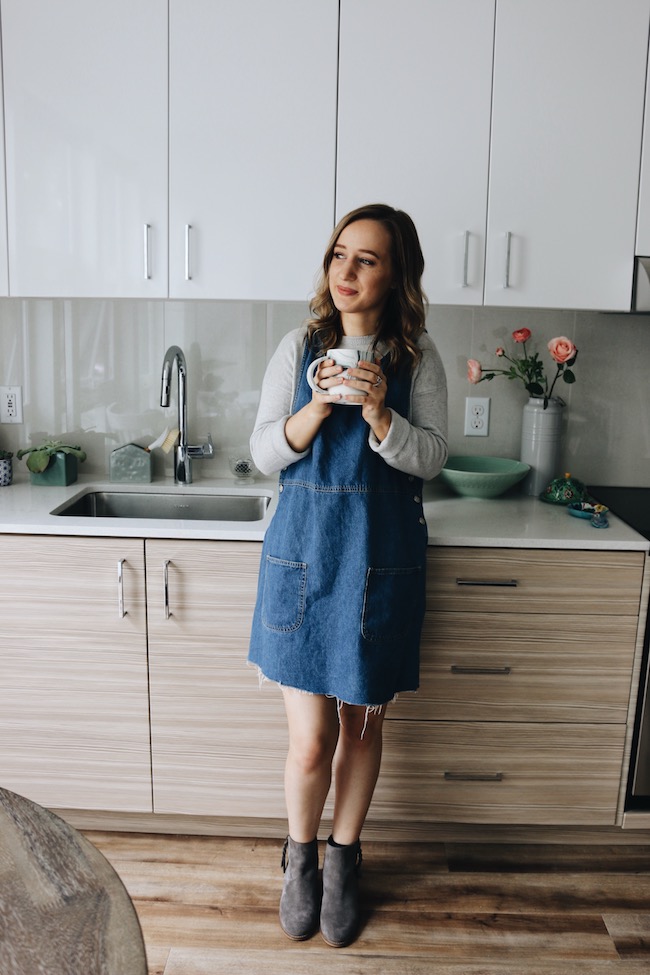 Hi friends, it's Courtney here. I've been having so much fun living in (and decorating!) my new apartment. Little by little I've been getting more settled and figuring out the best way to maximize every square inch. Even though I know it's a small space compared to many apartments and homes, to me it actually feels pretty spacious.
After living in a teeny bedroom for the past several years, it's so fun to not only have a kitchen, but a living room, a home office and a guest room, too.
Even if they are technically all one in the same space.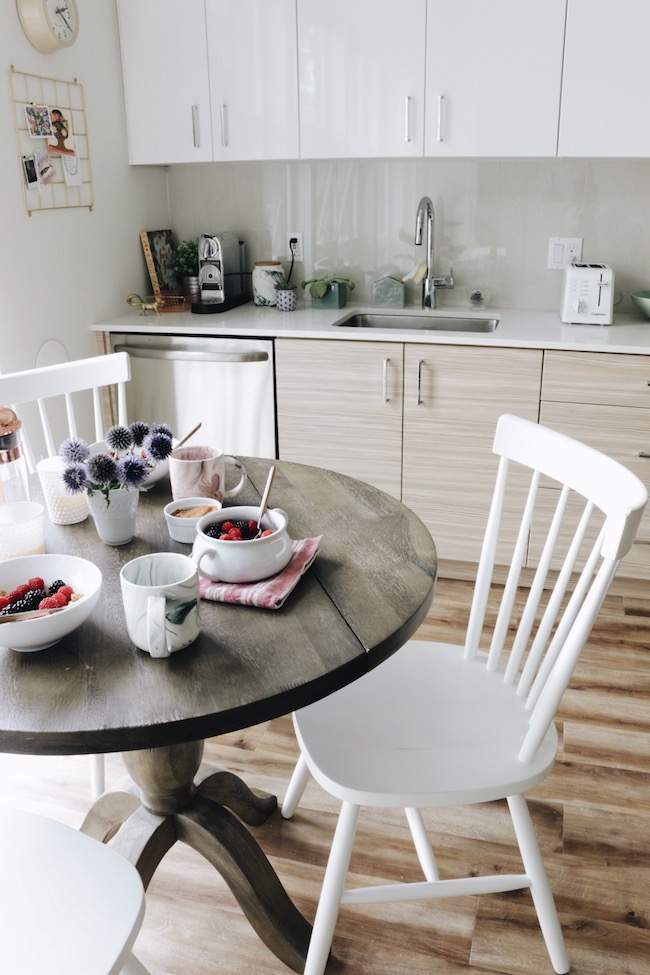 I was so excited about my first place that I bought my dining room table months before I started looking for an apartment. My mom actually used it as an end table next to her sofa until I was ready to move in (she loved it so much that I was a little worried she might not give it back, ha!).
It might have been a little risky to buy something like a dining table without knowing if I'd have room for it, except I knew this small table would work almost anywhere.
Small space tip: Invest in flexible furniture.
Not only can a table like this serve as a beautiful side table, it's a perfect small dining table for up to four guests! It also serves as extra prep area in the kitchen and a crafting area for me, so it's a hardworking surface!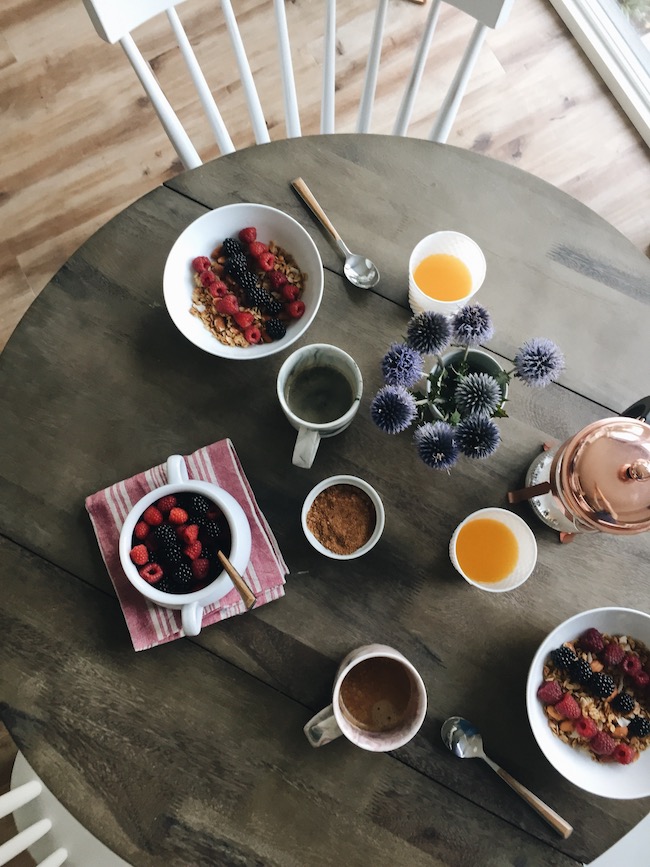 I use this dining table everyday to eat or work at. It's been the perfect spot for having friends over to visit! Who says you have to have a separate dining room to gather around a table?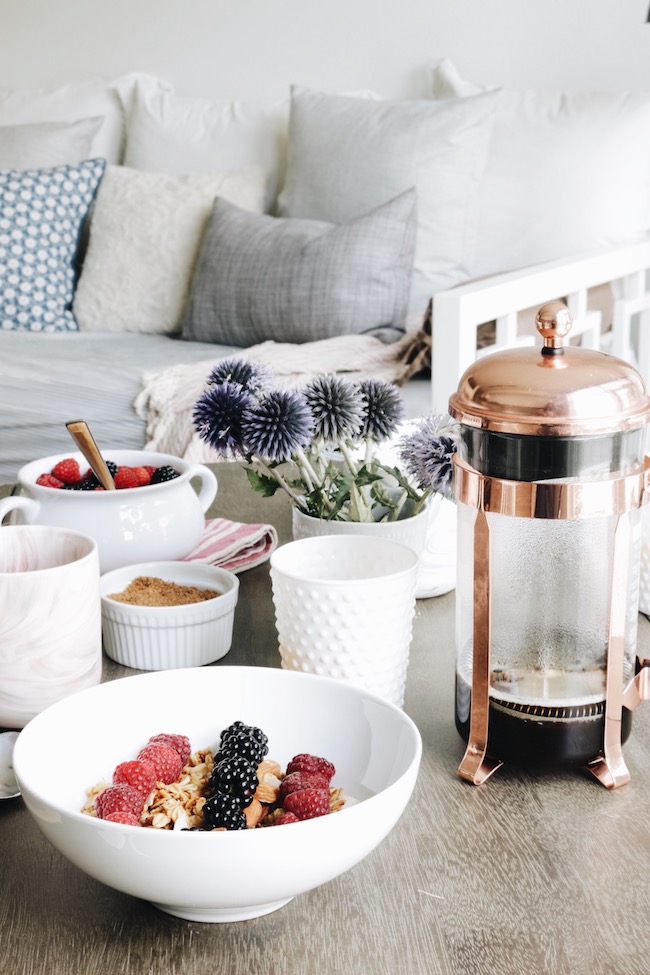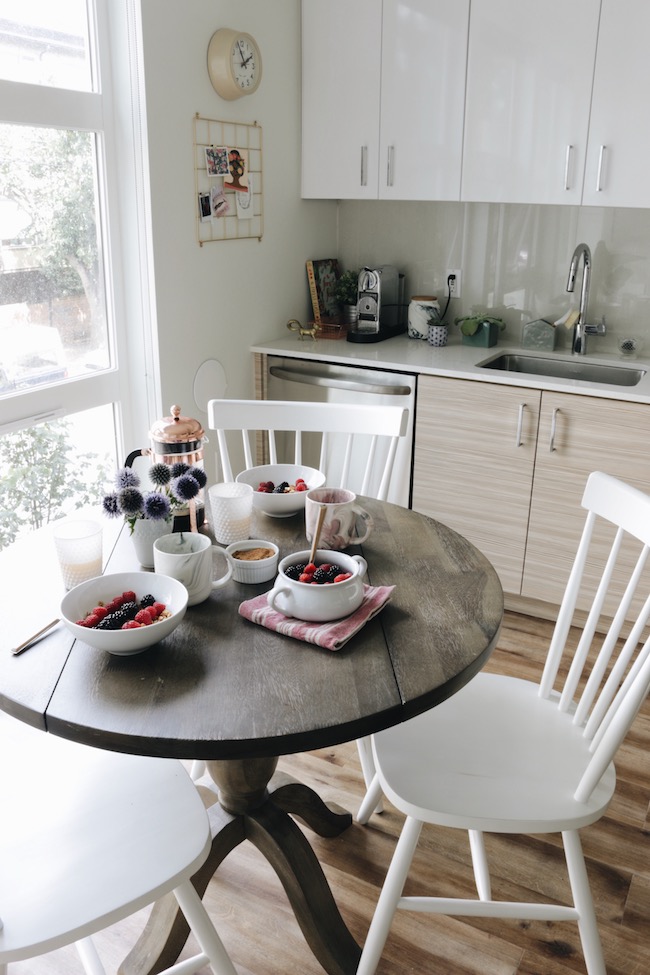 My second purchase after the table was this set of cute Windsor chairs. I had my eye on these forever! They work perfectly around the dining table, but can also be pulled up for guests in the living area or set up at a desk.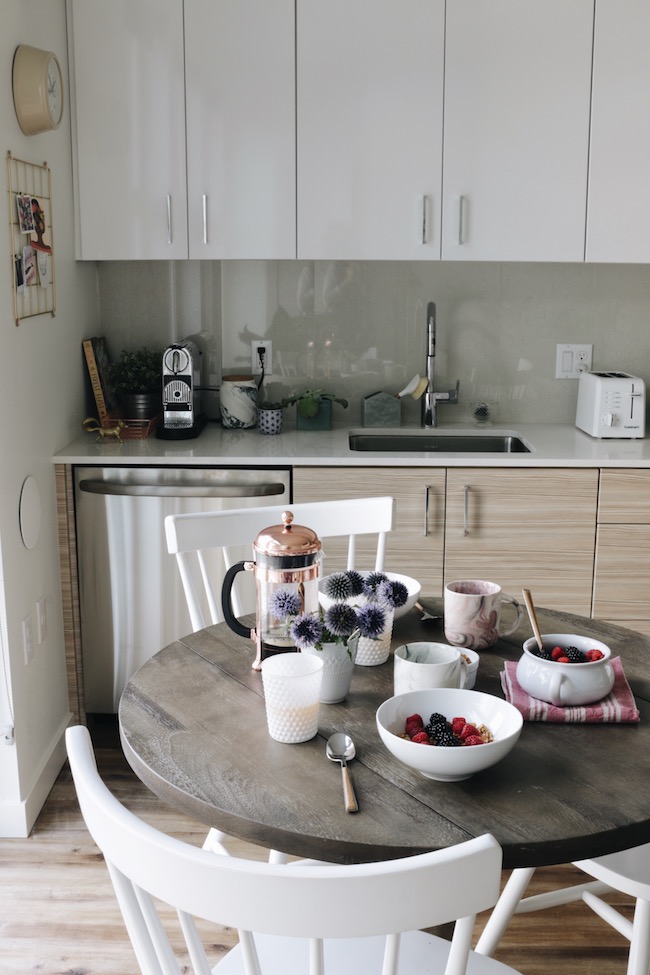 The round shape of the table and rounded back on the chairs really help maximize the small space. No sharp corners make traffic flow around the table more comfortable with breathing room to spare, too.
Small space tip: Consider the appropriate shape and scale for furniture pieces to maximize both style and space!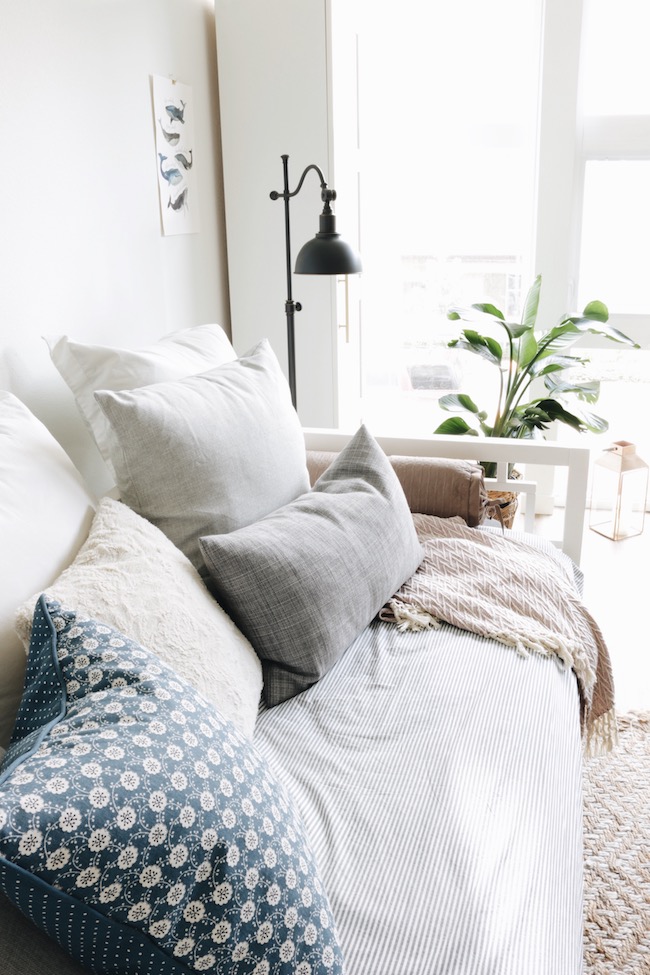 My mom talks a lot about the importance of creating ambience and setting a cozy mood with lighting. She's right, new lighting has already made such a difference in warming up my living area. Until this past week I actually didn't have any lamps in my living / dining area. My apartment felt really dark at night, so I was excited to get my very first floor lamp! It's been a game changer, or "mood changer."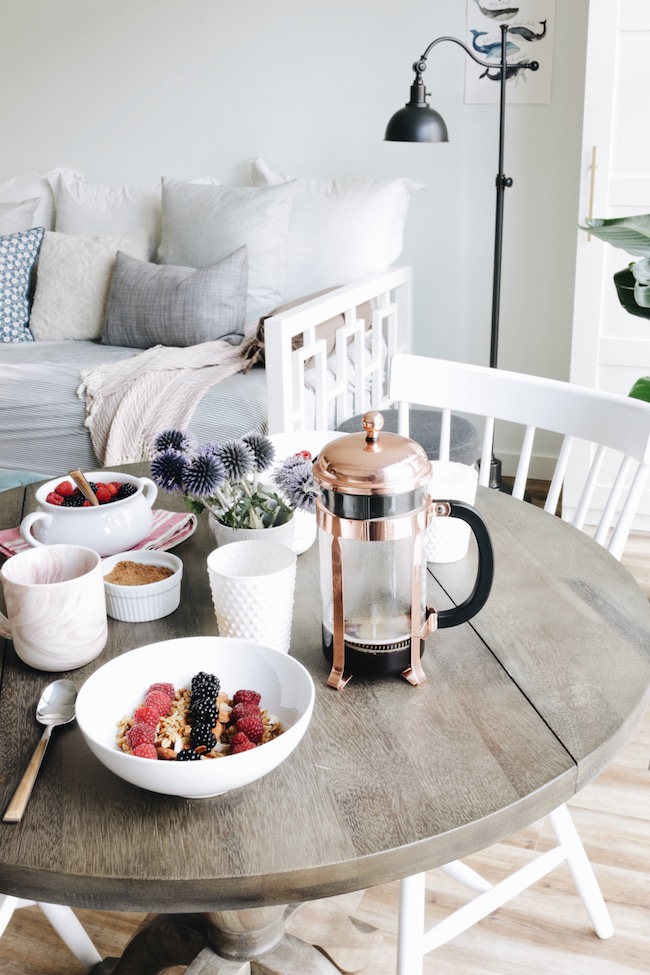 The floor lamp brings a nice night time glow I can enjoy from the eating area, too.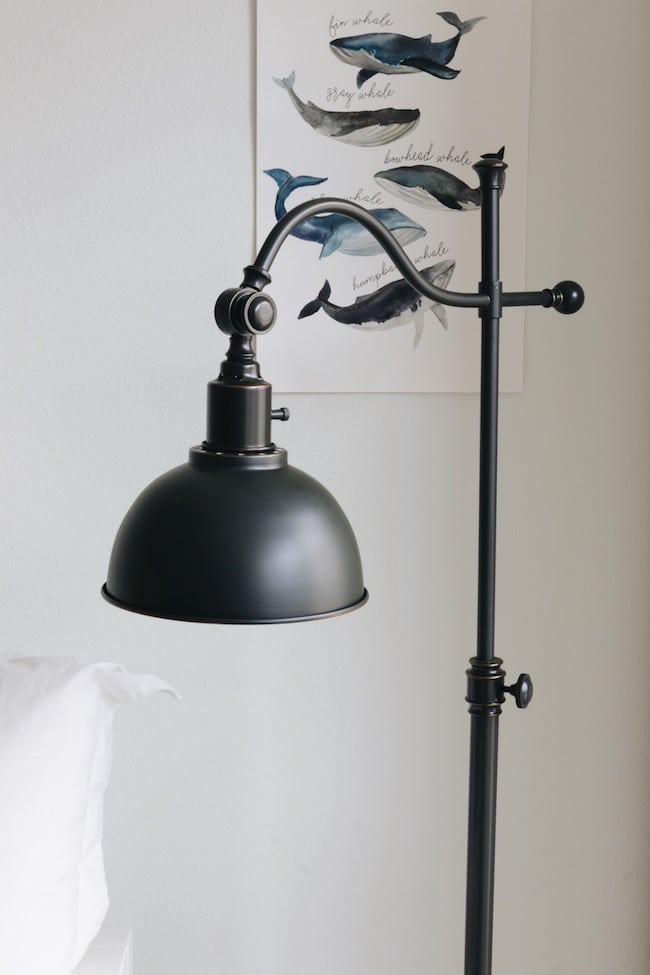 Small space tip: Floor lamps not only warm up a small room, but they take up very little floor space!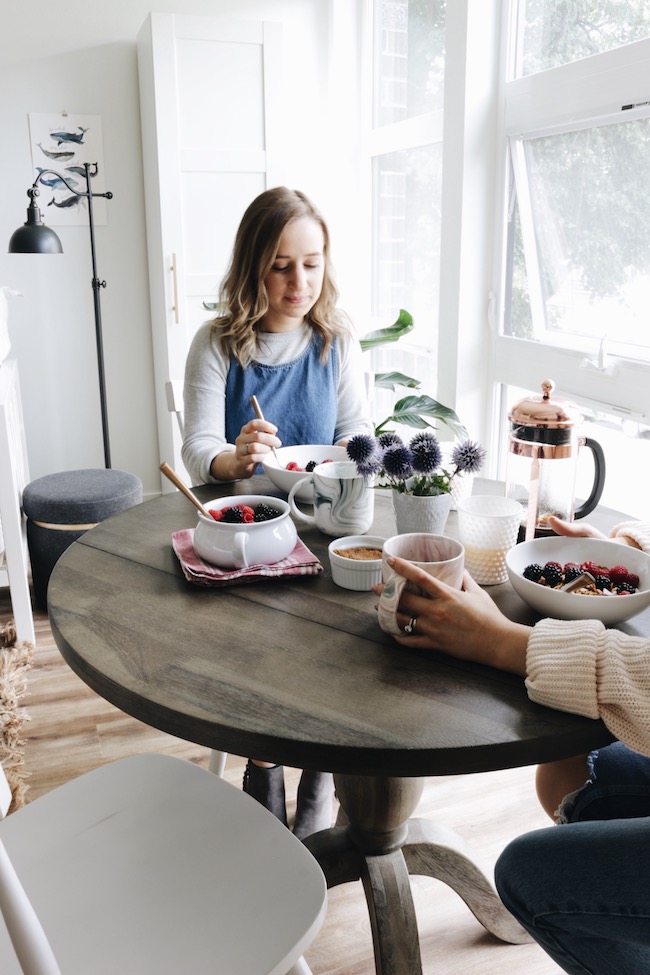 Marble Mugs / Table / Chairs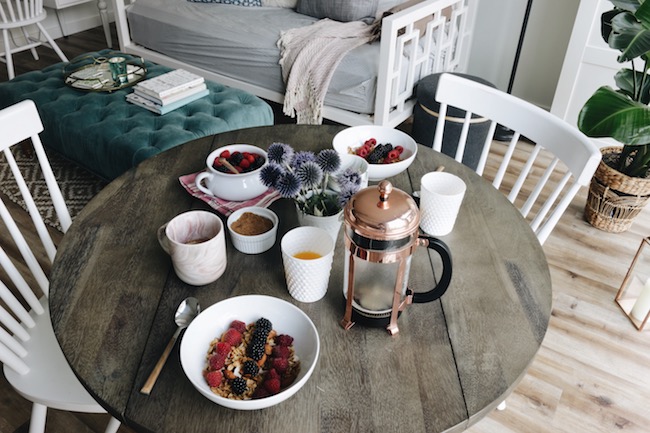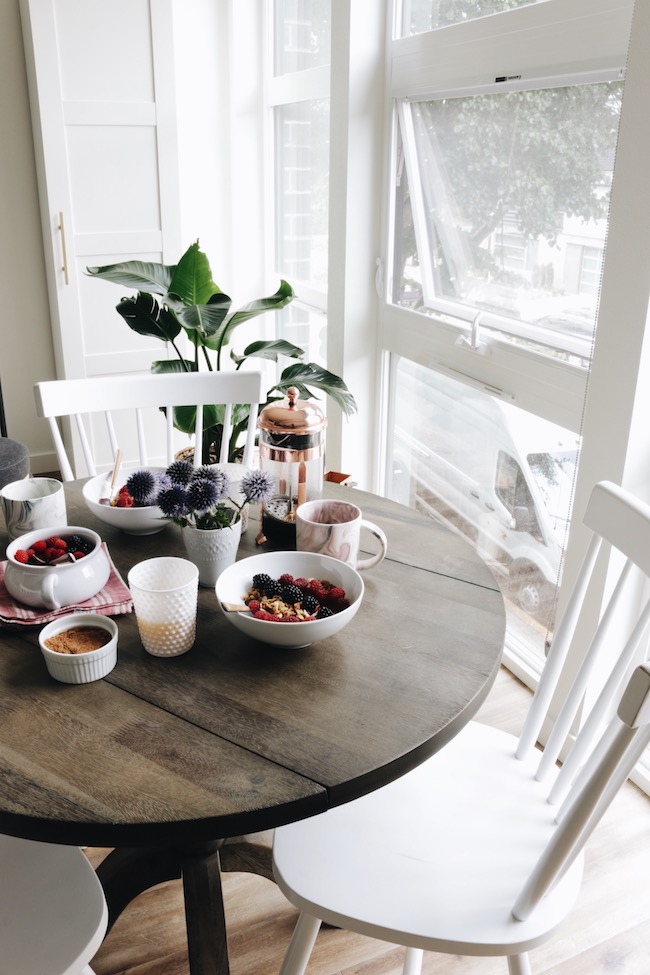 I'm also having fun collecting dishes and table accessories I love. Even though I really only have a few cups, plates and bowls so far, I can say that I love each and every thing in my cabinets. I'd rather have five cups I love and use than a cabinet overflowing with stuff I don't really enjoy!
Small space tip: Only keep and acquire things you need and love. Strive for less stuff, more style.
These dishes can be found at World Market (sources linked at the end of the post).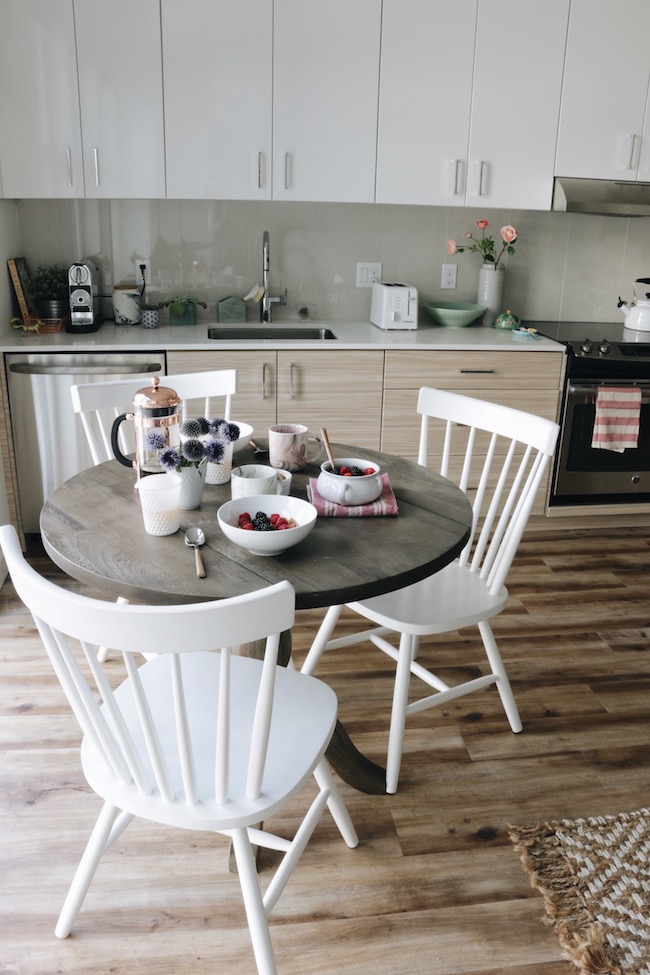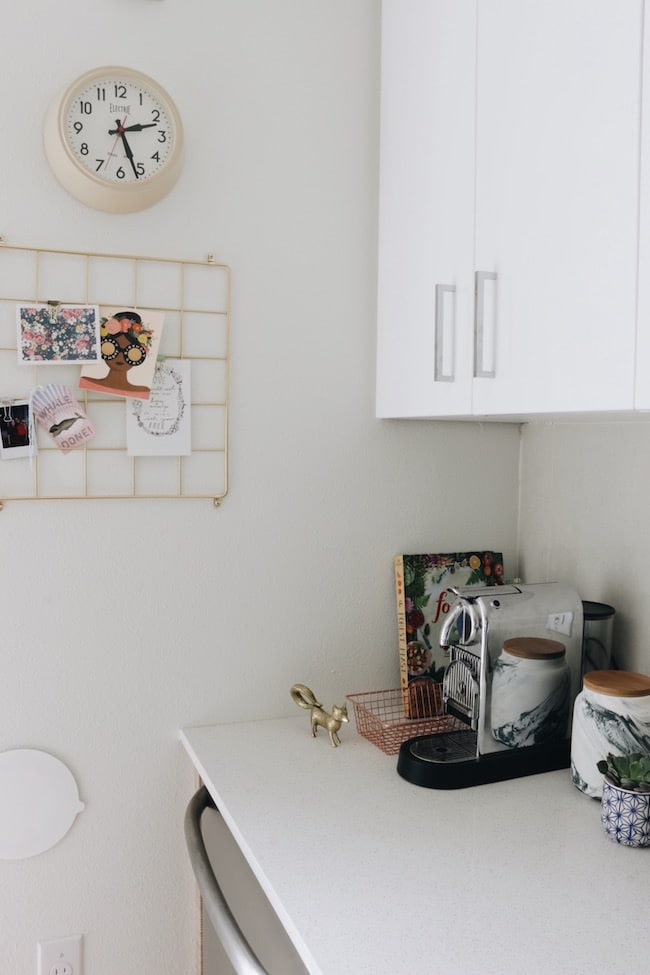 Marble Canister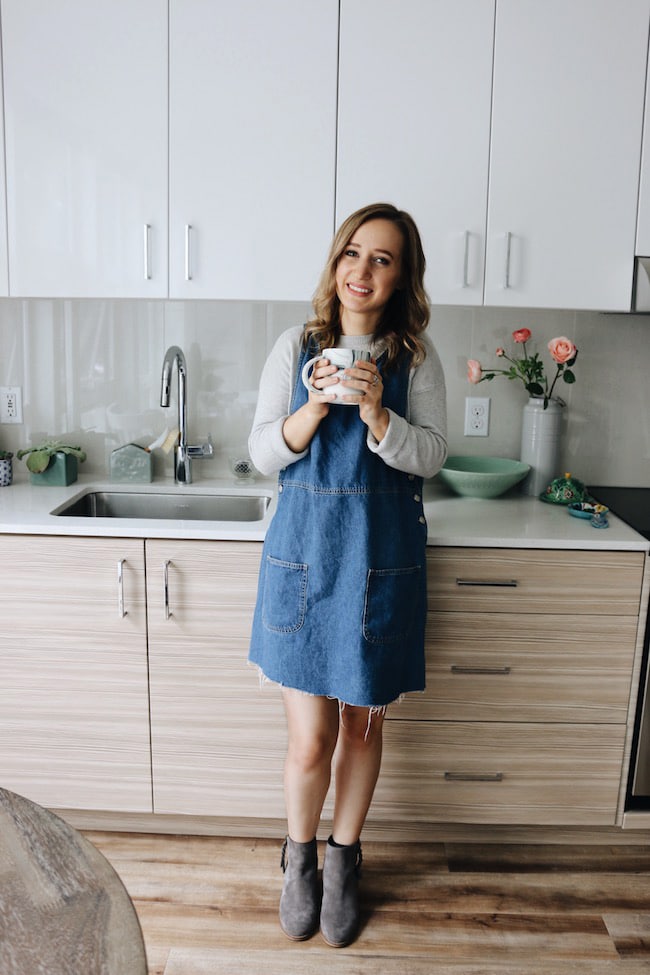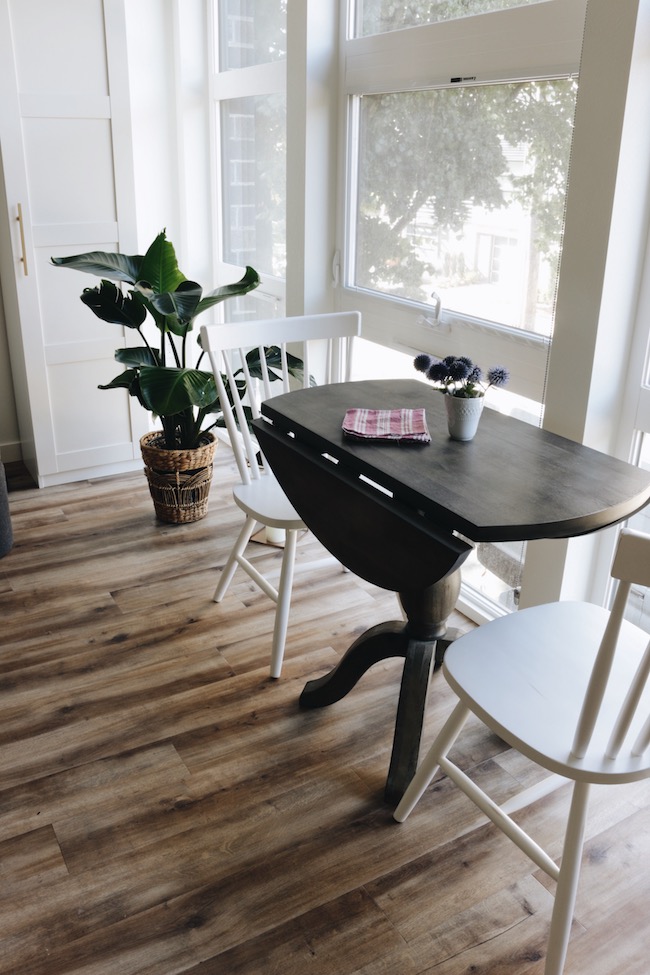 Another really cool thing about this table for a small space is it has two drop leaf sides! It can be set flush against a window, wall or sofa to be even more space-efficient.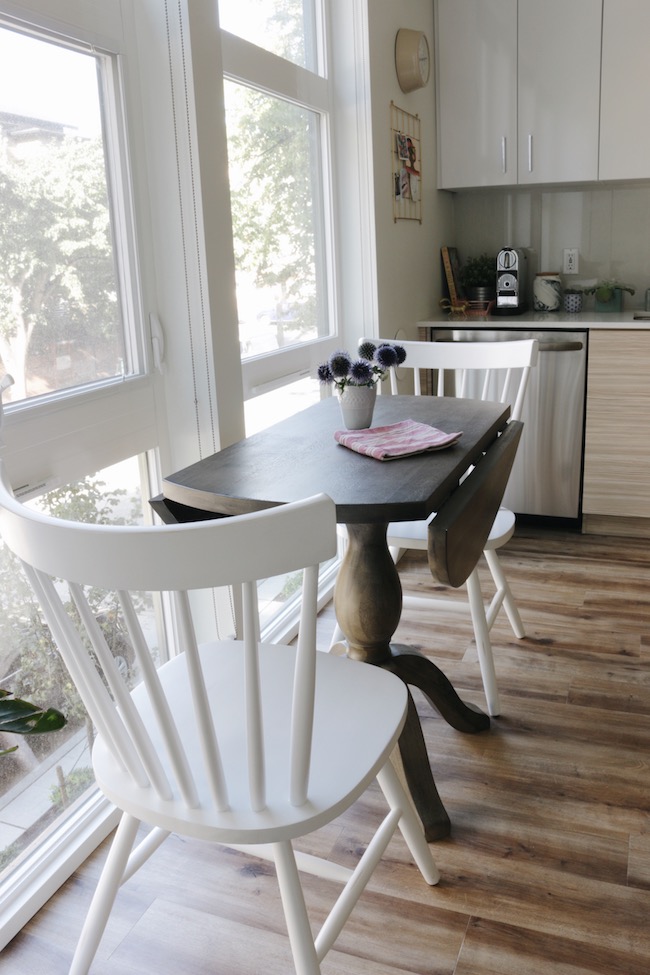 Small space tip: Drop leaf and nesting style tables maximize the available space.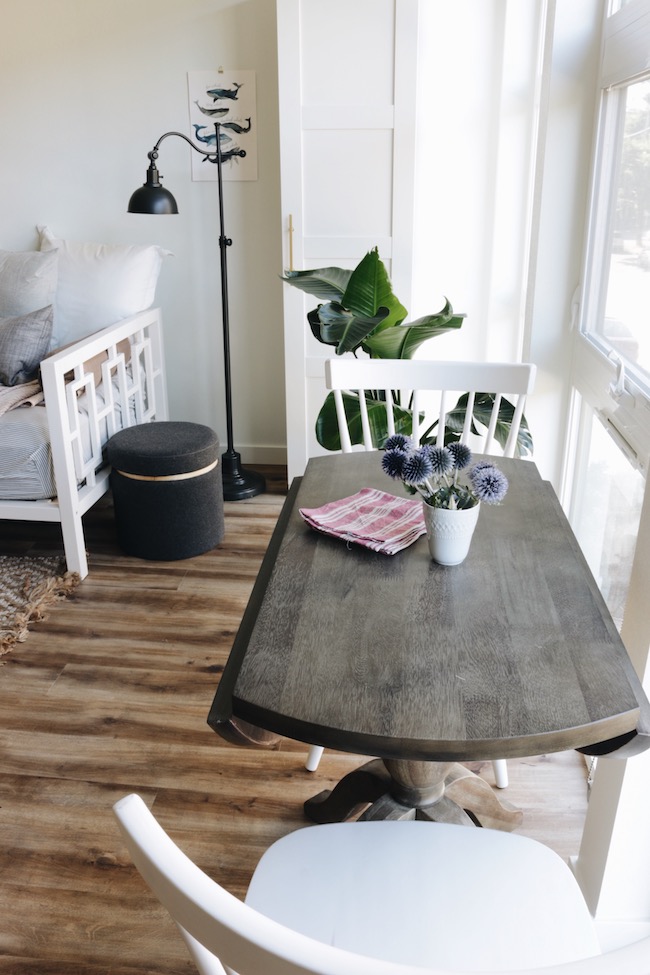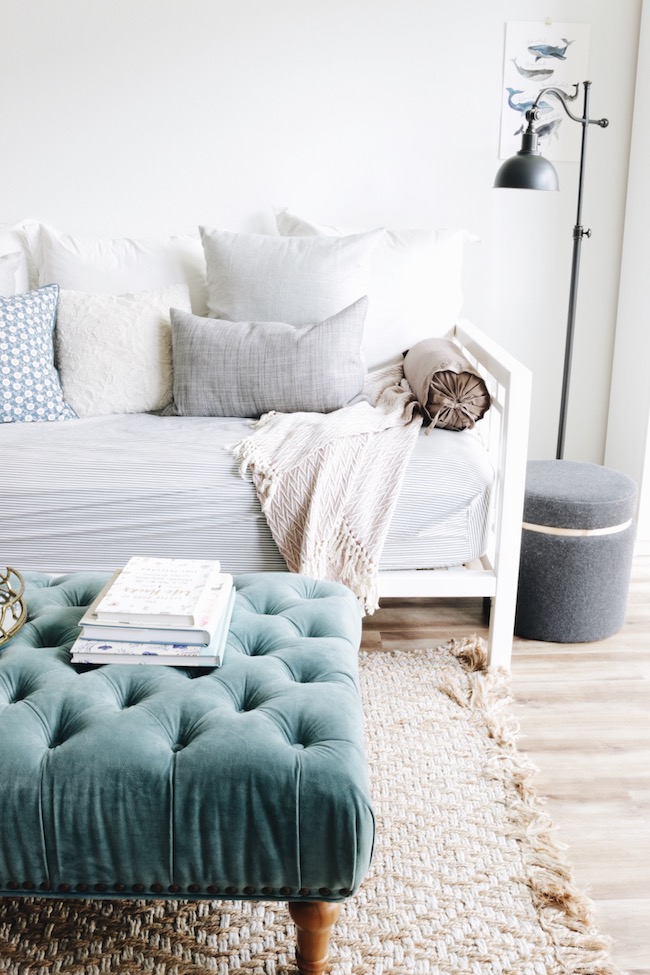 You might recognize this pretty ottoman. My mom had it in her home for years and I always loved it. Lucky me, she brought it over to me when I moved in! I discovered that I love having an ottoman as a coffee table. It really softens the feel of the room and it has come in handy as an extra place to sit, too!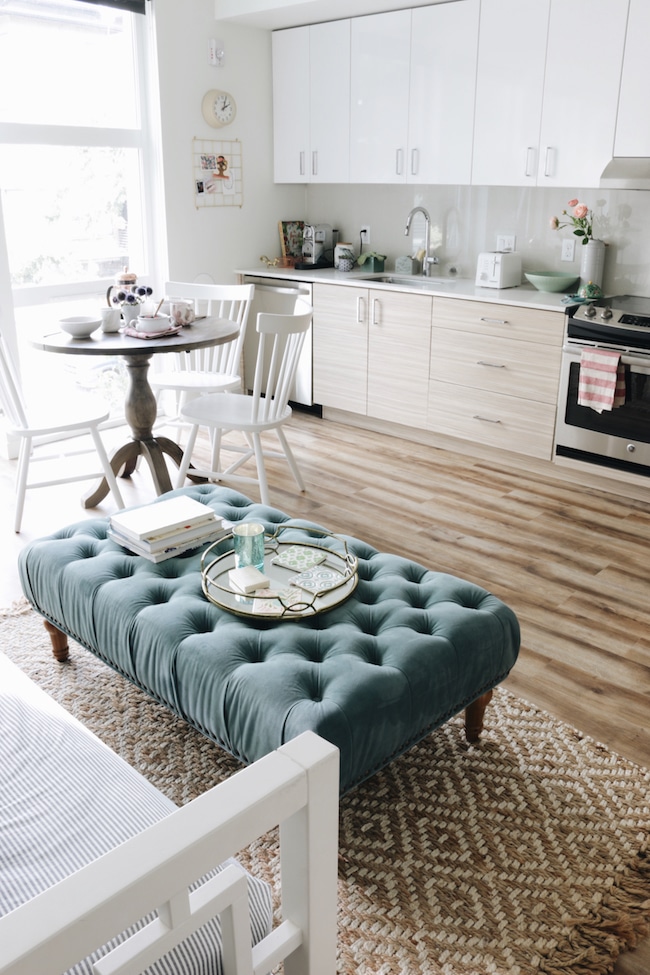 Small space tip: Ottomans can be used both as a coffee table and extra seating in a small space. Add a tray as a hard surface for beverages.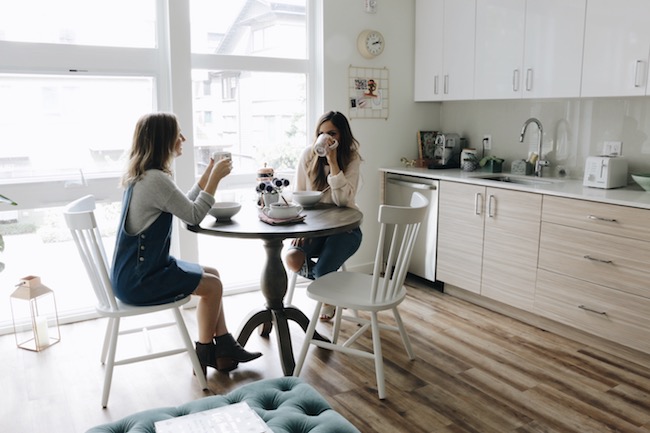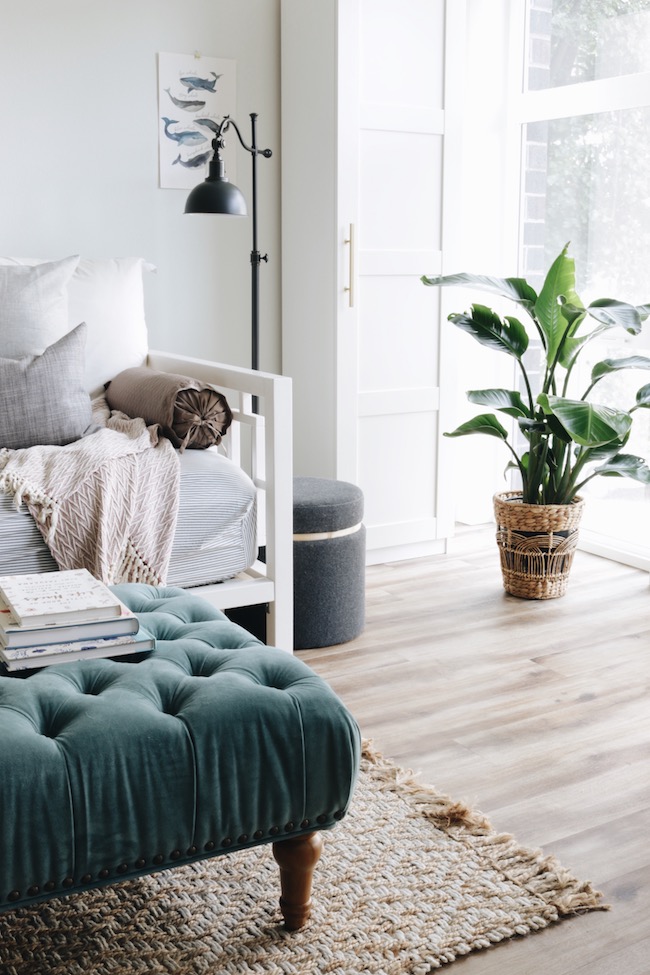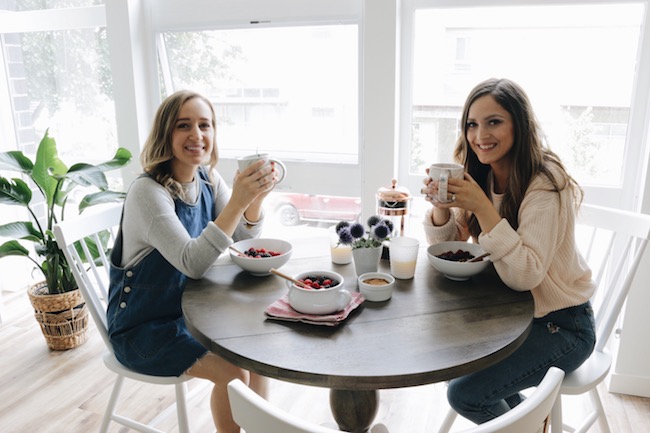 (me with my sister, Kylee!)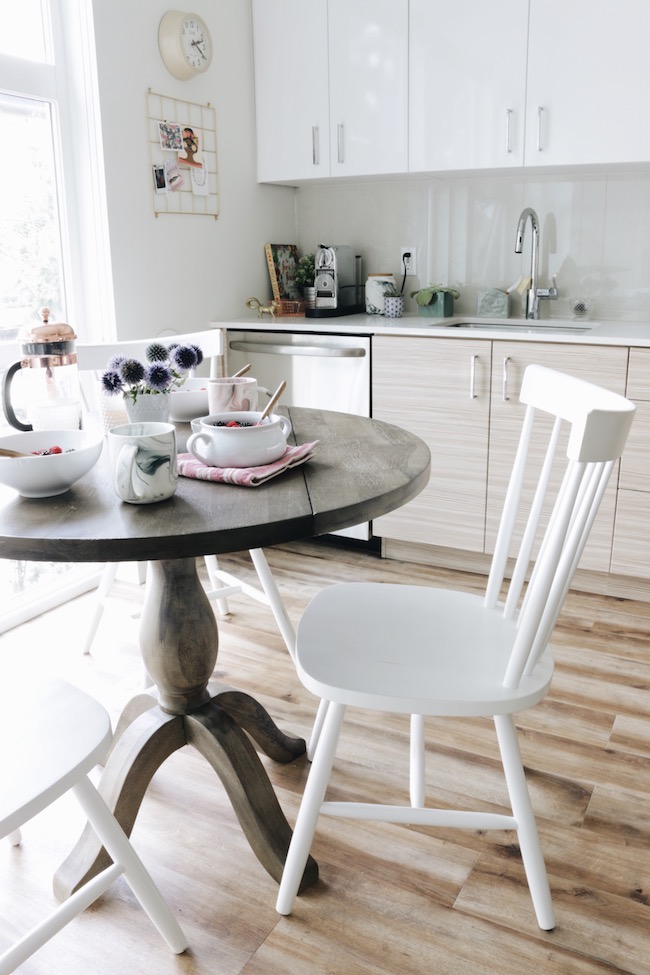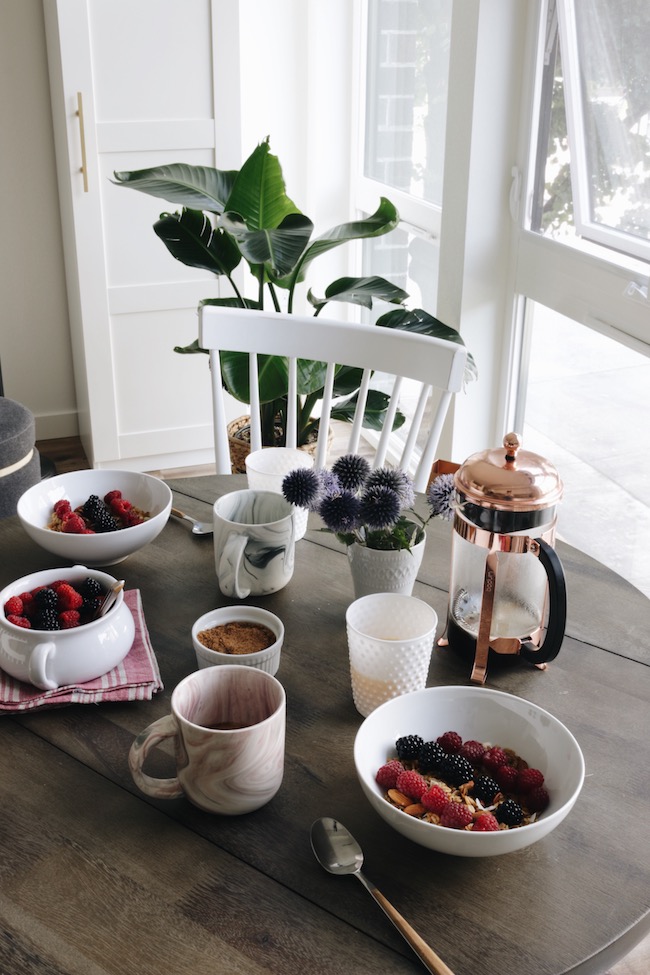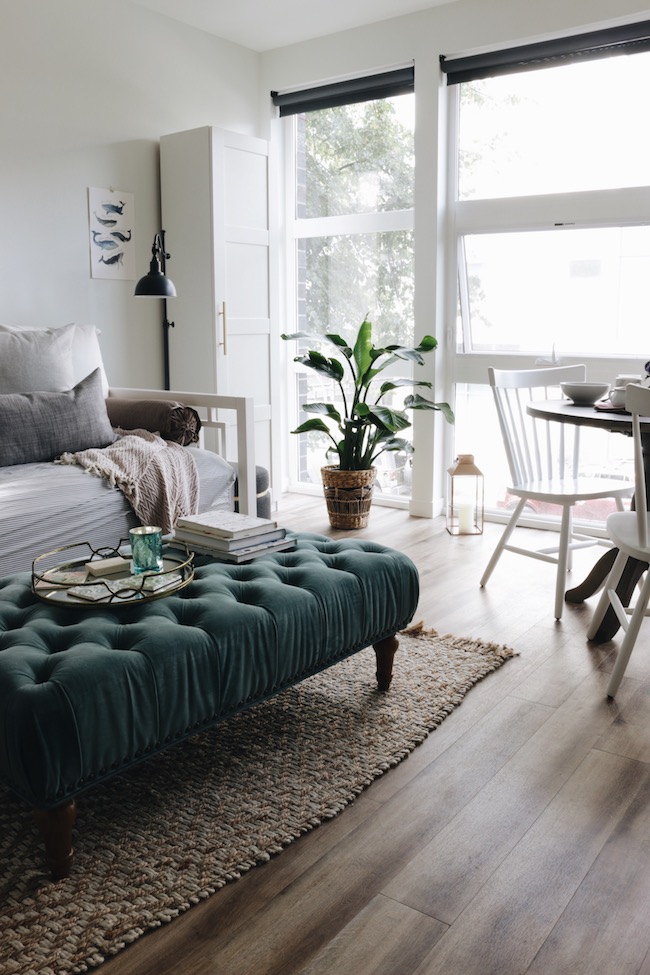 I am so happy with how this room is coming together!
Thank you for stopping by. I promise to be back soon with more from my apartment. I already have plans for a few additions to this space :).
>> Come follow me on Instagram (and Instagram stories) for more updates here! <<
PS. My mom made some fun changes in her house that she will show you soon, too. I love how she often repurposes and uses things she already has, but can make a room feel like a totally different space. It inspires me!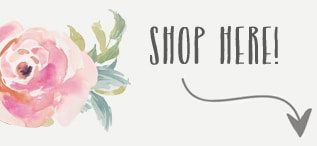 Shop for dining room furniture here.
Find a small space guide from World Market here.
Shop for dishes and dining room accessories here.
I partnered with World Market on some of the sources in this post.

Shop sources below and find more decor from my home in my shop here.

Sources: