This post created in sponsorship with Leesa.
Mattresses are a sensitive subject around our house. My husband and I have slept on the same mattress for I don't know how long. (I mean, not only have we slept on THE SAME mattress as each other cause we are married and all, hahah, but on the SAME MATTRESS we've had forever.) Seriously, we've had this same mattress in three houses so there's a clue to the embarrassing truth of how old it is. I really want a new mattress so it has been a topic of discussion for years, but my husband is unwilling to take the plunge to try to find a new one we like. Because, you know, RISKS. MONEY. TIME. Too many decisions and too many worries to think about when buying such a significant item for our home, so we just avoid talking about it.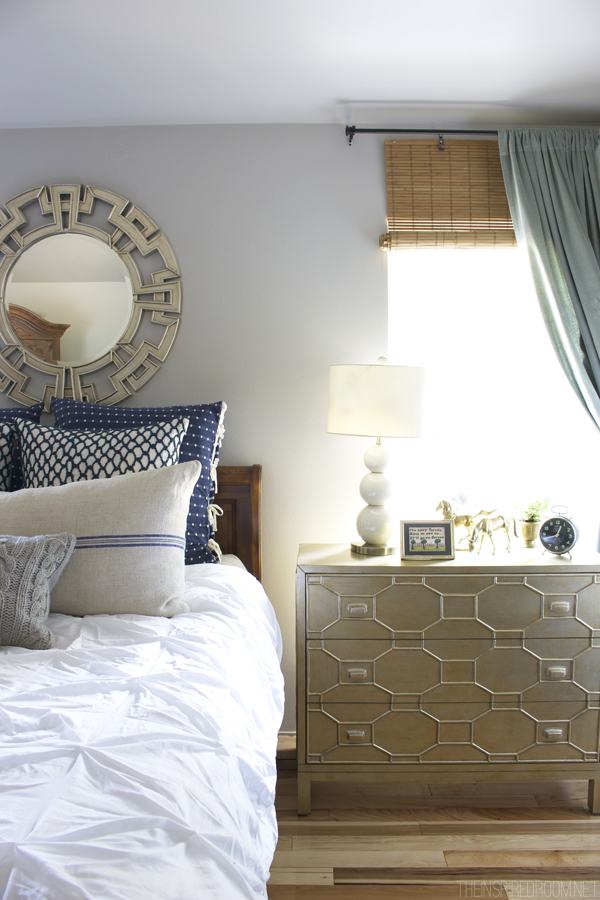 I want a mattress that feels luxurious, is super comfortable, and affordable. Does that mattress even exist? Too much to ask? We are dreading moving the one we have to our future new home because the mattress is such a beast that we risk injury to ourselves when we make the bed. Imagine the two of us trying to haul that mattress down the stairs? DEATH BY MATTRESS. Or, by the cost to move it. And, really, who wants to risk buying a new mattress and regretting it for the next decade?
Recently I was contacted by a mattress company. While it isn't unusual for me to hear about new products I might be interested in, this mattress caught my attention because not only was it a quality product, but it was affordable, returnable within 100 days, and it came with great reviews. And, interestingly, it came in an easy to handle box. That just sounded like a dream! Right about the time I was ready convince my husband to give it a try, my daughter Kylee texted me to say she needed a new mattress for her guest room. In all likelihood, we'll be staying in her guest room for awhile until we have a new home. That's my daughter, always thinking ahead to make sure everything is ready. :)
Since we don't really need a new mattress until we have a new house anyway :) (ah, the logistics of moving!) I suggested Kylee order one for her guest room! WOO HOO! You have seen snippets of her townhouse, it's a cute little three story attached townhouse tucked into the beautiful Magnolia neighborhood of Seattle. But, getting furniture up to the second and third floor is comical. Remember her sofa tale? So imagine her joy to see this mattress would arrive in a little box that she could carry upstairs with ease! :) I'll let her tell you the story.

Hi friends! Kylee here. I've been dreaming about how to make our guest room a cozy spot for when guests (and my parents) stay the night. My husband Lance and I are just starting to think about things like bedding and the necessities guests might need, but the mattress we had was so saggy we knew needed to get a new one before we did anything decorative to the room. When my mom told me about the one she heard about from Leesa, it sounded perfect for our needs. Now, I had never bought a mattress before (we've always had hand-me-downs) but I can say that order this was the EASIEST experience ever.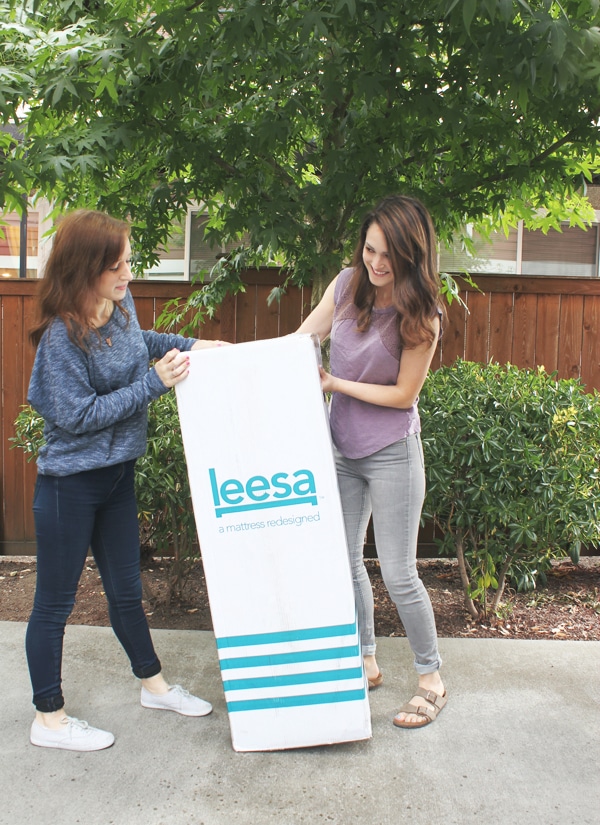 Clearly the way of the future, it came BY MAIL in a box the size of a mini fridge! I could hardly believe an actual mattress was in the box, but low and behold it was! My sister Courtney and I were able to get it in the house all by ourselves. I buy most things online these days, so I was thrilled to order this one online and not talk to a sales person. Plus, it seemed like a no brainer to try it, Leesa gives you 100 nights to try your new mattress, risk free! If we didn't like it, we could send it back.
When it arrived, Courtney and I brought it up to the little guest room on our third floor, still perplexed as to how it was going to turn into a real, functioning mattress.
We unpacked it and watched in awe as it expanded to its full size on my inherited brass bed. This is such a small room we can barely maneuver around to take photos, so we were pleased that setting up this mattress wasn't difficult for us to manage in such a small space.
The 10" mattress comes in all sizes, and is crafted with 3 unique foam layers, including 2" of memory foam and 2" of a really cool latex-like foam called Avena™ that's perforated to keep you cool as the other side of the pillow. One of my favorite things is that for every 10 mattresses sold, one is donated to a shelter!
We've already spent time trying out the mattress in the guest room while watching TV and movies in the evenings, and so far we find it to be really comfortable! No more saggy mattress and I'm really happy that our guests can enjoy their stay. We feel like real grownups now to have an actual guest room with a brand new mattress! And I know my mom is excited to let my dad try it out to ease his fears about buying a new one. I think he will be pleased!
And, here is good news! If you want to try a Leesa mattress, the first 15 readers who click here to redeem promo code INSPIREDROOM at checkout will get $75 off their order!
Sweet dreams!
This post is sponsored by Leesa.