The Design Files
As I mentioned this week, it's pretty fun to pull my furniture around and start to "live" with the rooms arranged closer to what I envision. But at the same time, it's a bit frustrating to have to wait to really see everything I imagine! I don't want to be patient, ha, I'm ready to DO. Everything seems like it takes so long, at least here in our house (TV shows spoil us, I guess).
I know it can (and will) take years to get this house the way I really want it (many of you will relate to that), but I feel really good to finally have the vision in my head of what it will become. A blank slate of a house brings its own challenges, so it was not always an easy feat to get my mind wrapped around the vibe or how to pull it off in this house and on a reasonable budget (and at a pace and scale that we can handle).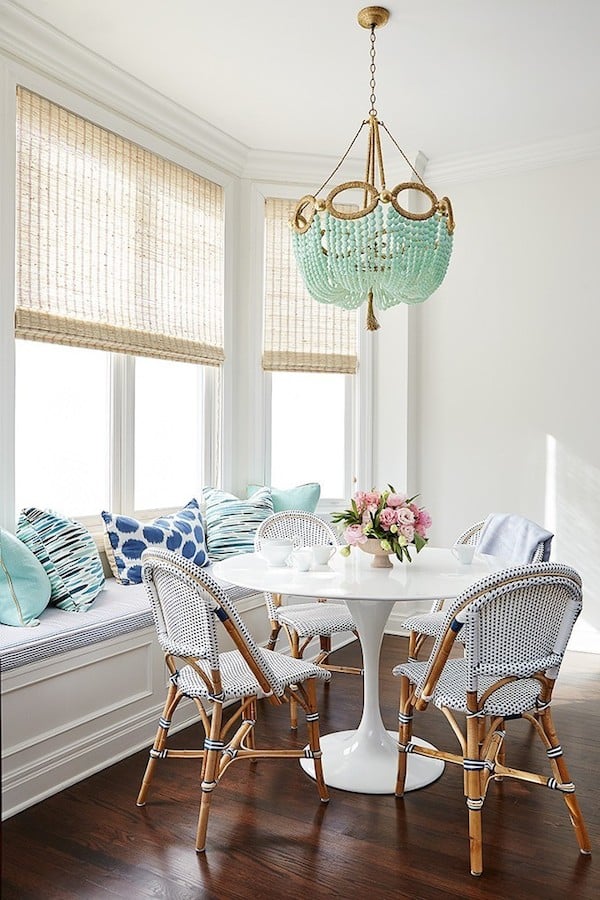 Amie Corley Interiors
But now that I actually can visualize the house and am already at the point where I have many of the details are decided and a few more are getting close, it's just a matter of starting what we can do right now, working with the budget (darn budgets) for bigger projects, setting reasonable timelines for what should be done in what order, finding the right contractors and things like that.
It's like a full-time job to remodel a house, even simple projects can be more complicated than you wish they were. I feel like this house already gave us a good head start, though, with its solid bones and amazing light pouring in the big windows. It will just be up to us to maximize what we have and enjoy it both how it is and how it unfolds over time.
Today I'm sharing a round up of some lovely breakfast rooms! Some of these rooms have elements I can see for our dining room and some not-as-much, but I hope you find some ideas here to inspire a project or style for your home!
Do you listen to your home before you make bigger remodeling or decorating decisions?
Amanda Peet's Home / Vogue Living
Workbook / Design by Barbara Westbrook / Photo by Erica George Dines
– – – – – – – – – – – – – – – – – – – – – – – –
PS…exciting news!
My new book Make Room for What You Love will be 50% OFF if you preorder
at Barnes & Noble online ONE DAY ONLY.
One day only, online only, this Friday April 1!
And that deal is no April Fools Joke!
Make a note in your calendar to order a few for gifts that day!
> Pre-order here on April 1st! <
> Pre-order here on April 1st! <