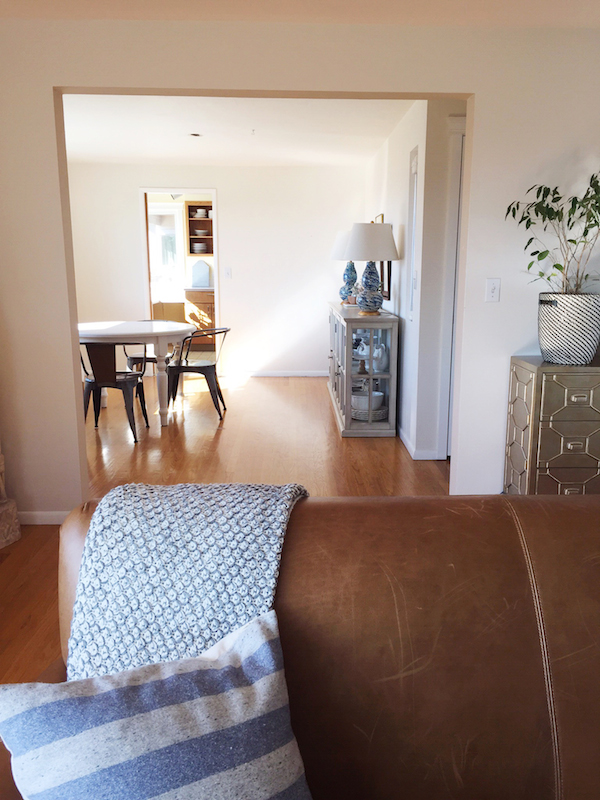 When I last was brainstorming on the blog about our kitchen and dining room, and what the main floor plan might feel like, basically the conclusion was to leave the kitchen in the kitchen and keep the dining room as a dining room, rather than swapping the two rooms (BRILLIANT IDEA, right?).
With all my brainstorming and planning, I've been able to feel more at ease knowing at least something is for sure. The kitchen is going to stay where it is. I don't like living with indecision. I love brainstorming ideas and making them happen. That's fun. But the in-between stuff and the waiting isn't my favorite.
While I feel great about leaving the kitchen where it is, the specifics like whether or not we will change the location of the sink like we thought or remove walls or spring for the addition of a mudroom, are still up in the air. But now that we've lived here for nearly seven months, I am starting to feel more like I can get in my groove now. I'm ready to make changes and am more confident about making decisions about what I really need or want to change.
The style of the kitchen and the bathrooms and the overall vibe of the house are going to evolve and change, that I know for sure. We'll paint, we'll add paneling here and there, we'll change light fixtures, we'll update the kitchen and the bathroom and somehow update the look of the fireplace and even change two exterior doors to Dutch doors. I am committed to finding ways to incorporate our style and make our home comfortable for us to live in.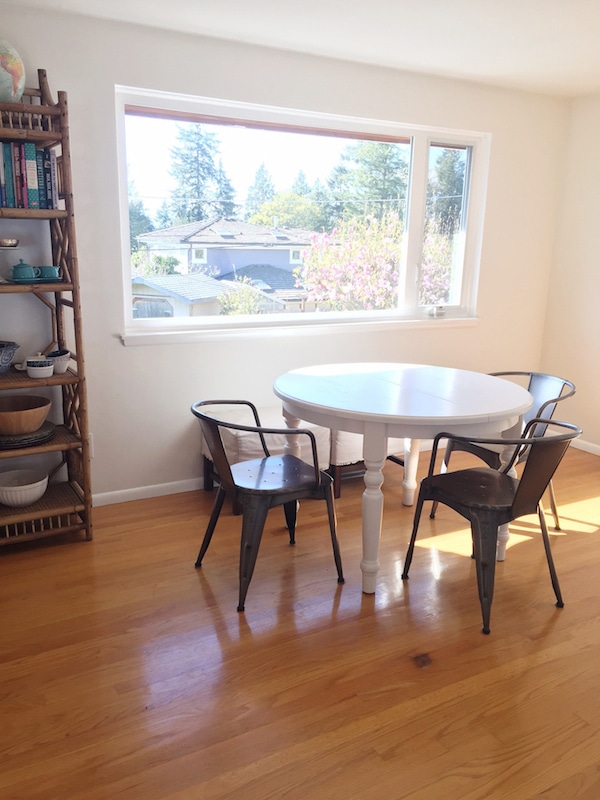 But here's something else I'm SUPER SURE OF!  I want to make changes that will cause the least amount of disruption to our family. We moved here to be close to our family, so we could spend more time together. I wanted our three kids to live close by each other for sibling bonding times (our girls moved to Seattle years ago and our son, their brother, still has a few years left in school).
I didn't move here to design a house, but rather, we came to create a home for our family. There's a difference, and I feel at peace with the fact that the decisions I make will need to reflect our need for simplicity and family time in this season of our life. I don't want to create more mess or stress than necessary to achieve our goals.
Moving furniture around is an affordable way to alter the look and feel of your space, so that's something we will also do for sure! Probably many times. I mentioned the other day that we moved our glass cabinet from the living room to the dining room.
Forgive the unstyled room and the fact that there are pictures hung incorrectly above it, okay? :) This is real life here and I just didn't take the art down yet or restyle this room. I know I've shared probably a million different ways we could set up this dining room, and ways to open the wall or enlarge the doorway to the kitchen (if we decide not to completely open the wall, the archway idea is still a strong contender!). But as you might recall our latest plan was to pull a table up to the window to create a banquette with a view!
Moving the table to the window was a great first step. The vision for this room makes sense to us and feels right when you are in the room even now. It will likely take a lot more changes and layers to make how it feels in our minds more obvious in the photos, but bare with me until I can get things rolling.
Right now we are working with the furniture we have in the dining room, so we'll have to play around with it to really see what works or consider what might work better. But at least we can have fun trying new things and enjoying the space in the meantime.
We took the leaves out of the table and even though it is on the small side, round feels really nice in this room. We definitely need a light fixture and maybe some other changes to fully make sense of this arrangement, but I can see it working.
A reader mentioned the other day that with some of the mid-century influences of the design, changing the location of the furnishings might be helping to "balance the space." She is so right! We've been playing around with that balance in our living room and we definitely sense how the placement of the furnishings impacts how comfortable and cozy the rooms feel, which is pretty cool.
The room feels quite inviting this way, almost like it is a pleasant breakfast room off the kitchen. There's enough space to expand to create more of a dining area for bigger family meals or holidays, but I have to say we love the idea of considering it a charming breakfast room with a view! Yesterday I enjoyed sitting down to work at the table for awhile (if you saw my Instagram pic!), it was wonderful!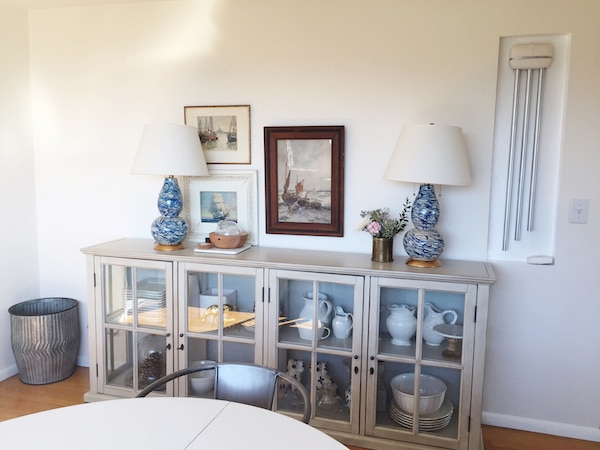 remember the art won't go on the wall there, this is just an in-process pic!
Our next step with this room will be to have this entire space repainted. I can't wait! Even if we eventually widen the kitchen doorway or remove the wall entirely, we can take this room in baby steps. We might add some paneling to give the room more character and are still considering the idea of a built-in bench/bookcases (remember our ideas for built-ins? We may have changed the location of the table but built-ins could still work in here, even if we wait on them for awhile).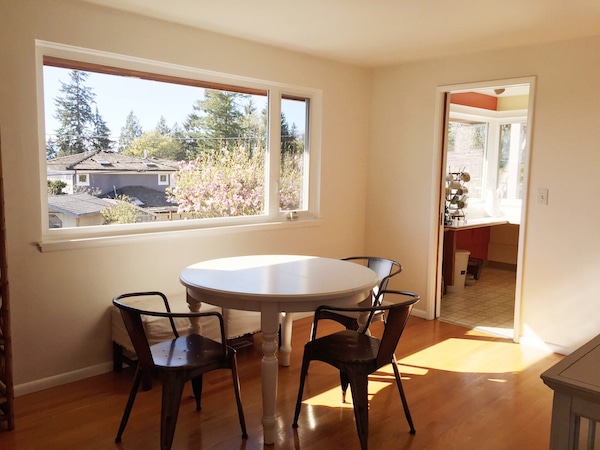 We have also already looked through samples of blinds and selected our favorite, so I'll be ordering blinds in the next few days (I'll share which ones soon)! The sun is so bright already in the later part of the afternoon! I love it, but blinds are going to be a must for summer.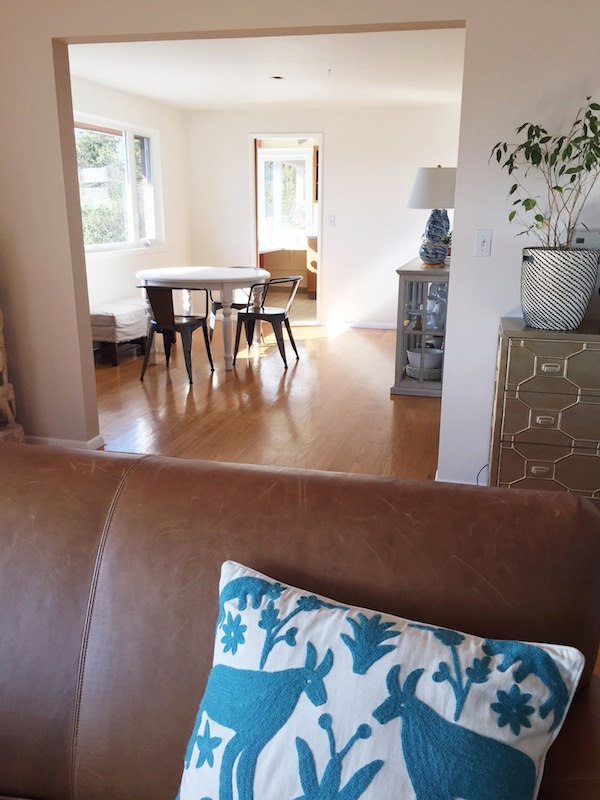 That's the latest in this room! I'll keep you updated and I know I still have to show you my painted bedroom (so many delays on the simplest of projects, ha!). It takes awhile to get in the groove in a new house, but once you do the whole process of creating a home starts to become more fun!
More Posts:
Built-in bookshelf inspiration for the dining room